To get a dog food labeled, "natural" is reasonably simple. After all, wheat and grains are all-natural. So is a meal made from the by-products of the meat industry, but do we want our dogs eating grains? Do we want them eating ground-up hooves?
Another issue with "natural" food can be the long list of ingredients it contains. Sure, you're getting real meat, but what about the other additives? That's why I decided on this Purina Beyond dog food review next.
They claim that the food is naturally nutritious. I wanted to check that out by doing a complete Purina Beyond dog food review.
Product Reviews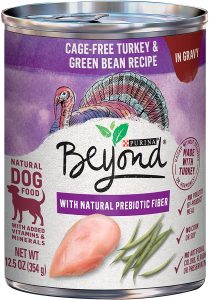 Finding a good-quality, wet food product for dogs can be difficult. I've found a lot of the cheaper brands add caramel flavoring and lots of sugar and salt. I assume that's to make it taste better.
The wet food from Purina Beyond is different. It has fewer ingredients than you'd expect. It also steers clear of dodgy ingredients like sugar and wheat.
Key Features
The top ingredient in all varieties is meat
Made without any chicken by-product meal
No artificial colorants, preservatives, or flavorings
No soy, corn, or wheat
No gluten
27 percent protein
Three tasty flavors
What I Like About This Product
I bought a variety pack. After all, I wouldn't want to eat the same food every day. I'm not going to make my dogs do that. I liked the selection and the more traditional flavor ranges. You get:
Chicken, carrot, and peas
Beef, potato, and green beans
Ocean Whitefish, salmon, and sweet potato
I didn't know if my dogs would go for the fish flavor. For Pickle at least, that was her favorite. That said, all the flavors went over well.
Even the Maltese next door was tempted to eat some. She's pretty fussy about what she eats, so this is big.
What I Don't Like About This Product
Some of the formulations have egg in them.
Pros
No nasty additives
Easy to digest
Lots of nutrients
No corn, wheat or soy
High protein
Contains real chicken
Made in the USA
Cons
Not for dogs with an egg allergy
Great quality food at a price that's affordable.
Overall Rating
4 ½ out of 5 Great taste, great quality, great deal. What more do you want?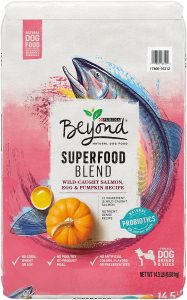 This blend was designed to offer complete nutrition that's easy to digest, and from what I can tell it is. No tummy aches or runny surprises.
Key Features
Top ingredient is salmon
Made without any chicken by-product meal
No artificial colorants, preservatives, or flavorings
No soy, corn, or wheat
26 percent protein
Rich in essential fatty acids
What I Like About This Product
The pumpkin in this meal makes it ideal for dogs with a sensitive tummy. My neighbor's Maltese actually enjoyed it. And, better still, it didn't cause an upset stomach.
Pickle took to it as well and didn't bloat as much as usual. The two boys also found it tasty. I've also decided to put this one into permanent rotation.
What I Don't Like About This Product
Be careful if you have cats that terrorize your dogs. My cat, Tiddles, actually chased Peanut away from his dish to dig in. Unfortunately, Peanut doesn't have the balls to stand up to her—and that's not because he's been neutered.
Pros
No nasty additives
Lots of nutrients
No corn, wheat, or soy
High protein
Contains real fish
Pumpkin and rice soothe upset tummies
Easy to digest
Cons
Your cat's probably going to want some
This offers excellent nutrition without a lot of fillers and other garbage.
Overall Rating
4 out of 5 Watch out for cat burglars with this one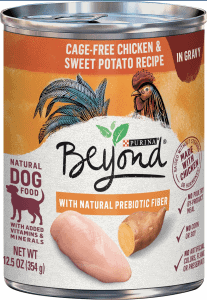 Another quality canned option from Purina, these were a real treat for my dogs, and they didn't even notice the greenery.
Key Features
Top ingredient is the chicken, followed by salmon
Farm-raised chicken
Made without any chicken by-product meal
No artificial colorants, preservatives, or flavorings
Non-GMO verified
No soy, corn, or wheat
8 percent protein
What I Like About This Product
There are three flavors to choose from:
Chicken and pea
Chicken, salmon, and spinach
Chicken, Pacific cod, and carrot
These are a great way to sneak some veggies in for your dogs. Archie, in particular, is not fond of vegetables. I've seen him eat around a piece of lettuce on his plate, so that is all that's left (don't ask). He doesn't even taste the veggies here.
I learned my lesson after the mean kitty incident with the other food. I stuck to chicken and peas here. I'll have to change it up later, of course. But at least here we didn't have Peanut being bullied out of his lunch.
What I Don't Like About This Product
I'd like a few more flavor options. I'll feed my dogs fish if necessary, but it's not their favorite. It would be nice if they had a beef flavor.
Pros
No nasty additives
Lots of nutrients
No corn, wheat or soy
High-quality ingredients
Contains real fish and chicken
Cons
If you want your dog to get real food, this is a great product. This food contains non-GMO ingredients and a lot of nutrients.
Overall Rating
4 ½ out of 5 Awesome, real food for your treasured pets
About the Brand
Purina has been in the pet food industry since 1926. Before that, they'd spent twenty-two years supplying farmers with feed. To say that they know what they're doing is an understatement.
This is probably one of the USA's best-known dog food brands. It's only been available elsewhere since 1976. In the few decades, it's also become a firm favorite globally.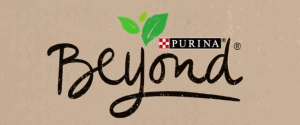 They have a wide range of products. According to the company, they're passionate about animal welfare. Considering the number of choices they give proud pet parents, that seems to be true.
Of all their ranges, the Beyond range is one of my favorites. It shows the company's commitment to providing healthier alternatives. Despite being one of the brand's premier lines, it's reasonably affordable as well.
One of the reasons that Purina has outstripped the competition is their competitive pricing. Another is that it is continuously keeping an eye on what clients want. The natural ranges of dog food are an example of this.
Interestingly enough, the company was amongst the first to offer more natural products.
In terms of recalls, the company has had a few issues. That's to be expected – you can't expect every batch to be perfect. What is good, though, is that the company learns from previous mistakes.
They're not afraid to admit to them either. They'll issue recalls if they feel a product isn't up to their standards. It's not hard to see why this company has achieved global success.
Final Thoughts
In closing, this has to be one of my favorite Purina ranges. It offers simple foods without a mess of chemicals. The taste testing panel agrees that the food is tasty. As their mom, I'm happy because the food is healthy.
It was challenging to pick my favorite out of this lot. If pressed I'd say that the Beyond Wild range takes the honors. That said, I'd be happy to feed my dogs any of the products in this range.
I did mention that dog biscuits were not high on my list, generally speaking. My furkids are no doubt delighted that I'll make an exception here. Overall, this range offers quality food and good value, so it gets a big five out five on the wag-o-meter.
Do check out our other articles where we review Fromm and Nutro Ultra. Also have a look at our recommended food choices for Hypothyroidism.