While Pomeranians may be a toy breed, they're known for being just as vigorous and spirited as any larger breed. That means their metabolism calls for a diet dense in calories and rich in nutrients. Even though there are products out there that boast of being suitable for all breeds and all life stages, there are dog foods specifically tailored for toy and smaller breeds which can be a good starting point when looking for food for your Pomeranian.
Since Pomeranians are more susceptible to particular food allergies and sensitivities, they have specific dietary restrictions and requirements which can be met better if you go for food specifically designed for your fox-faced friend.
We've rounded up some of the best Pomeranian foods available on the market and provided a feeding guide that will hopefully answer the question, what is the best dog food for a Pomeranian?
Our Top Pick
If you're in a hurry, our top pick for this list is Solid Gold Mighty Mini Turkey & Hearty Vegetable Recipe Grain-Free Dry Dog Food. Not only does it have real turkey as its first ingredient, but it is also geared towards small and toy breeds at all different life stages, which makes it perfect for a Pom.
It is also grain-free and doesn't have any unnamed meat or by-products, so you won't have to worry about food allergies. It features a balanced blend of nutrients, prebiotics, and probiotics in really tiny kibble sized bites, so your pet doesn't have any trouble chewing with his small mouth.
Best Dog Food for Pomeranians Reviews
This gluten- and grain-free food has real lean turkey as its first ingredient and the primary protein source. It sources its carbohydrates, fiber, and omega fatty acids from farm-fresh vegetables and up to 20 different superfoods— like blueberries and pumpkins— which also supplement the mineral, antioxidant, and vitamin content.
Aside from these nutrients, the formula also contains prebiotics and probiotics to aid digestion and help in gut bacteria growth. This holistic and balanced formulation is packed in one of the tiniest kibble sizes available in the market today, so your small Pomeranian shouldn't have any trouble chewing or swallowing them. It is fit for all toy and small breeds, including Poms at all different life-stages, from pup to senior.
Features
Protein sourced from real turkey
The smallest kibble sized bites
Suited for all life stages
Specially tailored for the unique dietary requirements of small and toy breeds
What I like
The manufacturers claim the recipe is perfectly balanced in protein, fat, and fiber in ratios best suited for the high-energy metabolism of small and toy breeds, and it seems so, in my opinion.
Another attractive and fresh element in the product is the complete absence of any and all fillers, additives, and preservatives. It doesn't have corn, wheat, soy, or even potatoes, which are often found even in some high-end premium dog foods. This, coupled with easily digestible real turkey, make this formula perfect for sensitive stomachs.
What I don't like
I don't have much to complain about this product except for maybe the fact that it sources some of its protein content from peas which doesn't have the same nutritional value as meat, but this can be considered a nitpick more than anything. All in all, it won't be an exaggeration to call this product one of the best dog foods for Pomeranians.
Pros
Contains a blend of omega fatty acids to give your pet a shiny and soft coat
No unnamed or generic meat sources or by-products
Has prebiotics and probiotics
Doesn't contain fillers such as grains or potatoes
Cons
Some picky eaters might not like the taste
If you're looking for a product that would be easy on your pet's tummy, won't trigger any food allergies, is geared particularly towards small breeds, and sells at a reasonable price, this grain-free turkey containing formula is the answer to those problems.
Overall rating: 4.8/5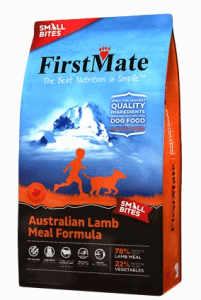 If you're looking for the best dog food money can buy for your Pomeranian, or if your Pom is simply prone to food allergies, FirstMate small bites might be an attractive choice for you.
Features
Single high-quality animal-based protein source
A limited number of ingredients
A marginal risk of allergies
Kibble sized bites fit for toy breeds
What I like
This formula contains 78 percent animal-based proteins, Australian lamb, to be more precise, and the rest of the protein content is sourced from green veggies. It is complemented with chelated minerals, prebiotics and glucosamine, which help with digestion and strengthen and support joints.
Additionally, your Pomeranian has a small mouth, so may have trouble chewing on larger pieces. As the name might suggest, the FirstMate small bites are kibble sized so it'll be easier for your pet to eat them.
I explained above how Poms have more dietary restrictions owing to their susceptibility to food allergies. This product is designed with that focus because it contains fewer ingredients to minimize the risk of allergies as much as possible. That coupled with a hormone-free single-protein source, a grain-free formula, and pea-sized bites, make this product the best Pomeranian food.
What I don't like
The only gripe I have with this particular product is its steep price, but if you don't want to compromise on quality, this fine food fits the bill.
Pros
Grain- and gluten-free
Balanced staple diet with supplements
Premium quality protein source
Its premium-quality protein source, grain- and gluten-free formula, and pea-sized kibble sized bites easily make this dog food one of the best which money can buy. Whether or not these features justify its steep price, I'll leave up to the reader.
Overall rating: 4.8/5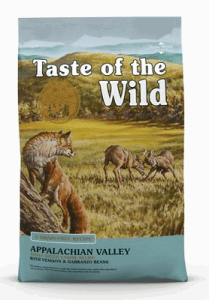 This particular dog food offers a very unique blend and taste. Unlike other products on this list, this food is made from real free-range bison and venison meat, which is not just packed with nutrients, energy, and goodness but also roasted for easier digestibility.
Apart from the rich protein content from the meat, the formula also has fats small breed adult dogs like Pomeranians need to fuel their higher metabolism.
Features
Protein sourced from roasted venison and bison
Fewer ingredients
Small-sized bites
What I like
As I touched on it before, probiotics and prebiotics are important for gut health, improve digestion, and fortify your dog's immune system. The list of nutrients doesn't end there. It is also formulated with fresh fruits and vegetables which bring valuable chelated minerals, omega fatty acids, and antioxidants to your Pom's diet.
What I don't like
Some Taste of the Wild loyalists have complained that they have a habit of changing their formulas. While that seems like a small gripe, depending on the dog, it can be a serious issue as some are very sensitive to diet changes.
Pros
Venison is rich in protein, highly digestible and tastes good
Completely grain-free
Has prebiotic and probiotic fibers to boost the gut flora
Cons
Expensive
A limited set of flavors
In so many words, Taste of the Wild dog food has almost everything you could ask of a good dog food geared towards the toy and small breeds and almost nothing you wouldn't want in it.
Overall rating: 4.7/5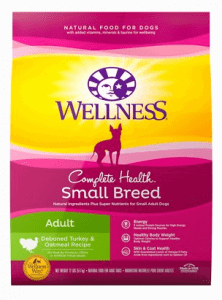 The Wellness brand is popular for producing dog food for active little ones and enjoys an overwhelmingly positive response from customers. This recipe uses turkey as its first ingredient and the primary protein source, which is an excellent choice without question. The mix also has chicken and salmon meal to top the protein richness off.
Features
Proteins are sourced from easily digestible turkey
Contains Omega fatty acids
Has fibers, minerals, vitamins, essential carbs, and nutrients which support joints
What I like
The flaxseed and salmon oil are relatively rich in a blend of omega fatty acids which can be of tremendous value if your pooch is shedding hair, for instance. This completely grain-free formula also has fresh veggies and fruits which bring nutrients needed for a balanced diet.
What I don't like
Although it claims to be created with a focus on small and toy breeds, it doesn't sit well with dogs who are more active and fuller of energy.
Pros
Grain-free
Helps dogs with joint and heart conditions
Helps improve coat shine and skin health
Cons
Not particularly best suited for more active small dogs
If you're looking for a grain-free but protein-rich food which promotes a glossier and healthier coat and also has a well-balanced blend of essential nutrients, you can't go wrong with this purchase.
Overall rating: 4.6/5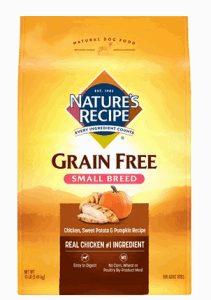 Next up on our list is Nature's Recipe small breed dry dog food which is a predominantly plant-based recipe with a healthy amount of animal-based protein content. It has chicken meal has its first ingredient—which is actually just chicken minus the moisture—to supplement the protein sourced from the meat, bumping it up to 300 percent.
Aside from the meat, it derives up to 27 percent of the protein content from plant-based sources— mostly peas. The peas also provide the food with chelated minerals, vitamins, and other nutrients, easy for your small dog to absorb. Perfect for pugs..
You'll also find fresh veggies and fruits in the ingredient list, including sweet potatoes, pumpkins, and apples. The pumpkins and apples are a good source of dietary fibers, and most dogs love the taste of sweet potatoes, which can be of tremendous help if your furry little friend is a picky eater.
Features
Made from protein-dense chicken meal
Rich in required amino acids, minerals, and other nutrients
Easily digestible promotes bone and muscle strength
Suited for smaller breeds like Pomeranians
What I like
A fact worth mentioning is that they don't use any unnamed meat sources or meat by-products, poultry or otherwise, and the recipe is free from grains which makes it a quite healthy choice for your Pom.
It is also bite-sized for easy munching on and is free from added preservatives, artificial flavors, and fillers, which limits the risk of your Pomeranian contracting food allergies.
What I don't like
A minor complaint I have with this product is the dietary fiber from peas— which is not problematic in itself –but it does not sit well with some dogs. The formula also contains a variant of Vitamin K, which is controversial, to say the least, because it is linked with some allergies.
Pros
Affordable
Grain-free
Small kibble size
Cons
The recipe contains one or two problematic ingredients
To bottom line this product for you, it is a grain-free, easy to digest, healthy ingredient-packed, and above all, affordable option, if you don't want to break your bank feeding your dog expensive food.
Overall rating: 4.5/5
To meet the high energy demand of your Pomeranian, this dog food contains increased protein content and extra digestible carbs in its recipe. It is made of real meat as its first ingredient, chicken to be more precise, and fresh vegetables and fruits as ingredients too.
In addition to the natural ingredients, the recipe is also supplemented with vitamins, minerals, and antioxidants in the form of triangular and pebble-shaped kibbles, which the manufacturers call LifeSource Bits.
Features
Real chicken as the first ingredient
Rich in minerals, vitamins, and antioxidants
Helps support the cognitive development earlier in life and the immune system later
What I like
The blend contains only the finest all-natural ingredients without any poultry by-products, soy, wheat, corn or artificial flavors and additives. This balanced food augments your dog's immune system and comes in three different flavors suited for all small breeds— including Pomeranians— at all life stages.
What I don't like
One thing that can be of concern is the presence of whole grains in the formula which might not agree with your dog's stomach.
Pros
the finest all-natural ingredients
Has a taste your dog will love
The formula doesn't contain any unnamed meat sources or by-products
Doesn't have beef, egg, dairy products, or any artificial additives and preservatives
Cons
Contains whole grains
Higher content of carbs which might be a problem if your dog is already listless or overweight
The ingredients don't mention any prebiotic which help the gut flora
If your Pom has food allergies but is also fairly active, consider feeding him this all-natural food since it doesn't have any artificial preservatives, coloring, or generic meat by-products.
Overall rating: 4.5/5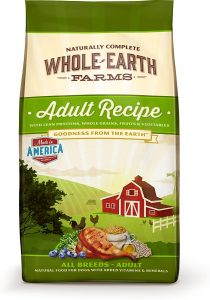 If you're looking grain-free dog food in kibble-sized portions, with proteins sourced from real chicken and turkey, this product might be an attractive option for you. The grain-free formula helps toy breeds with food sensitivities, and high-quality protein content promotes easy digestibility and more energy.
Features
Better digestibility
Promotes a shiny coat and healthier skin
Tailored for smaller breeds—kibble sized and suitable for pooches with sensitive tummies
What I like
In addition to the chicken and turkey, the recipe also has sweet potatoes, salmon oil, potatoes, and peas for a flavorful blend your petite pet will probably enjoy. These wholesome ingredients are rich in omega fatty acids, essential minerals, and vitamins needed for a balanced diet, glossier coat, and healthy skin.
This could be the right product for you if you're not too fond of grains, corn, soy, wheat, poultry by-products or artificial flavors and preservatives. Another aspect I like about this particular product is its very reasonable price despite the all-natural and fine quality of the recipe.
What I don't like
However, the protein content sourced from the multiple sources is lower in percentage, a mere 26 percent, which is lesser compared to its competition. It also uses alfalfa as a source of protein which can be considered a cheaper alternative to meat-based proteins.
Pros
Multiple premium protein sources
Affordable
Healthy all-natural ingredients
Cons
Part of the crude protein content is derived from plant-based sources
A relatively younger brand with a limited range of dog foods
If you're looking for a budget option specifically tailored for your Pomeranian but also don't want to trade-off quality, give this dog food a try. It claims to be highly digestible and has an all-natural recipe, both of which can be immensely healthy for your pet.
Overall rating: 4.6/5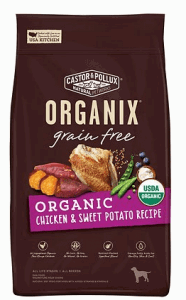 This product distinguishes itself from others in the market in the fact that it is completely organic, a feature often sought after by small dog owners whose pets have different allergies or gut sensitivities.
Its first ingredients are free-range organic chicken and a chicken concentrate –chicken meal –which boosts the protein content. It derives its dietary fibers and complex carbohydrates from another organic source –organic sweet potatoes, which make for a great tasting formula even picky eaters enjoy.
The recipe also includes prebiotics and probiotics to help your pet's tummy and his gut flora grow. You'll find chelated minerals listed in the ingredients too, which is a nutrient usually found in high-end dog foods because it makes for easy absorption of minerals.
Features
High quality 100-percent organic ingredients
Prebiotics and probiotics that aid in digestion
Organic coconut oil and flaxseed as sources of essential fatty acids
Small kibble sized bites suited even for the smallest dogs
What I don't like
I'm more partial towards this product because the manufacturers have to comply with strict government standards. Said, in another way, this product doesn't contain any hormones, antibiotics, or plants treated with artificial pesticides. If you own a Pom and would favor organic dog food over other alternatives, I believe you've found the right product.
What I don't like
Speaking of plants, this formula sources a sizable chunk of its protein content from plant-based sources like organic alfalfa and organic peas. While that's not a drawback in itself, our little canine friends have evolved to digest animal-based proteins more effectively.
Pros
Ideal for small dogs with sensitivities and allergies
Helps your dog get a glossy coat and healthy skin
The meat sources are all named and organic
Cons
Much pricier than other foods on this list
Isn't grain-free
I'd recommend this product to someone who's looking for an organic dog food pick and won't settle for anything but organic. This formula is made out of all-organic ingredients, but it can put a dent in your wallet, especially if you're on a tight budget.
Overall rating: 4.4/5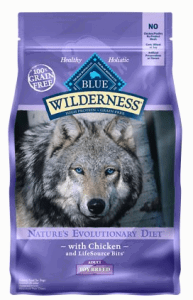 Sourcing its protein content from deboned chicken, this grain-free dog food helps your little one put on and maintain muscle mass. Since a significant portion of chicken is just water content, the mix also uses fish and chicken meal, which is essentially concentrated meat, to supplement the crude protein levels.
For the required carbohydrates and fibers, there's sweet potatoes, potatoes and, peas. To balance the meal with essential antioxidants, it contains the so-called "superfoods," such as blueberries, carrots, and cranberries.
Features
Chicken as the first ingredient
Teeny sized kibbles
Fit for all life stages
A healthy balance of antioxidants, vitamins and chelated minerals
What I like
This whole blend should suit his singular energy requirements, skin and coat health, and joint health and is packed in the form of tiny toy bite kibbles, perfect for your Pom's small mouth and jaws.
What I don't like
It does contain yeast as an ingredient, which is often linked with allergies.
Pros
Fortifies your pet's immune system, promotes a glossy coat and supports joints
Grain-free
Affordable
Cons
Contains yeast which can be problematic if your Pom is allergic to it.
If you're looking for affordable and high-quality food for your Pomeranian, you can't really go wrong with this purchase.
Overall rating: 4.7/5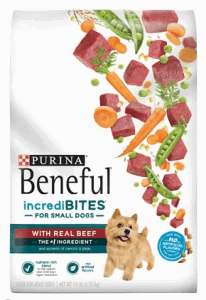 Purina is one of the more popular and well-known dog food brands around, so you can expect their formulas to be of high-quality, and this product is no exception. It derives most of its protein content from its primary ingredient—either beef or chicken, depending on the flavor your choose— which I'd consider to be top-notch in quality.
Aside from the meat, the recipe also features farm fresh green veggies and whole grains packed in small crunchy bite-sized kibbles perfect for your little Pomeranian.
Features
Has meat as the first ingredients
Added vegetables and grains
Supplemented with minerals and vitamins
What I like
The protein content should strengthen your pup's muscles, and the blend of 23 minerals and vitamins will support his general health and overall well-being.The bag it comes in can be resealed, which means it stays fresh for longer, so you don't have to worry about the food going stale.
What I don't like
Now, for the negatives about this product. For starters, it contains a sizable portion of grains, including corn, wheat, and soy. The formula also has animal by-product, which can raise a red flag if you are concerned about these products.
That said, this product made it to my list because it is of excellent quality, comes from a reputable brand, and above all, is very inexpensive which can be a deciding factor if you're on a tight budget.
Pros
Small kibble size
A good budget choice
Resealable bag
Cons
Animal by-product
Artificial preservatives and colors
If you're looking for a well-established and popular dog food brand on a budget and don't have any qualms with either grain or animal by-product, I believe you've found yourself the right product.
Overall rating: 4.6/5
Buying/Feeding Guide for your Pomeranian
Before you can go shopping for your Pom's food, you need to learn what his diet actually requires and then pick a product that fits the bill. As a general rule, your dog's diet should be rich in nutrients derived from animal-based sources and fairly dense in calories. Higher the meat content, therefore, higher quality.
It is important that the nutrients are sourced from animal and not plant sources because your dog has evolved to benefit better from nutrition that comes from animals. As an example, the proteins sourced from animals contain all the essential amino acids your little friend needs to thrive, which cheaper alternatives such as plants can't provide.
Proteins help build and maintain lean muscle mass. Apart from proteins, he also needs fats to power his energy-hog metabolism. Although he doesn't have any need for carbs, if you do make them a part of his diet, it's important that they are easily digestible. If your Pom is allergic to grains, consider swapping that product for a grain-free variant which derives carbs from veggies and such.
In addition to these core nutrients, chelated mineral and vitamin supplemented food can also benefit him greatly because they bring a nutritional balance. If you're looking to support his digestion and gut bacterial growth, find products which offer probiotic and prebiotic supplements.
How do these dietary requirements vary with age?
In case you're wondering if age has a direct bearing on the dietary requirements or restrictions of your Pomeranian, it does. When your Pom is a pup, he needs to intake a lot of calories to meet his energy requirements and a lot of protein— 22 percent at the very least— to fuel his growth phase.
The fat content in his diet can be anywhere between 15 to 20 percent during his growing years. You can ensure that he gets this required percentage by feeding him puppy food tailored for small and toy breeds.
After he grows into an adult, his protein and fat requirements go down to 18 and 5 percent, respectively. At this point, it can be a good idea to keep him on the same puppy food for some time. Once you start feeding him adult food, make sure you factor in his weight and age. Most manufacturers provide feeding recommendations on their packaging or website which you can refer to before making the purchase.
As your Pom grows older, his dietary requirements go down further. You can consider cutting down on either the amount or the number of meals you feed him, so he doesn't grow fat. I'd also recommend opting for foods which feature joint-supporting nutrients because he probably will face joint issues due to old age.
Food allergies and sensitivities
Age isn't the only factor when it comes to deciding on a product. Owing to their small anatomies, Pomeranians are much more susceptible to food allergies and prone to other food-related sensitivities. Many food ingredients can trigger these allergies so you'll have to look out for them and avoid the products which contain these allergens the best you can.
If you haven't identified all the triggers, it'll be a good idea to stick to foods with fewer ingredients and don't have any artificial preservatives, flavorings, or colors so that you can minimize the risk of food allergies.
How much should you feed your Pomeranian?
When your dog is a puppy, you can feed him three or four meals a day. If he doesn't overeat often, you can let him eat as much he likes for every serving. When he's almost a year old, you can transition to adult food for small and toy breeds.
Depending on how active or lethargic he is, you can feed him three or four portions a day. When he grows old, say seven years old, you can cut down his daily meals to two portions a day to keep him from getting obese.
Best dog food for a Pomeranian puppy?
While a generic puppy food can do the job, food tailored for a specific breed's puppy can keep nutrition deficiencies, allergies, and obesity at bay.
A diet geared towards Pomeranian puppies is no exception. Since they're small in size, they are at a higher risk of allergies and dental-related health issues.
Whatever breed they're designed for, there are some requirements all puppy foods should meet. For instance, they should be rich in nutrients, such as proteins and fats, to fuel their growth and development.
The contents should be highly digestible, and you have to make sure that your pup is not allergic to the ingredients. If the contents are poorly digested or if his tummy is inflamed, it probably means he's allergic to one ingredient or the other.
Puppy dermatitis is a skin disease prevalent among Pomeranians which causes loss of hair and itchy skin. Professionals recommend high levels of omega fatty acids in their diet to combat this condition.
Since they have tiny mouths and jaws, they often suffer from dental problems like gum diseases and tooth loss. According to professionals, higher protein content in their diet, along with proper oral care, can drastically reduce these risks.
While we're on the subject of small mouths, opting for puppy food specifically for small breeds can be a plus because generic puppy foods usually have larger sized kibbles not fit for smaller breeds whose pups are even smaller.
Besides, the small breed puppy food has a higher calorie count and higher nutrient levels which they need for their fast metabolism and growth. You can get an idea of how fast these little fur balls burn calories by the fact that it is very common for puppies to face low blood sugar levels or hypoglycemia.
So, to answer the original question, which food is the best for a Pomeranian puppy? While there is a wide variety of excellent value options available in the market, I'd recommend Wellness Complete Health Natural Small Breed Dog Food for Puppies.
It has a limited number of all-natural ingredients and sources its protein from salmon and turkey, both of which are quality protein sources. It also doesn't contain any filler, grains, wheat, soy, corn, animal by-products or digest which can promote indigestion of cause allergies. The bite size is very tiny, which is perfect for smaller mouths. Thanks to all that goodness, you won't be surprised to learn that it receives excellent reviews by customers.
Final Thoughts
Anyone who owns a Pom probably can attest to the fact that they're fun-sized furballs of energy and excitement, but unfortunately, these little guys can easily fall sick if you don't monitor their diet closely. Choosing the right dog food for your Pom can go a long way in keeping him in the best of his health.
I hope, by now, you've picked the brand and product you think is best suited for your Pomeranian. But if not, I recommend the Solid Gold Mighty Mini Turkey & Hearty Vegetable Recipe Grain-Free Dry Dog Food. It's a small kibble recipe packed with nutrient rich superfoods and high quality proteins to give your little one balanced nutrition for good health and energy.
If you like this, then you'll love our recommendations for Golden Retrievers.