As the owner of three dachshunds, I'm no stranger to dealing with picky eaters. My dogs see nothing wrong with devouring a dead pigeon they found in the garden feathers and all. When it is time for breakfast, however, they will suddenly develop refined palates and refuse to touch their food.
After some experimenting, I found that there are food brands that my dogs love. In this guide, we will be taking a look at the best dog food for picky eaters. If you want to improve your dog's eating habits and find tasty, nutritional food, stick around.
Our Top Pick
Our top pick is the Orijen Original Dry Food with its high protein content and added fat for an authentic taste. The Orijen Original is free of grains and contains up to 85 percent raw animal ingredients. This dry dog food also has a healthy fruit and vegetable content to enhance the health of your dog.
Here's our complete list:
Product Reviews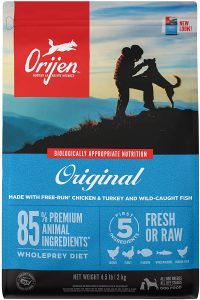 Orijen Original dry food contains a wide range of authentic and biologically-appropriate ingredients to provide your dog with optimal nutrition.
Key Features
Available in 12 oz, 4.5-, 13-, and 25-pound packages
Dry dog food
Consists of 38 percent protein, 20 percent carbohydrates, and 18 percent fat
Grain-free
Contains raw animal ingredients, fruit, and vegetables
What I Like
It contains high-quality proteins from sources such as poultry, fish, and eggs. This dry dog food from Orijen also has a high content of fresh fruit and vegetables to provide your dog with all the minerals and vitamins he needs. The carbohydrates also give your dog the energy boost he needs to enjoy his walks and playtime.
This dry kibble is sufficient as a stand-alone meal and offers a taste and aroma that is enjoyable to dogs. You can also add warm water to the food to give it a chewy consistency.
What I don't Like
Minor drawbacks of this food are that it doesn't have the long shelf life you expect dry food to have, and it is more expensive than similar products.
Pros
A healthy blend of fresh and natural ingredients
Picky dogs like the food's flavor and aroma
A sustainable source of energy throughout the day
Mix the kibbles with water to enhance the taste
Wide ingredient variety that includes meta proteins and fat
Cons
High price tag
Relatively short shelf life
Orijen Original dry food provides your dog with natural nourishment and a tasty meal.
Overall rating: 5/5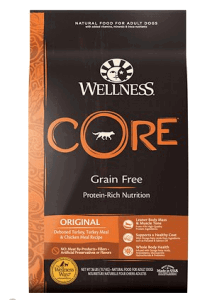 Wellness Core Grain-free dry food has all the necessary ingredients to maintain your dog's health, weight, and energy levels.
Key Features
Rich in proteins and fat
10 percent moisture content
Contains calcium, Vitamin E, and omega-3 and omega-6 fatty acids
100-percent grain free
Suitable for non-producing dogs older than one year
What I Like
Wellness Core Natural dry dog food features a protein-based formula that is free of grain. The kibbles contain live active probiotics, prebiotics, and fiber to maintain your dog's digestive and intestinal health.
In addition to high protein levels, Wellness Core also contains all the essential vitamins your dog needs as well as minerals and fatty acids to give your dog a shiny coat, boost his immunity against diseases, and promote healthy eyes, teeth, and gums. The food also has a sufficient carb content to give your dog the daily energy boost he needs.
What I Don't Like
Many buyers have complained the bag doesn't seal very well, which can affect the quality of the food. Of course, you can always purchase an extra air-tight reusable storage container to remedy this issue.
Pros
The protein-based formula promotes lean muscle mass and fat burning
A balanced blend of natural ingredients
Contains essential nutrients, vitamins, and minerals
Free of wheat, soy, and artificial colorants and by-products
Made in the United States
Delicious taste and aroma for picky eaters
Suitable for dogs that are allergic to grain
Cons
Ziplock doesn't seal the bag properly
Not suitable for puppies
This Wellness Core food contains no low-grade additives or meat by-products. This brand is not only suitable to picky eaters, but it also includes all the ingredients to ensure that you have a happy, active, and healthy dog.
Overall rating: 4.7/5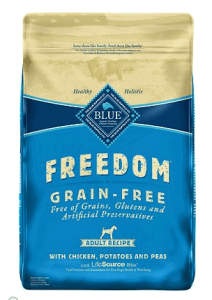 Blue Buffalo Freedom dog food is available in three different flavors and is a favorite among people who have picky dogs.
Key Features
Contains high-quality, natural ingredients
Free from low-grade fillers, soy, and meat by-products
100-percent gluten-free
Formulated to ensure the wellbeing of your dog
Rich in vitamins, minerals, and antioxidants
What I like
Blue Buffalo dry recipes are specially formulated for puppies, adult, and senior dogs. Food for puppies contain ingredients like DHA to enhance cognitive development, and recipes for senior has added ingredients like glucosamine and chondroitin to maintain joint mobility.
In addition to the protein-rich dry kibbles, Blue Buffalo dog food also contains the brand's LifeSource Bits that are rich in antioxidants, minerals, and vitamins to boost your dog's immune system and maintain a healthy oxidative balance.
Because of the food's high nutritional value, small breeds only require one meal per day. To reduce the dry food's crunchiness, you can add warm water to your dog's bowl.
What I Don't Like
Because of the food's grain content, it may not be suitable for some dogs. However, there are several benefits to grain intake, including improved indigestion. This brand of food can also be expensive, and if you have a large breed like American Bully that eats a lot, it can ramp up your expenses.
Pros
Suitable for dogs of all ages and breeds
Enjoyable taste and flavor for picky eaters
Rich in vitamins and minerals
100-percent gluten-free
Available in three different flavors
Cons
Not grain-free
Expensive option
Blue Buffalo has several flavor options to meet your dog's taste and provides real, natural ingredients.
Overall rating: 4.1/5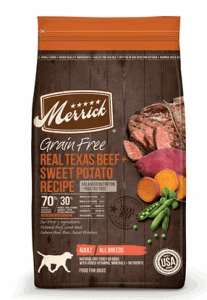 Merrick dry dog food is available in a wide range of flavors with real, deboned meat being the primary ingredient.
Key Features
Ingredient blend that is grain- and gluten-free
Features real meat
Features omega-3 and omega-6 fatty acids
Promotes healthy joints
Produced in the United States
Contains vegetables like potatoes, blueberries, and peas
What I Like
This dry dog food from Merrick provides your dog with high-quality protein in the form of deboned meat, fish, or poultry to promote muscle development and healthy energy levels.
There are a wide variety of recipes available to cater to the needs of all breeds and age groups. Vital nutritional elements include omega-3 and omega-6 fatty acids to promote healthy skin and coat. The high levels of glucosamine and chondroitin also maintain joint functionality, which is essential for senior dogs.
Merrick's dog food is grain-free and contains whole foods to provide complete nutrition, including fruit and vegetables.
What I Don't Like
One issue with the kibbles that they tend to clump together, and you may have to break it apart so your dog can eat it. However, clumping may be an indication of a high moisture content which can be beneficial to your dog.
Pros
Made from real, de-boned meat
Contains fruit and vegetables for comprehensive nutrition
Enhances joint mobility and health
Delicious, authentic flavors for picky dogs
Fatty acids can give your dog a shiny coat
Cons
Merrick dry dog food provides your dog with the flavors and nutritional intake that his ancestors found in nature.
Overall rating: 4/5
This whole-grain dry food from the Honest Kitchen is made of real meat that is sourced sustainably and naturally.
Key Features
Consists of dehydrates meat
Selection between cage-free turkey, free range chicken, and ranch-raised beef
Contains no by-products, low-quality fillers, or GMO ingredients
Whole-grain food to boost digestive health
Formulated for adult dogs of all breeds
Consists of protein, fat, and fiber
What I Like
A notable feature of this dry food is that it contains healthy proteins from organically sourced meat from either free-range chicken, ranch raised beef, or cage-free turkey. Since this food is human-grade, it meets the same criteria that the FDA has in place for food intended for human consumption.
If your dog is not allergic to grain, this food is a viable option to improve his gastrointestinal and digestive health. The Honest Kitchen dog food is also an excellent option for picky eaters, and you can add warm water to the dehydrated meat to give it a chewy texture and delicious aroma.
What I Don't Like
Dogs that are allergic to the grain will not be able to consume this food. Some people may also be put off by the green color of the chicken flavor.
Pros
Natural human-grade meat as a source of protein
Contains no low-quality fillers, soy, or meat by-products
Whole grain boosts your dog's digestive health
Add water to the dehydrated meat to increase flavor
Comprehensive nutritional blend to maintain your dog's health and energy levels
Meets FDA standards for human food
Cons
Not suitable for dogs that are allergic to grain
The Honest Kitchen provides your dog with optimal nutrition, taste, and health benefits.
Overall rating: 4.2/5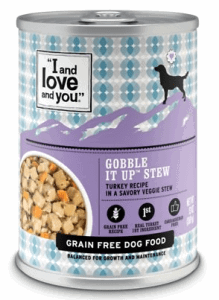 This canned dog food features turkey as the primary ingredient and is free from gluten and grains.
Key Features
Protein sources include turkey meat, liver, and broth
Contains flaxseed oil that is rich in omega-3 and omega-6 fatty acids
Gluten- and grain-free
No by-products, wheat, or artificial flavors and colorants
Carrageenan-free
What I Like
I and Love and You's Gobble it Up Stew is high in protein. The food contains real meat and other sources of protein that include turkey, dried egg whites. Other nutritional ingredients are vegetables like carrots, sweet potatoes, green beans, and spinach.
Minerals and other nutrients in this food include vitamins E, A, B12, and D3, as well as flaxseed oil to provide your dog with omega-3 and omega-6 fatty acids to enhance the health of his skin and coat.
Since the food is grain-free, it mimics a dog's natural diet. The recipe also contains no carrageenan, a controversial thickening agent.
What I Don't Llike
One issue with this canned dog stew that it has a somewhat watery consistency and your first instinct may be to add kibbles to thicken it. While there's nothing wrong with adding kibble—you shouldn't need to do so.
Pros
Rich in proteins from real meat
Omega-3 and omega-6 fatty acids to give your dog a shiny coat
Free from carrageenan
Suitable for dogs that are allergic to grain
Cons
I and Love and You is a high-quality wet dog food that contains everything your dog needs to be healthy.
Overall rating: 3.9/5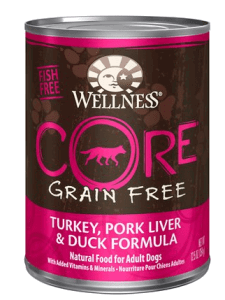 Wellness Core Natural canned dog food is grain-free and contains a wide range of authentic protein and taste sources.
Key Features
Contains natural meat and vegetables
A comprehensive range of minerals and vitamins
Free from grains and gluten
100-percent natural fish-free
Contains chicory root extract and riboflavin supplement
What I Like
This Wellness Core Natural canned dog food has a high protein content and contains several animal materials, including turkey, pork liver, chicken meal, duck, and turkey broth. Other ingredients include vegetables like carrots, sweet potatoes, kale, broccoli, and fruit like apples and blueberries.
The canned food also contains several minerals as well as vitamins E, D3, and B12. The ground flaxseed is an excellent source of omega-3 and omega-6 fatty acids to boost your dog's health and maintain the health of his skin and coat.
What I Don't Like
This food is suitable for dogs that are allergic to grain, and it doesn't contain any gluten. However, it does contain carrageenan, a controversial additive. Because the Wellness Core Natural food is a high-quality product, it is also relatively expensive.
Pros
Rich in fat, proteins, and carbohydrate
Healthy content of fruit and vegetables
Suitable as a balanced, stand-alone meal
Contains a wide range of minerals and vitamins to maintain your dog's health
Different meat ingredients add to the authentic taste that dogs like
Cons
Contains carrageenan
Relatively expensive dog food
The Wellness Core wet dog food is suitable for dogs of all breeds and ages and may be an appropriate solution if you have a picky eater.
Overall rating: 3.8/5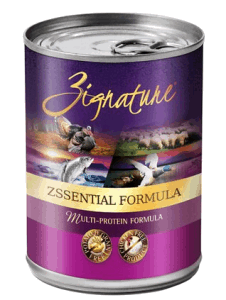 This wet dog food from Zignature contains several turkey products to provide your dog with natural tastes and aromas.
Key Features
Protein sources include real turkey meat
Omega-3, omega-6, vitamin B12, and selenium
Low in saturated fat
Contains a variety of fruits and vegetables
Free from grain and gluten
Suitable for all dog breeds and ages
What I Like
Like most other wet dog foods, Zignature's is high in protein to provide your dog with energy during the day and to stimulate muscle development. Sources of protein include turkey, turkey liver, salmon, and duck meal.
The omega-6 and omega-6 fatty acids, selenium, and vitamin B12 promote your dog's cardiovascular health. Other nutritional contents include riboflavin, thiamine, phosphorous, and niacin.
What I Don't Like
The blend of real poultry products gives this food a natural taste that picky eaters may like. However, the shelf life of this food is relatively short.
Pros
High in proteins and nutrients
Suitable for dogs with allergies
Enhances cardiovascular health
Gluten-free
Offers a balanced meal with a natural taste
Cons
Relatively short shelf life
Zignature's canned food is heart-friendly and may be an excellent option for fussy eaters.
Overall rating: 4.3/5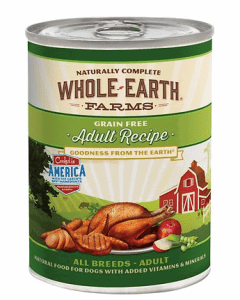 Whole Earth Farms' wet dog food contains a healthy and balanced blend of proteins, vegetable, minerals, and vitamins and has a natural, meaty flavor.
Key Features
Primary ingredients include chicken, turkey, and chicken liver
Natural Flavors
A comprehensive range of minerals, vitamins, and nutrients
Contains fruit, vegetables, and plant oils
Free from soy, corn, and wheat
What I Like
The Whole Earth Farms wet dog food is grain-free and contains several sources of protein as well as fruit and vegetables, including peas, carrots, blueberries, and sweet potatoes. This food is suitable for adult dogs that are older than one year, and it contains yucca schididigera extract, rosemary, sage, and thyme.
What I Don't Like
This dog food is made in the United States, and the recipe was specially formulated to provide picky eaters with an authentic, meaty flavor. The consistency of the food is more paste-like, however, and does not consist of chunky pieces of meat.
Pros
An authentic, natural taste for picky dogs
Well-balanced nutrition
Real meat and natural sources of protein
Grain- and gluten-free
Suitable for all adult dogs
Cons
Food has a paste-like consistency
The best thing about the Whole Earth Farm dog food is the taste, and it is ideal in combination with kibbles, and one few dogs can resist.
Overall rating: 4/5
About the Condition
Fussy eating is a common condition among dogs. In most cases, dogs are picky eaters because they don't like the taste and texture of their food, or they are simply not hungry. Smaller breeds typically have small appetites, and they may leave food behind in their bowl.
If you like to give your dog treats from your own plate, it can result in picky eating. Your dog knows there is better food in the house, and he is not satisfied with second best. However, if you are disciplined with your dog's feeding times, the problem may go away.
Picky eating is usually not a problem if your dog has always been fussy with their food if they maintain a healthy weight and appear to be alert and happy. On the other hand, if you notice that your dog's picky eating goes together with weight loss, there may be an underlying condition.
To determine whether a dog's eating habits are the result of picky eating or a medical problem, you may have to take your dog's personality and surrounding circumstances into account. For example, if your dog devours the pieces of bacon you throw at him from the dinner table, but scoffs at the pellets in his bowl, you have a picky dog.
However, if a dog that usually finishes his bowl of cheap dog food in a matter of seconds and head over to the garbage bin for more food suddenly stops eating altogether, it may be time for a visit to the vet.
Medical Conditions
Several medical conditions can cause a change in your dog's eating habits.
Digestive Problems
Digestive difficulties can either be a systemic issue or a reaction to an ingredient in their food. Gastrointestinal obstruction can also result in appetite loss. For example, if your dog ate a ball or a sock that gets lodged in the stomach or intestines, it can block the flow of nutrients that they ingest.
Gastrointestinal obstruction can cause a lot of discomfort and appetite loss. If you notice that an object that your dog was playing with is suddenly gone, keep an eye on his eating habits.
Tooth Pain
Dental issues can cause a dog to stop eating. A puppy in his teething phase or an older dog that suffers from gum disease or tooth decay may become a fussy eater. If you suspect that your dog has tooth pain, take him to the vet for treatment and pain relief. You can enhance your dog's dental health by giving him dental chews that remove plaque and tartar.
Hormonal Problems
Hormone levels can influence a dog's appetite in several ways. Unaltered females are especially susceptible to hormone-related anorexia. The good news is that pickiness as the result of hormones can automatically disappear over time.
Tumor
Fussy eating is one of many side-effects of tumors. To prevent tumor-growth, keep an eye on your dog's eating habits, make sure they get sufficient exercise, and take them regularly to the vet for medical examinations and routine treatments.
Fussiness
If your dog simply doesn't find his food appetizing, changing his diet can make a big difference. If you have more than one dog and want to find food that everyone will like, it is essential to know what is palatable to dogs.
Dogs generally prefer food containing high-quality proteins, authentic meat flavors, and animal fat. Some dogs may like the taste of fruit and vegetables as well as plant oils. If your dog is a picky eater, he may not be a fan of artificial flavoring.
Tips
If your dog's food intake decreases, and you ruled out any underlying medical problems, there are several things you can do to boost your dog's appetite.
Food Quality
Consider the food you give to your dog carefully. The pickiest dogs usually love meat-based food that contains whole sources of proteins, for example, lamb, chicken, or beef. Meat meal is also an excellent source of protein for dogs.
Other ingredients to look out for include fats to improve cell function and digestion, vegetables as a source of potassium and vitamin B, and grains as a source of energy and to aid in digestion.
Picky dogs are less likely to eat food that contains low-quality fillers and ingredients like soy, whole wheat, and corn. Also, stay away from food that contains additives and artificial flavoring.
Physical Activity
If your dog is physically active, it burns energy and increases your dog's appetite. If your dog is a fussy eater, taking him to the park or on long walks every day can go a long way to improve his eating habits.
Limited Dog Food Formula
Some dogs don't like grains and vegetables, even though these ingredients have several health benefits. Your dog may also be allergic to grains. Dog food with a limited formula may be more palatable to your dog.
Restrict Access to Food
If your dog is a fussy eater, it may help to feed him at a specific time of the day and take the food away when he isn't hungry or when he stops eating to pay attention to something else. If you leave his food outside for the entire day, he has no feeding routine, which can also result in fussy eating.
Hand Feeding
Your dog may eat better if you are actively involved in the feeding process. If your dog is picky, try feeding him by hand. Over time, you start pouring food in his bowl after feeding him a few pellets by hand and transition slowly from this feeding method.
Change to Wet Dog Food
Your dog's sense of smell plays a significant role in his appetite. Since wet dog food is typically more aromatic and appealing to dogs, it may encourage them to eat. You can also warm the food in the microwave a little to release the flavors and make the food seem more appealing to your dog.
Cut Down on Treats
Table scraps and treats can fill your dog's tummy and reduce his appetite. Tasty treats can also cause your dog to stop enjoying his food.
Stop Overfeeding
Determine the appropriate feeding measurements for your dog's size and weight. Some dog food brands are pre-measured or provide measuring cups with color-coded markers for small, medium, and large breeds. If you overfeed your dog, he may not be hungry when it is time for the next meal.
FAQ's
Is Picky Eating a Serious Condition?
Fussy eating in itself is not a severe condition, but it can be a symptom of an underlying issue. Take your dog to the vet if you suspect dental pain, gastrointestinal restrictions, or digestive problems.
How Many Meals Should my Dog Have per Day?
Most veterinarians recommend that you feed your dog once in the morning and once in the evening. Puppies may have to eat three or more times per day.
Which Dog Food Ingredients Should I Avoid?
Make sure the dog food you buy doesn't contain the following:
BHA or BHT
White flour
Artificial coloring
Gluten
Soy
Corn Syrup
Farmed salmon
Nitrites and nitrates
Which is Better for Picky Eater: Wet or Dry Food?
One is not necessarily better than the other. Dry food helps to maintain dental health, it is easy to store, and it generally has a longer shelf life than wet food. Dry food is also more affordable than wet dog food.
Wet dog food aids in hydration, and dogs tend to love the consistency, taste, and smell of wet food.
Many owners opt to mix the two, and that's a fine compromise.
Final Thoughts
The quality of the food we give to our dogs is crucial to their well-being, energy levels, and life expectancy. When dogs are picky about the food they eat, it can be the result of several factors but, in most cases, changing their diet can go a long way to re-establish their healthy eating habits.
Our top pick is the Orijen Original dry food. This food contains real meat, fat, and a healthy supply of fruit and vegetables. If you want to get your dog to stop scoffing at their food, we recommend trying this brand for its high vitamin and mineral content.