LiSince its founding in 2002, Blue Buffalo Pet Products Company has grown to be a reputable manufacturer of food for pets. Its line of puppy food ranks among the best on the market, thanks in large to the years of research and experience that the company has devoted to its products.
The company collaborates with certified veterinarians and pet nutritionists to produce healthy dog food from natural ingredients only. Their puppy food line includes products for both small and large dog breeds in dry and wet varieties. The well-balanced nutrient mix in these foods will energize your pet, soften their fur, and brighten those cute little eyes.
Some puppies can tolerate any kind of pet food, but others reject different types of ingredients, such as soy, turkey, and other plant or meat products. This explains why Blue Buffalo has created a wide variety of puppy foods to cater to all these diverse preferences and sensitivities your furry companion may display.
Of course, this variety may also make it a challenge to choose the best Blue Buffalo product for your puppy. Let's look at the top options available in the market to help you decide.
Blue Buffalo Puppy Food Reviews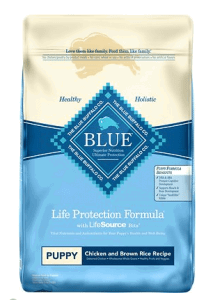 The formula you feed your puppy should promote healthy growth so they can grow into a healthy adult. Right on cue is the Blue Buffalo Life Protection Formula.
Features
Fleshy, de-boned chicken, which supplies protein to support the healthy development of muscle
Antioxidant-rich fruits, garden vegetables, and wholesome whole grains that also provide vitamins to bolster the immune systems of puppies
Nourishing menhaden fish meal which is abundant in fatty acids such as Omega 3 and 6. These are essential for healthy skin that results in radiant coats. These ingredients also bolster cognitive functions and can minimize allergies and inflammation
Free of soy, wheat, and corn
No harmful flavors or preservatives
Choline and mother's milk support healthy retinal as well as fast learning capabilities
Minerals including phosphorus and calcium for healthy teeth and strong bones
What I like about this product
This formula is fantastic for hyperactivity in puppies thanks to it's a high-protein blend, and the mix of antioxidants leads to a healthy, shiny coat with continued use. I also enjoy the availability to choose a bag size to fit my budget and puppy's appetite.
What I don't like
I found that it took longer than expected for my puppy to adjust to this food. It can be normal for there to be some diarrhoea when switching products (which is why it should be done slowly), but it seemed to take more than the usual time with this puppy food.
Pros
Suitable for puppies with long fur
Helps in the management of minor health conditions
Increases dog's activity levels
Cons
Negatively affects puppies with a grain allergy
The Life Protection formula in chicken and brown rice flavor is a real-meat option for puppies that provides high protein and a solid mix of nutrients growing dogs need. The kibbles are also specially designed for small mouths and developing teeth. Blue Buffalo is committed to creating high-quality dog food with all-natural ingredients, and they really hit the mark with this formula.
However, many users complain that it can cause digestive upset, particularly when first used before the puppy has had time to adjust. Other puppies may have continued issues. In that case, you might look to a grain-free option.
Overall rating: 4/5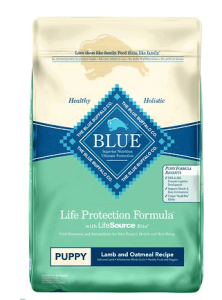 This lamb and oatmeal formula can be a viable alternative for puppies who don't seem fond of the chicken and brown rice flavor. It is a protein and mineral-rich dish that helps puppies develop healthy muscles.
Features
Devoid of common allergens; corn, soy, and wheat
Uses vitamin-based preservative instead of the dangerous artificial preservatives
The sweet, de-boned lamb has important nutrients such as selenium, zinc, phosphorus and iron, all essential to growth
Wholesome whole grains, fruits, and garden veggies for a balanced diet to ensure a robust immune system
Contains high-quality real meat additives from eggs and turkey instead of poultry or chicken byproducts.
The cold-formed Blue LifeSource Bits are rich in nutrients that support healthy oxidative balance and proper growth through the different stages
What I like about this product
I like this formula because there are no chicken byproduct or corn-based ingredients—the primary ingredient is de-boned lamb. It seems to be a winner for picky puppies too, and like Blue Buffalo's other puppy lines, it also comes in a nice variety of bag sizes.
What I don't like
However, also like the chicken and brown rice formula, the lamb and oatmeal can be a harder transition for some puppies as far as initial upset. Some users also mention that they had issues after Blue Buffalo changed their formula and packing recently.
Pros
AAFCO certified
Supports healthy eye and brain function
Good for inflamed or sensitive skin
Cons
Pricey since it is a premium quality food
You may need to watch your puppy's weight in times of low activity to prevent excessive weight gain
The Blue Buffalo Life Protection Lamb and Oatmeal formula is an excellent choice if you like the Life Protection line but would prefer not to feed your dog chicken or chicken byproducts. It also may be worth a try if the chicken and rice version didn't agree with your puppy. The convenient small bag options make trying varieties while trying to find the right match more affordable.
Overall rating: 4/5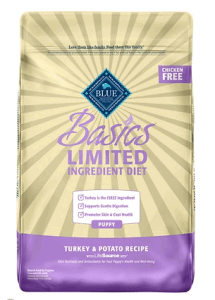 Our Blue Buffalo dog food reviews wouldn't be complete without including their Blue Basics Turkey and Potato recipe. This dog food is great for pups with sensitive tummies since the recipe is simplistic and has few ingredients.
Features
Provides fatty acids and omega, which aids in the development of healthy skin for a beautiful coat
Made with de-boned turkey, which is highly digestible and a source of minerals like iron and potassium
Easy-to-digest carbohydrates such as peas, pumpkins, and potatoes, which prevent difficulties in passing stool
No eggs, corn, dairy, wheat, and soy
The Blue Basics Turkey & Potato Recipe has a blend of vitamins that bolster immunity so that puppies can enjoy good health as they grow
What I like about this product
This formula is a godsend for puppies with chicken, beef, or lamb allergies as it is turkey based and doesn't contain tricky additives such as chicken byproduct. It also packs a lot of nutrition in its few ingredients, mostly because turkey meat and the plant additives in this formula are specifically chosen to maximize the benefits to your puppy without any unnecessary ingredients.
What I don't like
While this puppy food does have fewer ingredients than your standard puppy food, and the first ingredient is real meat, this is food is not grain free. It contains oatmeal and brown rice, among others. As it is marketed as being perfect for dogs with stomach sensitivity, I'd prefer to see it tick all the boxes and cut grains too.
Pros
Single animal protein source (de-boned turkey)
No byproducts, fillers, soy, corn, or wheat
Created by experienced nutritionists and veterinarian
Not just for dogs with sensitivities to certain meats, Blue Buffalo's limited ingredient puppy food is a healthy alternative for all pups. It also is the first puppy food from this company we've reviewed that doesn't come with a long list of user complaints of loose stools for some time upon first use. This may be because the more simplistic recipe has fewer ingredients to differ from whatever you were feeding your puppy before.
Overall rating: 4.5/5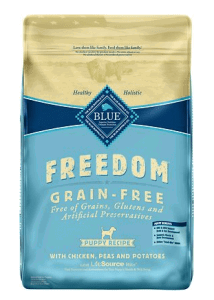 This formula is for puppies that are allergic to gluten and grains. Blue Buffalo has come up with a nutritious alternative that is both easy to digest and rich in minerals and proteins in this grain-free chicken recipe.
The manufacturer also sticks with natural ingredients to enrich this puppy food using no artificial preservatives or flavors which minimizes rejection.
Features
Chicken fat is preserved with healthy Tocopherols
Flaxseed is the source of fatty acids; Omega 3 and 6. These are essential for proper brain development
Pea fiber aids in fast digestion to promote gut health
Sweet potatoes, garlic, and carrots supply antioxidants and vitamins, which contribute to healthy skin and robust immune systems.
Rich in minerals including calcium and potassium which help the puppies grow healthy bones
Has vitamin D, which aids in the absorption of phosphorus and calcium for a healthy heart, skin, and connective tissue
What I like about this product
Finally, a grain free option from Blue Buffalo for puppies. This formula seems to reduce gas in puppies (which is typical for grain-free fed dogs. It also must taste great, because even my cat tries to eat it—Blue Buffalo does make cat food too!
What I don't like
While the grain-free aspect of this is fantastic, it would be even better if they coupled it with their limited ingredient option to create the ultimate food for puppies with food sensitivity. The very high protein content could also lead to weight gain in dogs that are less active for whatever reason.
Pros
Grain free
Suitable for dogs with recurrent joint problems thanks to fatty acids which help prevent inflammation
High energy content for active puppies
Cons
Excessive weight gain can be an issue for less active pups
Another option with fewer complaints of stomach upset, Blue Buffalo's grain-free chicken dog food is a great choice if you're looking to put your dog on a more meat-based diet. It can help with gassiness and provides plenty of protein for energy. Many Blue Buffalo reviews also note that with extended use this food will really make your pups fur shine.
Overall rating: 4.6/5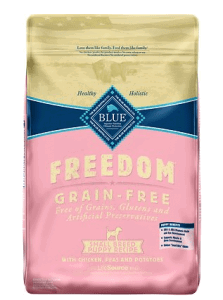 The nutritional requirements of puppies can vary slightly depending on their age, weight, and breed. This formula is explicitly designed for small breed puppies.
Features
Contains DHA and ARA, which contribute to the healthy development of eyes
Essential vitamins and calcium support the growth of strong bones and teeth
Carbohydrates together with real meat protein provide the energy requirements for the small breed pet
Omega 3 and 6 fatty acids nourish skin for healthy coats
The nutrient-rich LifeSource Bits support a healthy immune system
Does not contain common allergen triggers like soy, corn, wheat, or chicken by product
What I like about this product
The kibbles in this food are nicely sized for the tiny mouths of small breed puppies, and it helps remove tartar to promote strong teeth.
What I don't like
The uncommon texture and size of LifeSource Bits, though ideal for before-mentioned tiny mouths, also can take some adjusting for puppies to get used to. Some refuse to eat it initially. If you try this option, and that's the case, try mixing it with warm water until your pup adjusts.
Pros
Carefully selected 100-percent natural ingredients
Enough supply of energy even for hyperactive pets
No artificial additives and flavors
Cons
Protein content may be too high for some puppies
Expensive, despite small package size choices
Blue Freedom grain-free chicken recipe for small breed puppies is rich in nutrients, and a rare find as a grain-free small breed puppy food. You can often find grain-free puppy food or small breed puppy food such as corgis but not both. Blue Buffalo really filled a niche gap in that respect. Like all of their products, this food also opts for real meat (de-boned chicken) as the first ingredient and doesn't include any artificial nonsense.
Overall rating: 4.5/5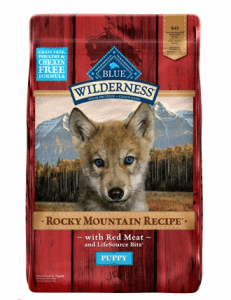 The folks at Blue Buffalo claim that they drew inspiration for this recipe from watching the majestic wolves that thrive in the western parts of the country. Seems that in every dog lives the fierce wolf spirit, and this food is for them taking its name from the Rocky Mountains.
Features
Delicious, protein-rich, venison, lamb, and de-boned beef
No wheat, corn, and soy flour which many puppies reject
Made from select 100-percent natural ingredients, such as vegetables and fruits
No harmful artificial additives.
The grains are gluten-free
Contains BLUE LifeSource Bits for healthy oxidative balance
What I like about this product
I use this formula for my puppy, and since this formula has a high concentration of nutrients, I can feed my fluffy friend with smaller portions without sacrificing her nutrition or leaving her hungry. This product is perfect for a lean body, mainly because Blue Buffalo used meat with minimal fat when formulating this recipe.
What I don't like
Before she got used to this food, my puppy had some severe vomiting and diarrhea for a few days. I had a similar experience with their LifeProtection puppy food, so I knew it might take her a bit longer to adjust. To their credit, Blue Buffalo asks customers to contact their customer service in case of diarrhea and vomiting. I did call them, and it was a pleasant experience. They had helpful tips on exploring whether this was the right fit for us.
Pros
Ideal for overweight puppies
Delicious real red meat
Cons
Expensive
Can be hard to find in local stores
Blue Buffalo Rocky Mountain recipe is ideal for puppies that love their meat. They can indulge without ballooning in size to unhealthy proportions. It's also a great option if you'd prefer to feed your dog a diet closer to their ancestral cousins in the wild, but the puppy version of this formula can be hard to find in local stores in some areas. It can, however, be purchased online if you run into that issue.
Overall rating: 4.8/5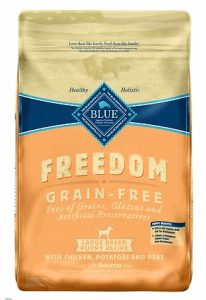 The final formula in our Blue Buffalo puppy food review is the Blue Freedom grain-free chicken recipe for large breed puppies. Large breed puppies grow up faster compared to the small breeds, and this food helps them grow strong bones, muscles, and connective tissue so they can be active and strong. The healthy amounts of carbohydrates support the various physical growth processes.
Features
Real chicken that supports healthy muscle growth
ARA and DHA fatty acids ensure proper eye and brain development
Delicious, protein-rich, de-boned chicken
Gluten-free grains to prevent allergic reactions
Does not contain unhealthy chicken (or poultry) byproducts
Free of corn, soy, and wheat which may lead to weight gain or trigger allergies
Uses vitamin-based preservatives instead of artificial ones
What I like about this product
If you haven't guessed already, I'm a fan of grain-free dog food options, and this formula doesn't disappoint for large breed puppies. It has a nice mix of nutrients to help prevent the joint complications so common in larger breeds, and well, they seem to like the taste a lot too.
What I don't like
Unlike many of Blue Buffalo's products, this formula only comes in two bag sizes, 15 and 30 lbs. I can see why, as larger breeds are generally heartier eaters, but it would be nice to see both smaller and larger options than this. Small for experimenting to see which brand your pup likes, and larger for buying in bulk for breeds with high protein needs like the American bully.
Pros
Organic ingredients
Easy to digest
Rich in antioxidants for a healthy immune system
Suitable for dogs with joint problems
Cons
Protein content may be too high
Much like all the products I've reviewed here today, this formula is high quality with meat as the first ingredient and no artificial fillers. It's another fantastic grain-free option and well-suited to large breeds recipe-wise. Much like the Rocky Mountain formula, it can be a little trickier to find in stores, though.
Overall rating: 4/5

What you need to know about the Blue Buffalo Brand
Blue was a dog. A beloved dog that was a part of the Bishop's family and succumbed to cancer. Bill, together with his sons, Billy and Chris, took the best thing they could from this tragedy, a desire to produce high-quality foods that would ensure dogs live for longer with their families.
Their focus was on healthy foods laden with natural ingredients since artificial products have effects that are unknown or harmful. They started the business, named it after their dog, and so began a relentless quest to produce healthy, tasty food for pets.
Today, Blue Buffalo stands among the leading brands known to make quality foods for dogs and cats. The company produces a variety of formulas, all of which are free of soy, corn, and wheat— the worlds' notorious allergens to many dogs.
The company also prefers natural vitamin-based additives such as citric acid and tocopherols and has quite a few grain-free options.
Common Blue Buffalo FAQs
Does the company produce specific formulas for food-sensitive pets?
For the food-sensitive puppies, pup parents can choose from complete diets with the main ingredients as salmon or turkey. These nutritious foods do not have eggs, corn, or soy.
Are there specially formulated products for dogs with medical conditions?
Although Blue Buffalo dog food is of high-quality, it is not meant to address or treat your pet's medical conditions. You can consult with their specialists to decide which products will best deal with your pet disease, but that should not replace professional advice from your vet.
Do they perform any tests on animals?
Apart from the normal trials of the Blue products on pets, they do not perform any invasive tests. The trials are run in a way that avoids harming the animals.
Where are the manufacturing plants?
Apart from the Blue Chomp 'n Chew treats produced in Ireland, they manufacture all of the other formulas in the US. These products range from wet, dry, and treat foods. Their skilled team comprises of veterinarians, food scientists, and nutritionists in recipe creation. When the recipes meet stringent specifications, they proceed to manufacture the products.
My puppy will not eat LifeSource Bits. How do I make her like it?
LifeSource Bits have an uncommon size, texture, and taste which are unappealing to some puppies. However, with time, they can develop a fondness. Enhance LifeSource natural taste with some warm water or mix it with canned Buffalo food, which will motivate the puppy to eat it.
LifeSource Bits is a crucial component in all dry formulas but is not in the canned options, because they need to be cooked.
Does refrigeration affect this company's canned products?
No. Refrigerate any Blue Buffalo dog food after opening. Make sure to cover well before refrigeration. However, refrigeration should not exceed 3 days.
Do they offer samples?
Currently, no samples are being offered. What they do offer is a 100-percent satisfaction guarantee accompanying your purchases. If you are unsatisfied with any of their products, they accept back the remainder, and you get your full refund.
Can you buy Blue Buffalo products online?
Yes, check out online retail stores which specialize in pet food, and you will most likely find products from Blue Buffalo.
In Conclusion
This is just seven of the best Blue buffalo puppy food formulas available—they actually have more. It may take some trial-and-error to find the right fit for your puppy but they are all optimized for healthy growth and development of your fluffy family member.
All Blue Buffalo products are crafted to cater to the diverse needs of different types of dogs, their allergies, and natural dispositions, such as level of activity. They are all top quality foods certified by the Association of American Feed Control Officials (AAFCO).
Whatever you choose, you can be assured that it is a nutritious formula from one of the top brands in the market. You could try them out with one of their top formulas, the Life Protection Formula Chicken and Brown Rice Recipe for Puppies. It's made of natural ingredients that cater to the dietary needs of active puppies across all breeds.
We also have brand reviews for IAMS, Orijen