When you look at what Fromm Dog Food has to offer, you'll quickly realize they offer a lot! The brand has four main dog food product lines. This is to ensure they meet the specific needs of your dog regardless of the age group, breed, lifestyle, and any other need your furry friend may have.
Fromm Dog Food Products contain premium ingredients, including high-quality animal proteins from chicken, pork, goose, and fish among others.
Let's look at some of the top-rated dog foods from this brand, so you can see what's best for your dog.
Our Top Pick
Of all the foods we looked at in our Fromm dog food reviews, we especially recommend Family Foods Gold Nutritionals, one of the brand's best-selling products. Natural and exceptionally nutritious, this formula contains chicken as its first ingredient, providing amino acids necessary for the healthy development of your dog's muscles.
Top-Rated Fromm Dog Food Reviews
Our top pick, Family Foods Gold Nutritionals, is one of the best foods you can get for your furry friend and suitable for all breeds and life stages.
Key Features
Real chicken is the first ingredient
Probiotics to aid in digestion
Rich in Omega-3 fatty acids
25 percent protein
16 percent fat
418 k/cal per cup
What I like
Composed of all-natural ingredients, Gold Nutritionals is a nutrient-rich dog food that is great for the growth and well-being of your dog. Its main ingredient is chicken, a source of high-quality protein. This protein provides essential amino acids that promote muscle tissue growth and development.
It also contains salmon oil, which is a significant source of long-chain omega-3 fatty acids. These fatty acids ensure your dog has a healthy and attractive coat.
What I don't like
This is not grain-free dog food. While there are plenty of good dog foods that contain grains, as they can be an allergy trigger for some dogs, this is worth nothing. On the upside, the grains they use are of the less-allergenic variety (brown rice, oatmeal, and barely).
Pros
Meat is the first ingredient
Grains used are less allergenic
Promotes healthy digestion
Cons
Overall, Gold Nutritionals makes a great choice if you're looking for a nutritious dog food that is suitable for all dog breeds. It is loaded with proteins and other nutrients that promote the healthy growth and development of your dog. However, if you're looking for a grain-free formula, you'll have to keep looking.
Overall Rating: 4.8/5
Four Star Game Bird Recipe Dry Dog Food is specially formulated for dogs that have a sensitive stomach. It is a blend of turkey, duck, pheasant, and quail, delivering enough protein for the growth and well-being of your dog.
Key Features
Real turkey and duck are the top ingredients
High in fiber
29 percent protein
17 percent fat
393 k/cal per cup
What I like
This dry dog food is also packed with fiber, which promotes healthy digestion and ensures your dog is satisfied and happy. It also contains assorted fruits and vegetables, which provide essential minerals and vitamins that boost immunity and healthy development of bones.
What I don't like
This food is, well, a bit stinky. Some dogs dig that, while other picky dogs turn their noses up—er, away—from the smell. You likely want to start with a small test bag if your dog is a gourmet.
Pros
Grain-free
Small kibble size
Ideal for dogs with sensitive stomachs
Appropriate for dogs of all sizes and life stages
Cons
The smell may be unpleasant for some dogs
All in all, Four Star Game Bird Recipe dry dog food is an excellent option for those with dogs that have sensitive stomach or digestion issues. It is formulated to promote healthy digestion and deliver nutrients that will keep your dog healthy, happy, and playful.
Overall Rating: 4.7/5
If you are looking for nutrient-rich, grain-free dog food, Four Star Beef Frittata Veg would be a perfect choice. Its first ingredient is beef, which is a source premium protein, iron, zinc, phosphorous, and B-vitamins.
Key Features
Real beef is the first ingredient
Contains taurine
30 percent protein
18 percent fat
399 k/cal per cup
What I like
The most remarkable attribute of this dog food is that it contains taurine, which is great for heart health. With high-quality protein, this food delivers essential acids that promote healthy muscle development.
It also contains no grains, making it a fantastic option for dogs that are prone to food-related allergies.
What I don't like
This formula has some of the same odor issues as our previously reviewed Four Star line product above. The very small kibble size may also be difficult for larger dogs to eat.
Pros
Ideal for grain-sensitive dogs
Tiny kibbles that are easy to eat
Rich flavor that most dogs love
Cons
May not be suitable for large breeds
Strong odor
If you're looking for protein-rich, grain-free dog food, FourStar Beef Frittata Veg would be a great choice for you. This formula provides well-balanced nutrition for dogs of all ages and is especially great for dogs that have grain sensitivities.
Overall Rating: 4.5/5
If you're looking for the best meal for your pregnant or lactating dog, Family Foods Gold Puppy food is a solid choice. The puppy gold formula is nearly identical to the adult gold, which is our top pick, except that it contains higher protein and fat content for growing pups.
Key Features
First three ingredients are real meat
Probiotics to aid in digestion
DHA for healthy brain development
27 percent protein
18 percent fat
420 k/cal per cup
What I like
This food is percect for growing puppies. Its ingredients deliver the nutrients necessary for the growth and well-being of young, active dogs. It provides a high-quality protein that is easy to digest.
What's more, it is rich in calcium and phosphorous, which are essential for healthy teeth and bone development. It doesn't have corn, and so minimizes the risk of allergic reactions. This food also contains valuable supplements such as chondroitin and glucosamine, which are great for healthy joints.
What I don't like
While this is going to be fabulous for most breeds, small and toy breed pups may find the kibble size a bit too large. You can always soak it to soften the bites, but it's still an inconvenience.
Pros
High-protein blend from five quality sources
No artificial additives
Contains valuable supplements
Cons
Kibbles too large for small breeds
Overall, Fromm Family Gold Puppy formula provides 100-percent complete and well-balanced nutrition for growing medium and large breed puppies and pregnant/nursing dogs. However, it may not be a great option for smaller breeds.
Overall Rating: 4.5/5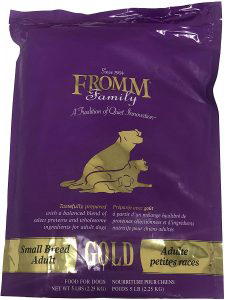 Fromm Gold Small Breed Adult Dog Food is loaded with essential nutrients that will help improve your dog's immune system and is specially designed for small breeds.
Key Features
Real chicken is the first ingredient
Chicory root to reduce the risk of worms
Contains taurine
26 percent protein
17 percent fat
425 k/cal per cup
What I like
With salmon oil, this dog food provides Omega-3 that is essential for a healthy heart, joints, and skin. It also contains probiotics, which help prevent digestive problems. While not grain free, it is wheat-free, which makes it pose a lower allergy risk.
What I don't like
While most small breeds don't eat a lot, for multi-dog families, the lack of larger bags for both convenience and cost savings is unfortunate. Some owners also report this food causes some gas.
Pros
No wheat
Ideal for small dog breeds
Plenty of Omega-3 fatty acids
Cons
Causes some dogs to pass bad gas
Only available in small bag sizes

Overall, Fromm Gold Small Breed Adult Dog Food is a nutritionally balanced meal that offers plenty of essential minerals and vitamins that your dog needs for strong immunity. Likewise, it contains no artificial preservatives, making it an all-natural, and delicious dog food.
Overall Rating: 4.2/5
About Fromm Dog Food Brand
Fromm has been in business for over a century. It is a family-owned company that was established in 1904. All of the brand's products are produced in-house.
They produce their dry pet food products in their own USDA-approved plant in Wisconsin. However, their canned products are produced in a USDA-approved plant in South Dakota. All of their ingredients are sourced in the United States – none are from China.
The dry pet food is formulated by the CEO himself – Tom Nieman. Tom is a chemical engineer, and he inherited Fromm from his grandmother in 1983. The company offers four product lines of dog food, as outlined below:
Four Star – This product line encompasses both dry and canned dog foods. It is characterized by fresh ingredients and rich flavor that will surely tickle your dog's taste buds. The Beef Frittata Veg, covered in this Fromm dog food review, is one of the best Four Star formulas.
Gold – Fromm Gold formula is designed to meet the needs of small, medium, and large dog breeds. It is the most popular formula when it comes to size and age-specific dog foods.
Classic – Fromm Classic product line is simple, balanced, and complete. It offers age-specific formulas for puppies, adults, and mature adults.
Pâté – This is the brand's line of canned wet pet foods. It encompasses sixteen different formulas to meet the varying needs of various dogs. Some of the most popular recipes under Pâté include Salmon and Chicken Pâté, Turkey and Pumpkin Pâté, as well as Chicken and Sweet Potato Pâté.
Fromm dog foods are formulated to meet AAFCO nutritional guidelines, ensuring they provide the best foods for the four stages of a dog's life. They only use human grade meat, which has been inspected by the USDA and certified to be free of drugs or hormones.
They also use high-quality whole grains, including barley, brown grain, oatmeal, and millet. These whole grains are a rich source of complex carbohydrates and fibers. They are normally easy to digest and have a low glycemic index.
This plays a great role in stabilizing your dog's blood sugar levels. Millet and oatmeal are also gluten-free and are considered to be a rich source of B-vitamins. Fromm pet foods contain no known artificial preservatives. Even the antioxidants are naturally sourced.
Final Thoughts
Fromm Dog Food is an excellent option for your dog. This is a family-owned brand with a great reputation for providing dogs of all sizes, ages, lifestyles, and breeds with high-quality foods. From their four dog food product lines, they have a wide variety of dog foods to choose from depending on your furry friend's specific needs.
We hope these range of foods by Fromm help you find a meal that best meets the nutritional and health needs of your dog. Don't forget to check out our dog food reviews for German Shorthaired Pointer, Miniature Schnauzers and for hypothyroidism.