Is your best buddy scratching excessively or tilting his heads to the side suddenly? Do you see red patches in his skin, drastic hair loss, and unbearable odors when giving him a good scratch? Have you been alarmed by a sudden liquid discharge from his ear? If you answered yes to any of these, then your dog may be suffering from yeast infection.
I would recommend that you bring your dog to your local veterinarian immediately so that he or she can receive the appropriate medication as soon as possible. However, once you've brought your dog home, you need to ensure that your dog has the best dog food for yeast infections available to provide continued recovery and good health moving forward.
You're already worried about the condition of your canine friend—we've all been there—so to put your mind at ease and help out, I've compiled a list of the different anti-yeast infection dog food available in the market today.
OUR TOP PICK
Too long a list and your sick canine best friend needs help now? Here's our top pick for best kibble for yeast infections:
Weruva Paw Lickin' Chicken in Gravy Grain-Free Canned Dog Food
. This is a grain-free and gluten-free natural food formula that helps your dog to fight off yeast infections by keeping their diet on low-carbs. It has added vitamins and minerals to boost immunity and provide a complete and balanced diet.
Best Dog Food for Yeast Infections Reviews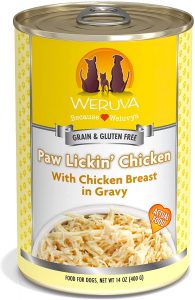 One of the primary considerations when crafting a diet for your dog with yeast infections is reducing carbohydrates in their diet. It generally means avoiding kibble until the disease stops. Yeast-free wet food with low sugar and carbs like Weruva Paw Lickin' Chicken in Gravy Grain-Free Canned Dog food is an excellent example of that.
Features
Gourmet canned dog food that consists of a simple recipe of boneless, skinless and tender chicken breasts in gravy
High-Quality protein, a minimal amount of carbs, gluten-free and grain-free, ideal for dogs with sensitive stomachs
Enriched with vitamins and minerals that boost the immune system
What I Like About the Product
The low carbohydrate content (1.57 percent) is ideal for our furry friends affected with a yeast infection. The latter ensures that the fungi have little to no food to multiply. Also contains Vitamin D3, Vitamin B2, B6, and B12 which boost the immune system of our dogs to help fight off the infection.
What I Don't Like About the Product
The low-calorie content at 104 kcal/5.5-ounce can is small, and being wet food, the protein content is lower when compared to dry dog food.
Pros
High-Quality protein that consists of tender chicken breasts
Flavorful
Crafted with our pups' food sensitivities and allergies in mind
Contains vitamins that boost the immune system
Cons
Low-calorie content
Can get expensive as a standalone meal
Weruva's canned wet dog food is a preferable option for you if you want to ensure low carbohydrate intake for your beloved buddy when yeast infection rears its ugly head, this robs the fungi of any food and stop its uncontrollable growth and putting your canine pal on a faster road to recovery.
Overall Rating - 4.5 of 5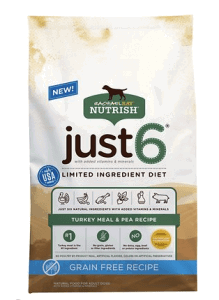 If you're on a budget and are looking for a yeast-free limited ingredient recipe then Rachael Ray's Nutrish Just 6 Natural Grain-Free Turkey Meal is a great secondary option. Formulated especially for our canine buddies with sensitive stomachs and allergies it also contains the necessary vitamins that boost the immune system while being at a lower price point.
Features
Limited to six nutritious ingredients for dogs with food sensitivities
Grain-free, gluten-free and no filler ingredients
Boosted with vitamins and minerals to provide the necessary for complete nutrition
What I Like About the Product
I love how affordable this product is, but it remains competitive as far as nutrient content is concerned.
What I Don't Like About the Product
Not as limited-ingredient as other recipes in the market, for example, the two-ingredient formula above. It also contains multiple carbohydrate components such as peas, beet pulp, and starch, which is something we want to minimize when we have pups suffering from yeast infection.
Pros
Highly affordable
Contains vitamins and minerals that boost digestion and immune health
Formulated for dog's with allergies and food sensitivities
Cons
Multiple carbohydrate components
Lower crude protein and calorie content compared to other limited ingredient recipes
Rachael Ray's Nutrish Just 6 Natural Grain-Free Recipe is by no means the best food for dogs with yeast infection, but I've included it here as a budget option for everyone out there on a tight budget but still want to take the utmost care in what they feed their fur baby during their times of trouble.
Overall Rating - 3.5 of 5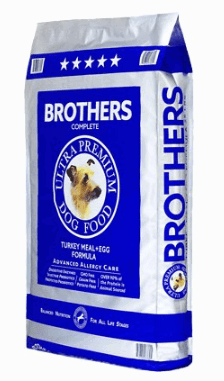 Among the most important considerations to make when choosing the best dry dog food for yeast infections in the absence of starch and other carbohydrates in the recipe. The latter immediately makes kibble a secondary choice.
High carbohydrate recipes, especially those that are in kibble form is something I wouldn't usually recommend for those with pups suffering from yeast infections, but this recipe by Brothers Complete was specially formulated to combat allergies and boost the immune system of our canine pals. To put it in better terms, this is the best dog food to prevent yeast infection.
Features
Made of real turkey and low-glycemic carbohydrates and natural allergy care ingredients
Contains all 23 amino acids including those essential amino acids that dogs don't produce naturally
Contains encapsulated probiotics to help with optimal digestion
Naturally preserved without the use of BHA and BHT
What I Like About the Product
Despite being kibble, this product was specifically made to prevent and care for our dog's allergies, including yeast infections. It has all the essential minerals and vitamins to boost your dog's immune system, which offsets the number of carbohydrates it has.
What I Don't Like About the Product
It's kibble and is made up of approximately 25.96 percent carbohydrates, which is something you want to minimize when your dog is already suffering from yeast infections.
Pros
Enriched with vitamins and minerals that boost the immune system
Naturally preserved and contains low-glycemic carbohydrates.
Made especially to care for allergies
Cons
High carbohydrate content
Can be quite expensive to maintain
The high carbohydrate content of this dog food is offset by the fact that it uses low-glycemic carbohydrates to keep yeast infections from getting worse. As a preventive measure this a great choice, mainly if you live in an area that experiences high humidity and heat during certain months of the year.
Overall Rating - 4.5 of 5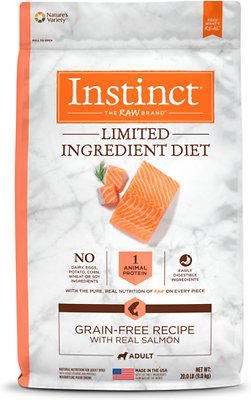 If you really can't avoid kibble, then limited ingredient recipes are your best bet when it comes to providing the best nutrition for your ailing pup. Instinct Limited Ingredient Diet Recipe focuses on just one protein and one vegetable, so you know what exactly you're feeding your dog during this sensitive time.
Features
Made from only one protein (salmon) and one vegetable (peas)
Wild-caught salmon is not only an easily digestible protein it also contains natural omega-3 and provides all the essential amino acids
Simple recipe, no grain, eggs, sweet potato, corn, and chickpeas
Guaranteed levels of antioxidants and omega acids to boost your dog's immune system
What I Like About the Product
Knowing what is in your dog's food is vital, and the simplified formula ensures that there are no ingredients that can exacerbate their condition.
What I Don't Like About the Product
It does contain peas which are still a carbohydrate in the form of starch, but it is easily digestible compared to other carbs, thus reducing the risk of allergies.
Pros
Simple recipe
Highly nutritious (23.5 percent protein, 16.5 percent crude fat and 447 kcal/cup)
Includes essential vitamins and minerals that help boost the immune system
You can't completely avoid carbs in your buddy's diet especially when it is in the form of kibble, but knowing what form it comes in and that it is easily digestible makes Instinct's limited Ingredient recipe a better choice compared to other recipes.
Overall Rating - 5 of 5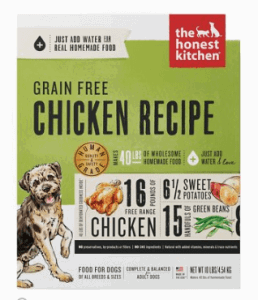 On the other hand, Honest Kitchen's Human Grade Dehydrated Grain-Free dog food has little to no starch and is dehydrated, making it the perfect candidate for this category.
Features
Grain-Free, yeast-free more calories and minimal carbohydrates in each serving
Made from cage-free turkey and ingredients are dehydrated for better digestibility while locking in its nutrients
All-natural, no preservatives, no GMO ingredients, and no animal meat by-products
What I Like About the Product
The most admirable thing about Honest Kitchen products is the human-grade characteristic which assures that their food is fit not only for dogs but also for humans, ensuring that only the highest quality ingredients make it to the recipe.
What I Don't Like About the Product
You need to prepare this carefully, too much water turns it to gruel, too little makes it unappetizing to your dog, and it is mushy which not all pups appreciate.
Pros
Enriched with vitamins to boost your dog's immune system to fight off yeast infections
Low carbohydrates and no starch used as a binding agent
All-natural ingredients
Yeast-free
Outside of the issues with its consistency, Honest Kitchen's Human-Grade Dehydrated Grain-Free dog food remains the best choice for owners looking for dry food for their dogs. While technically not dry due to its preparation, it still is the best alternative to kibble if your dog is suffering from a yeast infection.
Overall Rating - 4.5 of 5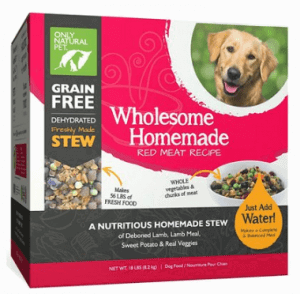 Another dehydrated pet food option that is yeast-free is Only Natural Pet's Wholesome Homemade Dehydrated Dog Food. Like the previous entry, it is not in kibble form and uses natural easily-digestible carbohydrates as ingredients.
Features
Contains high-quality meats and low-glycemic carbohydrates that are dehydrated, locking in all the natural nutrients and flavor into the meal
Formulated for allergy prevention
Contains naturally occurring nutrients and essential fatty and amino acids to boost immune health
What I Like About the Product
Despite being dehydrated, this looks closer to stew and not mushy and pasty when rehydrated compared to other brands.
What I Don't Like About the Product
Despite using low-glycemic carbohydrates, there is still a lot of whole carbohydrates in the recipe such as sweet potato and peas, which may increase the carbs available to yeast fungi.
Pros
Grain and white potato-free
Low-glycemic carbohydrates used in the recipe
Vitamin-enriched to help combat allergies and infections
Cons
A lot of carbohydrate ingredients
Only Natural Pet Wholesome Homemade Dehydrated food is an excellent choice if you're looking for a yeast-free recipe that is formulated with vitamins and minerals to boost the immune system and help your best buddy fight off allergies including yeast infections.
However, if your dog is already suffering from extreme cases of yeast infection, it may be a good idea to look at other products in this best dog food for yeast infections list as the multiple carbohydrate ingredients may cause the disease to get worse especially if your dog is already lethargic.
Overall Rating - 4 of 5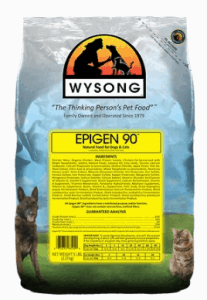 Wysong Epigen takes protein nourishment to a whole new level with their starch-free and grain-free formula. Ultra-protein would be the best way to describe their recipe with a whopping 63 percent crude protein content.
Features
Ultra-high protein content made from real organic chicken
Entirely starch-free for mimic the diet dogs are biologically designed to eat
Enriched with vitamins and minerals, probiotics, antioxidants and rich omega fatty acids for complete nutrition for dogs inside and out
What I Like About the Product
The high protein content and the product being starch-free makes it an excellent choice to prevent yeast infections, and it is also ideal even when our buddies are already suffering from it. It also has superfoods such as apple pectin, chia seeds and chicory root, ingredients that are not found even in other high-quality dog foods.
What I Don't Like About the Product
It's not for all pets, it is nutrient-dense and the incredibly high protein levels and can drastically affect your best buddies if they have existing liver and kidney issues.
Pros
Ultra-high protein levels and nutrients
Contains superfoods for maximum nutrition
Starch-free
Cons
Not appropriate for all dogs – consult your veterinarian first
High price
Can be challenging to introduce and switch from low protein recipes
The high nutrient ingredients and unprecedented protein content can lure you into picking this product up from the shelf immediately, and I consider it as the best food for your canine pal with a yeast infection. However, I advise caution and to consult your veterinarian first before buying this for your pup as it can do more harm than good if your fur baby can't handle it.
Overall Rating - 5 of 5
At this point I thought I should mention that if we did have Honorable Mention for this list, Purina One would probably take the cake for providing decent protein content and having none of the ingredients that would aggravate the condition, all at such an affordable price point.
About the Condition
Yeast dermatitis, more commonly referred to as yeast infection, is a fairly common skin condition in dogs caused by a species of fungi known as Malassezia sp. It is important to note that yeast is normal on your dog's skin, ears, and mucocutaneous areas (mouth, nose, genitals).
However, the uncontrolled or sudden increase in their growth is what causes the infections to occur. Some breeds are prone to this disease like poodles and German shepherds, while some breeds aren't. Infections commonly occur in hot and humid environments, but it can also be triggered when our buddy's immune system weakens either through disease or through the use of immunosuppressants. Yeast infections are not limited to the skin of our pups, it can also get into a dog's bloodstream and can wreak havoc in their internal organs such as their liver, spleen, lungs, eyes, and brain.
Common symptoms of yeast infections include skin inflammation and irritation, intense itchiness, especially around their ears, paws and digits, anus, neck, and armpits. Breeds with excessive skin folds such as Shar Peis and
Bulldogs
can also show extreme irritation in their skin folds. Other symptoms include bad smelling skin, hair loss, and yellow-green discharge if their ears are infected.
If your dog is suffering from a yeast infection, don't panic! It is curable, and your local veterinarian can prescribe the needed remedies such as medicated shampoo, topical sprays, or in severe cases, oral medications such as Ketoconazole.
Medical intervention is well and good for your dog, but I recommend a holistic approach to ensure your buddy's complete recovery, and what you can contribute to the most is their diet. The best dog foods for yeast infections are those that rob the fungi of their source of energy, which are carbohydrates.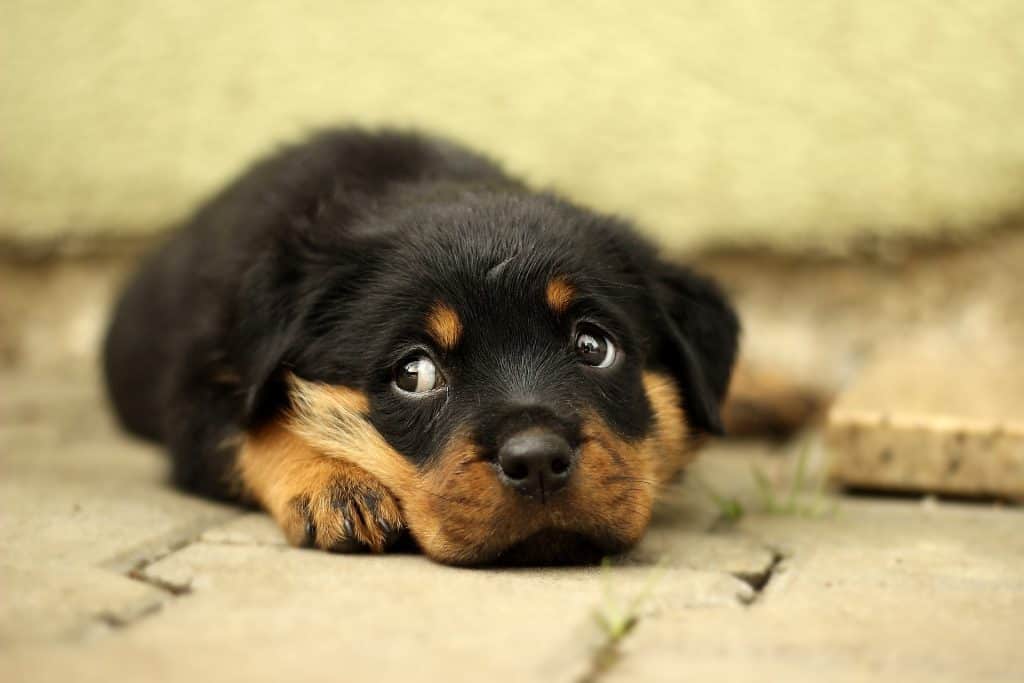 Feeding Guide
So, what food do you need to look out for when dealing with a yeast infection? First, while it may be tempting to give your buddy doggie treats because he is so down, fights that urge. Most dog treats are high in carbohydrate and sugars, doing so would be like adding gasoline to the fire and helping the yeast infection go on overdrive.
Second, the best dog food for dogs with yeast infections are those that contain vitamins that boost your dog's immune system; these are Vitamin, A, C, D and E along with Vitamin B-1, B-2, and B-6.
Third, know the difference between sugar-free and carbohydrate-free food; these may seem the same, but they are not, dog food can be sugar-free but can still have carbohydrates like starch from rice, peas, and sweet potato which are common ingredients in most dog food.
Even if a particular dog food does not have these ingredients, manufacturers often use starch as a binding agent for dog kibble, so read the label carefully.
You might be asking, "If I can't feed my dog, kibble, what can I feed him?" The best dog food for yeast problems would be whole and unprocessed food. Fresh food and a low-carb diet is best, preferably those with probiotics, the vitamins mentioned above and digestive enzymes included.
Always remember, if you are unsure of the different options don't risk your dog's health by gambling on your choice— consult your local veterinarian.
Check out this video to learn more about yeast infections in dogs:
Final Thoughts
Your dog is not only your best friend, but also your fur baby, and as parents, we have to take utmost care in their nourishment, particularly when they are suffering from a disease like a yeast infection.
Doing proper research goes a long way in ensuring that your dog recovers quickly from their illness. However, as the saying goes, prevention is better than cure, learn to watch out for the signs and to give our dogs the right type of food during months of high heat and humidity to keep them healthy and active. In my opinion, Weruva Paw Lickin' Canned Dog Food stands out as the ideal food to give your canine friend who's suffering from a yeast infection.