Poodles are a distinct dog breed, and they have a reputation for being proper and regal. These dogs are known for their mischievous and playful attitude. They are also sociable, highly intelligent, and loyal to their families. There are three types of poodles: Toy, Standard, and Miniature Poodles.
While these dogs are somewhat different in terms of size, they are basically the same in other aspects. Poodles have unique nutritional needs, and meeting those needs is of utmost importance to ensure they maintain a happy and healthy lifestyle.
However, you can only give this dog breed the best lifestyle they need by providing them with the best dog food for poodles. To help you find the best dog food for your poodle, we have compiled a list of some of the best dog foods that are formulated to meet the nutritional needs of your dog.
The Best Dog Food for Toy Poodles Are: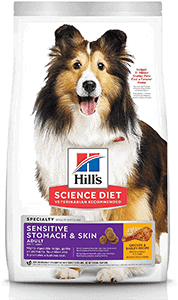 In general, Poodles, especially Toy Poodles, can suffer hard from several food allergies. They can have simple sensitive stomachs and react badly to several common dog food ingredients. Fortunately, this dog food is formulated for poodles with sensitive stomachs. The food also supports healthy skin and it protects your dog from all kinds of negative reactions.
This food contains very specific prebiotic fiber from beet pulp, which also supports the digestive system of your dog. It features a perfect blend of vitamin E, vitamin E, and antioxidants that protects the immune system of your Toy Poodle. More importantly, this food comes with omega 3 and omega 6 fatty acids, providing your pet with healthy, well-groomed skin and coat.
The first, major ingredient of this food is brown rice, which helps to ease digestion and keep the poops of your pet solid. The second major ingredient is meat, and the protein content of this food is 23 percent. The protein count is more than enough to meet the nutritional needs of adult Toy Poodles. This is the ideal dog food for dogs that usually experience occasional loose stools.
Specs
Dry food
Adult
For sensitive stomach
Pros
Great protein sources
Formulated for poodles with sensitive skin and stomachs
Supports the digestive system
Supports the immune system
Cons
The protein content is a bit low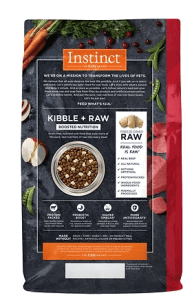 This Raw Boost Grain-Free Recipe Natural Dry Dog Food from Instinct is one of the best dog food for Toy Poodles out there. Instinct has a reputation of adding raw food into its kibble.
This food is super rich in protein and it is available in a wide range of flavors, providing everyone that wants to feed their Toy Poodle with a high protein food multiple options. This dog food is great for the coat of a poodle, especially when you pick the salmon flavor.
The first five ingredients of this food are beef, chicken meal, white fish meal, peas, and chicken fat. This food combines high protein, grain-free kibbles with all-natural bites of freeze-dried raw beef. It also contains omega fatty acids for coat and skin and probiotics to support healthy digestion. The food does not contain any corn, grain, wheat, soy, potato, by-product meal, artificial flavors, colors, or preservatives.
This food is suitable for all life stages, so you can feed it to your puppy, young-adult, adult, and senior poodles. It also contains adequate amounts of calcium, vitamins, and minerals. The glucosamine in this food also supports healthy joints and bones. While it is suitable for all life stages, picking it for senior poodles is not the best option, as it contains higher protein and fat that can cause obesity. It is more suitable for puppy and adult Toy Poodles.
Specs
Dry food + freeze-dried raw
All life stages
High-protein, grain-free, gluten-free, raw
Pros
Protein-rich
Suitable for all life stages
High protein kibble + freeze-dried raw beef
Great for skin and coat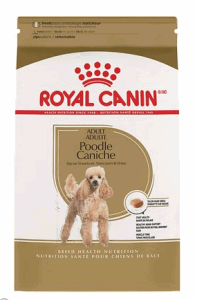 The next option on our list is the Royal Canin Breed Health Nutrition Poodle Adult Dry Dog Food. The formula of this food is well suited for Toy Poodles, as it contains all the basic nutrition this dog breed needs for a healthy and happy lifestyle.
This dog food is adult Poodles and it is formulated to enhance the absorption of the essential minerals, vitamins, and nutrients that it contains. It features an optimal amount of protein to support the development of lean muscle mass in your Toy Poodle.
It also helps to strengthen the joints of your dog and prevent common health conditions associated with Poodles such as hip and elbow dysplasia. This dry dog food also contains omega 6 and omega 3 fatty acids, which provides your dog with a nourished, healthy skin and coat.
Poodles also find it very easy to grasp and chew the kibble, as it is specifically formulated for the facial, jaw structure, and biting patterns of this breed. The kibbles also help to promote dental health.
The precise protein of this food also supports continuously growing hair and it also contains DHA and EPA. However, this food contains chicken by-product meal, wheat gluten, and corn, which may not really go well for some poodles with sensitivities.
Specs
Dry food
Adult
Breed-specific
Pros
Balanced and complete nutrition for adult poodles
Support healthy joints and bones
Nourishes the coat and skin
Promotes dental health
Cons
It contains chicken by-product meal and other allergens
The Best Dog Food for Standard Poodles Are: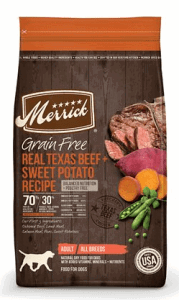 If you are looking for the best dog food for Standard Poodles, then this Grain-Free Texas Beef & Sweet Potato Recipe from Merrick is undoubtedly the right food for your pet. This dog food includes deboned, real beef with apples, blueberries, potatoes, peas, and more. One of the most fascinating things about this food is that it provides your poodle with allergy-friendly nutrition.
It also features a perfect combination of vitamins, minerals, and fatty acids. The recipe is also free from grains and gluten ingredients. There are also no artificial flavors, colors, or preservatives in this food. It comes with a powerful level of omega-3 and omega-6 fatty acids to provide your poodle with healthy skin and coat.
This grain-free formula also contains chondroitin and glucosamine to help support healthy joint and hip function. The formula is poultry-free, making it ideal for standard poodles with sensitivities to poultry ingredients.
It is loaded with vitamins C and E, healthy carbohydrates, including DHA and EPA for balanced and complete nutrition that will keep your dog happy and healthy. It comes with organic alfalfa, which is a rich source of calcium and it also serves as a great source of vitamins, fiber, and carotene.
Specs
Dry food
Adult
Gluten-free, grain-free
Pros
Quality protein sources
Allergy-friendly nutrition
Roasted Texas beef
Contains glucosamine and chondroitin
Cons
It is on the higher end of the price spectrum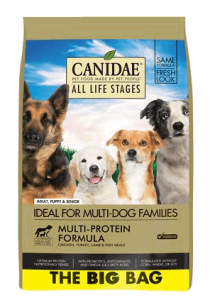 Do you want to make mealtime tasty and nutritious for your standard poodle, then feeding it with CANIDAE All Life Stages Multi-Protein Formula Dry Dog Food is one of the best ways to do that.
A Veterinarian designed the formula of this food, and the food is made for all life stages with premium ingredients and optimum protein. This is a pretty large bag of kibbles, as it weighs 44 pounds, which is why it is ideal for multi-dog families. However, it also has smaller bag sizes including 5, 15, and 30 pounds.
The formula contains premium ingredients with vitamins, minerals, and HealthPLUS solutions, a trio of fatty acids, probiotics, and antioxidants. The major protein sources of this food are chicken, lamb, turkey, and fish meal, making it a nutritionally dense formula.
It is also free from food allergens such as wheat, soy, and corn. This food is suitable for all breeds, ages, and sizes of dogs. This means you can use it to feed from puppies to adults and small breeds to large breeds.
The food is also free from by-product meals, and it is made with wholesome, high-quality ingredients that will help keep your pet energized. While it is free from other allergens, this food contains grains.
Nevertheless, the pure elements of this food make it suitable even for dogs with allergies. The kibble diameter size is also perfect and it is suitable for even the smallest dog breeds.
Specs
Dry food
All life stages
No corn, no wheat, no soy
Pros
The formula is designed by a Vet
It is suitable for all life stages and dog breeds
Made with premium ingredients
It contains probiotics, antioxidants, and fatty acids
The Best Dog Food for Miniature Poodles Are: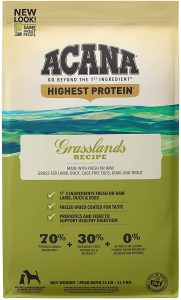 The ACANA Regionals Grain-Free Adult Dry Dog Food is one of the best dog foods for Blue Heelers and Miniature Poodles. This dog food is highly trusted, as it is approved by the AAFCO. It contains a lot of protein and the right amount of fat for Miniature Poodles.
This food is made with duck, lamb meat, quail, eggs, and trout, which are its major protein sources. Most of the caloric content of this food is also made from protein, which makes it a great option for Miniature Poodles.
The high-quality protein is also good for the overall health of your dog. This food is formulated with only high-quality and all-natural ingredients. It is available in five different flavors and five different sizes.
Natural protein constitutes about 70 percent of the food. Nutrients from vegetables and botanicals also make up another 30 percent of this food, providing your miniature poodle with balanced and complete nutrition.
This formula is also grain-free, and it does not contain any gluten, tapioca, potato, or other allergens. It boasts of quality, whole animal ingredients for a biologically appropriate diet that provides your dog with all its nutritional needs. This food also features WholePrey ingredients in ratios that mirror wild prey.
Specs
Dry food
All life stages
Grain-free
Pros
Suitable for all dog breeds and sizes
Available in different flavors and sizes
Limited food processing for higher nutritional content
It is free from grain and gluten
It is made with plenty of veggies and fruits
Cons
Dogs do not adjust quickly to this food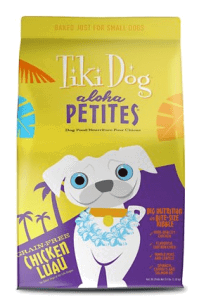 This is another great dog food for Miniature Poodles. This brand is comparatively new in the market, but it produces some of the finest small dog breed foods. Being relatively new, this brand is out to impress many pet owners with its high-quality dog foods. The kibbles in this food pack are extremely high quality.
This food is available in different flavors: Chicken, Lamb, Fish, and Duck. It is also rich in protein, with a whopping 27 percent protein with real chicken as the first ingredients, including a flavorful chicken liver.
This grain-free formula features grain-free carb sources from whole peas and lentils, no potatoes. It also contains pumpkin, salmon oil, and ground whole flaxseed.
This food is suitable for all life stages, which means from Miniature Poodle puppies down to adults can feed on it. The minimum fat content of this food is 16 percent while the maximum fiber content is 4.5 percent.
Specs
Dry food
All life stages
Grain-free, for small breeds
Pros
Perfect amounts of omega 3 and omega 6 fatty acids
High-quality protein sources
Real meat at the first ingredient
Grain-free formula
Cons
A 10-pounds bag might be too small if your dog eats a lot
Buyer's Guide | Ingredients to Look for When Buying Dog Food for Poodles
Protein
The number one ingredient you should look for when buying dog food for your furry friend is protein. The protein source of the food needs to be at the top of the ingredient list, whether it is beef, chicken, or bison. This will help you to know that it is the nutrient that constitutes most of the food. You should also make sure that the food contains enough protein for your pet.
If you have a poodle puppy, you need to ensure that the food has a high protein count. If you have an adult poodle, regardless of its size, its diet needs to have a minimum of 18 percent protein.
While puppies need more protein than adult poodles, deficiency of protein in the diet of an adult dog is not good. As such, you need to make sure the food comes with the right amount of protein, depending on the size of your dog.
If you have a very active and energetic poodle, it would require up to 35 percent of protein or more. Hence, you should check the protein sources and count before picking dog food for your furry friend.
Fat
Fat is one of the most important elements in a dog's diet, as it provides a boost of energy. Fat also comes in handy in making the food of your dog tastier. However, only high-quality, healthy fat would yield the best results in your dog. As such, you need to make sure that the food you are choosing contains healthy fats in the formula.
You should look for food that contains natural fats from fish oil, flaxseed oil, and protein source. Fish and Flaxseed oils are the fundamental sources of Omega 3 and Omega 6 fatty acids, and they support healthy skin and shiny coat.
Vitamins and Minerals
Minerals and vitamins are also very important to the health of your poodle. You can find these nutrients in fruits and vegetables, which is why you need to opt for dog food with loads of veggies and fruits. These ingredients will provide your poodle with vitamin C, choline, vitamin B, vitamin A, vitamin E, vitamin K, and many more.
They all work together to enhance the vision, metabolism, fight oxidative damage, and boost the immune system of your pet. You also need to look for food with high calcium content, as it helps to maintain strong bones and teeth.
Carbs
Every dog food formula contains carbs. Carbohydrates are also very important in the diet of your dog, as it provides it with energy and fuel. Complex carbohydrate sources such as peas and sweet potatoes will provide your poodle more than enough energy for the entire day.
Hence, you need to make sure that the dog food you want to buy contains high-quality carb sources that will provide your pet with exactly what it needs.
Final Thoughts
To provide the best dog food for poodles, you need to pay attention to the different nutritional needs of your pet. You also need to consider its health as well as allergies.
From the recommendations provided above, our top pick is the Hill's Science Diet Dry Dog Food Sensitive Stomach and Skin, Chicken Recipe because of its great protein sources, support for the digestive and immune system, and its formulation that is suitable for poodles with sensitive skin and stomachs. It is also suitable for Toy, Miniature, and Standard poodles.