Miniature Schnauzers are cute, energetic – and often finicky when it comes to food. My grandfather had one for most of my childhood, and he was sure to let you know if dinner wasn't up to his rather exacting standards.
When he did have a dog food he liked, though, you could see how it helped not just his attitude but his skin, coat, and health. While my grandfather had to go by trial and error, we thought it would be much easier for the rest of the owners out there if there were a bit more centralized information to help your pooch find the best food with minimal fuss. Read on to find out what the best food for Miniature Schnauzer is.
OUR TOP PICK
Royal Canin Breed Health Nutrition Miniature Schnauzer Dry Dog Food
- This brand is specially formulated for Miniature Schnauzers, so you can be sure that it'll have the right calories, nutritional content, and taste specific to your dog. Even the shape and texture of this food is specifically designed to make it better for this breed; every detail is created for the breed and done with care and precision.
The Best Food for Mini Schnauzers Reviews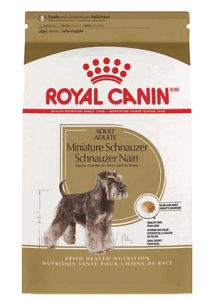 Royal Canin Breed Health Nutrition Miniature Schnauzer dry dog food, as mentioned above, is our top pick for foods for this breed, and it's because the brand clearly cares about being right for the dog. Everything about it is particularly tailored to the needs of a Miniature Schnauzer, so you don't have to worry about taking any extra steps to make sure that it's right for your dog – you can just feed them and relax.
Features
Specially shaped and formulated for Miniature Schnauzers
Supports digestive health
Ingredients specifically targeting breed-related health issues
This food is created to cater to all the ups and downs of owning a Miniature Schnauzer. As a breed, there are certain health issues you may run into that aren't present for standard or giant schnauzers, so it's comforting to know that this brand addresses these concerns proactively in their formulation.
The protein and calories are also specially made for the needs of this breed. With such a targeted brand of food, you know you're getting what your dog needs with this brand.
Pros
Specially made for the breed
Proactively targets health issues
Cons
Would be less fitting for homes with other breeds
If you only have Miniature Schnauzers at your home, this is definitely the go-to brand, with everything tailored right to your furry family member's needs. Royal Canin is a largely available brand, so you don't have to worry about if you won't be able to find it, and it's additionally available through multiple online retailers.
Overall rating: 4.7 of 5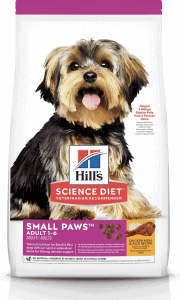 Hill's Science Diet Small and Toy Breed dry dog food is another top choice for Miniature Schnauzers due to its formulation being targeted explicitly towards smaller dogs and the health issues they tend to face.
With all-natural ingredients used in this, you know exactly what you're feeding your dog and why it's good for them, so you can be sure you're doing a good thing when purchasing this brand.
Features
Natural ingredients
Formulated for small breeds
Added nutrients for health
While not targeted directly for Miniature Schnauzers, this excellent choice for a dog food also tackles proactively many of the health issues they may face in their ingredient choices. The ingredients and added nutrients all are clearly explained as to how they were chosen to be able to provide your dog with nutritious dog food that will help them live a long, healthy life.
While some of the ingredients are more targeted towards health issues that other small breeds may face, none of them will be harmful to your pet.
Pros
Made for smaller breeds
Added nutrients for health
Proactively addresses health issues prevalent in smaller dogs
Cons
Not formulated explicitly for Miniature Schnauzers
If you have a household with other smaller breeds of dogs, this is an excellent choice that will make sure that you feel good about the food you're feeding all of your furry family members. The ingredients will help your Miniature Schnauzer live a long and healthy life, and it's pretty widely available as well.
Overall rating: 4.6 of 5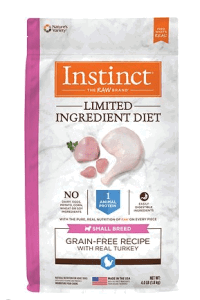 Instinct by Nature's Variety Limited Ingredient Diet Small Breed dry dog food is an excellent, if pricey, choice for your dog that often ends up on or near the top of lists for this breed. Knowing that smaller dogs often have more sensitive stomachs, this brand has limited ingredients specifically chosen to be easy to digest while still fully nutritious
Features
Good for sensitive stomachs
One animal protein and one vegetable
Based off of raw diet principles
This solid choice of food doesn't boast the extra added nutrients that many other brands do, but their simple and short ingredient list is still nutrient-packed and will provide an excellent meal for a dog that has a more sensitive stomach.
The guaranteed levels of nutrients in their carefully sourced food will help your dog have a healthy coat, skin, bones, teeth, and immune system.
Pros
Good for sensitive stomachs
Limited ingredient list
Guaranteed nutrients
Cons
Not formulated specifically for Miniature Schnauzers
More expensive than other brands
If your dog has a more sensitive stomach, this is the brand to aim for. While it costs more than many of the other brands on the market, it has good food that is easy to understand and will satisfy your dog while making sure not to upset their stomach.
If you're looking to keep your dog healthy on a diet that makes sense for them and their particular needs, you should look towards what Instinct is doing with this food for guidance if not as your end goal.
Overall rating: 4.3 of 5
Whole Earth Farms Small Breed Recipe dry dog food is an excellent kibble choice for Miniature Schnauzer owners looking for a more affordable but still highly nutritious food choice for their dog.
Boasting natural ingredients and no corn, wheat, soy, or by-products, you will be feeding your pup nutritious, wholesome food if this is the brand you go with.
Features
Natural
No corn, wheat, soy, by-products
Pork, beef, and lamb-based
Grain-free
Added nutrients
This dog food is a widely available and nutritious choice for any Miniature Schnauzer owner, but particularly for ones with sensitive stomachs. When avoiding preservatives, coloring, grains, wheat, soy, and by-products, many owners of pups with sensitive tummies or dietary restrictions are relieved to find a choice that is easy on both their wallet and their dog's stomach.
It's a small-breed food, so it's not specifically formulated for the breed, but would still be a strong choice for it.
Pros
Allergen and by-product free
Added nutrients
All-natural
Cost-effective
Cons
Not explicitly formulated for the breed
If you have a dog struggling with a sensitive stomach, this is a strong contender for a choice that will be both safe and tasty for them.
Possibly the best dog food for Miniature Schnauzers with health or dietary concerns, you'll know that your dog is in good hands with this meal and will be able to enjoy the food for a long time. Particularly if you have multiple small dogs in your home, this food comes highly recommended.
Overall rating: 4.2 of 5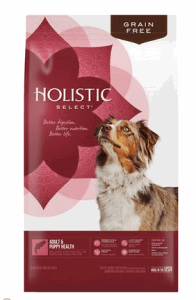 Holistic Select Adult & Puppy Health dry dog food is an excellent choice for any Miniature Schnauzer owner, but particularly those with multi-dog households, as this brand is not formulated for any breed or size in particular.
While it's vague in targeting breeds it's an excellent choice due to its nutritional content – you'll see fiber digestive enzymes for pancreatitis so natural ingredients antioxidants and plenty of healthy and wholesome sources of carbohydrates and proteins to keep your pup happy and healthy.
Features
Natural ingredients
Not made for a particular breed
Digestive and immune-boosting ingredients
Grain-free
This dog food focuses not only on nutrition but overall digestive health and includes a broad array of ingredients to help support your dog in living its longest and healthiest life in these respects. Made to maximize ingredient and nutrition absorption for your dog, this all-natural brand is trying to make sure you and your dog get the most bang for your buck and bite.
Pros
Grain-free
Natural ingredients
Digestive support
Cons
Not made for this specific breed or small dogs
Focusing on whole ingredients that help support healthy dogs in multiple ways, this dog food is a solid choice for a multi-dog family that wants to make sure that their dogs, sensitive stomachs or no, are being fully supported by their food. While not explicitly made for Miniature Schnauzers or small dogs, it's a healthy, solid food choice that will leave your pup happy and healthy.
Overall rating: 4.6 of 5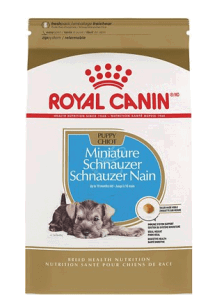 Royal Canin Miniature Schnauzer Puppy Dry Dog Food is the best food for Miniature Schnauzer puppy. This formulation is specifically made for the breed, so you know it has the best interests and needs particular to your pup in mind. It's specifically designed to help protect their sensitive skin, developing digestive system, and developing muscles and skeleton.
Features
Made to encourage chewing and be easy to eat
Specifically formulated for Miniature Schnauzer puppies
Helps support specific health needs
This food is an excellent choice for any owner of a Miniature Schnauzer puppy. It's got all the health needs and challenges of this breed and age in mind, so you don't have to worry as much, and will carry your dog until they are nearly at their first year.
Made to encourage healthy chewing and eating habits, it will help put your dog on the right path both in terms of health and behaviors from a very young age.
Pros
Specifically for breed and age
Wholly designed to encourage good habits
Added nutrients to support health
Cons
Only suitable for a limited time for the dogs, so you'll need to switch out after a few months
Not grain-free
If you are a new Miniature Schnauzer owner and looking to figure out what's best for your young pup, your search can likely end with this brand and formulation. It's got all your worries in mind when it was made and addresses all of them, and will help you in keeping your puppy happy, healthy, and on the right path as it grows.
Feeding and Buying Guide
Miniature Schnauzers are small but energetic, so you want to make sure that when you're choosing a food, you get something that reflects that. This is why it's often better to buy dog food designed for small-breed dogs. They are usually more formulated with this in mind, rather than foods that also cater to larger or lazier breeds.
Protein and fat are the most important ingredients for this breed, with chicken, lamb, beef, or fish being particularly good choices for them. For fats, you want to look particularly towards fats with a high omega-3 content, which will help keep your dog's coat and skin at peak health.
Keeping an eye towards ingredients that also help with joint or bone health is also an excellent idea, as these dogs can get particularly stiff when they get old and trying to head that off sooner rather than later will keep them moving freely for more of their lives.
Carbs, fruits, and vegetables are not needed per se but are healthy fillers that are often included in brands and by no means need to be avoided when searching for the right brand for your dog. Some Miniature Schnauzers do have sensitive stomachs, so be on the lookout for grain or allergen-free foods if that is the case with your dog. The carb percentage, sensitive stomach, or no, should be low to moderate.
When it comes to puppies, they need to be fed more often, often three times a day and will need more calories to support their energy and growth. You particularly want to make sure that the food you're giving your Miniature Schnauzer puppy has the right calcium to phosphorus ratio so that they keep healthy bones.
This is the same across many breeds, so this information should be listed pretty prominently on any puppy food packaging. If it's not, it's probably not a good choice, so be aware of what it lists and what the ratio and content is.
There are lots of options in many price ranges that cater to a variety of needs for both pets and their owners. If guides like these are not matching to your particular needs or tastes, make sure you list your specific needs and ask your vet to point you in the best direction to ensure the best care and nutrition for your Miniature Schnauzer going forward.
Make sure you're keeping track of how your dog's skin, coat, and energy levels seem, and discuss them with your vet if you have any concerns. Eyesight can also be a big genetic problem for this breed, so ask your vet if they have any particular recommendations regarding proactive measures you can take, and look for foods that specifically mention or cater to this.
Some of the foods in the above list, particularly those made for the breed, cater to this, so those can be a great option if you have any concerns or have noticed a dip in your dog's eyesight.
Final Thoughts
If you're looking for the best food for Miniature Schnauzer dogs, there is a wide variety of foods you can go with depending on your dog's needs, sensitivities, and tastes. Fortunately, there are a lot of good options out there as well, and you are to find something that you and your dog will both be happy with. But if you still need a recommendation, you should try out the Royal Canin Breed Health Nutrition Miniature Schnauzer Dry Dog Food . It is a favorite for many Mini Schnauzer dog owners because it's specially formulated for this breed. And, it contains all the nutrients these dogs need for health and ideal weight.
These little guys deserve a lot of love and nutrition to keep them moving well, but you don't need to be worried. With the help of our guide you'll be sure that you can provide them with the best.
If you like this, then be sure to check out our picks for Cane Corso and English Mastiff breeds.