English mastiffs are cute, lovable – and large. You're going to be feeding your dog a lot of food, so you want to make sure it's as nutritious as possible when you do. It's essential to make sure that you're getting the right food to make sure that your furry family member lives a long, happy, and healthy life, and likes its food on top of all that.
Looking for the best dog food for English Mastiff puppies, adults, and seniors doesn't need to be a daunting task, though, with the information we've gathered here regarding the ins and outs for when you're choosing.
OUR TOP PICK
Petcurean Now Fresh Large Breed Adult Dog Food
is our top choice for the best food for English mastiff adult dogs due to its affordable pricing, fresh ingredients, and wholesome nutrition balance within the formula. Specially made for large, active dogs like English mastiffs, you won't be eaten out of house and home buying this, and your dog is sure to be healthy with it.
Our Best Dog Food for English Mastiffs Reviews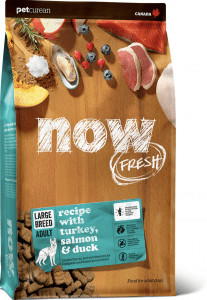 As mentioned above, Petcurean Now Fresh Large Breed Adult Dog Food is our top choice, and it's solidly there for a reason. Coming in at a better price point per pound than many other brands, it's affordable, but doesn't sacrifice its nutrition to get there. With whole, fresh ingredients and added nutrition, your dog will be running happy and healthy with this brand.
Features
Cost-effective
Fresh ingredients
Wheat/grain/gluten-free
This dog food is good for pretty much any type of English mastiff and English bulldog. It covers all the bases with added omega-3s to encourage skin and coat health, antioxidants, and fresh meats and ingredients to promote healthy digestion.
With no rendered meats, by-products, grains, gluten, wheat, beef, corn, or soy, it's also excellent for English mastiff owners whose dogs have a more sensitive stomach. The large kibble size is also a big plus for this giant breed.
Pros
Large kibble size
Made for larger dogs
Fresh ingredients
Allergen-friendly
Cons
Yeast is included in the ingredient list
This dog food is at and will likely stay at the top of many customers' and trainers' lists with its high nutrient quality, great taste, and particular formulation that is ideal for this type of dog.
It's been a top contender for a while, and there's a reason that so many English mastiff owners and their dogs love this brand and formulation. With a solid nutritional base, reasonable price, and a strong customer base behind it, this is a solid choice for any English Mastiff owner and lover.
Overall rating: 4.7/5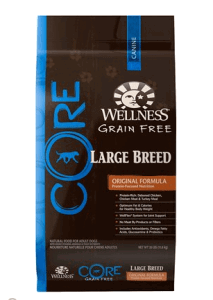 Wellness CORE Natural for large breeds is a healthy, protein-filled choice of food for your English Mastiff that will leave it satisfied and healthy. This is a good adult food for non-pregnant mastiffs over one-year-old, and all its ingredients are either all-natural or organic, so you can feel comfortable about putting good-quality food into your dog's body.
This food is much richer in nutrients than many other brands, so you may want to be careful when transitioning over.
Features
All-natural/organic
Nutrient-rich
Soy/corn/wheat free
This dog food is an excellent choice for dogs, even with sensitive stomachs, who need a lot of calories and nutrients, as this breed often does. You can get it in varying sizes, depending on exactly how quickly your dog makes its way through the food and is grain, artificial flavor, and preservative-free to help make sure that the only things in the dog's food are ingredients that will be good for its health and well-being.
Pros
Nutrient-rich
All natural/organic
Made for large breeds
This dog food is a great, but costly, choice for English mastiff owners looking for the best dry dog food for English mastiff adult dogs. While the transition to this food may take a while, once it's happened, you're sure to have a happy and healthy dog on your hands that will be excited at every mealtime and will keep a healthy weight, coat, skeleton, skin, and digestive system, which is all you can ask for from a good dog food brand.
Overall rating: 4/5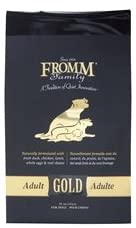 Fromm Family Foods Gold Nutritional's dog food is great dog food for English mastiff adult dogs. The food is good for any dog over 50 pounds, so almost any mastiff over a year old will be able and happy to eat this kibble. It comes highly vet-recommended, due to its ingredients that are beneficial to bone, skin, coat, and digestive health.
Features
Made using meat meal
Added nutrients will keep all parts of your dog healthy
Free of corn, soy, and wheat
This dog food is a great choice for English mastiff owners, due to the size and formulation of the kibble. It's got a good number of calories and a highly recommended protein/fat ratio, which helps keep the dog happy and healthy.
The added nutrients all have specific purposes in keeping the dog healthy throughout its life and is relatively easy to transition your dog over to. However, it is on the expensive side.
Pros
High quality
Good nutritional profile
While this brand is expensive, it's well worth the cost, made especially for the type of dog you own. Its robust ingredient list is created especially to keep your dog happy and healthy throughout both of your lives.
Easy for the dog to like and to transition to, if it's not a financial burden, it's a great choice for any English Mastiff owner. Owners and dogs alike are happy with the consistency of this brand, as you will likely be as well.
Overall rating: 4.4/5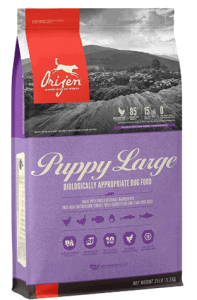 ORIJEN Large Breed dry puppy food is probably the best dog food for mastiff puppies on the market currently. It has ingredients that are always of phenomenal quality, and it's much needed for these puppies as their size requires a lot of calories and nutrients.
Features
Nutritionally dense
Formulated for large-breed puppies
Moderate fat content
This puppy food is specially made to create the best diet possible for puppy breeds like English mastiffs. Designed to give your puppy as many nutrients as possible while keeping them from getting to an unhealthy weight, it has created a near-perfect balance in how to keep your puppy as happy and healthy as possible throughout this particularly tender and tumultuous age.
It's all organic and has no grain, so it should additionally be easy for the puppy to digest.
Pros
Grain-free
Nutritionally dense
Appropriate for breed
Aids in healthy growth
This is a fantastic choice for a puppy food if you're looking to introduce a new, large, furry member to your family. While it is expensive, it's because the quality is always good, and you can be sure that your puppy is getting everything he needs with this formula.
Puppies need a lot of care and help at this stage in their life, and this food can help provide it to them in a way that most other brands on the market simply aren't able to.
Overall rating: 4.4/5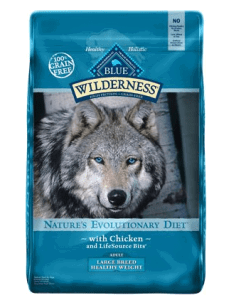 BLUE Wilderness High Protein dog food is a fantastic choice for adult mastiff dog owners that are looking to keep their dogs healthy and at a healthy weight. It uses only high-quality ingredients, including protein and low-calorie meals that help keep your dog's weight at a healthy level while not cutting any corners on the nutrients it provides.
Particularly good for less active dogs, this is a solid choice that can help keep your dog healthy all around.
Features
Healthily sourced
No fillers, artificial flavors, or preservatives
Aids in weight loss
This dog food is fantastic for those with less active English mastiffs who want to make sure that their dogs aren't enjoying the sedentary lifestyle that may be a bit too much. It's calorie-restricted, has healthy ingredients that are all well-sourced, and is still tasty to the dogs so they will get their full nutrition, so dog owners don't have to worry about their dogs losing weight in an unhealthy manner.
However, it's not grain-free, so if your dog has a stomach more on the sensitive side, you may want to be careful if you're trying this food out with them.
Pros
Good for weight loss
No fillers, artificial flavors, or preservatives
This is an excellent choice if you're looking to switch your dog over to a more calorie-restricted or low-calorie diet to combat a more sedentary lifestyle. This food isn't as expensive as many of the other brands out there, either, so it's easy on both their stomachs and your wallet.
Overall rating: 4.3/5
Feeding and Buying Guide
Always make sure that you take proper care of your English Mastiff and let them have enough exercise throughout the day. Talk to your vet and plan a balanced diet for your dog so that they can have a long and healthy diet.
Do not change food frequently as it often agitates the dogs and hinders their eating behavior. The foods we've listed here will be able to help your dog with digestion, healthy joints, and many of the pros that we've listed are things that you want to make sure you're keeping an eye out for no matter what when you're buying food for them.
Protein is especially important to keep an eye on in their diet thanks to their massive size. Most dogs need about 18 percent protein in their diet, but these gentle giants will likely require a bit more than most other dogs.
Grain-free is usually the best way to go as well, to make sure that you aren't irritating their stomach. If you are choosing a dog food that has grains, make sure it's whole grain, which is the best for them. You're also looking ideally for multiple sources of protein, which will provide other nutrients as well, such as omega-3 fatty acids that can be found in fish.
Puppy mastiffs eat as much as four cups of food a day, and adults may even eat up to 12, so if you're going to be feeding them that much, you really want to be sure that you're feeding them good quality food. That way, you can be sure that they're really getting everything that they need.
It's important to space the food that they're getting, as well. If you feed them the right amount but group it too quickly, it won't digest the same, and the dog will risk putting on too much weight. This could damage the dog's muscles and bones, so you want to make sure that you're avoiding that, especially when they're still growing and are particularly susceptible to being damaged due to extra weight on their skeleton.
By the time your dog is around seven, they'll start to show signs of aging since many of them live into their teens. As they do get older, though, they'll become less active and may start gaining some weight. Because of this, go for food that's made just for seniors. This type of food will have fewer calories, and less protein since your dog doesn't need as much energy. In most cases, though, you can just cut back on portions and try to increase their exercise.
If you have any concerns about feeding them, remember that around 20 calories per pound tends to be a pretty good estimation, so you can probably go with about 2,400 calories daily for an adult Mastiff. Working off of that – and adjusting when you get them weighed – will help keep your dog eating neither too much nor too little, so you will not have to worry about if they're alright.
Final Thoughts
If you're looking for the best dog food for English mastiff adults and puppies, you're sure to find a lot of options that will all be good for helping your dog grow to their healthiest and strongest.
There are a lot of good options out there that will allow you to explore what works best for your dog's taste and lifestyle, as well as where the price point meets it. One excellent example is the Petcurean Now Fresh Large Breed Adult Dog Food that offers a grain free wholesome diet from balanced proteins and other nutritious ingredients.
Do check out our recommendations for your Cane Corso.