While diabetes is a health issue most common to humans, sadly, our canines can have it too. This lifelong condition of diabetic dogs can be taken care of by keeping their blood sugar levels as close to normal as possible and by taking insulin everyday – and yes, it's really complicated as it sounds.
One of the concerns most pet owners face is when their dog refuses to eat their food. Especially that diabetic dogs require daily insulin injections, it is important for them not to have an empty stomach before being injected. So keeping an eye on their blood sugar level and feeding them the right kind of food can be an everyday struggle.
To help ease your burden, we have listed down our reviews of 6 best dog food for diabetic dogs. Read on as you may find that one recipe that may help you and your furry buddy in this lifelong journey.
The Best Dog Food for Diabetic Dogs Are: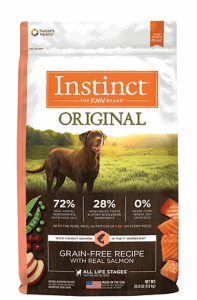 Why is Instinct Original Grain-Free Recipe one of the best foods for dogs with diabetes? This recipe is not only made with 72% real animal ingredients and nutritious oil, but it is also enhanced with probiotics, omega fatty acids and antioxidants. All these put together to help support your diabetic dog's digestive health, shiny fur and overall health.
Instinct features pure and real nutrition of raw meat in every kibble making every bite nutritious and flavorful. So if you are one of the pet parents who are struggling to convince your dog to eat something healthy - – as most owners of diabetic dogs are - – this recipe with a flavor of tasty salmon may entice your pooch to take a bite and perhaps you'll eventually find him licking his bowl clean.
What makes Instinct proud is that they are on a mission to transform your pets' lives through food - through the pure, real nutrition of raw. They believe that all pets deserve the best life possible. Who doesn't? After all, apart from our gentle and patient love, good food is what keeps our pet warm.
Specs
Flavor: Salmon
Age Range Description: All life stages
Crude Protein: 37.5% (minimum)
Crude Fat: 21% (minimum)
Crude Fiber: 4% (maximum)
Pros
Its main ingredient is protein-packed salmon for lean muscles.
It has guaranteed levels of live and natural probiotics, natural omegas and antioxidants for digestive health, healthy skin & coat, and immune health.
It doesn't contain grain, potato, corn, wheat, soy, by-product meal, artificial colors or preservative.
Cons
It has a higher crude fat level than other similar products.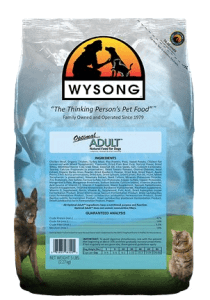 Wysong may be a new sounding brand to your ear, but if you dig deeper enough, you will find this gem hidden in the mainstream. For the past 35 years, they have been making quality dog food and working hard to integrate modern food with a natural canine diet.
Why this recipe is best for dogs with diabetes is its low-glycemic index. Finding food with a low-glycemic index is very imperative for your dog to avoid a blood sugar spike. Simply put, low-glycemic foods release glucose slowly and steadily, while high-glycemic foods can cause otherwise. Select fruits, vegetables, and whole grains are just among the examples of food that have low-glycemic index.
Perhaps it is hard for you to entrust your dog's health to a brand that is not as popular as other leading brands. We've all been there and we definitely understand your concern especially if your beloved dog means life to you.
But in all honesty, this underrated brand thrives through word of mouth as it leaves customers with satisfaction especially for pet owners who are parenting a diabetic dog. You may ask your vet before you feed a new recipe (as you should always do!) for your extra peace of mind.
Specs
Flavor: Chicken and Turkey are the Main Ingredients (flavor not specified)
Age Range Description: Adult
Crude Protein: 42% (minimum)
Crude Fat: 14% (minimum)
Crude Fiber: 5.5% (maximum)
Pros
It contains low carbohydrates, low glycemic index and multiple organic ingredients.
It is enhanced with high levels of enzymes and probiotics and natural omega-3 and omega-6 fatty acids for your dog's digestive and optimal health.
It contains the right amount of fruits and vegetables to mirror nutrition from wild prey.
Cons
It is only available in 5lb-packages.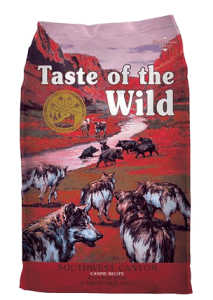 Sad to say, it no longer surprises us when our diabetic dogs give a cold shoulder on the food we deliver into their bowls. So our hearts warmly leap with joy every time we are victorious in letting our pooch fill his stomach. But that's rarely the case, isn't it?
If you are tired of letting your dog and yourself down, try the Taste of the Wild Southwest Canyon recipe as it offers a unique taste of protein from wild boar. On top of that, it is also enhanced with legumes and fruits which is beneficial for your pet.
Another feature that makes this one of the best food for diabetic dogs is that it contains K9 Strain Probiotics which is added after the cooking process. Each pound of dry Taste of the Wild provides 80 million live, active cultures. This will help keep the digestive and immune systems healthy which affects the overall health and vitality of your pet.
With this unique source of protein, perhaps this will be a recipe he can't resist.
Specs
Flavors: Beef with Wild Boar
Age Range Description: All life stages
Crude Protein: 29% (minimum)
Crude Fat: 15% (minimum)
Crude Fiber: 5% (maximum)
Pros
It contains wild boar, a unique source of protein that gives your doggo a taste of the wild.
It contains nutrient-rich legumes which is a low-glycemic food.
It contains natural antioxidants and minerals for your dog's overall immune health.
Cons
It includes non-meat protein sources such as peas, garbanzo beans and eggs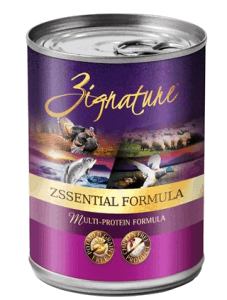 What a sweet life for your dog every time he eats a multiprotein meal! Turkey, salmon, duck, and lamb join forces to give your pooch a hearty complete recipe that is packed with nutritional benefits.
On top of that, this recipe is indeed the best food for diabetic dogs as it is boosted with natural antioxidants and fiber-rich low-glycemic carbohydrates from select fruits and vegetables.
And if you are on a hunt for a recipe that doesn't contain chicken for your allergic prone doggie, this might be the best choice for you. This limited ingredient formula is hypoallergenic as it doesn't contain chicken, chicken eggs, chicken by-products, corn, wheat, soy or dairy.
Specs
Flavors: Multiprotein (Turkey, Salmon, Duck, Lamb)
Age Range Description: All life stages
Crude Protein:11% (minimum)
Crude Fat: 5% (minimum)
Crude Fiber: 1% (maximum)
Pros
It is rich in protein due to its multiple meat sources.
Its combination of fruits and vegetables is a good source of natural antioxidants, and fiber-rich low-glycemic carbohydrates.
It doesn't contain artificial colors, preservatives or flavors.
Cons
It is more expensive than other similar dog food products.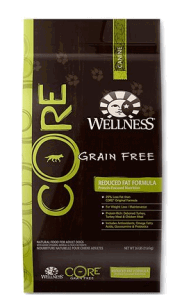 If your darling doggo is struggling with keeping slim, this best food for diabetic dogs such as dobermans.
As turkey is an excellent source of protein, and chicken liver a rich source of vitamins A, D and all B-Vitamins, and carrots a good source of beta-carotene, these combinations of ingredients will help your pet live a healthier life.
On top of that, this recipe is also boosted with glucosamine and chondroitin sulfate to maintain joint and hip function. This is truly a great recipe for overweight doggos!
With the savory flavor of turkey, who says that reduced fat recipes can't be appetizing and tasty?
Specs
Available flavors: Turkey and Chicken Meal Recipe
Age Range Description: Adults
Crude Protein: 33% (minimum)
Crude Fat: 10% (minimum)
Crude Fiber: 12% (maximum)
Pros
It has a reduced fat formula specifically for weight management.
It is fortified with vitamins, minerals and probiotics.
It doesn't contain wheat, corn, soy, meat by-products, artificial colors, flavors or preservatives.
Cons
It may cause some gas in your dogs so gradual transition on this recipe is recommended.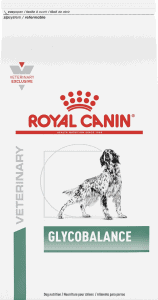 Knowing that this dog food is specially formulated for diabetic dogs helps pet parents relax a bit. This best food for dogs with diabetes is an ideal choice as it is formulated with specific dietary concerns. With its Glycobalance feature, you are assured that your sweetheart's condition may be managed more efficiently.
To add cherries on top of this beneficial recipe, it has a blend of different fibers that helps with digestive issues. Its low starch levels and high level of soluble and insoluble dietary fibers also slow down glucose conversion. Moreover, as it utilizes natural fat from chicken and fish oil, it has a significant low amount of fat.
Just make sure to bring your vet's prescription before purchasing this best food for diabetic dogs.
Specs
Flavor: Chicken
Age Range Description: Adults
Crude Protein: 35% (minimum)
Crude Fat: 10% (minimum)
Crude Fiber: 10% (maximum)
Pros
It is specially formulated for diabetic dogs.
It is formulated with high levels and an optimal ratio of soluble and insoluble dietary fiber that helps minimize glucose fluctuations.
It has a moderate fat content.
Cons
Prescription from the vet is needed to purchase this product.
Buying Guide
Now that you have read our reviews of the best dog food for diabetic dogs, here are the things to look for before grabbing that package off the shelf.
And while this pool of dog food options can only supplement your diabetic dog's daily diet, it is most important to consult with your local vet before anything else.
Ingredients, Guaranteed Analysis, and Nutritional Value
Quality dog food products are mostly transparent with their ingredients and nutritional value. But these words and numbers will be meaningless if you will not make good use of them, especially that your dog has a specific health need.
For dogs with diabetes, it is basically recommended to look for recipes that are high in protein, high in fiber, low in carbohydrates and low in glycemic index.
These high and lows will affect your dog's blood glucose level, energy and digestion. Of course, all these will still depend on your dog's weight and activity level.
Moreover, avoid at all cost dog food that contains artificial flavors and animal by-products as these may cause harm to your pet.
AAFCO Label
The Association of American Feed Control Officials (AAFCO) seal on the dog food package assures you that everything you need to know about is written on the product label.
The Brand and Product Name, Name of Species for which the pet food is intended, Quantity Statement, Guaranteed Analysis, Ingredient Statement, Nutritional Adequacy Statement, Feeding Directions and Name and Address of manufacturer or distributor should be things you see in the label.
Final Thoughts
Seeing our dogs suffer from this lifelong condition squeezes our heart dry, worse is when some dogs with diabetes have additional complications. But on a brighter side, diabetes is not a death sentence. Our reviews of the best dog food for diabetic dogs will help you decide which can be a perfect fit for your best furry friend.
With the right recipe, we can make every meal a happy meal especially with our top pick Instinct Original Grain-Free Recipe with Real Salmon. Let's give our darling pets the life they deserve by giving them the food that's best for them.