Proper nutrition is critical to ensure that our canine friends grow healthy, strong, and active as they join us in our journey called life. Which is why every dog owner has probably asked the question, "What is the best dog food for my furry buddy?"
To be perfectly honest, there is no one-size-fits-all answer. There are many things to consider. What breed is your dog, is it a large breed or small, are you feeding a puppy, an adult, or a senior, and so on. If you own an Aussie, you're in luck because I'll help you answer that question for my review of the best dog food for Australian shepherds.
In this article, we're taking a closer look at the following top-rated dog food for Australian Shepherds.
OUR TOP PICK
If you're busy and don't want to read the entire list of products here, here's the top pick overall:
Reviews of The Best Dog Food for Australian Shepherd Puppies and Adults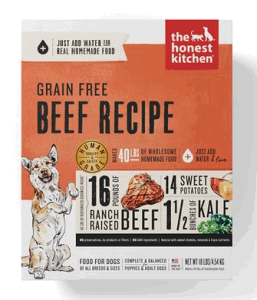 When dog food advertises having a human-grade recipe made in a human-grade facility, the company is saying that your canine buddy deserves to be treated to food of the same caliber consumed by people. Honest Kitchen does just that with their Grain-Free Beef Recipe Dehydrated dog food.
Features
Key Features
Consists of ranch-raised beef, fruits, and vegetables with no GMO or artificial ingredients, such as hormones, preservatives, and antibiotics
Grain-free formula means it is suitable for dogs that have food sensitivities
It is dehydrated meaning it allows for longer storage times while at the same time maintaining its natural vitamins and minerals
What I Like About This Food
What's nice about this product is that it is formulated for both puppies and adult dogs, so you don't have to have different types of dog food if you have canine buddies in multiple stages of their lives.
What I Don't Like About This Food
It's important that you read the box before purchasing this product, you need to add warm water to it, and it can have the consistency of porridge which your dog might not appreciate.
Pros
Human-grade recipe
Perfect for dogs with grain allergies
All-natural ingredients
Cons
Pasty to porridge-like consistency when mixed with water
In my personal experience, Aussies can be quite picky eaters, and if that's the case with your buddy, you may want to try the two-pound box first before going big. Nutrition-wise though, this product is great with 31 percent crude protein, 14 percent crude fat, and 514 kcal/cup.
Overall Rating - 4.5 of 5 stars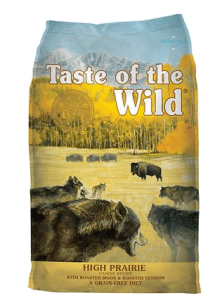 We often feel the need to go out to the countryside to take in the wonders of nature and all it has to offer, so why not give your Aussie a taste of the prairie as well with the Taste of the Wild High Prairie Grain-Free Dry Dog food?
Features
Made up of real buffalo and other protein-rich meat like bison, venison, and beef
Enriched with antioxidants from fruits and vegetables including omega-3 and omega-6 fatty acids
Grain-free and made with a proprietary K9 strain probiotic to promote digestive health
What I Like About This Food
This caught my eye when my friend and I were out shopping for pet supplies a couple of years back. The word roasted bison and venison isn't exactly something you often find in dog food.
What I Don't Like About This Food
I had to switch out of this particular brand because of horror stories that circulated around our dog loving community a while back regarding bad batches manufactured that made their dogs sick, whether that was because they bought old stock or just bad quality check I can't say for certain, but it is worth noting.
Pros
All-natural and made from unique ingredients
Vitamin-rich and uses proprietary ingredients to improve digestion
Cons
Comes in big packs and you aren't able to just test it out
Had issues with QA
My Aussie and other canine buddies loved the High Prairie formula and ate every morsel of it during the time I was feeding it to them. Unfortunately, due to the said incident in the quality of some of their bags, I can't risk the health of my canine pals.
If you try this product, I suggest buying from a local store and asking the owner if they had any recent complaints about the product as it may have just been a couple of bad batches. I will still give it a rating based on my personal experience of the product but still putting into account this issue.
Overall Rating - 3.5 of 5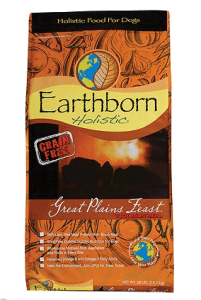 For some reason, my Aussie fell in love with the taste of bison meat and would not touch any other food for a while. So, if you have a picky eater like my buddy, Earthborn Holistic Great Plain Feast is an excellent product to look into.
Features
Made from lean bison red meat protein that contains natural amino acids essential for building strong muscles
Contains L-carnitine to help your dog burn fat and convert it to energy
Grain-free and enriched with Vitamin C and E from vegetables and fruits to boost your dog's immune system
What I Like About This Food
My Aussie became active, almost hyperactive when he was being fed this recipe. If you and your dog live an active lifestyle or your Aussie is a stock dog or competes in competitions, I would definitely recommend this brand.
What I Don't Like About This Food
The recipe has egg in it, which some dogs can be allergic to. The product has also recently undergone a formula change.
Pros
High crude protein (32 percent) and fat (18 percent) content
An excellent choice for active Aussies (stock dogs or competition dogs)
Cons
Recent formula change
Egg in the formula make sure your dog isn't allergic to it
They don't grow their own ingredients, and there might be GMOs in their ingredients
As I mentioned, my Aussie became hyperactive while eating this recipe. That isn't necessarily a bad thing primarily if your best buddy competes or you love running around with your pal that's awesome. However, if your canine pal stays mostly at home, you might want to think twice.
Wanna check out another natural, non-GMO dog food brand? See our recommended Halo dog foods.
Overall Rating - 4 of 5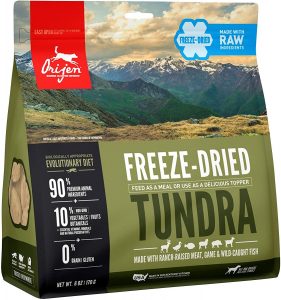 While cooked food is great for us humans, our furry best buddies evolved eating raw food with all of its natural nutrients still intact untouched by heat. Orijen's Grain-Free Tundra Freeze-Dried dog food is created with that in mind. Freezing and locking in all those natural nutrients to provide the best possible nutrition for our dogs.
Features
Gently freeze-dried ranch-raised meat, game, and wild-caught fish to preserve all the natural flavor and nutrition of raw food
Contains WholePrey ratios of meat, fish, bones, and organs for all-natural vitamins and minerals
Easy rehydration and preparation
What I Like About This Food
Orijen's freeze-dried dog food is all-natural and raw with no synthetic additives, which are ideal for me. It can also be standalone or a topper to my favorite dog food choice, kibble.
What I Don't Like About This Food
Like most freeze-dried dog food, it is pricey if fed as a standalone meal and even as a topper, it is still up there in terms of price.
Pros
All-natural raw dog food
High crude protein content (37 percent)
Includes vitamins and minerals such as DHA, Omega-3 and Omega-6 fatty acids
Cons
Can be quite expensive to maintain
High-fat content (34 percent)
If you want to go all out and money is not an issue, and you want to ensure that your Aussie is fed with only natural ingredients and raw food as nature intended then this product is the right choice for you.
Overall Rating - 4.5 of 5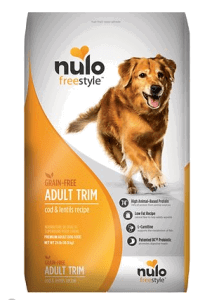 Australian shepherds were initially bred across ranches in the United States and are valued by stockmen due to their trainability, obedience, and versatility. Thus, our buddies are energetic and require a lot of activity to keep them in peak condition.
If your Aussie is an apartment dog and stays in the house all day, you might start having weight problems, which is why I included this product to the list.
Features
Grain-free and low-fat formula without fatty proteins like chicken and egg
Includes L-carnitine to help with fat metabolism and increased energy usage
Low-sugar and contains vitamins and minerals that promote healthy bones and immune system
What I Like About This Food
I might not want to admit it, but I've had to use this product for my Aussie during times when I gave him too many treats for being such a good boy and too little exercise for his own good. It works as advertised!
What I Don't Like About This Food
This product is excellent, but it's not something you should feed your canine pal for a prolonged period of time.
Pros
Used for weight loss and dogs with diabetes
High crude protein (30 percent) but low fat (7 percent) to help with weight loss
If your Aussie is gaining a bit too much weight and his activity level isn't making up for it, putting your canine pal on this recipe will help. You'll be able to see results within a few weeks of using this product, and it should help your dog become the best version of himself or herself! High crude protein is always the right choice for you if you have this breed.
Overall Rating - 5 of 5
If in case you're having the reverse of the previous problem and your Australian shepherd is feeling lethargic or is not within the usual weight range for their age, Instinct's Original Grain-Free recipe should help.
Features
Made from cage-free duck as the first ingredient for high animal protein
Consists of 73 percent real animal ingredients (duck, chicken and turkey meal, egg products)
Consists of 27 percent fruits, vegetables and other wholesome ingredients for all-natural vitamins and minerals
What I Like About This Food
I'm a staunch advocate of using all-natural ingredients in food, and the way Instinct creates their recipes with the pure, real nutrition of Raw with no artificial colors and preservatives impresses me.
What I Don't Like About This Food
Instinct Original recently went through a formulation change that dropped the calorie content by a little (510 from 517 kcal/cup) lowering the protein content by three percent and increased fat by one percent.
Pros
High protein and fat content for Aussie's with active lifestyles
Made with Instinct's signature Raw nutrition in mind
Made from natural animal protein, fruits, and vegetables
Cons
Recent formula change
No longer a single protein ingredient
Instinct's Original Grain-Free recipe is for the Aussie-on-the-go that requires high protein and energy to help out their human buddy. The high protein and fat content ensure that your canine pal has strong bones and high stores of energy for competition or herding activities.
Overall Rating - 4 out of 5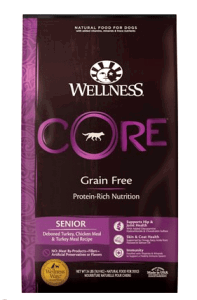 Age is an important consideration when looking for the right food for your dog, especially in the later years of their life. Finding the right recipe that provides less energy but more nutrients to keep them healthy and disease-free is vital. Wellness CORE Grain-Free Senior Recipe delivers just that!
Features
The high concentration of natural animal protein from deboned turkey, chicken, and turkey meal
Contains only premium and all-natural ingredients, no synthetic ingredients such as colors, flavors or preservatives
Enriched with nutritional supplements to help maintain the health of your senior dog
What I Like About This Food
All-natural is vital in any stage of our beloved dog's life, and it is a must when they reach their senior years. I love how this is specially formulated for the needs of senior Australian shepherds, not to mention that it is grain-free.
What I Don't Like About This Food
As a product designed for older dogs, it's a shame the kibble design isn't better suited for them. It can be a bit of a challenge for seniors to chew.
Pros
Contains glucosamine hydrochloride and chondroitin sulfate that promotes hip and joint health
All-natural ingredients and grain-free
Low kilocalorie content to fit the needs of senior dogs
Cons
Contains chicken-meal
The kibble can be hard to chew for older dogs
If your Aussies have lived a long and active life in your service, you owe it to them to provide the most nutritious food possible to care for any of their service-related health issues in their senior years. Wellness CORE's senior recipe was explicitly made to help our active dogs with their hip and joint health.
Overall Rating - 4.5 of 5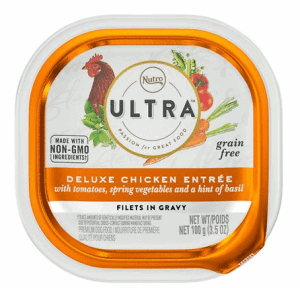 Sometimes our best Aussie buddies turn up their nose at the kibble you put in front of them (yes, my Aussie is a very picky eater) or at times we just want to reward them for being good boys and girls. Whatever the reason you may have treating your best buddy to a gourmet meal not only fills their bellies with great food but also fills our hearts with joy!
Features
Made with real chicken, pieces of real vegetables and herbs for vitamins
Can be a standalone meal or added to kibble
Made with non-GMO ingredients, no chicken by-products and grain free
What I Like About This Food
A deluxe gourmet meal, that description is enough to give you an idea of why I chose this as my Aussie's treat for a job well done. Made with all-natural ingredients is a big plus for me as well.
What I Don't Like About This Food
I use this mostly as a treat, but as a standalone, it can become quite pricey as you'll need multiple trays for one meal to make up for the lower calorie and nutritional content when compared to kibble.
Pros
Gourmet meal to treat your dog
Consists of real chicken, vegetable and herbs
All-natural
Cons
Lower kilocalorie and nutritional content compared to kibble
Can be pricey if maintained as a standalone meal
If you're looking to treat your Aussie pal to a gourmet dinner, you should definitely consider Nutro Ultra Grain-Frain Free Chicken Entrée. After all, our dogs deserve to enjoy food as much as we enjoy ours!
Overall Rating - 4.5 of 5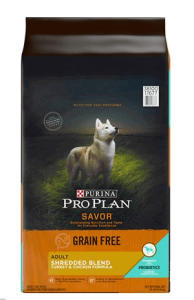 This list won't be complete without finding the best dog food for mini Australian shepherds, the petite cousin of the Aussie. Choosing the right food is quite complicated as the mini Aussie lies on the middle ground between the size of a small breed, but not a toy dog, and the nutritional needs of an active medium-sized dog.
Features
High Protein Turkey as the #1 ingredient with live probiotics to improve digestion
Contains Vitamin A, Omega-6 acid, and linoleic acid for healthy coat and skin
Contains shredded pieces and crunchy kibble for a texture that dogs enjoy
What I Like About This Food
This product is tailor made for small breeds that require strong muscles and increased energy, which is precisely what the miniature Aussie needs.
What I Don't Like About This Food
There are some kibble pieces that are quite large and can be a choking hazard, so make sure you look at what comes out of the bag.
Pros
The recipe is appropriate for mini Aussies' needs (32 percent protein, 16 percent fat)
The formula includes probiotics and vitamins and minerals to help with digestion, skin, and coat
Grain-free
Cons
Kibble can be uneven and be a choking hazard
Purina Pro Plan Savor Shredded Turkey & Chicken Formula Dog Food is an excellent choice for miniature Australian shepherd owners as it is formulated for the needs of active dogs that need strong muscles. If you plan on having your best buddy help out in the ranch as a stock dog, this would be a great choice. Purina is a well-known brand with a lot of variants for the needs of different dogs. Check out our dog food recommendations from Purina.
Overall Rating - 4.5 of 5
Best Food for an Australian Shepherd Puppy: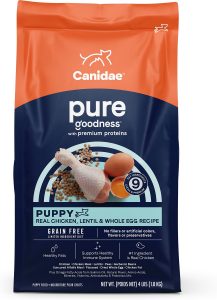 You're probably wondering why I didn't include the best puppy food for Australian Shepherds among the products. Well, I wanted to create a section dedicated to what your puppy needs to grow up healthy and active.
To answer the question, what is the best food for an Australian shepherd puppy?
Features
The main ingredient is high-protein chicken for the muscle-building needs of puppies
Limited ingredient recipe with only nine key elements to cater to your puppies sensitive stomach
Grain-free and contains essential vitamins and minerals including DHA for enhanced brain development
What I Like About This Food
It has everything your Aussie pup needs and deserves to grow up healthy and strong. DHA is a crucial ingredient as it helps boost brain development for your growing canine buddy. It's also a limited ingredient recipe to ensure that if your pup has any food sensitivities, it can still eat it with no problem.
What I Don't Like About This Food
I love this product as this has been a go-to for my friends and me for our pups, but not all fur babies are a fan of it and won't touch it. It's also important to note that due to the high nutrient and protein content, it can lead to a less than desirable smell for your dog's poop, to put it mildly.
Pros
High crude protein (30 percent) and fat (12 percent)
Contains DHA for brain development
Limited Ingredients but high kilocalorie content (520 kcal/cup)
Cons
Not all puppies enjoy it
Be prepared for quick clean-up and a nose pin
In my honest opinion, Canidae's Grain-Free Pure Puppy recipe is the best choice in the market right now for your Australian shepherd pup. Nutrition-wise it contains all the necessary ingredients and vitamins and minerals to ensure that your pup requires to grow physically and mentally healthy, despite being a limited ingredient recipe.
Overall Rating - 5 of 5
Buying Guide/Feeding Guide for Breed
Now that you've read the list of the best dog food for Australian shepherds, you're probably raring to go make a dog food run. Before you do, though, I advise that you read the following feeding guidelines for your Aussie.
I can't overstate this enough, the type and amount of food you give your dog depends on their current stage of life, so I'm going to provide you with a full rundown on how to feed your dogs from the first couple of weeks to their senior years.
If you have a newborn Aussie, do not feed it solid food, at least for the first six to eight weeks! It is imperative that your puppy nurse from their mother as her milk is not only the most nutritious food for your newborn, but it also imparts antibodies necessary for your puppy to fight off diseases. If for some reason, the mother can't nurse her pup, there are milk substitutes and formulas that should be available in your local pet stores.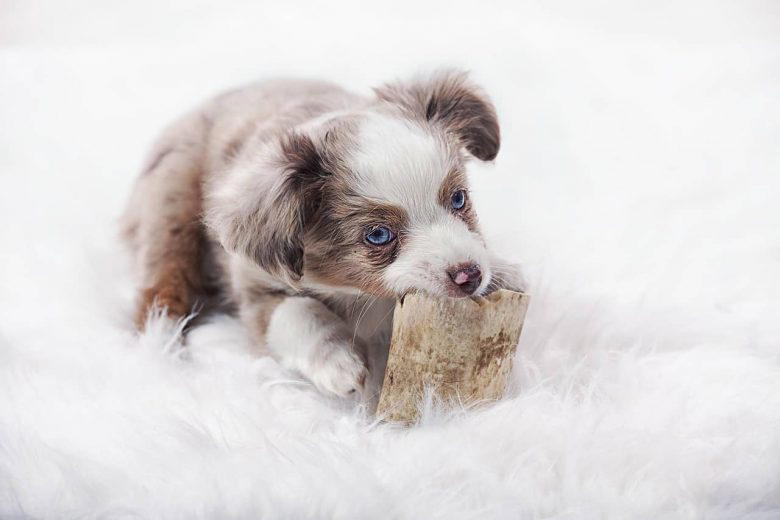 Transitioning from liquid to solid food can be quite tough and cause digestion problems for your puppy. To make the change more manageable, you start by feeding your little furball gruel that consists of your selected puppy food and milk replacer.
You should start doing this at around four to six weeks, gradually decreasing the amount of milk included in the mix. By the eighth week, your pup's meal should be completely solid already.
In general, puppies have high caloric and nutritional requirement, and so you have to provide high-quality dog food and take their weight into account. An Aussie is a medium-sized dog and can weigh between 15 to 28 pounds on its third month depending on its sex.
The amount of food you should provide also depends highly on the brand of puppy food you choose. All brands of puppy food should have recommended feeding guidelines either on the package or on their website.
Regardless of what food you choose, I recommend that you divide the recommended daily intake into three to four meals a day to prevent any possible complications caused by large meals such as Gastric Dilatation-Volvulus.
Being medium-sized dogs, Aussies are considered adults when they reach their full growth at around 18 months and should be switched to your adult dog food recipe of choice. Remember that protein and fat content are important in choosing recipes (at least 20 percent protein and 5 percent fat.)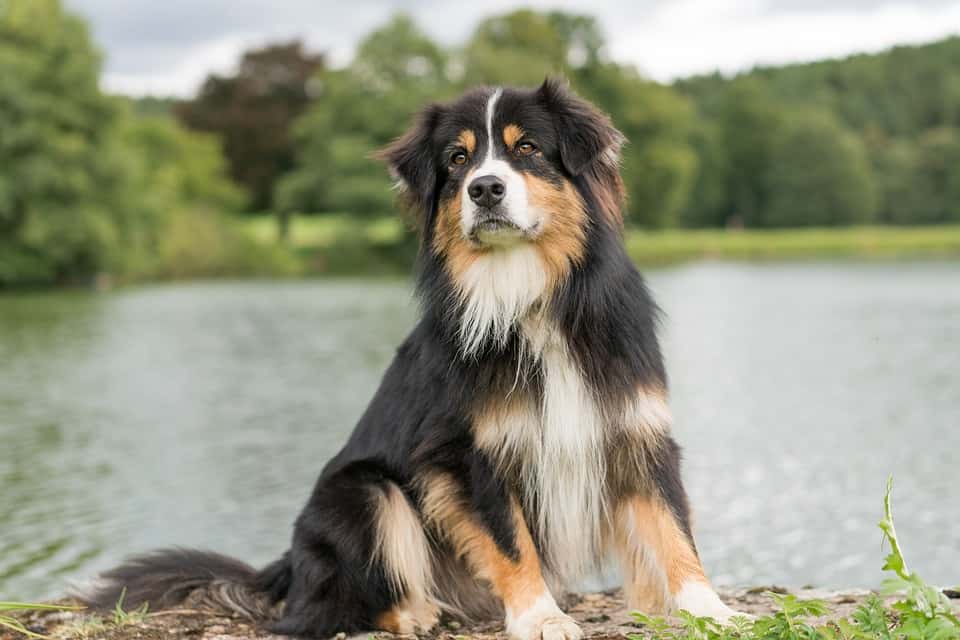 Protein helps build lean muscle, and fat provides your buddy with energy, but too much is a bad thing. Always follow the recommended feeding guidelines, chubby dogs may be cute, but you need to put your fur baby's health first!
As your dog reaches their twilight years, nutrition becomes increasingly important to keep them healthy and help them avoid diseases. At this phase of their lives, our dogs become less active, and it is essential to scale back their diet but ensure that their food is enriched with essential vitamins and minerals that they need to keep their bones and joints strong.
Check out this video to discover more about the Australian shepherd.
Final Thoughts
Australian shepherds are meant to be active, so make sure they do not only get proper nutrition, but they should also get the appropriate amount of exercise. While reviews are essential, each of our buddies is unique, so it is important that you consult with your local veterinarian before making a switch of brands. When in doubt, always consult a professional.
We owe it to our beloved Aussie's to provide them with the best possible food that fits their specific nutritional needs. After reviewing the top products, we have concluded that The Honest Kitchen Grain-Free Beef Recipe Dehydrated Dog Food is the best choice for Australian Shepherds.