Finding the right type of food for your dogs is critical to their overall health. In fact, my dog once came close to dying, simply because I was giving him the wrong type of dog food for his particular needs. At first, I thought he just had gotten into something he shouldn't have, but when his very messy tummy trouble continued, I quickly realized the importance of educating myself about dog-food options.
I visited as many vets as I could and researched everything I could dig up about dog nutrition until I eventually was able to narrow it down to two options. The result of my research is this comparison of Merrick vs. Blue Buffalo dog foods, which I hope will help you choose between the two.
Main Differences Between Merrick vs Blue Buffalo Dog Food
The main differences between Merrick vs Blue Buffalo Dog Food are:
The main ingredients in Merrick dog food are Deboned Duck, Chicken Meal and Turkey Meal, whereas the main ingredients in Blue Buffalo are Deboned Turkey, Potatoes and Turkey Meal.
The fiber content in Merrick dog food is 8.6%, whereas the fiber content in Blue Buffalo is 7.5%.
The protein content in Merrick dog food is 43.7%, whereas the protein content in Blue Buffalo is 40.4%.
Brands and Products
This section will delve deeper into product specifications to see which of the two brands might be the better option for your dog.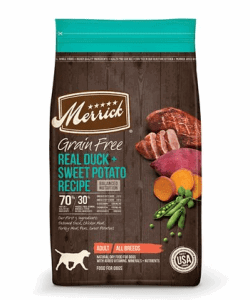 With this blend, Merrick sticks to its mission of providing you with natural, healthy dog food for your pup. They accomplish this with an innovative combination of ingredients.
Key features
Contains Omega-3 and Omega-6 essential fatty acids
Provides a wealth of vegetables for your pet
Qualifies as a Level 3 Safe Quality Food (SQF)
Who Is This Product For?
This product is well-suited to your dog if you are looking to add vegetables to its diet. It provides several health benefits and essential vitamins. It also may be the right choice if you're looking for a dog food that meets quality and safety standards of accreditation boards. This product by Merrick meets one of the most crucial healthy food rankings in the US!
What I Like/Don't Like
This food is grain-free, which is a huge plus if you have a dog that's struggling with allergies or skin conditions. Carbohydrates are added via wholesome vegetables like sweet potato and peas. The first ingredient is real meat from a named source, and a unique blend of vitamins and minerals ensure "health you can see," as Merrick puts it.
On the other hand, this formula does have a few controversial ingredients as well, including alfalfa, which is considered a filler better left to horse feed. The lack of grains also makes for a relatively low fiber content, and the above-average protein may be a bit much for dogs with sensitive tummies.
Pros
Meat is the first ingredient
Grain-free
Includes vegetables, which provide essential vitamins to your dog
Is classified as a Level 3 Safe Quality Food
Contains essential Omega-3 and Omega-6 essential fatty acids
Cons
Uses non-essential filler ingredients, such as alfalfa
Has a reasonably low fiber content
Vegetables are essential in helping your dog get the necessary vitamins for their body. This product can help you meet that need.
Overall Rating: 9.6/10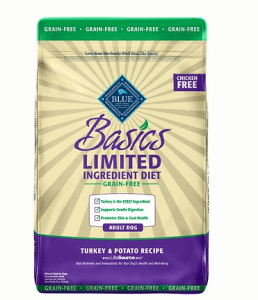 Blue Buffalo focuses on sourcing all its dog-food ingredients locally. Not a single component in any of its products will contain imported ingredients. The company has, however, been the subject of some public dissent, due to nine product recalls. The recalls have been on varied issues from the contamination of products to the use of excess hormones to packaging issues.
Key Features
Locally sourced ingredients
Does not contain any artificial preservatives
Contains real fruits and vegetables
Who Is This Product For?
If you are a patriotic dog lover looking for an excellent meal for your dog – with no artificial preservatives and plenty of fruits and vegetables – this may be a good option. It, however, might not be great for working or very active breeds.
What I Like/Don't Like
Blue Buffalo Limited Ingredient is aimed at dogs with allergies or sensitive stomachs. It achieves this by creating a formula that only includes ingredients generally-considered allergy-safe—so no grains, wheat, chicken or chicken-by product, soy, corn, dairy, eggs, or artificial flavorings—while including options to improve digestion, such as pumpkin. It also uses fewer of those ingredients.
Unfortunately, this formula is higher in carbohydrates than most—partially to provide all that easily-digestible fiber—but if you have a dog with high energy needs, this food may not cut it. The Basics line has also been the subject of an inquiry by the FDA for possibly including ingredients – like pea fiber, lentils, other legume seeds, and potatoes – that may, when eaten in large quantities, cause canine dilated cardiomyopathy (DCM) in dogs.
Pros
A single-source protein—real meat—is the first ingredient
Fiber-rich veggies and pumpkins for easy digestion
High in Omega-3 and -6
Made in the USA
Cons
Some controversial ingredients
High in carbohydrates
This is a nutritious dog food that your best friend is sure to love. The insistence on real fruits and vegetables makes it a valuable option for your dog.
Overall Rating: 9.1/10
Product Category
Merrick and Blue Buffalo have a common mission for their extensive products lines. They want to help your dog live a happy, healthy life – and give you peace of mind. These brands have done an impressive job developing dog foods that include essential elements to spur your dog's healthy growth.
As with any product you purchase for your pet, you must consider some important qualities when choosing your dog's food. The following elements represented my priorities when I was trying to select the right food for my pooch:
Preservatives
I am very concerned about the type of chemicals in my dog's diet. If a product contains organic food preservatives, it's sure to get my thumbs up in this category. Synthetic preservatives, on the other hand, make me flinch.
Wet vs. Dry Food
I am a neat freak. Seeing a mess after my dog eats bothers me. That's why I prefer buying dry food for my dog. It's easier to clean up after my dog eats and, quite frankly, simplifies the feeding process, in general. At the same time, however, wet foods generally have higher nutrient content, so you must weigh your priorities. You also opt to mix the two. I'll admit I occasionally will do so as a treat for my best bud.
Sensitivities and Allergies
Another critical element to selecting the right dog food is whether your dog has allergies or sensitivities. Dog allergens can span the spectrum, though the most common one is gluten. If your vet establishes that your dog has an allergy, I highly recommend that you ask the doc for suggestions about the type of dog food you should choose.
Similarities and Differences
While both Merrick and Blue Buffalo aim to differentiate themselves with unique and compelling product lines, their dog-food lines have both experienced some challenges, including:
Controversial ingredients – Both Merrick and Blue Buffalo use what some may consider controversial filler ingredients in their products. Some of these are canola oil and pea protein – upon which many dog owners and veterinarians frown.
Numerous recalls – Product recalls can do a lot to erode public trust in a product. Both Merrick and Blue Buffalo have issued several recalls. Merrick has had six since its inception, and Blue Buffalo has issued nine.
Despite these challenges, Merrick and Blue Buffalo have thrived in the marketplace for several reasons, including:
Merrick boasts that it makes the "best food ever for the best pet ever."
This is a bold claim, but Merrick has done a tremendous job of holding itself to its word and delivering the best dog food. This company dedicates itself to curating nutritious ingredients that contribute positively to your dog's overall health and growth.
Blue Buffalo is a patriotic dog-food manufacturer.
Blue Buffalo offers no outrageous claims of its capabilities but guarantees that it uses only locally sourced ingredients in all of its products. If you are among those concerned about where your dog's food comes from and prefer those made in the US, Blue Buffalo may be an excellent option for you.
Head-to-Head Comparison Table
When comparing Merrick dog food to Blue Buffalo, noteworthy observations give you insight into the nutrient composition in both dry- and wet-food varieties. The table below offers information that could help you find the best food for your dog, depending on your priorities.
| | | |
| --- | --- | --- |
| Wet Food | Merrick | Blue Buffalo |
| Crude Protein | 43.7% | 40.4% |
| Crude Fat | 20.3% | 25.2% |
| Crude Fiber | 8.6% | 7.5% |
| | | |
| --- | --- | --- |
| Dry Food | Merrick | Blue Buffalo |
| Crude Protein | 37.2% | 28.5% |
| Crude Fat | 16.8% | 15.0% |
| Crude Fiber | 4.3% | 7.1% |
Wet Food
In the wet-food variety, Merrick has a higher percentage of both crude protein (43.7%) and Crude fiber (8.6%) compared to Blue Buffalo's 40.4% and 7.5%, respectively. In the wet-food category, however, Blue Buffalo has a higher crude fat content at 25.2% vs. Merrick's 20.3%
Dry Food
In the dry-food category, you'll see a similar trend. Merrick leads in both protein and fat content. However, the positions shift when it comes to the fiber content, with Blue Buffalo delivering more than its counterpart.
Merrick Brand
Merrick has a good reputation in the dog-food industry. The company has, however, experienced a few instances wherein people questioned its use of some ingredients, such as garlic, in its products. Garlic, although used as an antioxidant in dog food, can be toxic to dogs when consumed in large amounts. Additionally, some dog owners get locked out from using products that contain garlic because their dogs are allergic to it.
Final Thoughts
Merrick's product contains essential Omega-3 and -6 fatty acids that are good for your dog's skin. I prefer Merrick, first for its benefits to my dog and, second, because it has a level 3 SQF certification. My dog is also pretty active—we like to jog—so I like the higher protein content in Merrick's products.
Blue Buffalo, on the other hand, does not get my full approval because of its inclusion in the list of companies that the FDA is investigating for the use of DCM-causing agents. It's higher carbohydrate level and allergy-friendly, digestible formula is also something my dog just doesn't really need.
Which is going to work better for your dog will really depend on your dog. If you have a really active dog with high protein needs, I'd recommend Merrick. If the FDA investigation doesn't worry you, and your dog needs a limited ingredient diet, give Blue Buffalo a try.