Have yourself a picky pouch? If you've tried multiple brands of dog food or puppy food including homemade meal plans but haven't found one that's the right fit, consider giving one of the leading manufacturers of dog food, Purina, a shot. They have 90 years of research to leverage and are arguably one of the best brands in the business.
Pro Plan is Purina's finest line of dry food formulas and wet entrées. This line of dog or pet food categorizes options under five distinct platforms, namely: Savor, Natural, Focus, and Sport. They're a bit pricier when compared to their competitors, but when you take into account that each of their products is tailored for dogs at different life stages, of different breeds, and sizes, it is worth the extra cost.
According to Purina, their products can help your dog realize their full potential and stay in ideal shape because all Purina's products are geared towards nutritional value and free from artificial food or pet food coloring and additives. There is at least some truth to their claims. I've come across overwhelmingly positive Purina Pro Plan reviews from pet owners, and a good chunk of them swear by it.
Since there's a wide variety of products to choose from in the Pro Plan and each product is geared towards the needs, age, and taste of a particular kind of dog, it can prove to be a tricky job to find one that will be best suited for your dog.
If you've been sifting through Purina Pro Plan reviews, but you don't know what you're looking for, there's a very real chance that you'll end up feeding your dog a product that's ill-suited for them. Read on, and I'll try my best to help you find the right product.
OUR TOP PICK
If you're short on time and can't read all the Purina Pro Plan dog food reviews below, go for
SAVOR Adult Shredded Blend Chicken Rice Formula
. I'd recommend it to every dog owner, and it's the most popular option from the Purina Pro Plan line. This shredded blend is a great quality dog food.
Our Purina Pro Plan Reviews...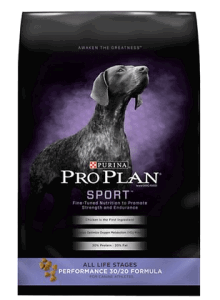 As the name might giveaway, the SPORTS line of dog food is geared towards dogs who need to excel physically: canine athletes or simply very active dogs such as working dogs, sled dogs, or hiking buddies.
Like I explained earlier, this brand targets every kind of dog there is, and athletic dogs are no exception. If you own one, adding this formula to your dog's diet can potentially supplement their muscle strength, endurance, and stamina.
If peak performance is your primary concern, this platform is right for your dog.
Features
The first ingredient and the primary source of protein and amino acids is chicken
Linoleic acid and EPA –omega-6 fatty acids
30/20 formula – 30% proteins and 20% fats
Suitable for all life stages
Four different flavors
Calorie dense – 496/cup
Antioxidants rich
Easily digestible
What I like about this product
For those who want to help their dog build more muscle, this product aims to do exactly that with the high-quality and high-density proteins it contains. Omega-6 fatty acids complement skin and coat health, which can help tremendously if your dog's skin is flaky for instance.
Since physically active dogs require more calories every day, supplying them with that requirement can be problematic if their pet food isn't calorie dense. If that's the case, this product can be an answer to that problem.
The 30/20 protein-fat ratio helps your dog retain the lean muscle mass gained through exercise. Besides, adding an antioxidant-rich source of nutrition in your dog's diet improves their immunity and helps them fight off diseases better.
What I don't like about this product
While this recipe is rich in protein, not all of it is animal based, a sizable portion is also plant-based, more specifically corn gluten meal. Corn gluten meal is an unbalanced amino acid source, and your dog might already be allergic to it, or he might develop an allergy down the line. You will have to watch out for that if you choose this product.
Another gripe I have with this recipe is that it contains poultry by-product meal and animal digest derived from vague, unnamed sources. It doesn't define what animal it came from which can make it near impossible to tell which sources in the ingredients chicken rice formula that your pet might be allergic to.
Pros
High in protein content
Supplies Omega-6 Fatty acids
Suitable for dogs with a higher calorie consumption
Cons
Unbalanced plant-based amino acids
Vaguely defined animal by product and digest
Evidently, this product contains a significantly higher proportion of protein content, which can no doubt help with building up lean muscle mass and physical performance. However, if your dog has a history of corn allergy or you don't want the risk of developing one, this product might not be the right fit.
I'd give it 4 stars because it seems to deliver on what it promises but isn't perfect.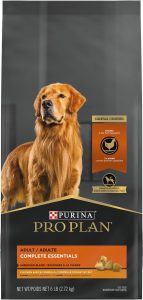 Savor Adult Shredded Blend Formula with Chicken and Rice Formula is perfect for most dogs. This product focuses on providing your dog with a great mealtime experience. It combines texture and taste, in the form of meaty shreds and hard kibble, so there is a reasonably good chance your dog will fall in love with it. The texture isn't all this blend has to offer, either, it delivers optimal nutrition as well.
With chicken rice formula as its first ingredient, you can rest assured that the protein and amino acids your pet will receive will be not only high quality but also well balanced. To keep their skin and coat in an ideal condition, it contains vitamin and omega-6 fatty acid supplements. This is a perfect shredded blend food for your dog.
The recipe will be gentle on their digestive system too, thanks to its healthy Live Probiotics.
Its an amalgam of taste and nutrition your dog will love.
Features
Vitamin A and linoleic acid – an omega-6 fatty acid
Rich in minerals
Up to 28% chicken-based protein content
Nearly 20% fat
Crunchy and tender blend
What I like about this product
This formula dry dog food delivers both nutritional value and a great flavor for dogs without trading off one for the other. Its protein is sourced from high-quality meat, and crispy kibble and shredded blend meat content provide a delectable treat for your dog. The vitamin and fatty acid supplements help them get healthy skin and a shiny coat.
What I don't like about this product
While the recipe does contain fat, protein, minerals in adequate percentages for better growth and energy, it lacks when it comes to green veggies. The probiotics are sourced from wheat and corn gluten meal, and it also has traces of poultry by-product meal.
Pros
Dogs seem to like the flavor
Comprehensive nutrition
Good for your dog's tummy
Cons
Poultry by-products
Grain-derived ingredients chicken
If you're looking for a product that provides nutrition – in the form of minerals, fat, proteins, and vitamins – and a taste your pet will enjoy, this product is worth your consideration
My final verdict would be 4.5.
Bright mind aims to nourish and promote your dog's cognitive health. The recipe is crafted with that focus in mind and contains a unique balance of nutrients that nurture not only mental health but also physical growth. This is similar to Purina Pro Plan Savor but with a twist.
Once it was discovered that after the age of 7 glucose metabolism changes can lead to diminished memory, poorer learning, and decision making in dogs, it paved the way for crafting a blend that could nourish your adult pet's mind as they age.
This product promises to nourish your pet's mind.
Features
Turkey meat content as the first ingredient
High-quality protein sourced from real turkey meat
Botanical Oils
EPA, Vitamin A, and an omega-6 fatty acid in the form of Linoleic acid
What I like about this product
This blend doesn't contain poultry by-product meal, wheat, or corn, which is undoubtedly a welcome change if you dislike wheat and corn in your dog's food or puppy food. The botanical oils it features to sharpen your furry friend's mind and helps them stay alert more often. The manufacturers claim you'll begin noticing these changes within a month.
What I don't like about this product
I don't have a lot of complains about this product because its pros outweigh the cons by a considerable margin. However, they are still worth mentioning. Once the whole chicken rice formula dry dog food has been milled, it leaves fragments in the form of brewers rice, which is the third ingredient in this recipe. Personally, I'm not a fan of cereal by-products because they don't offer much nutritional value. It also contains garlic which has been linked to canine anemia.
Pros
Above-average protein content
The unique combination of nutrients to help your pet's mental faculties
Antioxidants for better immunity
Can potentially reverse and prevent the onset of canine cognitive dysfunction syndrome (CDS)
Cons
Cereal by-products
Garlic as an ingredient
If your pet has been losing interest and energy with age, is suffering from doggie Alzheimer's (CDS), or you simply want to upkeep their mental wellbeing, give this product a try because it has received an overwhelmingly positive response over the years.
My final verdict for this product would be 4.5 because it seems to work and has minimal negatives.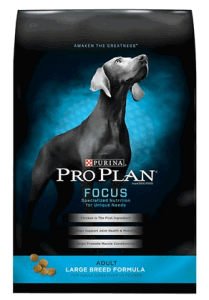 This formula is geared towards small and toy breed dogs that weigh under 20 lbs. It has real chicken rice formula meat content as a first ingredient and doesn't contain any nutrients derived from grains or soy. It promises a complete and balanced meal for your adult pet.
It provides perfectly balanced and flavorsome meals for your small furry friend.
Features
Bite-sized kibbles
High protein and amino acid content sourced from real chicken
Calcium, phosphorus for stronger bones and teeth
Corn, wheat and soy-free
Omega six fatty acids to help with skin allergies and problems
Calorie count of 476kcal a cup
What I like about this product
Small breeds have a unique set of nutritional needs which this product promises to meet with their concentrated nutrition. If your pet is a picky eater like the Great Pyrenees, this is the food to try. I'm also partial to the bite-sized kibbles which make it easier for smaller dogs to chew on their food. In addition, it contains essential antioxidants that fortify your doggie's immune system.
What I don't like about this product
There isn't a lot to complain about here, but I do have a couple of nitpicks. It contains unnamed and generic poultry by-products. Moreover, not all dogs prefer bite-sized kibbles, and it comes in only two flavors.
Pros
Multiple meat-based protein sources
Free from grain sources such as grain corn and grain wheat
Easily digested and is gentle on your dog's digestive tract
Tailored for small and toy breeds
Cons
Unnamed poultry by-product
A limited selection of flavors
If you want to feed your small dog a product that won't upset their tummy or give them cereal-based allergies while providing a delightful mealtime experience and a balanced nutritious diet, I'd recommend you this food.
My final verdict for this grain-free product is 4.5.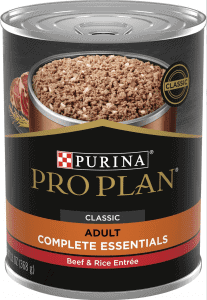 Purina Pro Plan Savor Wet Entree is a braised beef entree with Wild Rice. Flavor options and nutrition are where this product excels. Real beef is its recipe's first ingredient which contributes to high-quality protein content. The other ingredient is easily digestible rice.
Purina Pro Plan Savor recipe packs variety, texture, and nutrition.
Features
Optimum fat to protein ratio
Omega-6 fatty acids to help with skin conditions and promote a thicker and shinier coat
The moist and mushy texture
23 vitamins and minerals for his overall physical wellbeing
What I like about this product
One thing that helps this variant stand out from others within the brand is probably the fact that it's suitable for almost all adult breeds and sizes. It's rich in flavor and nutrients and comes in a lot of variety, so you can choose one that fits your dog's preference. Purina pro plan savor is definitely good and recommended.
What I don't like about this product
Its protein content is sourced from liver, while it's not a bad thing in itself but the quality is questionable because it comes from unnamed and generic sources. And in my opinion, it slightly pricier than other variants in their Pro Plan.
Pros
One of the best sources of energy and protein—beef
Omega-six fatty acids for skin health
Tender texture and delectable taste
A wide variety of flavors
Cons
Higher price
Higher rice content
Unspecified liver sources
If you want your doggie to have a balanced sumptuous meal every single time without worrying about weight gain, you've found the right product. It comes highly recommended and has received stellar Purina Pro Plan puppy reviews.
I'd rate it 4/5.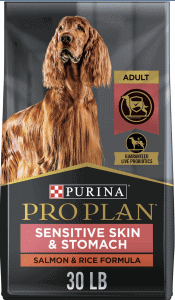 The key source and the first ingredient for this formula is salmon which delivers adequate energy and high-quality protein. It is tailored specifically for dogs who suffer from allergies every so often because it features only real meat without any cereal or animal by-products. This is especially for dogs with sensitive skin. This is a proper fish meal. By proper fish meal, this has so many omega benefits.
Essentially, it's just real meat food for dogs with allergic and gut complications.
Features
It's gentle on the digestive tract ensures that it doesn't upset it.
Contains antioxidants
Has Omega-3 & Omega-6 and zinc
Free from poultry by-products, grain wheat, and artificial flavors
What I like about this product
The antioxidants support and improve your dog's immune system, the Omega-6 fatty acids and zinc look out for your dog's skin and coat, and Omega-3 fatty acids fortify their joints and make him more agile.
What I don't like about this product
It's slightly high-priced for the same weight as its competitors, and according to some Purina Pro Plan dog food reviews, the manufacturers made a minor change in the formula that doesn't sit well with some dogs.
Pros
Perfect for a dog prone to allergies and digestive complications
Promotes a healthier skin
Has minimal negative affects
Cons
Pricier
Slight changes in the formula make it unfit for some dogs
If you're looking for a dog food that doesn't contain any additives, unnamed by-products or grains or if you want the dog food to help with, say your doggie's flaky skin or upset tummy, I'd strongly recommend this product.
I give it an overall rating of 4.5.
About the Brand
Purina dog food is a subsidiary of the food titan Nestle and has been in operation for over 90 years. They pioneered the food shape "kibble," and by launching the Pro Plan line, they became the first ever company to use real meat as the first ingredient in their products. They market themselves as a company of pet lovers and claim their innovation is motivated by the quest to nourish pets.
They've also made several ground-breaking discoveries over the years, including discovering that glucose metabolism changes affect their cognitive functions in their later years, and a decade long study which established that feeding dogs according to their body condition can extend their lifetimes.

This brand stands out from the rest because of two main reasons. They offer the top of the line so-called designer pet foods for dogs and cats that meets Nestle's high-quality standards, and they built their Pro Plan brand around addressing and catering to every breed, size, and body condition by offering pet foods tailored to their very unique nutritional requirements.
Like any other major brand, despite their reputable image, they have suffered from one or two controversies. Some Purina Pro Plan reviews claim their food made their pets sick, but fortunately, these claims aren't backed by evidence. Purina has made some recalls in the past, but they claim their motivation was to err on the side of the caution rather than actual threat posed by the products.
If their decades of expertise and huge presence in the market doesn't sway you, they also offer a money back guarantee if you don't find their products satisfactory.
Final Thoughts
If you own a dog, chances are you worry about their health and diet, and it is important that you choose a diet they will enjoy and which will nourish both mind and body. Unfortunately, there's no one-size-fits-all dog foods or pet foods. Pro Plan has a lot to offer in that respect because it is very likely that they offer a formula or entrée from their wide selection that would be a perfect fit for your dog.
The few Purina dog foods reviews that you read in this post should give you a perspective of what this brand is about and what they bring to the table. And you should at least have a taste of what this brand has to with their SAVOR Adult Shredded Blend Chicken Rice Formula. This is the most popular product in the Purina Pro Plan line and it has a great tasting texture as well as providing your dog with a perfectly balanced and nutritious meal.
Do check out the other lines from the brand here: Purina Bella and Purina One.