When you look at your dog, chances are you only see the faithful, friendly companion who hangs off your every word, would sell their soul for a walk, and snores louder than any partner you have ever had.
In all fairness, this is a reasonably accurate portrayal of almost every dog. Underneath that fluffy exterior, however, is the wolf-like ancestor which all domestic dogs are descended from. Those ancient dogs would have followed a very specific diet out of necessity and the will to hunt, and it is this that they are best suited to eat today.
Top Pick
Blue Buffalo is committed to recreating this with their range of foods for dogs and puppies, and we have a rounded up the best Blue Buffalo Wilderness dog foods to help you decide which will work well for your dog.
If you're a bit short on time, the most popular Blue Buffalo Wilderness formula is Blue Buffalo Wilderness Salmon flavor. This option is likely to work well for most dogs and is a great place to start your search. We've reviewed it first below for your convenience.
Blue Buffalo Wilderness Reviews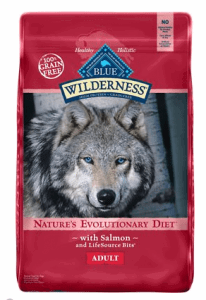 It is always a good idea to start with a classic, and this salmon offering from Blue Buffalo certainly ticks a lot of boxes. With a fish-focused taste and absence of grains, it proves itself suitable for a range of breeds, sizes, and life stages.
Key Features
No grains or additives to irritate your dog
Includes vegetables to support full health and wellness
Plenty of protein for strong muscles
Contains vitamins and minerals
What I Like
My favorite feature of the salmon offering is the attention paid to including only whole, healthy ingredients. The primary component of the food is deboned salmon, and this is an excellent source of protein for dogs of all ages, as well as being an excellent alternative for those dogs with an allergy or intolerance to red meat or chicken.
What I Don't Like
This is a rich flavor and made from real salmon that could be too harsh for some dogs and requires careful and slow integration into their existing diet to keep them healthy and prevent a sore stomach.
Pros
Includes sweet potatoes, peas, and potatoes for natural carbohydrates
Blueberries and carrots act as antioxidants for good all-over health
Fresh salmon is the core ingredient
Does not contain any wheat or soy
No artificial flavors or colors
Cons
A very rich formula—possibly too much for some dogs
This is a fantastic general food product and allows your dog to enjoy a balanced, healthy diet without having to sacrifice authentic taste and ingredients.
Overall Rating: 10/10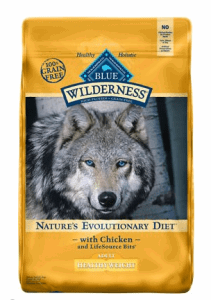 Managing your dog's weight is an integral part of keeping them healthy and fit, but it can be hard to find the right food to help with this.
Key Features
Grain-free makes it suitable for allergies
Includes L-Carnitine to burn fat
Glucosamine and chondroitin help to boost healthy coat
Fresh, deboned chicken is the main ingredient.
What I Like
This is a top option for keeping your dog in good condition, even if they struggle with their weight or are less active. The chicken is an excellent source of protein for building lean muscle and boosting metabolism to keep your pooch in the best possible condition.
What I Don't Like
There is a risk that some dogs could actually gain weight if portion sizes are not regulated and exercise is not a crucial part of their day. In addition, the flavor is quite a niche one and may not appeal to all dogs.
Pros
Includes deboned chicken for extra protein
L-Carnitine naturally boosts your dog's metabolism to reduce weight and burn fat more effectively
Antioxidants and vitamins also improve skin and coat health
Free from grains, and with no artificial additions, this is an all-natural feeding solution
Cons
Keeping your dog in good shape is an essential part of maintaining long-term health, and helps to keep your dog fit and active for longer.
Overall Rating: 9/10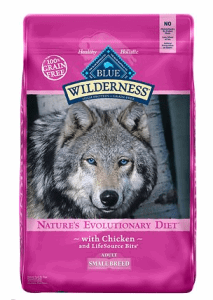 Small breeds have different constitutions and needs compared to their larger counterparts, and this should be recognized in their diets. Their smaller bodies need additional minerals in different places, and this is a choice that helps provide all the essentials.
Key Features
Easy to digest
Includes complex carbohydrates from natural sources
Deboned chicken is the primary ingredient
Contains supplements and vitamins to boost every part of your dog's body, from gut to skin
What I Like
There is a real emphasis on natural ingredients with this product and a sense that care has been taken to tailor the recipe to the needs of smaller dogs. Sweet potatoes are a natural and healthy source of carbohydrates which are perfect for an extra boost of energy, while cranberries and blueberries help to promote a healthy coat and urinary tract— a common source of problems in smaller dogs.
What I Don't Like
The chicken ingredient means this is not a suitable dish for dogs with a poultry allergy. It can also cause stronger smelling bowel movements, and this is a slight concern.
Pros
Designed to target and promote wellbeing in every part of the body
Specially designed for smaller dogs
Uses whole, real chicken as the main ingredient
Peas, potatoes and sweet potatoes are superb sources of energy and carbohydrates
Cons
Not suitable for dogs with allergies due to a range of ingredients
Some dogs have strong smelling waste after eating
Overall, this is a solid choice for smaller dogs and helps to pack everything they need to stay fit and healthy into one simple meal. I would advise keeping a close eye, however, to make sure you totally agrees with your pooches stomach.
Overall Rating: 8/10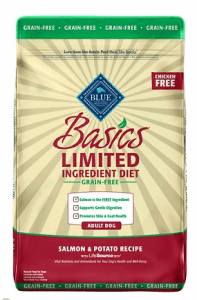 Dogs with sensitivities to certain food need close and careful care and attention, and it can be hard to find an option which offers enough nutrition to keep your dog healthy while still being gentle enough to prevent irritation. This Salmon and Potato formula offering manages to balance both beautifully.
Key Features
Includes omega-3 and -6 to promote and develop a healthy coat and skin
Does not contain poultry, chicken or other common allergens
Offers vitamins, minerals, and antioxidants
Perfect for dogs with sensitive stomachs
What I Like
This is a food which really focuses on providing the best possible nutrition for dogs, even if they are omitted from the most common ingredients. Several supplements are included to target all over health, and the fish flavor will be a big appeal for most canines.
What I Don't Like
Some dogs seem to produce more waste due to the high salmon content and need a little more time to adjust to the new food than with other options.
Pros
All natural ingredients
Real salmon is used - perfect for dogs who are allergic to red meat and chicken
Potatoes are the prime carbohydrate - this is easily digestible and gentle for your pooch
Omega-3 and Omega-6 boost coat and skin health
Includes phosphorus and calcium for bone and teeth health
No grain, soy, or other common allergens
Cons
Can lead to a higher level of waste
Your dog will need time to adjust to the new food
For dogs with sensitivities, this can be a high ranking entry into our Blue Buffalo Wilderness dog food review thanks to the delicious flavor, gently recipe, and accessibility for even the most delicate of dogs.
Overall Rating: 10/10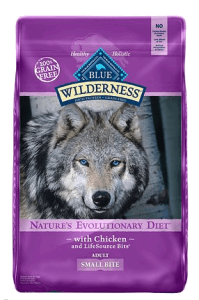 Dogs with smaller appetites often make do with tinier portions of standard food, but this can mean more waste and a higher cost for owners. This small bite option from Blue Buffalo is a wonderful alternative solution.
Key Features
A 'small bite' shape for smaller appetites
Contains fatty acids for a healthy skin
Balances protein and carbohydrates for a nutritious diet
A blend of vitamins and minerals for whole body wellness
What I Like
Just because this is a smaller portion size doesn't mean there is any compromise in the quality of nutritional value. All areas of the body are targeted for wellness, with calcium and phosphorous for healthy teeth and bones, Omega-3 and -6 for a vibrant coat, and a range of vitamins.
What I Don't Like
The only real issue I could find with this option came from the high price compared to other products in the market, but I would argue it is well worth paying slightly more for.
Pros
Small bites are suitable for smaller appetites
Includes a range of vitamins, minerals, antioxidants, and supplements to target every aspect of the body for health and wellness, from healthy skin to a robust immune system
Balances proteins and carbohydrates for an ideal combination
Cons
Higher price for the amount received
It is hard to find a kibble suitable for less hungry dogs, but this one ticks every box and means you can offer a well rounded and nutritious diet in smaller quantities. It has earned its place on the list of Blue Buffalo Wilderness reviews and is highly recommended.
Overall Rating: 10/10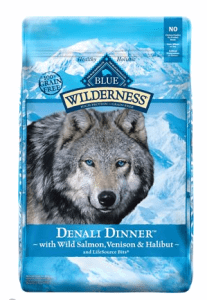 Enjoy the taste of the mountains with this fabulously decadent offering from Blue Buffalo. Designed and modeled on the diet of their wolves ancestors, this is an excellent solution to those owners looking for a natural solution for their dog's food.
Key Features
Combines proteins and carbohydrates for a healthy blend
Includes antioxidants, vitamins, and minerals for optimum health
Does not contain soy, wheat or poultry - perfect for allergies or intolerances
What I Like
This is a great combination of ingredients that work well together to provide a holistic wellness solution for your dog. Each aspect is carefully selected to maximize benefits, and there is real attention to detail, which gives me confidence that this is a balanced, nutritious meal which puts the needs of canines first.
What I Don't Like
The recipe does contain chicken meal—not only is this less than ideal when compared to brands which use authentic poultry, but it also makes the option unsuitable for dogs with allergies.
Pros
Grain free, and made without corn, wheat or soy
Rich in meat including salmon, venison, halibut, and crab - all good sources of protein to build strong muscles
Includes antioxidants to help boost the immune system
Formulated by animal nutritionists for the best blend
Includes Omega-3 and -6 fatty acids to help promote shiny and healthy fur
Cons
Contains chicken meal - not suitable for dogs with allergies
Strong smell may be off-putting for some dogs
This is a nice change in terms of the rich flavors available and will work as a great treat for your dog to try something different.
Overall Rating: 9/10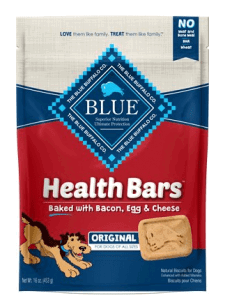 For our final Blue Buffalo Wilderness dog food review, we decided to up the fun actor and add in a tasty treat for your dog. Whether used as part of the training, to supplement an existing diet, or simply as a reward your good boy, this is an option which blends health benefits with a delicious taste.
Key Features
Oven baked for extra crunch
Includes grains, fruits, and veggies for protein and energy
No corn, wheat, or soy
No poultry ingredients or by-products
No artificial additives or preservatives
What I Like
It is nice to be able to treat your dog and know that they are still receiving essential nutritional benefits, rather than damaging their health. These treats target every part of the body, from coat to teeth, and you feel you are both helping and rewarding your dog at the same time— a nice feeling as an owner!
What I Don't Like
The bars are quite big and may be too much for a smaller dog. A smaller version of the product may be a good idea.
Pros
Contains omega fatty acids and antioxidants to ensure that skin and coat are healthy, and the immune system is boosted
Includes fruits and veggies as well as grains - complex carbohydrates which boost energy
Suitable for dogs with a poultry allergy, or those allergic to wheat, soy, and corn
Crunchy texture is good for healthy teeth
Cons
The flavor may not appeal to all dogs
Very large pieces - may be unsuitable for smaller breeds
If you are after a healthy treat to reward your canine companion with, this is a great choice which balances essential vitamins and nutrition with a crunchy, tasty finish.
Overall Rating: 10/10
About the Brand
No Blue Buffalo Wilderness dog food review would be complete without taking a second to look at the brand behind the product. The focus is on providing a diet which is as close as possible to that of our dog's ancestors—the mighty wolves. Products are focused around real meat and fish, recreating the wild environment our pooches would have thrived in during a long-ago age.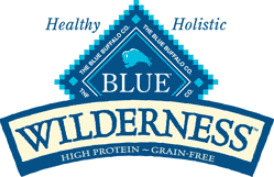 Final Thoughts
Our top pick in the Blue Buffalo wilderness reviews goes to the delicious salmon variation, and this seems a good general pick for most pooches. The lack of poultry and additives, grains, or soy means it is suitable for dogs with allergies and has a rich, delicious taste that will appeal to even the pickiest pooches.
Don't forget to check our other brand reviews on IAMS, Purina and Instinct.