Dachshunds are fiercely loyal and lovable dogs with a great energetic personality to match their goofy looks. These dogs are very playful, as they can spend hours playing and running, making them a great addition to any home.
Dachshunds are built long and low to the ground. Unfortunately, this unusual build has saddled this dog breed with a few health concerns. They are also more susceptible to obesity.
Fortunately, the best dog food for Dachshunds can help minimize all these issues and provide your Dachshund with all the nutrition it deserves. Providing your pet with a great diet is one way through which you can combat these issues.
To help you get started, here are our top recommendations on the market:
The Best Dog Food for Dachshunds Are: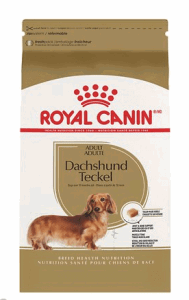 The first dog food on our list is a breed-specific dog food. Royal Canin made this dog food specifically for Dachshunds. The food is tailored to what this dog breed really needs – digestive health, joint and bone health, and several others.
This food is available in two different sizes: 10 pounds and 2.5 pounds. The formulation of this food is just right for the delicate body type of Dachshunds or the Wiener dog.
This food contains L-carnitine to support the muscle tone of your dog, keeping it healthy and strong. It also contains phosphorus and calcium to maintain the joints and bones of your dog, considering the unique shape of this breed. This food is formulated for adult Dachshunds that are 10 months or older.
The customized small-shaped kibble is specifically designed for the tiny jaw and pointed muzzle of your Dachshund, making it easy for them to pick and chew.
This food contains precise fiber content and highly digestible proteins that support healthy digestion to promote optimal stool quality and minimize unpleasant stool odors.
The first five ingredients of this food include brewers rice, chicken by-product meal, brown rice, wheat gluten, and oat groats. It is also loaded with vitamins and minerals to enhance the overall health of your dog.
Specs
Dry Food
Adult
For healthy digestion
Pros
Specifically formulated for Dachshunds
Supports bone and joint health
It contains precise protein and L-carnitine to support muscle tone
Reduces stool volume and stool odor
Highly digestible proteins and fiber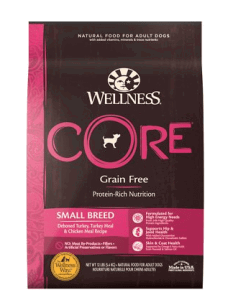 The Wellness Core Natural Grain-Free Dry Dog Food for Small Breed is one of the best dog foods for mini dachshunds. This food is formulated for small dogs and provides them with the basic, core nutrition that they need. This formula is 100 percent grain-free and it is made with all-natural ingredients such as meats and vegetables.
This dry dog food for small breeds is made with turkey meat, flaxseed, potatoes, salmon oil, spinach, carrots, broccoli and several other wholesome, healthy foods. Wellness Core is also very rich in protein, which is necessary for adequate muscle development and active dogs. It also contains plenty of healthy fats and fiber.
The optimal levels of omega 3 and omega 6 fatty acids that will reflect in your dog's healthy, shiny coat. This food is also enriched with probiotics that will promote nutrient absorption and digestion. The added minerals and vitamins are also there to provide our Dachshund with a complete and balanced nutritional meal.
This food contains an impressive 36 percent protein, 15 percent fat, and 5 percent fiber. The first three ingredients of this food are deboned turkey, turkey meal, and chicken meal. It is also free from soy, corn, wheat, meat by-products, artificial flavors, colors, or preservatives. The calorie content per cup of this food is 396 kilocalories.
Pros
Calorie-dense
Super rich in protein
It contains only premium, all-natural ingredients
Grain-free formula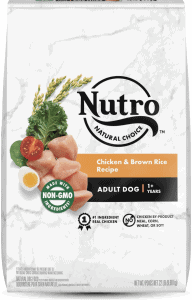 The Nutro Wholesome Essentials Natural Adult Dry Dog Food is another great dog food for Dachshunds. This food is formulated for small breed dogs and it contains all their nutritional needs.
It contains real, wholesome ingredients, which are necessary for a dog's health. The formula of this food contains chicken, sweet potato, and brown rice, making it full of flavor and aroma.
This recipe offers a great balance of protein, carbs, and fats, as it contains protein-rich, farm-raised chicken, fruits and vegetables such as peas, carrots, sweet potatoes, apples, and blueberries, and healthy whole grains such as barley and brown rice. It also contains flaxseed to boost the omega 3 and omega 6 fatty acid content.
The added vitamins and minerals in this food ensures your dog has a complete and balanced nutritional profile. In addition, all the ingredients used to make this food are non-GMO.
The calorie content per cup of this food is 343 kilocalories. It contains a minimum protein content of 22 percent, minimum fat content of 14 percent, and a maximum fiber content of 3.5 percent.
Specs
Dry Food
Adult
Minerals, vitamins, omega rich
Pros
It contains non-GMO ingredients
Enriched with minerals, vitamins, and omega fatty acids
Rich in calorie
Promotes healthy skin and a shiny coat
Cons
The protein content is a bit low
It contains grains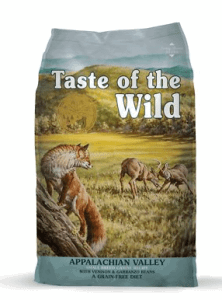 If you are looking for a great meat-based dog food for Dachshunds, then Taste of the Wild Grain-Free High Appalachian Valley Small Breed Dry Dog Food is one of the best options you have.
This is a meat-based dry dog food that is made with real venison. Venison is the first ingredient of this food. The food is formulated to reflect the diet of wild canids, and it will appeal to the inner wolf of your tiny Dachshund.
It offers an optimal amino acid profile and it is very rich in protein to provide your dog with lean, strong muscles. The first ingredient, which is venison, is super nutritious and it is a novel protein source. This food also contains three different probiotics to help support adequate digestive function. The kibble size is well suited for the tiny jaws and teeth of Dachshunds.
It features all-natural, easily digestible ingredients, which helps to ensure that your dog feels great after eating. It also contains unique and high-quality roasted and smoked fish, meat, and poultry. The ingredients are from sustainable, trusted sources across the globe, and it contains no grains, corn, wheat, filler, artificial colors, flavors, or preservatives.
This food also features the perfect blend of antioxidants, chelated minerals, vitamins, and omega fatty acids. The protein content is 28 percent while the minimum fat content is 17 percent. It also features a calorie content of 364 kcal per cup.
Pros
It contains high-quality proteins, fruits, and veggies
Ideal for dogs suffering from food allergies
It contains real venison and lamb meal
Supports lean and strong muscles
Cons
It is an expensive option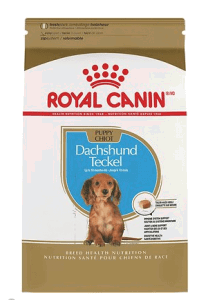 If you have a Dachshund puppy that is not over the age of ten months, then the Royal Canin Breed Health Nutrition Dachshund Puppy Dry Dog Food is a great food option to consider. Compared with other adult dog foods, this puppy formula comes with optimal phosphors and calcium contents to ensure healthy joint and bone growth.
This food comes with complex antioxidants and it supports the digestive system of a Dachshund puppies. The kibble is also tailored for the smaller jaw and teeth of your Dachshund puppy, as they are yet to have strong jaw and teeth action. This makes it easier for your pup to pick and chew the food.
This exclusive tailor-made kibble for Dachshund puppies also helps to protect the developing immune system and natural defenses of puppies with an exclusive blend of antioxidants, minerals, and vitamins. It also supports digestive health and promotes optimal stool quality, thanks to its highly digestible proteins and precise fiber.
Specs
Dry Food
puppy
For healthy digestion
Pros
Exclusively made for Dachshund puppies
The kibble is tailored for the tender jaw and teeth of Dachshund puppies
Optimal blend of antioxidants, minerals, and vitamins
Supports digestive health
Cons
It is on the higher end of the price spectrum
Buyer's Guide: How to Choose the Best Dog Food for Dachshunds
For healthy and adequate development, Dachshunds need healthy, wholesome foods. A dog food that contains high-quality protein, complex carbs, and healthy fats. These are some of the vital things you need to consider when buying dog food for your Dachshund. Let us take a look at some of these things in detail.
The Right Amount of Protein
Protein is one of the most important ingredients and nutrients in all dog food. This is because dogs need a lot of protein to maintain a healthy and active lifestyle. As such, you should make sure you provide your Dachshund with enough protein from their favorite meats.
Some of the great protein sources in dog food include chicken, lamb, turkey, beef, and even fish. Just make sure that the food contains reputable protein sources, with quality protein count. You should avoid dog food with meat fillers or by-product meals.
You should also make sure that the first ingredients of the food is quality meat. The protein count is also very important, especially when you have a Dachshund puppy, as they need more protein than adults do.
Complex Carbs
The difference between complex and simple carbs is that they can be digested differently by dogs. Some sources of simple carbohydrates include potatoes while an example of complex carb is sweet potatoes.
If you have a Dachshund with a sensitive stomach, we suggest you go for dog food with complex carb sources because they are easier on the digestive system. Dogs digest complex carbs easily.
Grain-Free and Filler-Free
Dogs are a bit too sensitive towards grains, which is why fillers and grains do not belong in the diet of a dog. This does not mean grains are not good for dogs. Rather, grains are not ideal for Dachshunds with allergy issues or sensitive stomachs. Fillers are not good for dogs, which is why you should avoid foods with fillers.
If you want to buy grain-containing dog food for your Dachshund with less sensitivity, you should opt for one with whole grains. However, grain-free options with no fillers are the best options, if you want your dog to get whole foods and protein sources that are ideal for your Dachshund.
Healthy Fat
Dachshunds need about 5 to 8 grams of fat daily depending on their level of activeness. Dachshund is a small dog breed that is more susceptible to obesity, because of their miniature size compared to typical dogs. You also need to provide them with dog food that contains only healthy fat sources.
In addition, choose a dog food that is rich in omega fatty acids. This ingredient is present in most fish like salmon. Dachshund benefits a lot from omega 3 and omega 6 fatty acids, as it supports healthier skin and leaves your Dachshund with a shiny coat.
Chondroitin and Glucosamine
These two vitamins and minerals are crucial for dogs that suffer from frequent joint issues. This dog breed often has this issue, which is why you need to opt for food that contains chondroitin and glucosamine to provide them with healthy joints and bones.
Conclusion
Dachshunds are a special, unique dog breed with unique nutritional needs that only specialized dog food can satisfy. Our top recommendation for the best dog food for your Dachshund is the Royal Canin Dachshund Adult Breed Specific Dry Food because it is formulated specifically for Dachshunds. It also provides optimal support for joint issues and promotes muscle health.