Is your furry friend not quite as spry as he once was? Is having difficulty getting upstairs, or even just out of his bed? He might be suffering from the early stages of arthritis or another degenerative joint disease.
Contrary to popular belief, it's not just older dogs that suffer. That's why it's a good idea to consider your options for the best dog food for joint health. I set out to do just that in this review with help from my dogs, Pickle, Peanut, and Archie.
Along the way, I also stumbled across what I feel is the best dog food for hip dysplasia and joint problems. Are you ready to hear more? Let's get started then.
My Top Pick
Usually, it's hard to single out one particular product as a clear winner. But in this case, we can clearly recommend Purina Pro Plan Veterinary Diets JM Joint Mobility as the best dog food for arthritis and joint problems. This dog food formula contains all the necessary ingredients such as Omega 3 for joint inflammation and glucosamine to improve joint mobility. It is also easy on the pocket while offering good nutrition for your dog.
Bottom line: It's an excellent product that is good value for money.
Our Best Dog Food for Joints Reviews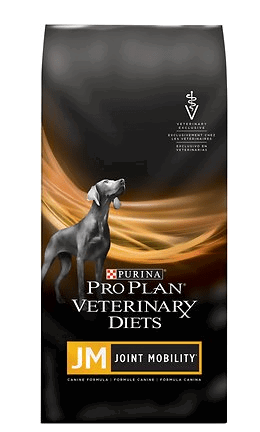 Purina has made this very rich in omega-3, EPA, and glucosamine. This is a good option for a senior dog who is battling arthritis. It offers balanced nutrition that will also suit a younger dog with mobility issues.
Features
High protein
Naturally sourced glucosamine
High in omega-3 and EPA
Calorie controlled to help reduce fat
Antioxidant-rich
Made in the US
What I Like About This Product
This comes in at an affordable price point for most people. It offers a more mid-range price level. The high levels of omega-3 assist dogs with high levels of inflammation. They also promote joint health.
The glucosamine delivers all your dog needs to keep their cartilage healthy and strong. The formula is easy to digest and didn't upset Pickle's stomach.
What I Don't Like About This Product
It does have a nice protein content of 30 percent. If you look at the list of ingredients, that comes from trout or salmon. The glucosamine, however, comes from chicken by-product meal. The first ingredient is rice, and it also contains cornmeal.
Pros
Good protein content
Contains naturally sourced glucosamine
High in fatty acids to assist with joint health
Calorie controlled to assist with weight control
Affordable pricing
A good proportion of fiber
Easy to digest
Cons
Does contain rice as the primary ingredient
Has cornmeal in it
There's been quite a backlash against corn products in dog food over the last few years. It's perfectly understandable – grains don't suit all dogs. This food does have some corn in it, but it's not in huge quantities.
Can you find better food? Most definitely, but not unless you're willing to pay quite a bit more. Overall, the tasters agree that this food gets a second look.
If you're on a budget and need some good nutrition for your dog, this is an excellent place to start. The rice content in the food is not ideal, but it's better than some of the other fillers we've found in less expensive food.
Overall Rating
3 ½ out of 5 Great nutrition at a price that won't break the bank.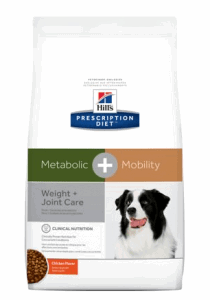 Hills has established a sterling reputation over the years. They have a range of specialist products for all doggy needs. This food is designed to assist in improving mobility. It's also good if you have a dog who needs to go on a diet (I'm talking to you, Pickle).
This rates as the best dog food for joint problems as a result of being overweight.
Features
Designed by veterinarians
Formulation based on clinical nutrition
Your dog will lose up to 13 percent of their body weight within two months
Mobility improvements will be seen in three weeks
Contains high protein
Lots of fiber obtained from fruit and veggies
High levels of essential fatty acids
What I Like About This Product
Hills is a reputable company with high-quality products. This is a simple way for your dog to lose weight, which is helpful for mobility and arthritis issues. The fatty acids in the product will help to lubricate the joints, too.
What I Don't Like About This Product
Peanut wasn't having any of this. The other two were fine, but he wouldn't eat it. If your dog is a fussy eater, try a small bag first.
Pros
Excellent for losing weight – maybe Hill's should make something for humans too
Calorie controlled
High protein
L-carnitine helps support the growth of lean muscle mass
Has Omega-3 to help reduce inflammation and support the cartilage
Cons
Not for fussy eaters
Pricey
I'd consider this option for my older boy, Archie. To be honest, Pickle would benefit as well. She could stand to lose a few pounds. It's a well-balanced product overall and will be well-received by most dogs. Pickle didn't seem to notice it was "diet" food.
If you have a senior dog that has mobility issues, this is a good option. It contains more than enough protein for energy. Your dog should feel full all day on it. The added omega-3 is a huge bonus, particularly for arthritic dogs.
Overall Rating
4 ½ out of 5 A doggie lifestyle change that will leave them fitter and friskier.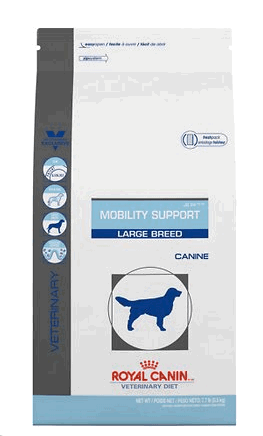 To be able to place an order, you need a vet's prescription. That's a bit of a schlep, but in this case, it's worthwhile.
This food is formulated for dogs who have, or who are at risk of developing joint disease. This is not only for senior dogs; it also works well for dogs who've had some sort of injury.
The formula is well-balanced and should keep your dog feeling full and satisfied. It is nutrient-dense and rich in fatty acids. All the ingredients are aimed at staving off inflammation and promoting good joint health.
Features
Suitable for dogs with digestive issues
Balanced nutrition helps keep dogs in peak shape
Has high protein levels
Contains mussel extract to help improve joint health
Is good for preventative maintenance
Antioxidant-rich
Immune boosting
Contains extra chondroitin and glucosamine
The phosphorous in this product is managed to promote renal health
What I Like About This Product
The higher levels of chondroitin and glucosamine will assist with strengthening the cartilage in your dog's joints. The formulation is aimed at not only treating symptoms but preventing further degeneration. It has a nutritionally balanced profile.
Dogs with sensitive tummies should do okay with this formulation. It's a better formulation for dogs who have renal issues. That said, remember to speak to your vet for advice first before you decide to switch.
What I Don't Like About This Product
You have to have a vet's script to get it. I can live with this, but it's a bit of a pain.
Pros
Good for sensitive tummies
Nutrient-dense
High levels of protein
Rich in Omega-3
Chondroitin
Glucosamine
Dogs love the flavor
Reputable company
Cons
Pricey
You have to have a script from the vet
Overall, Royal Canin is one of the most well-recognized and well-respected pet food brands. In a way, having to get a script from the vet might be a good thing. It'll ensure you're treating the right thing.
Overall Rating
4 ½ out of 5 Get proactive about your dog's joint health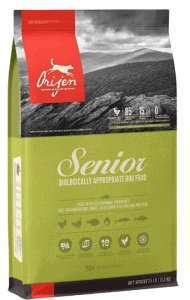 This is formulated with an older, larger dog in mind. It contains 38 percent protein and so is very nutrient dense. Only 15 percent of the calories come from fat, so it's good for weight maintenance as well.
I've chosen this as the top contender because you could also feed it to a younger dog. I wouldn't go so far as swapping it out for puppy food, but it packs a good nutritional punch.
Features
High in protein at 38 percent
The protein is obtained from free-range turkey, chicken, and wild fish
Eggs make up the remainder of the protein
This product is 85 percent meat and 15 percent fruit and veggies
There are no grains, tapioca, or plant protein fillers
Balanced nutrition
Made in the US
What I Like About This Product
Its nutrient-dense formula will allow even pickier eaters to get their full range of nutrients. I've noticed that Archie doesn't eat quite as much as he used to. It's not a serious concern, because he's not the most active dog.
If you have a more active senior or a large breed dog, this food is ideal. I haven't seen any other food quite like it, and I've been testing dog food for a while now.
It's nice that it doesn't have a lot of unnecessary fillers. What did the taste testers say? "Please, mom, we want some more!"
What I Don't Like About This Product
Eggs can be problematic for some dogs. I also worry about how this food will go over with picky eaters. On paper, it all looks great. If my dogs are anything to go by, it tastes good too.
To be on the safe side, start with a smaller bag. I'd also wean the dog off their old food slowly. Do this by incorporating about 25 percent of the new food. Then increase the proportions until they've switched completely.
Pros
Dogs like the taste
Highly nutritious
High-quality
No grains or nasty fillers
Cons
Chunks too big for smaller seniors
Pricey
Overall, you're not likely to get much better than this. This food would make it into my dog food rotation. It's as close to five stars as I'll ever get. I did mark it down because of the price, though.
Overall Rating
4 ¾ out of five The best nutrition on both sides of the Mississippi.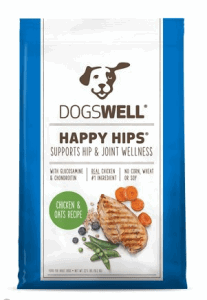 This is the one wet food that I've included here. I think if I hadn't my panel might have gone on strike. This is a product designed for improving joint health. It contains chelated minerals to aid absorption and has a nice range of nutrients.
Features
No grain
Free-range chicken is the top ingredient
Has chondroitin and glucosamine for better joint health
Contains sweet potato for its fiber and slow-release carbs
Antioxidant-rich
What I Like About This Product
I like that the chicken used isn't raised in cages – my dogs think all chickens should be out and about—and so be fair game. That said, they won't need to go chasing down any birds if this is on the menu.
All three dogs seemed to love the flavor, and the nutrient profile is fantastic too. The taste panel was licking their chops big time afterward.
What I Don't Like About This Product
I didn't like the smell. Since I'm not about to use this as an air freshener, that's not a big deal. I do wonder if fussy eaters would take to it.
Pros
High-quality ingredients
No grains used
Easy to digest
Cons
The smell is not great
Might be a problem for fussy eaters
Overall, this is a product worth giving a whirl. I'll be repurchasing it—Pickle said so.
Overall Rating
4 out of 5 Dinnertime for doggies just got delicious
About the Arthritis in Dogs
It's hard to admit that our beloved friends are starting to get older. Just like with us, though, that greying muzzle means that they're more at risk of developing degenerative joint diseases.
While we associate arthritis in particular with aging, it can affect any dog of any age. It could be brought on by an injury, trauma, or as a result of being too overweight. Large breeds are also more prone to it.
Fortunately, there's a lot you can do to ease the symptoms. In this section, we'll investigate that in more detail.
Signs to Watch Out For
Signs that indicate arthritis or joint disease include:
Limping
Stiffness
Favoring one leg over another
Difficulty jumping up or down
Decreased activity
Difficulty bending joints
Pain
Here, in particular, you want to watch out for issues when the dog is waking up. Once they get moving, the problem can ease up, but when they're getting up after a nap or lying down, they'll have issues.
There is More than Just Arthritis
Several different issues can cause issues for your dog. Others include:
Elbow dysplasia
Hip dysplasia (Something you need to watch for especially in larger breeds)
Osteo diseases
Cancer
Congenital issues
Metabolic disorders
Trauma and injury
If you suspect that your dog may have an issue, take them to the vet. The vet will be able to give you a firm diagnosis. Also, the vet will assess the overall health of your dog and suggest a positive lifestyle and dietary changes.
Losing Weight is a Good First Step
It doesn't matter if you have a large breed or smaller one, they need to be a healthy weight. Any extra ounce of weight is just going to mean more pain for the dog over the long-term. Even if they don't have an issue now, obesity increases the risks of developing joint issues.
If you have a larger breed dog, you have to take extra steps to ensure that he's healthy. Start him off on the right food as a pup and watch the number of treats he gets. Those puppy dog eyes are hard to resist, but it's for his own good.
Ingredients to Look Out For
Before trying to pump your dog full of supplements, try to make sure his diet is right. If he's more prone to developing these issues, a healthy diet is your best bet. You want to keep him away from highly processed and inflammatory foods.
Steer towards the more natural products and be scrupulous about checking the ingredients. Grains and sugar can cause significant problems when it comes to inflammation. Think they don't put sugar in dog food? Think again – check the ingredients for some of the cheap brands.
Here are some ingredients to look out for to reduce inflammation and support the joints:
Chondroitin
Glucosamine
Green-lipped mussels or Perna mussels
S-Adenosyl-L-methionine
Omega-3 Fatty Acids
Duralactin
Methyl-sulfonyl-methane (MSM)
Vitamin C
Creatine
General antioxidants
EPA
If your dog will take raw food, another option is to get them uncooked chicken necks and chicken feet in particular. These are naturally rich in glucosamine. There's only one proviso, though – they must be fed to the dog raw.
What I do is to buy in bulk. I then separate it into portions and freeze the food. It must be solidly frozen for at least three weeks to kill off any parasites. These make a handy and tasty snack for your dog—and they're quite affordable too.
Final Thoughts
That's another roundup done and dusted. The taste panel is happy to retire for the evening, knowing that they've done a good job. Although all the products in our best dog food for arthritis reviews are top quality and nutritional foods, our favorite is Purina Pro Plan Veterinary Diets JM Joint Mobility.
It offers the best nutrition for dogs with special mobility needs. This formula is designed to support joint health and contains high protein to develop lean muscles for a fit and healthy pup. It is a top quality dog food that will not stretch your budget while giving your furry friend the best chance to develop healthy joints.
Overall, you want to do your best for your furry friend. All these foods contain wholesome ingredients that can contribute to good health and will help to improve your dog's mobility and strength.
Do check out our picks for English Bulldogs and Pomeranians.