Since it was inception in 2006, Nature's Variety, through its Instinct brand, has been committed to a single purpose — providing the best possible life for our dogs. Where better to start this purpose than in their food? To fulfill this mission, Instinct has developed multiple product lines of pet food that cater to our furry friends' unique needs in each stage of their lives.
As pet owners, it is our responsibility to provide the best and most appropriate food for our dogs, but you can easily get overwhelmed with the number of options to choose from! So, I decided to write this Instinct dog food review to reduce your research time and help you make the right choice.
Most Popular Pet Food
Instinct® Raw Boost® Grain-Free Recipe with Real Beef
Instinct Raw Dog Food Reviews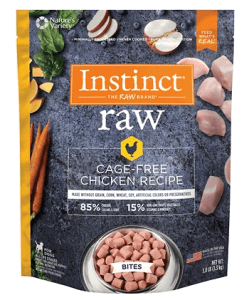 I believe that when you call someone your best friend, that means they only deserve the best from you. That remains true for my canine companion. This is why I'm starting the Nature's Variety Instinct reviews with their top of the line product - the Instinct Raw Signature Frozen Bites Real Duck Recipe.
Key Features
Part of the Raw Signature line: 100% all-natural ingredients that consist of duck, turkey, and non-GMO vegetables, with no artificial additives (synthetic vitamins)
Consists of 95% cage-free duck, a combination of duck and turkey organs and bones, fish oils, and vegetables for complete nutrition
Freeze-dried so it has a long shelf life while maintaining its nutritional integrity
What I Like About the Product
Among the different frozen bites in the Raw Signature product line, the real duck recipe is a standout for me because of the combination of ingredients that it contains. It has the highest crude protein content and caloric content per serving while having the least fat.
What I Don't Like About the Product
The Duck Recipe only comes in 8 oz. bags and 4-pound bags, and with a serving size of 1-2 cups per day, depending on your dog's size, it can be expensive to maintain.
Pros
Highest caloric content in the Raw Signature category
Best protein to fat ratio
Cons
Summary
If you want the best Nature's Variety dog food and are not worried about the cost, the Raw Signature Frozen Bites Real Duck Recipe is the choice for you. However, if you're looking to be more practical, Nature's Variety has other options more suited for you.
Overall Rating - 4.5 of 5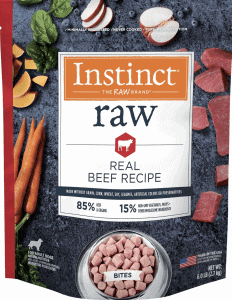 The Raw Boost line is designed to fuel active dogs. With real beef and high calories, the dog food has little downside.
Key Features
Grain-free kibble with Signature Freeze-Dried Raw
Increased probiotic content
Higher antioxidant and omega acid content
What I like about this product
Of all the Instinct pet food products, this has the highest caloric content per serving at 508 kcal/cup. That is around two and a half times higher than its Raw Signature counterpart. Since this has kibble included and is also packaged in larger quantities, it would save me from having to go to the shop weekly as I could get a few 20-pound bags at a time.
What I don't like about this product
There are a lot of additives and synthetic vitamins in the Instinct Raw Boost formula. While I do want my best buddy to have a nutrition-packed meal at a lower price point, I'm not comfortable with this much artificial content consistently in his diet.
Pros
Grain-free and great for dogs with allergies
Very high caloric content
High Vitamin and Mineral Content
Cons
Summary
Instinct went all out on the Raw Boost Real Beef Recipe, combining both their protein-enriched kibble and their signature freeze-dried raw into a high-calorie and nutritious bundle. I would have to say that if you want the best bang for the buck, the Raw Boost Grain-Free is the right choice. However, if like me, you're not comfortable with the number of synthetic additives in the formula then you should check out the other Nature'sVariety Instinct reviews on the list.
Overall Rating - 4.5 of 5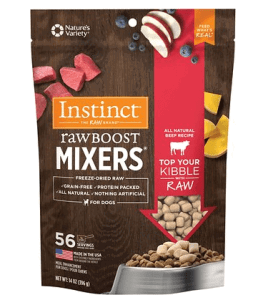 Let's say your pet already has a preferred brand of kibble and you want to provide that extra nutrition of raw meat into their diet. If that is the case, the Raw Boost Mixer All-Natural Beef Recipe would be an excellent choice for you.
Key Features
Protein-packed – made from all-natural beef and organs with natural vitamins and minerals from non-GMO vegetables and fruits
No preservatives
Does not contain any by-products
High crude protein and fiber
What I like about this product
Some people consider the Raw Boost Mixer Beef Recipe the "test" product for the Instinct Raw brand. This dog food was actually how I got one of my friends to fall in love with Nature's Variety brand. I recommended that he try out the mixer with his dog's kibble, and he saw an improvement in his bulldog's appetite and energy.
What I don't like about this product
There is barely anything to complain about the Raw Boost Beef Mixer Recipe outside of the small packages that they come in – the largest being 14 oz.
Pros
High caloric content (247 kcal/cup)
Can be added to any kibble brands
Boosts appetite for dry kibble
Cons
Summary
If you're already settled on another brand of dog food but want to give Nature's Variety Instinct a try, the beef mixer is the best place to start. The caloric content per serving is even higher than the Raw Signature line. But of course, you won't be serving these in cups. Moreover, if your buddy is having appetite issues and refuses to eat kibble, this product could help in getting him to eat dry food.
Overall Rating - 5.0 of 5.0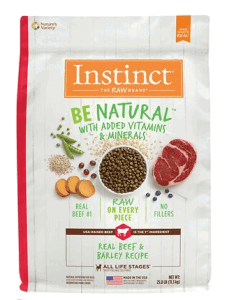 The Be Natural Real Beef & Barley recipe is what you would call the entry-level of the Instinct Brand. It is the most affordable kibble they offer but still formulated to meet the guiding principle of the power of raw.
Key Features
Made from USA-raised beef
Does not contain filler or any by-product meals
Great price
What I like about this product
The reasonable price of this product is probably the best thing about it. I would recommend this to anyone who isn't satisfied with their current brand of kibble so that they can try out the Instinct brand and see if it's a good match for their dog.
What I don't like about this product
Compared to the other kibble products of Instinct, this is on the low end. There are several ingredients in the recipe that you won't find in their other products, such as natural flavoring, extracts, and supplements.
Pros
Relatively cheap
Tumbled with freeze-dried raw beef
Cons
Many synthetic additives
Contains grain and might not be the best choice for dogs with food allergies
Summary
Considered as the frontline product in the Instinct line-up, it remains a cut above the other brands in terms of caloric content at 432 kcal/cup and nutrition. The relatively lower price, when compared to other Instinct products, makes it an appropriate choice if you're looking for an affordable dog food that provides the signature nutrition of Raw.
Overall Rating - 3 of 5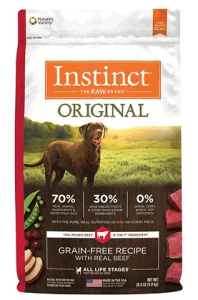 So far, these instinct dog food reviews have covered the kibble and freeze-dried Raw recipes. Let's take a look at one of the wet treats — The Instinct Original Real Beef Recipe Stew.
Key Features
Made from USA-raised beef (consists of 95% beef and liver and 5% vegetables and fruits)
Grain-free
Patterned around their Original Recipe product line
What I like about this product
The high caloric content at 536 calories per can is high, considering most of the content is liquid. The consistency can make it a standalone meal if you buy the large can.
What I don't like about this product
Being categorized under stew treats and coming out as a wet loaf is disappointing. It makes it harder to mix with kibble if you would choose to do it compared to other flavors in this product line.
Pros
High caloric content
Excellent choice for dogs with grain allergies
Cons
Dry loaf texture makes it hard to mix
Low nutritional values
Can become expensive if not mixed with kibble
Summary
Out of all the Instinct products I've reviewed, this is probably the one I'm most divided on. The consistency of the beef loaf is thick compared to their other stews. It could work as a standalone meal, but if you own a larger sized dog (15 lbs. and up), the suggested feeding guidelines would have you feeding two cans per day. Not to mention, it has a low nutritional value when compared to Instinct's other kibble recipes.
Overall Rating - 3.0 of 5
About the Brand
Instinct is a pet food brand owned and managed by Nature's Variety, which was established in 2006. Nature's Variety is a subsidiary of M.I. Industries Incorporated. The headquarters of Nature's Valley is found in St. Louis, Missouri, with manufacturing facilities in the same city as well as Lincoln, Nebraska.
With the tagline, "We set out to redefine better" the company's main mission since its establishment was to better the lives of pets around the world. They found that the best way to achieve this is through food. You can easily identify their primary focus throughout the different Nature's Variety instinct review above.

With a name like Nature's Variety, and branded as Instinct, the company made it clear what the motivation is behind their products. It is to keep it raw, all-natural, and simple. They broke the mold of the highly-processed dog food filled with additives and preservatives. Instead, they ensure that only wholesome and raw ingredients are used in their pet food. If synthetic substances make it into their products, it is added with the goal of making the product better while keeping the health of our beloved pets top of mind.
What separates the company from the competition is their social initiatives, partnering with local shelters and volunteers around the nation to bring the joy of Raw and transform the lives of pets.
Finally, the company started by challenging the status quo of pet nutrition. It continues to do so today. The company motto resonates in their actions as they're always researching and pushing the standards of pet nutrition. Nature's Variety is raising the bar for the industry.
Final Thoughts
Nature's Variety advocates pet-wellness by providing all-natural, raw, and nutritious food. The instinct dog food reviews above clearly represent the identity and the mission of the company. Each product is focused on providing the best possible source of nutrition for our furry friends. Creating recipes that match specific needs from puppy to seniors, Nature's Variety's clear primary goal is transforming the lives of our pets.