A 2017 survey showed a whopping 89.7 million US residents own at least one dog— almost 25 percent of the population—and many more dogs are adopted every day. If you're the proud new parent of a doggo, or even if you've had a dog for a good while, chances are you're concerned about making sure they get a healthy diet.
Royal Canin is one popular dog food choice among many, and even under this one brand, there are a variety of options. Chances are if you're out searching for Royal Canin dog food reviews you've chosen this brand, let us help you narrow down which product is the best fit for your dog.
OUR TOP PICK
If you're a little short on time, we're afraid it's difficult to name a most popular Royal Canin product, because their feed is most famous for its tailor-made approach. They offer different blends for small to large dogs, puppies to seniors, and even individual breeds. The best option for you then is really going to depend on the dog you have. In general, though, most users are probably going to find the
Medium Adult Dry Food
a fair fit, assuming your dog can handle
corn-based
dog food.
Royal Canin Dog Food Reviews
Previously known as their, Mini Adult dog food, Royal Canin's small adult dry dog food is especially tailor-made for the nutritional needs of adult dogs between 9 and 22 lbs.
Features
Maintains a healthy weight: The L-carnitine in this food promotes fat metabolism while meeting your dog's energy needs.
Supports coat health: This product contains EPA and DHA—the two fatty-acids that a dog needs to maintain proper skin and vision health.
Enhanced palatability: The kibbles are suitable for small dogs, and the new flavor seems to work well for picky eaters based on Royal Canin dog food reviews.
From dogs with kidney stones to small dogs rescued by shelters, this dry dog food has proven to be high-quality due to its results.
Vets often recommend it for allergies and certain health problems in small dogs. However, though chicken or beef should always be the first ingredient of a healthy dog food product, corn was added to this product recently. This is unfortunate, as many dogs develop digestive issues when fed corn-based feed.
Pros
Aids in healthier and shinier coat
Helps in maintaining metabolism
Good for dental health
Contains a mix of vitamins and antioxidants
Cons
The new formula may cause diarrhea and other stool issues
Whereas Royal Canin's small breed dog food may have been effective in helping smaller dogs with health issues in the past, and many dog owners still use it, you may want first to take a look at whether your dog can handle corn or not.
Overall Rating: 3 out of 5 stars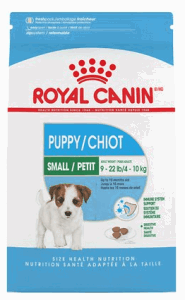 This is the puppy version (for dogs younger than ten months) of the small breed adult dog food we just covered. It has a similar recipe, but with some tweaks better suited to growing puppies. It was formerly known as Mini Puppy.
Features
Supports the developing immune system: Puppies are just like toddlers. Their developing immune systems crave specific nutrients. This dry dog food is tailor-made for small breed puppies that need nutrient-packed food to help them grow.
Highly digestible: The kibbles have protein in them, which helps in aiding the metabolism of mini puppies. It is also energy-dense as pups go through an intense growth period during this time.
Supports dental health: In the growth period of puppies when they're developing teeth, this food helps in minimizing the formation of tartar.
Many Royal Canin dog food reviewson this product suggest that puppy owners actually notice coat and teeth growth in their puppies in just a matter of weeks on this formula. The formula used in this dog food product is quite effective for both medium and small-sized breeds.
Like the small breed adult dog feed from Royal Canin, though, the formula of this product was changed recently. Puppy owners are now reporting stool issues in their pups due to the new recipe. On the other hand, it is still working great for other puppies so some trial and error may be necessary with this one.
Pros
Aids in healthier and shinier coat
Helps in maintaining metabolism
Good for dental health
Contains a mix of vitamins and antioxidants
Cons
The new formula may cause diarrhea and other stool issues
Overall, Royal Canin Mini Puppy Dog Food is a reliable puppy food option, but you may want to see if your pup likes it or not. It is highly suggested for the French Bulldog breed, and a lot of owners are happy with their food choice.
Overall Rating: 2.5 out of 5 stars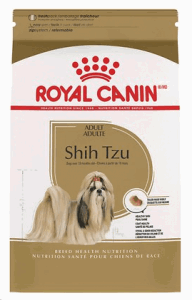 This one of the best-sellers of Royal Canin Dog Food, containing kibbles that are specially designed for adult Shih Tzus.s
Specs
Aids in skin health: This blend has a combination of vitamins and antioxidants, exclusively made for a Shih Tzu's immune system, and contains EPA, vitamin A, and DHA.
Supports coat growth: It also has omega-3 fatty acids, biotin, and omega-6 fatty acids to help your Shih Tzu grow a longer and shinier coat.
Reduces stool odor: This dog food helps in minimizing amounts of stool and bad stool odor. It contains proteins that can be digested easily by your pup.
For a Shih Tzu, the kibbles are quite good, and they're specifically designed for underbites. It's recommended you slowly introducing this food to your dog.
It helps with allergies and gives your dog more energy. Many Royal Canin reviews are hailing this product the ultimate solution if you can't get your Shih Tzu to eat well.
A little alarming, though, is that some dogs which have been eating this feed for years have experienced illness, such as bladder stones and skin issues, which is alleged to be a result of the food itself. These claims are not yet substantiated. The ingredients also don't include chicken itself, but chicken fat and chicken by product meal.
Pros
Helps Shih Tzus overcome skin problems
Minimizes stool problems
Improves skin health
Contains highly digestible ingredients
Cons
Long-term use could lead to health complications
Overall, it's interesting to see a feed specifically designed for a particular breed, especially one as difficult to find the right feed for as the Shih Tzu. However, the allegations against this food for use on the long-term are hard to overlook.
Overall Rating: 2 out of 5 stars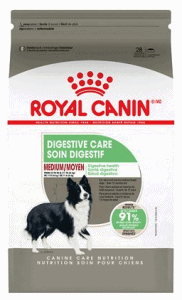 This is Royal Canin's blend specifically made for medium-breed dogs with sensitive immune systems.
Features
Supports immune system health: Specially made for dogs of 12 months or older, it contains protein sources of uber-quality.
Good source of prebiotics: As well as having protein-rich kibbles, it also has prebiotics that helps in maintaining intestinal flora.
Aids in cellular health: With all the antioxidants, fish oil, vitamins, and many more sources mixed in it, it helps in supporting cellular health.
This low-fat dog food is definitely great for dogs with sensitive stomachs or gastrointestinal problems. Many vets recommend it to dog owners that are looking for a quick solution.
However, yet again, in the top five ingredients, you can see "corn gluten meal" listed, which is something you might want to think about before getting this food for your dog. Many dogs with a sensitive tummy require a grain-free option, which this food is not.
Pros
Contains antioxidants, vitamins, and prebiotics
Keeps the digestion process well-maintained
Great for supporting cellular health
Cons
Corn gluten meal is a primary ingredient
If your dog has done OK with corn-based feed in the past, you might give this option a try for your medium-breed dog to help in aiding digestion. Since many dogs can't settle in for any food, this alternative can surely help in losing and maintaining weight as well.
Overall Rating: 3.5 out of 5 stars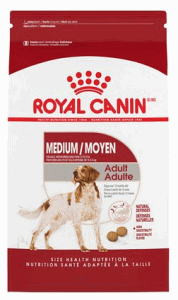 As one of their size-based product creations, Royal Canin's medium adult dry dog food is made for medium-breed adult dogs that are in dire need of proper nutrition.

Features
A balanced supply of fiber: The kibbles come as a great source of fiber to keep the digestion process well-maintained.
Supports natural defenses: With a combination of prebiotics and antioxidants, this food can help dogs develop natural defenses for their immune systems.
Best for skin and coat health: It contains vitamins, biotin, omega-3 fatty acids, and it provides enough fiber to digest the food fully.
For medium-sized dogs that need a healthier diet, this works quite well. In fact, it even works for pets with sensitive stomachs.
Some Royal Canin users that purchased the package online reported that their pets underwent diarrhea, constipation, or vomiting due to it. If you want to buy it online, it's better first to see if your puppy is satisfied with eating it. Since the quality of products often changes during shipment.
You can buy it from the local pet store if the online version isn't working well for your pet. Dog owners that have used this dry dog food for years experienced some trouble when they took to buying it online.
Pros
High digestibility
Maintains healthy skin
Good source of fiber
Cons
If ordered online might cause stool issues
Overall, Royal Canin did pretty well on this product, since it provides enough nutrition for a medium-breed dog. It's hard to say why more dog owners are having issues with ordering this food online, but it does highlight a good reason to always buy from a reputable source.
Overall Rating: 4.3 out of 5 stars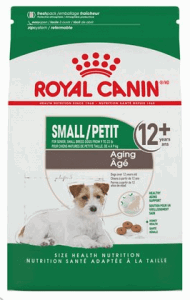 Another option for small dogs under 22 lbs. this formula is designed for senior dogs —12 yearsor older.
Features
Helps in healthy aging: The product has a blend of antioxidants, DHA, and even EPA.
Maintains kidney health: It contains a diet that helps dogs have their phosphorus levels in control.
Nourishes coat and skin: With its well-maintained levels of fatty acids derived from fish oil, this food can help in nourishing your dog's skin and coat.
Easy-to-chew kibbles: The kibbles are specially designed for older small-breed dogs that have a small jaw.
The best thing about this product is that it works well for older dogs that have sensitive stomachs. Not only that, but it may also prevent kidney health issues by maintaining nutritional levels in dogs.
However, yet again, Royal Canin's tendency to use corn products brings this product down a bit. The top five ingredients in this feed are brown rice, corn, corn gluten, brewer's rice, and in the fifth slot, chicken byproduct, the first sign of actual meat.
Pros
Easy to chew
Supports healthy aging
Helps with loss of appetite
This is one of Royal Canin's most popular products, and it may work fine for you if your dog handles corn well.
Overall Rating: 4 out of 5 stars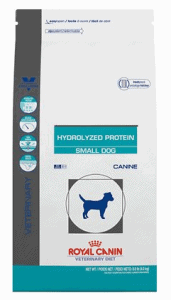 Royal Canin has introduced this new product as a solution for small dogs that experience food allergies.

Features
Contains hydrolyzed soy protein: This option makes the food easy to digest and allergen-free in most cases.
Minimizes the risk of kidney stones: The dry food contains ingredients that help small-breed dogs have better dental health and Lesser risk of kidney stones.
Increases urine volume: It also helps in increasing urine volume and preventing inflammation through omega-3 fatty acids.
Easy-to-chew kibbles: The kibbles are specially designed for older small-breed dogs that have a small jaw.
From itchy skin and smelly ears, to even food allergies and blood in the stool, this product may help in solving all these problems for your small breed dog. It especially helps in soothing food allergies in dogs that go through skin problems as well.
This dry dog food can help your dog overcome certain allergies, but it is a wee bit expensive.
Pros
Lesser risk of kidney stones
Helps with food allergies and skin conditions
Increases urine volume and stool issues
If your dog is on a prescribed diet, this might work well. Though, if your pet is eliminating blood in stools or even undergoing intense food allergies, you may want to ask your vet first.
Upon the recommendation from your vet, this Royal Canin dry dog food can be a satisfying experience to try at first. However, the product is a bit expensive. An analysis of the Royal Canin reviews shows that dog owners didn't fancy that fact.
Overall Rating: 3.4 out of 5 stars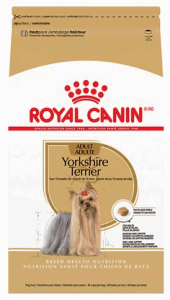 Tailor-made for the Yorkshire Terrier breed, this is one of the best-selling dry dog food products in the Royal Canin line.
Features
Omega-rich nutrients: Exclusively made for Yorkshire Terriers that are ten months or older, this kibble contains biotin, omega-3 fatty acids, and omega-6 fatty acids.
Supports long-life expectancies: The ingredients were added to help in supporting healthy aging.
Irresistible aroma: The kibbles hold an appetite-evoking aroma to make picky eaters finally get start eating. Also, the nutrients help in maintaining the shiny coat of a purebred Yorkshire Terrier.
The food is quite affordable for such a customized blend, and the kibbles are specifically made for a Yorkshire's small bite.
The nutrition in this product helps Yorkies get a silkier and a healthier coat. Though it may have "corn gluten meal" listed as an ingredient, overall, it's great value for hyperallergic Yorkies.
Some dog owners report their dogs undergoing diarrhea, vomiting, or even intense sickness. You may want to do a small test on your dog and then slowly introduce the food.
Pros
Supports healthy aging
Perfect for picky eater Yorkiesf
Amazing aroma
Omega-rich ingredients
Affordable
Cons
Contains corn gluten meal
To sum it up, this Yorkie blend is definitely value-packed for what the price is, but slowly introduce your dog to the new diet to be careful of any reactions.
Overall Rating: 4 out of 5 stars
About the Brand
Royal Canin has solved a lot of health issues for dogs of all breeds and still continues to do so to this day. Their dog food helps in healing allergies, stool problems, sicknesses, unhealthy metabolism, and stomach problems.
A plethora of vets recommend Royal Canin to dog owners that need an immediate healthy change in their dog's diet.
If the plastic still has a lingering smell of ammonia, consider using some kind of odor removing spray. If you just leave it, you are letting the odors build up over time. Also replace your cat's litter box regularly, maybe as often as once a year.
While a few of their food products are expensive; others are highly affordable. They have dog food available for almost every kind of dog breed there is.
Actually, they also have different prices and ingredients for their breed-oriented dog food products. Their range includes dog food products for German Shepherds, Shih Tzus, poodles, and even Daschunds.
Their products work well for many dogs, but sometimes the heavy use of corn additives can cause issues. That's where you need to make sure that you serve a small portion of food to your dog as a test first.
More and more cases are coming forward where pets almost lost their lives because of the food's condition. It seems like Royal Canin produces quality food— but isn't right for every dog.
As for the company's backend staff, many users report they are less than responsive. If you ever do have an issue, don't set your expectations for customer service very high. None the less, Royal Canin has improved a lot in the last decade. They've introduced new and well-researched products almost every year.
Final Thoughts
Whether you have a dog or a cat, make sure you watch over your pet and check if they get diarrhea or vomit after eating any of the Royal Canin dog food products. This is because apart from a having a normal sensitivity to certain ingredients, there have been some accounts of pets losing their lives due to the quality of this brand.
However, most of their impact has been positive and they have helped tons of dogs become a healthier version of themselves. If you'd like to try this brand, we recommend the Medium Adult Dry Food for starters. It is a high protein recipe that provides balanced diet for medium sized adult dogs.
Be sure to check out our reviews of the different product lines from Purina (One, Pro Plan and Pro Plan Savor)