The Shih Tzu dog breed was originally associated with ancient Chinese royalty. It literally means "lion dog" when translated. It got its name because of its lion-like coat, which distinguishes it from other species.
Shih Tzu is a companion dog to ancient Chinese royalty. Its flowing hair gives an impression of royalty and makes them seem like floating dogs.
The luxurious mane of the pet needs a lot of care and maintenance. If you can afford to take the pet to a professional groomer, you have to do the hard work all by yourself.
It may be difficult to care for Shih Tzu fur because it requires constant brushing, bathing as well as clipping. Failing to do so will result in clumped up and tangled hair.
OUR TOP PICK
Our top choice is the
Wahl Professional Animal ARCO.
This awesome clipper is known as the convenient clipper because of its cordless, light and powerful features. It is ideal for simple trimming activities that's why it is the most ideal clipper for Shih Tzus.
The Best Dog Clippers for Shih Tzus Are...

The Wahl Arco SE pro clipper is lightweight and also cordless. It comes from an established brand in animal and human clippers alike.
You can also use it for professional grooming without the need to use a cord. It may be an excellent option if you want a cordless device.
It is also smaller and quieter than the average clipper with two rechargeable batteries. You can use the device continuously by switching the batteries. The blades are ideal for feet, face, and finishing as well.
This product has a range of trimmers, so be sure to check the option you chose. This particular one is built with a short non-adjustable blade while others come with 5-in-1 adjustable blades.
You can change the blades and also use four different plastic guides to trim other areas. It also comes with a fancy carrying case, oil, cleaning brush and some instructions for use.
Pros
Has a professional-grade motor
Doesn't heat up quickly
It is extremely lightweight
Runs quietly
Comes with a case and combs
Cons
Requires servicing from time to time

The Oster Turbo A5 is a two-speed professional clipper. It also comes from a well-known brand. The brand has a good reputation when it comes to motorized products. This clipper may be an excellent choice for pet owners who want to groom their pets at home.
It is a heavy-duty trimmer with sharp blades and a powerful motor. Its speed is impressive and gives it an edge over other products. It has two speed settings, which promotes versatility to alternate between normal grooming to heavy matting.
The clipper also has a wide shape to ease grooming. The detachable blade makes it easier to switch blades. It only comes with one blade, but you can buy extra accessories for this purpose.
It allows you to style longer fur as well as curly and matted fur. The clipper also suitable for use on the ears, face, tail, stomach, and feet.
It has a full year warranty to ensure that it works properly. this clipper also comes with clipper grease, oil, a cleaning brush, replacement carbon brushes and more.
Pros
Comes with a professional heavy-duty motor
Excellent for short hair and long hair
Turbo speed cuts to loosen thick matting
Cons
Only comes with one blade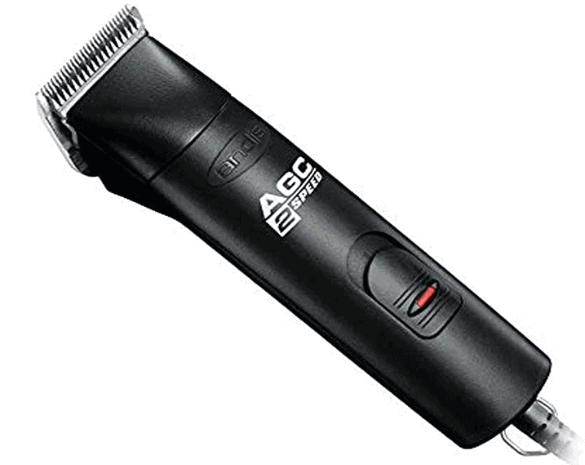 This pro clip is also a good product to try out for your Shih Tzu. The manufacturer has been known to produce high-quality products for humans and animals as well.
It is more than a heavy-duty clipper; it is a super duty. Its motor has two separate speeds for normal grooming as well as professional grooming.
It has a special design that does not work with fans or vents. These areas are often clogged with hair, and it can affect the performance of the device.
It also has a shatterproof house with a thick, long cord. It may be a durable option for Shih Tzu owners who want a professional clipper.
The detachable blade allows for varied fur length. The blade is also treated specially to prevent corrosion and rust.
Pros
It is for professional use
Offers two speeds to ease cutting through matted fur
Doesn't have fan or vent that can be clogged
It is fairly quiet
Cons
The blade heats up quickly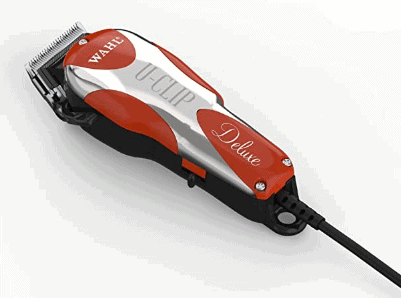 If you prefer a medium-duty clipper model, the Wahl Deluxe U-Clip may be an excellent choice. The clipper is affordable and mainly for home use. Its motor is fast and runs at up to 7,200 strokes per minute.
This means that the clipper can cut through a lot of furs. However, it will also work well on medium and small dogs with medium-length fur.
The steel blades are adjustable but not interchangeable. It also comes with plastic guides to give you an option of creating a different look.
The kit comes with a comb, eight guides, grooming scissors, a cleaning brush, blade oil, an instructional video, a carrying case, and a grooming apron.
The motor is really fast, and this gives it a professional edge. However, it is still a medium duty clipper. It is only intended for use in the home.
You cannot also use it to cut through thick fur or mats. People with short and medium fur dogs may prefer this device.
Pros
Comes with a fast, medium-duty motor
Affordable
Fully accessorized with up to sixteen accessories.
Comes with adjustable blades
Cons
Is not suitable for long/thick fur

This supper clipper may be ideal for Shih Tzu owners because it seamlessly cuts from different types of dog fur. Wavy, curly and thick fur are not problematic for this clipper.
Also, people with several dog species may enjoy having this clipper. It has a long cord that eases the process and produces the best results.
The clipper has a strong build and is really fast. This makes it suitable for thick fur. It has a quiet motor, so your dogs won't be spooked. The motor also offers two speeds for the body and face.
This clipper comes with a single blade size. Other accessories such as combs are not included as well. However, you can purchase the extra blades and combs but be sure to check for the right fit before buying.
Pros
Comes with 4-inch long cord for smooth maneuverability
Has a larger base and round shape for wider grips
Comes with locking switch that prevents it from shutting down accidentally
Works with other combs and blades.
Cons
Get little hot after long working time
What To Look Out For In Dog Clippers For Shih Tzu
Motor - The Motor Is The Heart Of The Clipper
A powerful motor allows the blades to cut fur without ripping. It is measured in strokes per minutes, and many models have double speeds that are ideal for matted fur.
Do you need a rotary, universal, magnetic or pivot motor? The answer depends on the dog's coat. Professionals use rotary motors for heavy coats.
They work on long thick coats and remove matting. To remove matting with ease, opt for one a high SPM if not, the clipper will be covered in fur.
Medium coats require medium power that can cut through a normal amount of fur. Pivot motors are ideal even though electromagnetic motors work well in some models.
Thin coats do not require a lot of grooming or heavy grooming, so you need an electromagnetic motor.
Speed - Do You Need A Turbo Or Multiple Speeds?
Having more than one speed is important when you plan to groom different kinds of dogs. Also, turbo speed also comes in handy for thick fur and long hair.
Short haired dogs require slower speeds for a smoother look. Note that faster speeds heat up more than slower speeds.
Material - Should You Use Steel Or Ceramic?
Most clippers are made from a combination of ceramic, steel, carbon, titanium, silver and chrome. However, they are classified into ceramic and steel.
Ceramic remains cool while steel is tougher. Chrome resists rust; carbon offers a stronger edge while silver is antibacterial.
Edging - What Are The Edging Varieties Available?
They include ShowEdge, UltraEdge, and Ceramic Edge. ShowEdge is ideal for sleek finishes and smooth clipping. UltraEdge is steel material infused with carbon, and this makes it harder, durable edges. CeramicEdges are cooler for longer.
Detachable Blades - Should You Get Detachable Blades?
Many professional clippers come with detachable blades to enable switching of sizes or to let it cool. Some are also interchangeable and can be used on a wide range of devices. You can get detachable blades if you want to clip different kinds of hair and achieve different lengths.
Other less expensive models only have a single blade to reduce maintenance and cost. But if you want to style your pet with various lengths of fur, then detachable blades are recommended.
Blades
Steel blades are strong, and some treatments can strengthen it further. Ceramic is cooler than steel. Clippers come with adjustable blades, one blade or plastic guides.
Guides are plastic combs, which snap over the clipper blade to let you cut different lengths of fur. Normal blades also cut different lengths and last longer as well.
But where you have a fixed blade or prefer to save cost on blades, guides can come in handy to produce a multi-length cut. The guides can also help prevent the hot blades from touching your pet's skin.
The blades are usually sharp when you buy them, but not sharp enough to cut yourself because of the arrangement of the blades. If they get dull, arrange to have them sharpened.
All types of blades can be sharpened but may require a professional touch. You should also lubricate the blades before use and while you use it.
Weight And Ergonomics - Is It Too Heavy On The Arm?
Check how it feels in your hand. If it is too heavy, your arm may be tired before you're done the cutting. When it is too large, it may drop and break.
Cord/Cordless Charge
Do you prefer a corded or cordless clipper? How long is the cord, if any? Does it hold a charge for long and what kind of battery does it use? The type of clipping determines which of these is ideal.
Maintenance
Does it have a smooth operation? Is it easy to oil and clean? You need to find out because these factors ensure that your trimmer lasts.
Heat and Noise
Motors make noise, and the blade heats up. However, some clippers stay cooler than other products. All clippers make noise, but reduced noise in a clipper is recommended. This reduces the chances that the dog will be terrified because of the noise.
Considering all these important factors will help you choose a product that is best suited to your needs.
Which Device Do You Need For Clipping?
The required device depends on the way it will be used. If you want to nip off a few stray hairs, that a simple, inexpensive clipper will be sufficient.
But if you want to handle the routine hair clipping, then you need a medium level clipper. You made need a few accessories because some models do not come with the accessories.
Also, you may need a high-end clipper if your dog has a heavy coat and you want to see perfect results. Some add-ons may be necessary as well.
Should You Use Human Clippers On A Dog?
It may seem cheaper to share your clipper with your pet. After all, it is a clipper and should work for the same purpose. But it will not work well and may even overheat. Dog fur is thicker than average human hair, and the clippers are made for lighter hair.
Dog clippers, on the other hand, are made with stronger motors that can work through the coats.
Why Does A Clipper Heat Up? How Can You Prevent It?
Heating of the clipper is caused by high speed running of the motor for a long period. It also comes from friction caused by dirt and fur in the blades.
You also need to be careful while grooming, so you don't burn your dog. Always test the black on your hand to ensure that it is not too hot.
Maintaining the clipper properly by lubrication and cleaning reduces the heating. This does not mean that they won't heat up if you use them for a considerably long time.
How To Cool It Off Quickly?
You can cool it off quickly by using a cooling, lubricating spray. Most clipper brands come with cooling sprays, but you can opt for silicone lubricating sprays in their absence.
Changing the blades can also cool it down. If your clipper has interchangeable blades, you can easily remove it when it gets hot and put on a new one. Use a wet sponge or an ice pack to cool off the other hot blade and clean it when it is cool so it can be used again.
You can also take a short break while clipping to give the blade time to cool off. During this interval, use nail clippers or scissors to do other trimming activities until the device is cool. You can then clean and lubricate your blade with a sponge or ice pack.
Will Clippers Get Noisy? Can It Be Reduced?
When a clipper is too noisy, it can terrify the dog. However, some models are quieter than others. Heavy duty clippers make more noise than regular clippers.
This is because of the speed of the motor, but when it makes an unusual amount of noise, you need to get it serviced.
Some dogs may be spooked by the sound, no matter how low it is. So you need to help him get used to the sound first before starting the grooming session.
Allow the pet to sniff the clipper and inspect it before use. Ensure that you use treats and toys to distract the dog during grooming.
Clipping Tips You Should Know
Always clip from head to toe with electric clippers. Going in the opposite direction can cause snagging.
Lots of grooming clippers get hot due to friction when they are in motion. But some stay cooler for longer. If you have issues with heating, take short breaks to play with your pet. You can clean other areas on the pet's body that doesn't require a clipper such as the ears.
As mentioned earlier, switching the blade is an option. It is better because you will use different blades for the different areas for a better result. All the blades will have a chance to cool off while you work on other areas. Cooling sprays can help prevent minor burns as well.
Conclusion
Grooming your Shih Tzu doesn't need to be a struggle if you use a good product that is suited to the pet. Our best pick is the Wahl Professional Animal ARCO. The cordless design gives it an edge of the others on the list. It is also lightweight with quiet operation.
Want to see more awesome dog clippers reviews? Check out our roundup of all-around best dog clipper for goldendoodles.