Have you ever checked what ingredients are in your dog's food? You might be surprised if you check the labels. I know I was. In fact, I was downright disgusted. It's not just that they're putting in non-nutritious things, but also harmful ingredients.
Would you eat ash? Did you know that it's often used as a filler in lower-grade dog food? Start reading the labels, and you'll see that some dog food is little more than garbage.
That's why I try to stick to reputable brands and always check the labels. It was also one of the inspirations for these Purina Puppy Chow reviews. I wanted to see if the food lived up to the company's promise of being healthy and nutritious.
Top Purina Puppy Chow Dog Food Reviews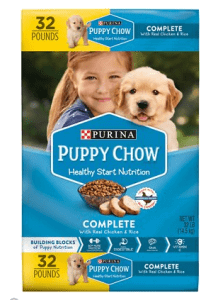 Your pup needs a lot of energy. He's got to have it to get up to all that essential mischief. Purina Puppy Chow promises to give him all the energy and nutrients that he needs.
Features
Contains all the nutrients that your puppy needs
Suitable for pups up to the age of 12 months
Contains all vitamins he'd typically get feeding from his mom
Has DHA for good muscle development
30 percent protein – more than most adult formulations
Based on American chicken products
What I Like About This Product
The gourmets in our house also liked this food. Pickle, as always, was assiduous in her duties. She finished every morsel in her plate.
What I liked especially is that it didn't make her tummy bloat. She does have a sensitive digestive system so bloating is often an issue.
What I Don't Like About This Product
There is a fair amount of protein in it. At the top of the list, though, is corn. They use chicken meal, not chicken pieces. The meal is ground from leftover carcasses. So, it will have some bone, possibly offal, and some real chicken in there.
It's still nutritious, but I'd like to see more chicken pieces.
Pros
Reasonable price
Lots of nutrients
Balanced nutrition
Cons
Contains chicken meal not actual chicken pieces
The cost is lower for this brand. If you need to keep an eye on costs, and still want decent nutrition, this is a good option.
Overall Rating
3 ½ out of 5 Tasty food to make them lick the plate clean.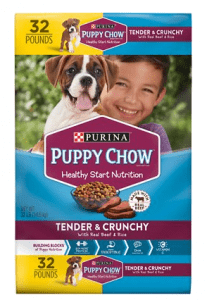 Another excellent option for high-energy needs puppies, Purina Puppy Chow Tender & Crunchy offers a bit of textural variety.
Features
Contains real beef
Completely balanced nutrition
30 percent more protein in it than a leading brand of dog food for adults
Has DHA to help with proper brain and muscle development
Antioxidant-rich
Contains calcium puppies need
Contains essential fatty acids
Easy to digest
Made in the USA
What I Like About This Product
You'll probably guess what I'll say about the flavor. My three pooches enjoyed this. My neighbor has a fussy little Maltese, and she also seemed to enjoy this dog food.
I like that the pellets are different shapes and sizes. I think this will keep the dogs from getting bored quickly.
There are some tender bits in here and some crunchy bits. It makes for a nice mix of textures.
What I Don't Like About This Product
If you're a regular reader, you'll know I don't see the point in coloring our dog food. I think it was done here to differentiate between the different pellets. I don't see that as strictly necessary, though.
Pros
Reasonable price
Lots of nutrients for a growing pup
Balanced nutrition
Tasty
Cons
Artificial colorants and preservatives used
Overall, this is not a bad budget option. I would have preferred fewer colorants, but nutritionally, it's good food.
Overall Rating
3 ½ out of 5 Perfect for the most demanding doggie gourmand
To be entirely honest, most of the Puppy Chow products have similar attributes. This is the Healthy Start product and offers everything that your puppy needs.
Features
Contains chicken
Balanced nutrition
High protein content
DHA helps vision and brain development
Antioxidants incorporated
Higher calcium levels
Made in the USA
What I Like About This Product
It's tasty for dogs. The pellets are different sizes and have different textures. This means your pup should never be bored with his food.
What I Don't Like About This Product
A fussier dog can easily sniff out the tenderest pieces and leave the rest.
Pros
Affordable
Lots of nutrients for a growing pup
Balanced nutrition
Tasty
Cons
Too easy for a fussy dog to focus on the pieces he wants
This is another option that's easier on your wallet. I also noticed that my two boys were satisfied with less food than usual. Pickle eats whenever she gets a chance (not a picky eater at all), so she's not a good model to work on here.
Overall, though, I think that this food would last longer than the brand I usually use.
Overall Rating
3 ½ out of 5 Take the hassle out of great puppy nutrition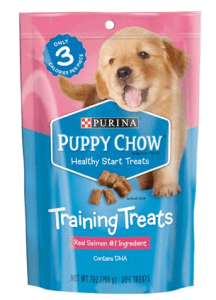 Here I'm taking a little poetic license with my Purina Puppy Chow reviews. These are treats rather than actual food.
That said, you should always factor in treats when working out how much to feed your puppy. So, I do feel like I can sneak this into this set of Purina Puppy Chow Complete reviews.
Features
Has real salmon in it as its top ingredient
Has DHA and other essential fatty acids
Great flavor
Low-cal treats
The treats can be broken up if necessary
What I Like About This Product
This product has salmon as its top ingredient. Salmon is a high-quality protein and contains essential fatty acids. Adding this into your pup's diet will help his skin and coat shine.
I've never seen my little monsters be so well-behaved. All I had to do was take out the packet, and they'd be as good as gold.
Enticing them to go to bed when it's cold is a process. They have a room outside that they sleep in but prefer the lounge. I usually tempt them with a reward. These worked flawlessly. All I have to do is rattle the packet, and all three are there.
I'll be adding these treats to our permanent roster.
What I Don't Like About This Product
I don't care for the smell. It's a minor point, considering that my dogs love these treats.
Pros
Low-cal
Real salmon used
Tasty
Reasonably priced
Show your poochies a little love with some yummy, healthy treats.
Overall Rating
4 ½ out of 5 There's nothing fishy about the nutrient quality in these treats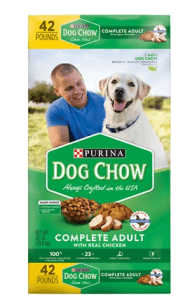 Many people make the mistake of thinking that puppies all need the same nutrients. The truth is that larger breeds need a more targeted formulation. They need more bone-strengthening nutrients. They also need a more nutrient dense food source.
Features
Has chicken in it
Balanced nutrient profile
High protein
Reasonable amount of fat
DHA and other essential fatty acids
More calcium for stronger bones
Made in the USA
What I Like About This Product
By now you've probably cottoned on to the fact that Pickle will eat just about anything. What I liked about this food and her was that she didn't bloat badly after eating it.
I also like the fact that the chunks are a little bit chewier. They still have a lot of crunch, but my old man didn't battle as much with these.
What I Don't Like About This Product
The chunk size is ideal for pups when they're smaller. As they grow larger, though, the chunks are easy to wolf down.
Pros
Affordable
Lots of nutrients for a growing pup
Balanced nutrition
Tasty
Cons
Chunk size could be better
Overall, this product does score lots of points for bigger pups.
Overall Rating
3 ½ out of 5 Food that's full of the right stuff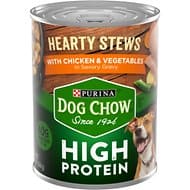 Yes, you read that right – I said Dog Chow. This is technically for adult dogs, I realize. That said, I couldn't find any wet food products in the Puppy Chow range.
I wouldn't want just to feed my pup kibble, so here's the compromise. It's Purina's adult version of the Puppy Chow range.
Features
Made with real chicken and liver
Balanced nutrients for adult dogs
40g of protein in each can
No artificial preservatives or flavorings
Tasty treat for dogs
What I Like About This Product
If you want your pup to lick his lips in delight, try some wet food. The texture here is good. The meat is in a rich that can be mixed in with kibble to soften it. Or, if you prefer, serve it on its own as a treat.
It has a high protein content. I like that liver has been included here. Organ meats are high in nutrients, and I often give them to my dogs raw. (You do have to freeze them for at least three weeks first to kill off parasites).
What I Don't Like About This Product
It's formulated for adult dogs.
Pros
High protein
Tasty
Lots of nutrients
Real chicken and liver used
No artificial preservatives or flavorings
Cons
Not specifically for puppies
Overall, our distinguished panel gave this a barking five wags. If you want to earn the love and respect as the leader of the pack, this is a fantastic way to start.
Overall Rating
4 out of 5 Perfect for pampered poochies
About the Brand
Purina was started in 1894. It had humble origins as a retailer of livestock feed. Then the company expanded into the pet food industry. The rest is history. Today we've got a brand that is a multi-national giant.
Within the range are many different brands. Puppy Chow is just one of Purina's brands for little pooches. It's also one of the more affordable ranges in the Purina line.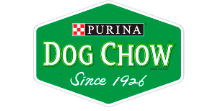 Other names you might recognize in the Purina stable are Dentalife and Alpo.
Purina distinguishes itself by offering both premium and more affordable ranges. The company employs qualified vets and scientists to come up with unique formulations.
They state that their overriding interest is a passion for animals.
Their recall history does seem to bear this out. They've had a few recalls in the past. Many of these were voluntary and initiated by the company.
One complaint about the company is that it does mess with the formulations a fair amount. This tweaking could be problematic for dog owners with more sensitive pooches. That said, though, where would we be without progress?
Overall, the company has enjoyed a sterling reputation. It has earned a space as one of the leading pet food brands. The company also manufactures other consumables like cat litter. It's clear that it's not going to stop at pet food.
The company's customer service is excellent. One area that some clients have found annoying, though, is with returns. Most of the time, the company will only accept returns if the product is sealed.
Overall, though, it's a brand that you can rely on.
Final Thoughts
Now we've come to the end of these Purina Puppy Chow Complete reviews. Do you have a favorite in mind?
When it comes to flavor, Purina seems to have the mark dead on here. I'm going to call the Purina Puppy Chow Complete with Real Chicken Dry Puppy Food as the winner in this review. This is a product that is healthy and tasty and is the best all-round choice that I can recommend.
It's also something that I'll be adding to my shopping cart in the future. My dogs are older, so puppy food would be a bad long-term idea for them. That said, I did notice that Pickle's stomach was more settled on this recipe.
Overall, I think it's the budget range to beat. You'll battle to find this kind of nutrient-dense food in another brand at a better price.