Our pets are part of our family. They provide comfort, companionship, and so much more. It's no surprise feeding them right is paramount to most owners.
Both Nutro and Blue Buffalo pride themselves on using only wholesome, locally sourced, all-natural ingredients. Both dog foods are locally manufactured in the US, and both have a variety of recipes to choose from depending on your pet's developmental stage and dietary needs. They equally produce high-quality, pet foods with complete and balanced nutrition.
So, is there a difference between these two dog food brands? In this comprehensive and in-depth review, we'll examine the ingredients, features, advantages, and disadvantages of Nutro vs. Blue Buffalo dog foods, and help you select which pet food brand is the right choice for your dog. Let's dive right in!
Main Differences Between Nutro vs Blue Buffalo
The main differences between Nutro vs Blue Buffalo Dog Food are:
The main ingredients in Nutro dog food are Venison, Lamb, and Chicken, whereas the main ingredients in Blue Buffalo are Bison, Chicken, and Turkey.
The protein content in Nutro dog food is 27%, whereas the protein content in Blue Buffalo is 28%.
The average price per pound of Nutro dog food is $3.78, whereas the average price per pound of Blue Buffalo is $3.45.
Our Top Pick from Nutro
Our top pick from Nutro is Nutro Ultra Dry Dog Food for small breeds. We like it because it is free from artificial and GMO ingredients and will give your dog an all-natural and balanced diet. Check on Chewy.
Our Top Pick from Blue Buffalo
From Blue Buffalo, we present Blue Buffalo Basics Limited Ingredient Adult Dry Dog Food Turkey and Potato which is also a natural ingredients recipe enriched with Blue Buffalo's exclusive LifeSource Bits, a combination of vet-approved ingredients that promote overall health. Check on Chewy.
Nutro and Blue Buffalo Product Reviews
Features
26% protein
15% fats
10% moisture content
4% crude fiber
Contains chicken, salmon, lamb, and egg
High in omega fatty acids for a healthy coat
Nutro Ultra Dry is specifically for small breeds. Its top ingredient is chicken, packed with flaxseed, blueberries, and coconut as supporting ingredients. This recipe follows the "Nutro Clean Feed" policy and doesn't contain wheat, soy, corn, preservatives, or GMO ingredients. It can also be mixed with wet foods to create interest in your pet's diet.
Dogs This Food is Best for
As mentioned, this line is aimed at small dogs under 30 lbs. However, it's not suitable for dogs with chicken allergies, and if you begin seeing skin issues after use, your pup may be sensitive to other ingredients such as grains.
Pros
Contains real chicken and other proteins for muscle growth
15 vibrant superfoods to support immune health
The kibble is small and easy to chew for small breeds
Can be mixed with wet foods to create variety and interest
GMO-free
Cons
Contains brewers rice, which some nutritionists consider an allergen
Some dogs react adversely to chicken
Our Rating: 4.7/5

Features
22% protein
14% fats
10% moisture content
5% crude fiber
Contains deboned lamb, lamb meal, dried sweet potatoes, and chickpeas
Balanced vitamins, minerals, and amino acids
This option is completely grain-free and has only ten ingredients, including vitamins, minerals, and natural flavors while containing no soy, wheat, or corn. Lamb is its #1 on the list, and it can be mixed with wet foods for variety or fed to your dog as it is.
Dogs This Food is Best for
This dog food is perfect for dogs with sensitive digestive tracts thanks to its limited-ingredient formula. In addition to the lamb large breed we've reviewed here, it's available in small breed, duck, salmon, and venison versions.
Pros
Decent protein content supported by amino acids and vitamins for overall health
Does not include chicken
Supports digestive tract health
Completely grain-free and GMO-free
Cons
Omega fatty acid content is slightly lower
If your large-breed dog is recovering from an illness, this is the perfect food for them. The limited-ingredient, grain-free, GMO-free composition, ensures that your dog receives maximum nutrition while reducing the risk of any adverse reactions.
Our Rating: 4.6/5

Features
20% protein
9% fats
10% crude fiber
10% moisture content
Turkey is the primary source of protein
Carbohydrates and peas provide energy rather than grain
Contains dry chicory root
This variety contains turkey as its primary source of protein and is completely grain-free. It includes complex carbohydrates instead in the form of potatoes and peas for energy provision, pea fiber and pumpkin to ease digestion, and omega oils for a silky and shiny coat.
What's more, this range of dog food has no chicken, which can cause adverse reactions in some dogs.
Dogs This Food is Best for
This recipe works well for most adult dogs, even those with chicken sensitivities, but isn't well suited to puppies or older dogs. Blue Buffalo does have specialized lines for these dogs.
Pros
Contains no chicken or its by-products
Natural dog food with no harmful additives, preservatives, or flavors
Does not have too many calories from fats
Contains vitamins and chelated minerals that support the immune system
Cons
Slightly low in omega fatty acids
Too basic a recipe for seniors with specialized health needs
This is an excellent all-around recipe that uses turkey as its primary source of protein, supported with legumes and potatoes for energy nutrients. The vitamins and minerals also help your dog's immune system, but if your dog is a senior, these nutrients may not be enough for them.
Our Rating: 4.6/5

Features
24% protein
12% fats
5% crude fiber
10% moisture content
Uses deboned chicken as its primary protein
Contains omega acids
This formula from Blue's Natural Veterinary Range is a Blue Buffalo food specially designed to support gut health. It also contains prebiotic fibers to help maintain beneficial gastrointestinal bacteria. Vitamins C and E support your dog's immune system, and protein, carbohydrate, and fat are present in optimal quantities for maximum nutrient absorption.
Dogs This Food is Best for
Blue Natural GI Support is perfect for adult dogs with sensitive digestive tracts—as those are the dogs it was designed for.
Pros
Pea fiber eases and provides for a gentle digestion
Contains patented "LifeSource Bits" for maximum immune health
No artificial flavors or harmful ingredients
Cons
Omega fatty acids levels are low
This food works well to ease digestive upset in sensitive dogs and does so without sacrificing nutritional value.
Our Rating: 4.8/5

Understanding Dog Food
Regarding the debate on Blue Buffalo vs Nutro, or really any dog food, its important to know about the benefits of healthy, natural dog food. Both Nutro and Blue Buffalo are US-based companies involved with manufacturing and retailing natural pet food. They are also equal in their goal to make wholesome pet foods from all-natural and locally sourced ingredients.
A nutritious and balanced diet benefits your dog in various ways, including:
A Shinier Coat
Omega 3 fatty acids and essential oils are necessary ingredients to maintain your dog's shiny and healthy coat.
Healthier Skin
Vitamins and minerals aid in maintaining healthy skin, boosting immunity, and treating any allergies or skin conditions.
More Energy
Most nutritious food contains essential nutrients that are easily digestible and absorbed into the body.
Reduced Trips to the Vet
Nutritious and natural food doesn't contain harmful additives but instead contains nourishing and wholesome ingredients that help build and keep the body in top shape while boosting immunity. A healthy body and high protection is a sure-fire recipe for warding off ailments.
Healthy Poop
Watery or yellowish poop usually signals a medical condition in dogs, but poor diet and over-processed foods can also be to blame. It can be a sign of food intolerance or allergy too.
Increased Lifespan
Just like humans, the type of food we feed our pets is directly proportional to their wellbeing and consequently life span. Harmful diets reduce your pet's quality of life and invite the possibility of numerous ailments that might result in severe sickness, cancer, or worse, death.
Tips to Help You Choose the Best Food for Your Pet
Opt for all-natural, high-quality, and real meat ingredients
Stay clear of foods with allergenic ingredients like corn, wheat, and soy
Look out for unnecessary fillers, which add to the price tag yet contain little to no dietary value
Stay within your budget
Ascertain that the food is balanced to meet all your pet's primary nutritional needs
Purchase foods with numerous positive reviews from past customers. High customer satisfaction is sometimes the only social proof of the quality of the products
Look out for product recall history or lawsuits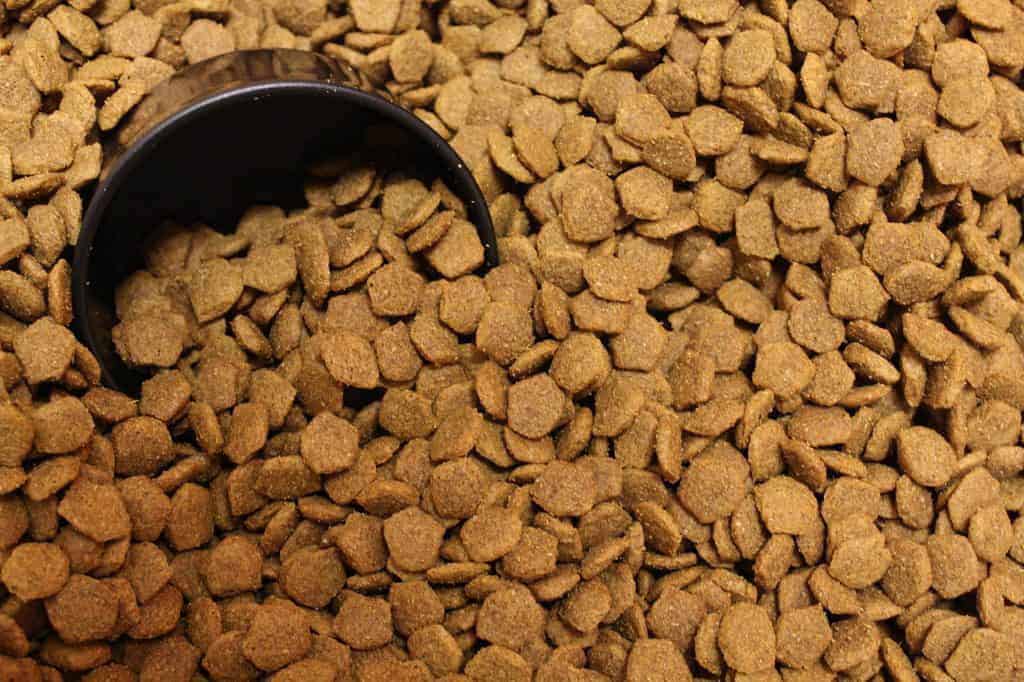 Nutro Dog Food vs Blue Buffalo - Similarities and Differences
Nutro dog food is well-known for its strict policy of only sourcing all-natural, non-GMO, and wholesome ingredients from local farmers and suppliers.
Blue Buffalo dog food uses all-natural, wholesome locally sourced ingredients as well, but there is no mention of the use or non-use of GMO in their food products on their website. Unique to Blue Buffalo food, though, is their "LifeSource Bits," a mix of handpicked minerals, vitamins, and antioxidants with cancer-fighting and immune-boosting properties.
Both Blue Buffalo and Nutro use real meat and not meat by-products as the main ingredient in their pet foods. Meat helps in lean muscle development and maintaining a healthier body.
Nutro and Blue Buffalo also steer clear of corn, soy, or wheat ingredients in their food, potential allergens that can cause reactions in some dogs, and do not use artificial preservatives, colors, and flavors to add appeal or improve shelf life.
Unique to Nutro is its advertising and marketing methods. They don't invest in traditional marketing methods but instead focus on producing large amounts of literature to educate pet owners on dietary needs and the value of food ingredients, giving them an edge over their competitors.
Food Ingredients
Just like in our own lives, high-quality ingredients not only make a big difference in our pets' food but also their overall health. Commercially-prepared pet food was first developed in 1860, by businessman James Spratt, and since then, the 'right' ingredients have been in and out of controversy.
Some of these controversial ingredients listed below can be found in varying amounts in either one or both Blue Buffalo and Nutro products. The ingredients list is a key point in any product and should be carefully considered by the dog owner when choosing any dog food.
Iron oxide
Iron oxide is a red-brown food colorant that is controversial in dog foods despite being approved by the FDA. Food colorants like iron oxide lack nutrients, and are used solely to make food appear more attractive.
Additionally, iron oxide is not considered a "natural" or clean ingredient in dog foods, perhaps stemming from the synthesizing and manufacturing processes necessary for colorants. Iron oxide is a controversial ingredient in Nutro dog foods.
Garlic
Garlic found in commercial dog food is controversial because even small amounts can make a dog ill, and large amounts are quite toxic. There are no potential benefits that outweigh the proven negative health consequences.
Even worse, garlic doesn't provide any major benefit in flavor or nutrients. Garlic is considered one of the controversial ingredients used in Blue Buffalo foods.
Pork plasma
Plasma is the nutrient-dense clear fluid leftover when blood cells and platelets are separated out of blood. Although plasma can be created from the blood of any animal, pork plasma and beef plasma are the most common in commercial dog food. Although it may not sound appealing to us, pork plasma is rich in essential vitamins and minerals, making it an excellent source of essential amino acids.
The debate on whether or not pork plasma should be allowed in dog food is mostly regarding the lack of information the manufacturers are willing to give to the consumers. Many pet owners feel that plasma and other blood products are safe and beneficial so long as the manufacturer uses well-sourced plasma. Despite its controversial nature, its benefits often justify using pork plasma being used in Nutro products.
Powdered cellulose
Powdered cellulose is controversial in dog food formulas because it is made from plant fibers, which are difficult for dogs to digest. Its most prominent benefit is that it does provide dietary fiber, but it is otherwise another filler material. Similar to beet pulp, powdered cellulose is more acceptable in small quantities. Powdered cellulose is sometimes an ingredient used by Blue Buffalo.
Brewers rice
Brewers rice is a rice by-product made up of small fragments of rice which separated from the larger kernels during rice processing. It is usually considered a controversial ingredient because it is a grain, and is often used as a filler.
It also has little nutritional content, especially compared to animal proteins, and a significant portion of carbohydrates. Despite this, rice is sometimes used by Nutro in its products.
Caramel coloring
Food dyes and colorings have already been deemed carcinogenic, so seeing them featured in your dog's food is unsurprisingly controversial. Additionally, there is no nutritional value in these colorings or benefit to dying the food.
Caramel coloring and other food dyes also take away from the naturalness of a dog food formula. Even so, Blue Buffalo must see some benefits, as they sometimes use caramel coloring in their products.
Vegetable/canola oil
Although there are some sources that maintain vegetables, canola, and other oils that are beneficial in a dog's diet, there are others who point out the dangers of these oils and how they can negatively affect the health of our pets.
One primary reason for the controversy is that canola oil is highly refined through a process similar to the one used for high-fructose corn syrup. Another concern is that canola oil is that a large majority is produced with genetically modified canola, which in and of itself is controversial. Despite that, vegetable oil or canola oil is sometimes in Nutro's dog food products.
Dried tomato pomace
Dried tomato pomace is a byproduct of the tomato industry containing a dried mixture of tomato skins, pulp, and seeds. The pomace supplies a noticeable concentration of soluble fiber, which promotes healthy digestion and bowel movements. Quality tomatoes contain high amounts of vitamins, minerals, and antioxidants, which are also beneficial to dogs.
Dried tomato pomace is primarily considered controversial when used in large quantities, as it cannot provide the important protein and fat levels your dog needs. Its benefits in small quantities may be why dried tomato pomace is used in Blue Buffalo products.
Pea protein/ pea protein concentrate
Although pea protein is an extremely element in many high-end dog food formulas, pea protein is not considered a truly beneficial ingredient. Pea protein is a by-product of pea processing and is a naturally high plant-based protein.
Unfortunately, pea protein is often used to inflate the overall proportion of protein in a dog food formula, even though peas do not have a high biological value and are not as easily digestible. Even so, pea protein or pea protein concentrate is often used by both Nutro and Blue Buffalo.
Blue Buffalo food uses something called LifeSource Bits
An ingredient specific to one of the two brands is Blue Buffalo's LifeSource Bits. Mixed into the BLUE dog and cat dry foods are small, dark kibbles which contain a precise blend of vitamins, minerals, and antioxidants. These are specially designed to help cats and dogs maintain a healthy oxidative balance, and support immune health.
Blue Buffalo's LifeSource Bits are formulated by a team of veterinarians and animal nutritionists and are "cold-formed" to minimize the degradation of nutrients. Additionally, Blue Buffalo LifeSource Bits don't seem to affect the taste of the dog food formula but are a valuable boost for your dog's health.
| Type/brand | Nutro | Blue Buffalo |
| --- | --- | --- |
| Dry dog food - Crude Protein | 27% | 28% |
| Dry dog food - Crude Fiber | 4.5% | 7% |
| Dry dog food - Crude Fat | 15% | 15% |
| Wet/canned dog food - Crude Protein | 42% | 40% |
| Wet/canned dog food - Crude Fiber | 5.8% | 7.5% |
| Wet/canned dog food - Crude Fat | 23% | 25% |
Price Comparison
| Type/brand | Nutro | Blue Buffalo |
| --- | --- | --- |
| Dry dog food (lb) | $2.27 | $2.61 |
| Wet/canned dog food (lb) | $5.29 | $4.29 |
Product Lines
Nutro

Product Lines

Wholesome Ingredients

Farm-raised chicken, free-range lamb, salmon, and venison meal as the main ingredient

Tailored nutrition across life stages and breed sizes

Ultra Dry

Meat, fish, or poultry as the main ingredient
No chicken by-product meal, corn, wheat, or soy.
No artificial flavors, colors, or preservatives

Grain-Free

Farm-raised chicken or pastured lamb as the main ingredient, with added sweet potato and a blend of vegetables and fruit
Tailored nutrition across life stages and breed sizes

Limited Ingredient

No chicken, beef, corn, wheat, soy, or dairy protein.
Duck, lamb, salmon, or venison meal as the main ingredient
Nourishes sensitive skin for a soft, shiny coat

Wet Dog Food

Real chicken, turkey, lamb, fish, or beef as the main ingredient
Perfect for mixing with Nutro Dry dog food
No chicken by-product meal, corn, wheat, soy, or artificial flavors, colors, or preservatives

Blue Buffalo

Product Lines

Line Protection
Made with exquisite, high quality, real meat natural ingredients
Freedom
100% grain-free
Basics
Limited ingredients for pets with sensitivities
Wilderness
Made with high meat content
Natural Veterinary
Scientifically formulated by vets to manage pets with health issues
Head to Head Comparison Table – Nutro vs. Blue Buffalo
Product Feature
Nutro
Blue Buffalo
Top Ingredients
Venison, lamb, and chicken
Bison, chicken, and turkey
Philosophy and Recipe Formulations
Based on your pet's life stage and special dietary needs
Based on real protein, 100% grain-free on some products, and include "life source bits" like vitamins, and antioxidants
Product Lines
· Five main product lines to cater to dietary needs according to your pet's individual needs and life stage

· They have Gluten-free, GMO-free, High-protein, Indoor, Limited Ingredients, Grain-free, Sensitive digestion, Weight control, and No corn, no wheat, no soy diets.

· Five main products lines tailored with unique components to meet your pet's specific nutritional needs and life stages.

· There is no assuredness of not using GMOs.

· They have two grain-free diets

· They have a unique, patented "LifeSource Bits" in all their dry foods

· They use 'chelated minerals to ease mineral absorption

Recipe Variations
· 117 recipes – 65 dry and 52 wet
186 recipes - 85 dry and 101 wet
Price per pound
Averages $3.78
Averages $3.45
Product Recalls and Safety
3 times in the last 15 years
9 times in the last 15 years
Controversial Ingredients
Iron oxide, pork plasma, brewer's rice, canola oil, pea protein
Garlic, cellulose, caramel, dried tomato pomace, and pea protein concentrate
Country of Manufacture
All foods are locally manufactured in the US.
All foods are manufactured in the US except BLUE Chomp and Chew Treat, which are made in Ireland.
About Nutro
Nutro is headquartered in Franklin, Tennessee, USA, and was founded in 1926 by John Saleen as a small, family-owned business distributing its products locally. It wasn't until 1985 when the company grew in popularity thanks to the introduction of the Max dog food line that it started distribution to Canada, Asia, Europe, Australia, and New Zealand. In 2007, Mars Incorporated acquired the company and runs it currently.
For over 90+ years now, Nutro has been renowned for its reliability, high-quality, and healthy pet foods. The company exclusively uses holistic, natural, real, wholesome, and non-GMO ingredients locally sourced from trusted farmers and suppliers. All ingredients are free from artificial preservatives, colors, flavors, GMOs, and unnecessary fillers.
What's more, they are honest about their feed clean policy too. For instance, Nutro mentions on their site that all their dry foods follow the philosophy, but wet foods and treats are not quite there yet. This kind of honesty is refreshing and helps maintain the company's transparency.
All their ingredients are quality-tested before use. After manufacture, every end-product passes through rigorous analysis and testing by their researchers to ensure it is fit for consumption and meets the Association of American Feed Control Officials (AAFCO) nutritional guidelines. Their facilities are also clean, and hygiene is a top priority, with comprehensive sanitation checks at least once a week.
They use real and genuine meat – and not by-products – as the main ingredient. These aid in lean muscle development, boosting your dog's immune system, improving bone health, and supporting healthy skin and muscle growth.
Nutro pet food is available in three main food lines: Nutro, Max, Ultra, and for three stages of life: Puppy, Adult, and Senior. They have a wide variety of food recipes to satisfy all kinds of dog breeds, regardless of their life stages and dietary needs. Special-need animals are also well catered for with nine different recipes namely - Gluten-free, GMO-free, High-protein, Indoor, Limited Ingredient, Grain-free, Sensitive digestion, Weight control, and No corn, no wheat, no soy.
The inclusion of beet pulp in their ingredients has raised quite a big discussion. Most argue that beet pulp is a filler adding no nutritional value, while others claim it contains some benefits. Moreover, all their products lack a vital ingredient – pet-friendly probiotics, healthy bacteria which aid in digestion and boost the immune system, and without it, the pet food isn't holistic.
About Blue Buffalo
Blue Buffalo was founded in 2003 by Jackie and Bill Bishop after the death of their beloved Airedale Terrier, Blue, who was diagnosed with cancer a few years before his passing. It was during Blue's sickest days that the Bishops researched the link between animal nutrition and certain types of cancers, and in the process, birthed Blue Buffalo dog food. Since then, the company has aimed to manufacture only premium-quality, all-natural, and healthy pet food to keep dogs healthy.
The founders also created the Blue Buffalo Foundation for Cancer Research to help in the fight against pet cancer. It is through the foundation that Blue Buffalo is able to be involved in community events around the country as well as sponsor an annual pet awareness cancer week to raise money for the fight against and pet cancer.
Blue Buffalo is among the leading holistic dog food brands in the US that use natural ingredients as well as real meat sourced locally to create the highest quality pet foods. Additionally, Blue Buffalo doesn't use unnecessary fillers, meat by-products, corn, wheat, soy, artificial colors, flavors, and preservatives.
Protein ingredients include deboned chicken, fish, turkey, or lamb made from real whole meat and not its by-products. Blue Buffalo also priorities avoiding grain proteins like wheat, corn, and soy proteins because they are less digestible and lower in essential amino acids for dogs.
Carbohydrates include barley, brown rice, and oats, which are rich in complex carbohydrates, high in dietary fiber, and are easily digestible.
Vitamins and minerals include calcium, potassium, phosphorus, iron, manganese, and copper, which aid in digestion, bone and muscle growth, healthy skin and coat, and boosting the immune system. Since dogs naturally have a hard time absorbing minerals, Blue Buffalo uses what's known as chelated minerals.
These minerals are attached to essential amino acids which are easily absorbed to promote maximum absorption. Blue Buffalo uses chicken fat, which is healthier and more nutritious than other animal fats, and fruits and veggies to provide essential vitamins, antioxidants, and enzymes. Most pet food brands cook their vitamins and proteins; which reduces their nutritious value by up to 75%, but at Blue Buffalo, they cold-form them to prevent losing vital nutrients.
Blue Buffalo has a murky past concerning recalls having faced a record seven recalls since its inception 16 years ago. Blue Buffalo's worst year, in terms of recalls, was 2017. The company was also soon embroiled in a lawsuit accusing some of their products of having unacceptable lead levels. The lawsuit ended in March 2018, but the rumors and suspicions lived on, despite Blue Buffalo assuring the public of no unacceptable lead amounts in their products.
Blue Buffalo also faced a lawsuit from Purina in 2014 accusing them of false advertising for including meat by-products in some of their foods, despite advertising the opposite. Other pet food companies like Hills and Merrick have also sued Blue Buffalo in the past.
History of Recalls
When considering Blue Buffalo vs. Nutro, it's important to note that despite having been in business for a much shorter amount of time, Blue Buffalo has many more recalls.
Nutro has faced three dog food recalls
March 2007 – recall initiated by Menu Foods due to melamine contamination
September 2009 – voluntary recall due to plastic contamination
December 2015 – voluntary recall due to potential mold contamination
Blue Buffalo has faced seven recalls
October 2010 – suspected toxic vitamin D levels
November 2015 – salmonella contamination
May 2016 – mold contaminationFebruary 2017 –suspected aluminum metals
March 2017 – voluntarily recall owing to a problem with a foil seal
March 2017 – voluntary recall for extra-high thyroid hormone levels
April 2017 – melamine contamination
FAQ
Do vets recommend Nutro?
Veterinarian recommendation is a vital part of any pet food's success and popularity. Although every veterinarian is allowed their own opinion and preferences for certain foods, many veterinarians have recommended Nutro Ultra as a top choice in grain-free dog food.
Nutro Ultra is said to contain a natural blend of high-quality ingredients for your dog's optimal nutrition. Aside from the popular "grain-free" formulas, Nutro also has grain-inclusive lines with grains like whole-grain oats and brown rice, which are less likely to cause allergies.
Do vets recommend Blue Buffalo?
Although Blue Buffalo is said to have on-staff veterinarians and PhD-level animal nutritionists, most veterinarians do not recommend feeding it. This is because Blue Buffalo foods are not consistent, and is known to frequently change ingredients without updating their labels. This can be at best problematic for dogs eating Blue Buffalo dog food, and at worst downright dangerous for dogs with serious food intolerances or allergies.
What is wrong with Nutro dog food?
There is nothing innately wrong with Nutro's dog foods. Nutro is a reputable dog food manufacturer focused on using high-quality, natural ingredients to promote safe and nutritious foods for dogs.
As with most dog food brands (and many human food brands), Nutro has had a few recalls over the years. There are online reports from 2009 which claim dogs were becoming ill after eating Nutro food, but there were no related recalls or investigations at that time.  If there are any serious incidents, or suspicions that Nutro (or any other dog food) is making dogs sick, the Food and Drug Administration (FDA) will intervene and investigate.
Most dog owners understand the importance of trial and error in finding the right food for their dog based on individual nutritional requirements, food allergies, personal preference, and affordability. If you and your dog enjoy Nutro and your veterinarian agrees that your dog is happy and healthy, there is nothing wrong and nothing to worry about.

Final Thoughts
Nutro and Blue Buffalo are similar in many ways and don't differ too much in price. Both companies use all-natural, wholesome, and locally sourced ingredients, with real meat as the main ingredient, and there are no additives, food colors, artificial preservatives, or unnecessary fillers.
However, they also differ in some ways. For instance, Blue Buffalo is slightly less costly than Nutro. Additionally, Nutro has more varieties and diets as compared to Blue Buffalo and has been in the market for almost a century compared to its counterpart that has been operating for just over 15 years. So, in our expert opinion from the analysis of both brands, we are in favor of Nutro over Blue Buffalo.
All in all, pay attention to ingredients, nutritional composition, price, and customer reviews when selecting the best pet food for your dog. Also as we finish off, we want to leave you with our top picks that you can go try out. Our favorites are Nutro Ultra Dry Dog Food for small adult dogs and Blue Buffalo Basics Limited Ingredient Adult Dry Dog Food Turkey and Potato for adult dogs.