The problem of picking the right food for your dog might seem simple enough. Just get the best dog food from the aisle and call it a day, right?
Ah, if only things were that easy.
The problem is, choosing food for your furry friend is often not that cut and dry. Going for the best brand of dog food without considering your particular pet's needs can be dangerous. You might not be maximizing their growth. Worse, you might even be putting their overall health at risk.
So today, we're putting the spotlight on two dog food brands, Natural Balance vs. Blue Buffalo. We'll be comparing products from each of their limited ingredient lines to see how they stack up.
Natural Balance vs. Blue Buffalo Dog Food Reviews...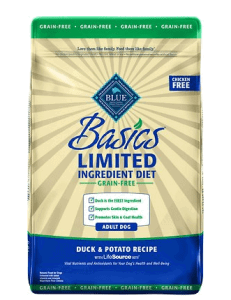 This limited ingredient formula uses real duck meat as a quality protein source. It also contains Blue Buffalo's unique Lifesource Bits, a veterinarian-approved mix of vitamins and antioxidants.
Features
Grain-free formula
No allergens like soy, wheat, eggs, or chicken
Uses real duck meat as the first ingredient
Lifesource Bits for a boost in vitamins and antioxidants
Added fiber from pumpkin to aid digestion
What We Like
We like that they use real meat and clearly disclose all ingredients. This makes it easier for us to choose one, knowing it won't contain any other ingredients that might trigger allergies.
It's great to know that they don't include any of the ingredients that commonly cause allergic reactions in dogs.
It also helps that our dogs really like them.
The added fiber is excellent as well. It's been effective at eliminating our dog's watery stool (she's an 11-year-old Pomeranian) right after switching.
What We Don't Like
It's way pricier than other brands.
While a bit on the pricey side, Blue Basics is an excellent choice for food-sensitive and picky dogs (a rather unfortunate combination!). It's meatier and fattier than other brands, perfect for bigger breeds, which have higher nutrition requirements than smaller dogs. The inclusion of added vitamins and antioxidants is a fantastic benefit for Fido, and it's a good reason to switch to Blue Basics.
Overall Rating: 4.3 / 5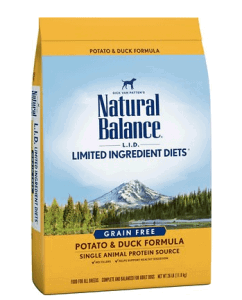 This grain-free formula uses quality duck and potatoes to create an easily digestible meal. It's a more nutritionally balanced formulation than Blue Buffalo's.
Features
Grain-free recipe
No artificial ingredients or preservatives
Uses pure duck meat
Easily digestible formula
What We Like
We like the excellent balance of ingredients used in Limited Ingredient Diets Duck and Potato as well as their use of pure duck meat and potatoes.
Having a food option that's made specifically for dogs who struggle with sensitive stomachs gives worried owners peace of mind.
The inclusion of fish oil for shiny skin and coat is a real bonus.
Even better, Limited Ingredient Diets Duck and Potato is cheaper than its Blue Buffalo counterpart.
What We Don't Like
This formula uses canola oil, which is a very controversial oil, especially for dogs. While it's not immediately harmful, it is a worrisome ingredient. If you have concerns about this inclusion, know that there are better options out there.
The Limited Ingredient Diets Duck and Potato dog food is a prime choice for pet owners dealing with food allergies in their dogs. It has an average amount of the macronutrients best suited for dogs that need a nutritionally balanced diet. (A Maltese comes to mind.) Plus, it's a more economical choice than other brands aimed at these more finicky canines.
Overall Rating: 4.0 / 5
Product Category
Choosing the perfect dog food is a highly "petsonalized" choice. You need to ask yourself some crucial questions before buying. Here are some ideas:
What life stage is my dog in?
If the plastic still has a lingering smell of ammonia, consider using some kind of odor removing spray. If you just leave it, you are letting the odors build up over time. Also replace your cat's litter box regularly, maybe as often as once a year.
Does my dog have allergies, or is he or she sensitive to a particular food?
If your dog has specific food allergies, then you need to take this into account. Unfortunately, most dog food available is a mishmash of many different ingredients. This uncertainty makes it harder to pinpoint what exactly is triggering the allergic reaction.
What nutrition des my dog actually need?
Getting the right ratio of calories and nutrients is crucial for your dog's overall health. If you notice your dog's stool is unusually loose, you might need to add more fiber to his diet. Is your dog overweight? Then, you need to watch her calories.
What are the ingredients listed?
Like a product detective, you need to be an expert at deciphering ingredient labels. Red flags include not listing a specific kind of meat (this means it can legally be any kind of meat!) or having too many preservatives.
Another thing to watch out for is canola oil. There is a debate among dog experts over whether it's safe for canine consumption. Best if you just avoid it altogether.
Is your dog picky with his or her food?
Ultimately, buying the right dog food with the proper nutrition and ingredients would be a waste if your dog doesn't like it! Admittedly, sorting this out involves a little bit of trial and error. You might have to try a handful of different recipes or brands.
Blue Buffalo Brand
Blue Buffalo's food formulations tend to be more meat-forward, mimicking dogs' natural diet in nature. While some of their lines are spectacular (Blue Wilderness being their best one), some aren't so great—but we do find that very picky dogs tend to like Blue Buffalo. If you're having a hard time choosing a brand your dog likes, try giving Blue Buffalo a shot.
Natural Balance Brand
Natural Balance has a more holistic approach to dog food. Their extensive product range addresses a wider variety of dog conditions than Blue Buffalo. Quality-wise, you can say they're more neutral. They don't have highly reviewed products, but they don't have bad ones, either. For regular dogs whose dietary requirements are not so demanding, Natural Balance is an excellent brand to choose.
Main Differences Between Natural Balance vs Blue Buffalo Dog Food
The main differences between Natural Balance vs Blue Buffalo Dog Food are:
The protein content in Natural Balance is high, whereas the protein content in Blue Buffalo is relatively lower compared to Natural Balance.
The fat content in Natural Balance is low, whereas the fat content in Blue Buffalo is relatively high compared to Natural Balance.
Natural Balance is formulated with a more holistic approach, whereas Blue Buffalo is formulated with more Meat-Forward approach.
Blue Buffalo Blue Basics
Blue Buffalo's product lines emphasize the natural diet of dogs out in the wild. They include a lot of meat not commonly found in dog food, such as salmon, turkey, and lamb. Because of these ingredients, Blue Buffalo food tends to have higher fat and protein content than other brands.
Their limited ingredient line, Blue Basics, is made specifically for dogs with food sensitivities. The Basics line is nutritionally balanced and easily digestible with high fiber content.
Features of the Blue Basic line include the following:
Single Animal Protein Source – Each variant of the Blue Basics line is usually made from one type of meat. This limitation means you can control what your dog is eating.
No Allergens – Blue Basics foods don't contain allergenic foods such as chicken, beef, wheat, dairy, and eggs. This alone might be enough to avoid food sensitivity issues in some dogs.
Aids Digestion – Blue Basics foods contain pumpkin, which aids in digestion. This uncommon addition is great for food-sensitive dogs that might have complications such as loose bowel.
Natural Balance Limited Ingredient Diets
True to its namesake, Natural Balance dog food tends to have a balance of ingredients and nutrition. Their formulation isn't as meat-forward as that of Blue Buffalo and overall features less protein and fat. Their Limited Ingredient Diets (L.I.D.) line is a simplified dog food formula designed to help dogs with sensitive stomachs.
Features of the Limited Ingredient Diets include the following:
Single Animal Protein Source – Natural Balance also makes use of one meat type in their formulations. The meat they use is usually bison, duck, or salmon. Bison, in particular, is a good option for dogs as it's easily digestible.
Fish Oil – Fish oil contains omega fatty acids, which can lead to healthy skin and shiny coats for your dog. Fats are also among the first to be digested by your dog compared to carbs and protein.
Promotes Healthy Digestion – The L.I.D. formulation can help dogs experiencing upset stomachs or watery stool.
Head-to-Head Comparison
Let's look at Natural Balance vs. Blue Buffalo head to head. To simplify our comparison, we'll compare the key features of two comparable products from their limited ingredient lines. The features we'll use include the following.
Nutritional Content
This is one of the most important criteria when choosing a type of dog food. Like humans, dogs vary in their dietary needs. A chihuahua doesn't need the same combination of nutrients as a Saint Bernard. You can help maximize your dog's growth and health by doing your homework and ensuring the food you choose has the correct ratio of carbs, fat, and protein for the breed and stage in life.
Key Ingredients
Not all the ingredients we eat are beneficial for dogs. It's essential to take the time to read the ingredients listed. Look for specific kinds of meat beyond just "meat," for example. Knowing the exact ingredients will help minimize food allergies in your dog.
Cost
Because it's a daily expense, make sure you're getting dog food that fits your budget. Don't merely go for the premium kind when a cheaper option might be sufficient. By shopping consciously, you free up your budget for other areas of your dog's care.
Feature Comparison
Blue Buffalo Blue Basics

Grain-Free Duck and Potato (Dry)

Natural Balance L.I.D.

Grain-Free Potato and Duck (Dry)

Key Ingredients
Protein: Duck

Carbs: Potato, Peas

Other: Pumpkin, Pea Fiber

Protein: Duck

Carbs: Potato

Other: Salmon Oil

Nutritional Content
Protein: 20%

Fat: 13%

Fiber: 6%

Omega-3 Fatty Acids: 0.75%

Omega-6 Fatty Acids: 2.0%

Protein: 21%

Fat: 10%

Fiber: 4.5%

Omega-3 Fatty Acids: 0.5%

Omega-6 Fatty Acids: 1.7%

Average Price/lb.

(based on Amazon prices)

$2.72/lb.

$2.29/lb.
Final Thoughts
The most important part of picking dog food is fitting it to your dog's needs. Both Blue Buffalo and Natural Balance did an excellent job here. Each offers limited-ingredient products that address common issues among food-sensitive dogs. They also feature single-protein sources and quality ingredients. Most importantly, everything is fully disclosed, so dog owners know exactly what they're feeding their pets.
Even so, we think Blue Buffalo fared better here, despite the higher price. The Blue Basics Duck and Potato recipe offers a more nutritionally packed dog food that appeals to picky eaters. On the other hand, Natural Balance Limited Ingredient Diets Duck and Potato recipe wins in terms of having a more balanced meal at a lower price point.