Dog owners and professional trainers use a myriad of training methods to get dogs to behave appropriately. Some ways are useful—some not so much.
Shock collars are used extensively in dog training, but not everyone is a fan. These dog collars produce a small amount of electricity that shocks your dog into paying attention to your commands. Not surprisingly, not many owners or trainers advocate for their use.
The reason is that some dogs are too sensitive for the electric shock, and in this case, a vibrating dog collar may be a better alternative.
So, how do you know which vibrating dog collar to choose? We've spent time and money pouring over countless vibrating dog collar reviews to roundup the best choices on the market so that you don't have to.
OUR TOP PICK
If we had to pick just one vibrating dog collar to declare the "best," though, we would go for the
Educator E-Collar Remote Dog Training Collar.
It uses low-level electronic stimulation for humane conditioning using a set of stimulation levels that you can tailor to individual temperament. It is quite effective for training stubborn dogs and it allows individual designation when using the two-dog system option.
Our Best Vibrating Dog Collars Reviews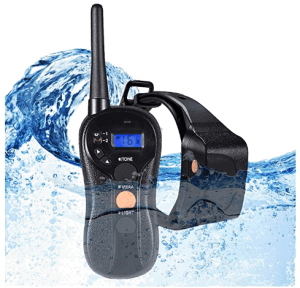 WOLFWILL's 100% waterproof dog training collar is designed to reinforce good behavior in dogs of any size. It has three training modes and has a range of up to 1,980 feet (.37 miles).
Specs
Three training modes – tone, sixteen levels of vibration, and light control
100% waterproof
Multifunctional remote control with backlit LCD
Designed for visually impaired users
Weight: 11.2 oz.
What We Like
We love the consideration given to visually impaired pet parents. This collar has three easily identified button locations that allow you to make any training demand without looking at the remote freely.
What We Don't Like
It's challenging to get a snug fit on the belt buckle strap when fitting smaller dogs.
Pros
Suitable for a wide range of dogs weighing 15-150 lbs.
Adjustable nylon straps for a comfortable fit
Waterproof and durable
Lasts 14 days per charge
Cons
Has to be removed for adjustment
This waterproof vibrating collar quickly helps you remedy unwanted behaviors. It is incredibly durable and waterproof.
Overall Rating - 5/5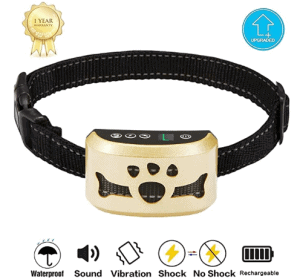 The TOTIE vibrating dog collar is an overall stellar choice if your goal is to stop unwanted barking. It has a smart microprocessor built-in to pick out your dog's unique bark and features an auto-protection feature to protect your dog from abuse.
Specs
Microprocessor-controlled bark detection
Anti-false trigger technology
Three training modes – beep, vibration, gentle shock
Rechargeable and waterproof
Weight: 4.8 oz.
What We Like
We love the auto-protection feature, which shuts off the collar when it has been used too many times within a given timeframe.
What We Don't Like
You can't turn off the beep setting, which may confuse your dog during training. This collar also does have a shock setting. It's important to read the instructions to be sure you're using the no-shock option.
Pros
Suitable for a wide range of dogs weighing 15-150 lbs.
Adjustable nylon straps for a comfortable fit
Waterproof and durable
Lasts 14 days per charge
Cons
Vibration includes beeping that can't be turned off
Collar has a shock option
If you're looking to stop unwanted barking, the TOTIE Dog Bark Collar is the perfect solution.
Overall Rating - 4.6/5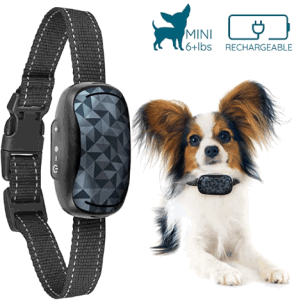 Little dogs can surprisingly have quite a bark on them. This GoodBoy Mini Bark Collar is tiny and comfortable enough for small pups to wear, without the spiky prongs features in shock collars.
Specs
New microchip software upgrade for bark detection
Adjustable collar that fits 5 – 19 inches neck size
No shock training technology
Weight: 1.44 oz.
What We Like
This collar has an attractive and eye-catching durable design. The sensor and vibration module are made from a solid piece of durable plastic, and the collar has an adjustable strap made from premium-grade nylon. It is also light-weight, so little dogs can wear it without neck strain.
What We Don't Like
To change the strength of stimulation, you'll have to take the collar off your dog first and then press the stimulation modes.
Pros
Suitable for a wide range of dogs weighing 15-150 lbs.
Adjustable nylon straps for a comfortable fit
Waterproof and durable
Lasts 14 days per charge
Cons
Has to be removed for adjustment
This e-collar is light and gentle enough for small dog breeds who have an especially sensitive neck area.
Overall Rating - 4.8/5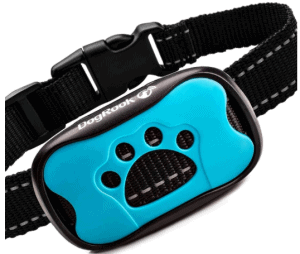 This affordable vibrating dog collar has received rave reviews on Amazon and other e-commerce platforms because it is well-designed, accessible, and easy to use.
Specs
Seven safe vibration and sound levels
An adjustable, anti-bark collar
Simple, two-button controls
Weight: 2.1 oz.
What We Like
We love the price! This vibrating dog collar isn't just affordable, either. It's also accessible and easy to use. The two-button controls and seven sensitivity levels are all you need to get your dog behaving at home and in social settings. It conveniently comes with a one-year manufacturer's warranty, too.
What We Don't Like
The batteries drain pretty quickly, and the vibration isn't very strong. We wish there were an off button on the collar to help extend battery life.
Pros
Easy to use
Suitable for small, medium, and large dogs
Affordably-priced
Comes with a full one-year warranty
Cons
The vibration mode on the collar is slightly weak
Poor battery life
Don't let the price fool you. This vibrating collar is perfect for amateur pet parents in need of a budget-conscious training collar. It may be a nice low-cost option if you're not sure a vibration collar will work for your dog.
Overall Rating - 4/5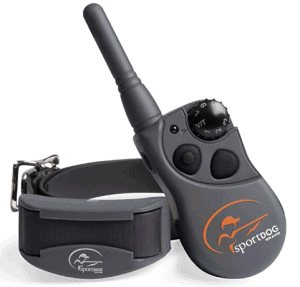 The SportDog rechargeable training collar is the lightest e-collar built for people who love the great outdoors. It is specially developed for hunting or in-the-field training with working dogs.
Specs
Three training modes – buzz, beep, or stimulation modes
Waterproof up to 25 feet
Rechargeable batteries with a quick-charge ability
Weight: 1.76 oz.
What We Like
This collar can train three dogs simultaneously over a maximum 500-yard range, and last for a decent two weeks on one charge.
What We Don't Like
We found the vibrate mode to be slightly weak, and again, this model does have a shock option.
Pros
Easy to use
Suitable for small, medium, and large dogs
Affordably-priced
Comes with a full one-year warranty
Cons
Weak vibration
Has a shock mode
If you have working dogs, or regularly sport or hunt with multiple dogs outdoors, this collar is your best bet.
Overall Rating - 4.9/5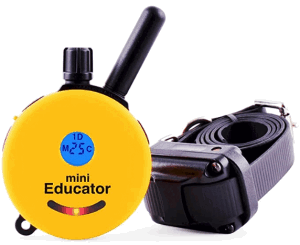 The Educator E-Collar has an innovative ergonomic design that delivers a tapping sensation similar to a vibration. This no-shock tapping, is more intense than a vibration, making it a good option for stubborn dogs.
Specs
5 mile-range
Mini-ergonomic stopwatch transmitter
100 stimulation modes
Rechargeable batteries
Tracking light included
Weight: 7.7 oz.
What We Like
We love how much control you have over the intensity of the correction with this collar. It has 1 to 100 user-selected stimulation levels with additional boost stimuli selectable from levels 1 to 60. The transmitter and receiver are durable and waterproof, and the rechargeable batteries hold up quite well after a single charge.
What We Don't Like
There have been some complaints regarding vibrating module failure. It's worth buying a protection plan in case it malfunctions.
Pros
Innovative and ergonomic design
Delivers an additional tapping sound similar to vibration, making it very effective
Waterproof transmitter and receiver
Shock resistant
If your dog pays no mind the typical vibration collars, but you don't want to use a shock collar, then this is the vibrating training collar to buy.
Overall Rating - 4.9/5
Buyer's Guide – Choosing a Vibrating Collar for Your Dog
Now that we've had a look at some of the top vibrating collars on the market, let's explore some things you'll need to know to cut your shortlist to one. There are several factors to look out for as you consider vibrating dog collar reviews to choose the best collar for your dog.
What Is a Vibrating Collar? How Does It Work?
Vibrating collars feature a vibrating module that can be triggered either by remote or when your dog barks. They function as a way of gently redirecting your dog to stop negative behaviors. Many vibrating collars also have a static shock or audible tone option, but many only feature the vibration mode.
Signaling Modes
Vibrating dog collars feature various modes to warn your dog that they need to stop what they're doing. Manufacturers of these collars incorporate audio, light, and sound with the vibrating action into the vibrating module.
Rather than shocking the dog with an impromptu vibration, these warning signals gently transition your dog into the primary vibration. This action is humane and keeps your dog from becoming anxious.
Stimulation Modes
Modern vibrating dog collars feature varying levels of stimulation depending on the effect you want the collar to have on the dog. Some even feature up to 100 intensity levels that you can progressively adjust depending on how stubborn the dog is during training.
The three training modes most commonly incorporated are audio, vibration, and, as a last resort, shock.
Range
The latest remote vibration collars feature a range of 1,000 to 3,000 feet, which means your dog is not limited as you move about and train him outdoors. This remote feature is convenient because you don't have to tether your dog to a leash. Many collars also have GPS trackers, in case your dog inadvertently wanders off.
Waterproofing and Durability
Choose a vibrating collar that has a sturdy nylon collar, rainproofing, and a protected vibrating module. You'll need a collar that can be used outdoors, whatever the weather, and one that can survive the rough and tumble life of a dog.
Cost vs. Quality
A training collar is an investment. It will help your dog to behave better in social settings and reduce the stress of lousy doggy behavior at home. While we do not advocate that you go for the cheapest collar out there, it is also wise to only spend money on the features you need.
Balance quality and cost and take into consideration your daily lifestyle. If you go out regularly with your dogs, then a rainproof, waterproof vibrating dog collar will do. However, if you mostly stay home and only take your dog out for short daily walks, a more basic collar will suit you best.
Final Thoughts
Vibrating dog collars offer an acceptable alternative to train your dog without resorting to extreme measures.
All the collar options we hand-picked in these vibrating dog collar reviews will serve you well whether you're combating excessive barking or working on other problem behaviors. Our top choice though is the Educator E-Collar Remote Dog Training Collar. It works well hard to train dogs by giving them low-level simulations to effectively condition without hurting them.
Have you had any experience with vibrating collars? Do you agree with our top picks? We'd love to hear your thoughts in the comments below.