Pest and parasitic infestations are a normal nuisance of owning a dog. Nonetheless, they are a problem that shouldn't be ignored as they can have adverse effects on both your pet and home.
Fleas and ticks aren't just painful and annoying. These parasites can also transmit diseases such as Lyme disease and Rocky Mountain Spotted Fever to people.
Many pet parents swear by this medicated dog collar. Because of these positive comments, we decided to look into the product further and have researched Seresto dog collar reviews online. We also based our opinions on our experiences to examine the effectiveness of this flea-repelling product.
Our review looks at the effectiveness, how accessible and easy to use it is, and whether your dog can suffer any side effects from using this medicated collar.
Our Seresto Dog Collar Review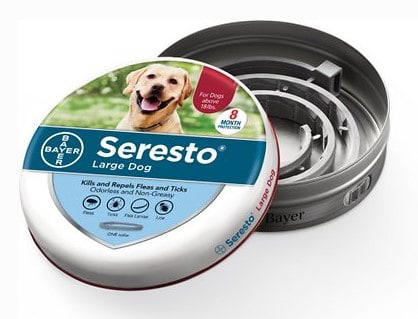 One of the most well-known methods to help clear a parasitic infestation is to use a repellant collar, such as the Seresto dog collar manufactured by Bayer DVM US. This collar comes with a potent waterproof formula that will help to get rid of fleas and ticks, restoring your dog to good health.

[maxbutton id="3" url="https://prf.hn/click/camref:1101lkd76/pubref:PFW-SerestoDogCollar/destination:https%3A%2F%2Fwww.chewy.com%2Fseresto-8-month-flea-tick-prevention%2Fdp%2F46498" ]
Pros
Sustained release technology. This treatment collar releases its active ingredients over eight months, resulting in an effective long-term treatment solution. You will not worry about whether your dog's flea collar is working after a month or two.
Water-resistant. It remains effective after shampooing, grooming, or swimming, and is not adversely affected by exposure to rain or sunlight. Dogs that bathe or swim more than once per month, however, will only receive protection for about five months.
Kills on contact. This flea collar kills fleas and ticks on contact and does not give these insects a chance to bite. This advantage results in less of a risk of disease transmission.
Non-messy and non-greasy application. This aspect keeps your dog's fur dry and clean.
Safety release mechanism. A unique safety mechanism will release your dog should it get stuck. You won't have to worry about accidental strangulation if your dog gets lost or stuck in a cluttered area. Keep in mind that this feature also means you shouldn't attach a leash to the Seresto collar, as the pressure will activate the safety mechanism.
Kills an array of pests. This collar also kills lice and reduces intestinal tapeworms, adding further protection to your dog.
Cons
Not as useful for dogs with thick fur. As this flea collar releases active ingredients to your dog's skin and coat, it may not distribute evenly over dogs with thicker coats. Thus the effectiveness may be reduced in these dogs.
Washing will reduce its lifespan. If your dog bathes or swims more than once a month, this collar will not be effective over the full eight months treatment duration. The control duration is reduced to seven months for tick control, and five months for flea control.
Only effective for as long as your dog wears it. If your dog happens to snap off the collar or uses the breakaway safety mechanism to free themselves, you'll need to buy a new collar to begin treatment again.
High upfront cost. For pet parents on a budget, the cost of the Seresto dog collar may not be accessible. However, over time, this flea collar makes financial sense as it works out at just over $6 per month. It's not the cheapest flea and tick prevention treatment, but it's not the most expensive either.
Things to Consider Before Using a Seresto Flea Collar
Your pet is precious and deserves to lead a healthy life. Unfortunately, parasites and pets are inseparable due to the active outdoor nature of our dogs. Before you decide whether the Seresto flea collar is for you, there are a couple of crucial considerations to mull over. These considerations will help you to decide if this particular flea collar is for you.
Slow Release Flea and Tick Treatment
Older style flea collars worked by emitting the insecticide toxin as a gas. They only killed fleas close to the flea collar. Newer collars like the Seresto flea collar contain flea and tick repellent chemicals that are slow-released from the flea collar. The toxins are then spread over the pet's skin and fur via the natural oils of the hair, coat, and skin.
If you're looking for a slow-release treatment that is effective over a long period, then the Seresto flea collar if an excellent solution.
Non-Toxic Flea and Tick Treatment
There's a range of different flea collars on the market, but not all of them are non-toxic for dogs. The older collars contain organophosphates, which can cause adverse reactions in dogs, cats, and people, too.
Permethrin collars are also popular and low cost but can be harmful to cats. Newer, advanced collars like the Seresto flea collar do not contain these toxins but are just as effective.
Are Flea Collars Safe for the Home?
Most flea collars contain the toxin directly on the dog flea collar. Theoretically, the poison can rub off on anything it comes into contact with, including small children, furniture, other animals, and your general home environment.
Always wash your hands after touching a dog wearing a flea collar, even if the chances of being poisoned are shallow.
About the Seresto Dog Collar
The Seresto dog flea collar is effective prevention and treatment against fleas and ticks on puppies, small, and large dogs seven weeks and older. The parasites targeted by this treatment include American dog, Deer, brown dog, and Lone Star ticks—all vectors of severe, life-threatening diseases to people.
On applying the collar, it kills existing fleas within 48 hours and any re-infesting fleas within 2 hours. As for ticks, they are killed within 48 hours, and any re-infesting ticks repelled or killed within 6 hours.
These treatments last for approximately eight months. The continuous protection is just as adequate at the end of that range as it was on day one.
The Seresto collar also helps to control flea larvae in the dog's surroundings. Ticks already on the dog may not be killed immediately. They may remain visible, so should you notice this occurrence, do not feel that the product isn't working. At the time of application, you may remove ticks already on the dog.
You'll also notice that the fleas and ticks will rise to the top of your pet's fur as they come into contact with the treatment collar and die. Do not be alarmed if you begin to see more fleas at first, as you treat your dog.
If the fleas continue to appear after application, it may be that your dog inadvertently picked up new fleas from its surroundings. It may take up to 30 days to break the entire flea life cycle. Also, it treats sources of new fleas to ensure a comprehensive flea control plan.
Seresto dog collars have also been shown to reduce intestinal tapeworm infections in pets. These collars also aid in the control and treatment of Sarcoptic mange by killing the lice that cause the condition. The treatment collar will kill lice in one month.
Active Ingredients – Flumethrin and Imidacloprid
| | |
| --- | --- |
| Active Ingredients | % by Weight |
| Flumethrin | 4.5% |
| Imidacloprid | 10.0% |
| Other non-reactive ingredients | 85.5% |
| Total | 100% |
How to Apply the Seresto Flea Dog Collar
Remove the collar from its protective packaging.
Unroll the collar and remove the small plastic connectors in the collar. Discard them.
Insert the end of the collar through the buckle onto your dog's neck.
Adjust the collar to fit your dog's neck, making sure it is not too tight.
Just as with a standard dog collar, insert two fingers between the collar and your dog's neck to feel for the perfect fit.
Pull the excess collar through the loop, and then snip off any excess length extending more than 1 inch past the loop.
After you have applied the collar, fix the three reflector clips permanently to the collar. The reflector clips should be distributed evenly on the non-overlapping part of the treatment collar. A clicking sound should be heard when these clips are correctly applied.
Once the reflectors are attached, the clasp closes permanently and will not re-open. This safety feature happens to keep the dog safe, and the collar secured on the dog.
Do not remove the treatment collar until eight months are up.
Check and periodically adjust the fit of the collar if necessary, especially for growing puppies.
The Seresto Advantage
Traditionally topical flea and tick treatments were applied every few months, even monthly. These treatments were challenging to apply and often created a right mess. They also had numerous adverse side effects.
The Seresto collar has the advantage over topical flea and tick treatments because it is odorless, non-greasy, easy to use, and low maintenance. These collars can be worn on your dog's neck with other collars and ID tags.
Fleas and ticks bite your pet and spread disease all year long, not just in the summer. The Seresto flea dog collar makes it easy to provide all-year protection for eight months at a time.
Precautions and Contraindications
As with any drug, some precautions and contraindications should be taken into consideration before its use. With the Seresto dog collar, the following vital precautions apply:
Do not remove the treatment collar from its packaging until you are ready to use it
Read the entire label before use
Keep away from children, and do not allow the collar to be used as a toy
Do not attach a leash directly onto this treatment collar; it will break
This collar is designed to be used on the skin and fur of dogs. Keep it away from the nose, eyes, or mouth of the dog.
If any signs of sensitivity occur, remove the collar immediately, and bathe your dog with a mild, soap-free shampoo. Rinse your dog with large amounts of water.
From most of the Seresto dog collar reviews we've seen online, dermatitis, eczema, inflammation, or lesions can occur in sporadic cases. If these symptoms persist, rush your dog to the local vet clinic as soon as possible.
Dispose of the pouch, container, and the used collar in the trash.
Features and Benefits of the Seresto Dog Collar
As with all drug treatments, this collar has several essential features and benefits that can help you decide if this treatment option is right for your dog.
Suitable for All Sizes and Stages (Excluding Young Pups)
The Seresto collar is safe for both small and large breed dogs over seven weeks of age and is even safe for use during pregnancy and lactation. It comes in two sizes. The small collar fits dogs weighing up to 18 pounds, and the large collar is for dogs over 18 pounds. Each option is easy to adjust and trim down to fit your dog securely.
Treats and Prevents a Variety of Pests
Thanks to the two main active ingredients – Imidacloprid and Flumethrin—these collars kill existing and new fleas, ticks, and lice on contact. They begin to repel and kill fleas within 24 hours of the initial application and any re-infesting fleas within two hours. They repel and kill ticks within 48 hours of the initial application and any re-infesting ticks within six hours.
Pests won't even have time to bite your dog. The treatment will coat your dog's skin and fur and remain effective for up to eight months. This time may be reduced by frequent bathing. The coating is odorless, non-greasy, and won't irritate your dog or you with unpleasant or strong smells.
Vet-Recommended
Vets recommend Seresto because it not only effectively treats a range of pests, but it requires no upkeep. One of the main culprits behind flea and tick treatment failure is upkeep on the owner's part. For example, if you use drops and have to apply them each month, you risk forgetting and starting your pest woes all over again. Since Seresto collars are an eight-month attach-and-forget-it solution, compliance is a non-issue.
Well-Designed Collars
Seresto collars have a quick-release mechanism and visibility reflectors to provide extra safety for your dog. They feature a potent, waterproof formula that continues to work even after bathing, swimming, rain, and sun exposure, and can be used with your dog's everyday collar. They don't even require washing to keep clean. They won't get dirty or begin to smell. Regular washing will actually reduce their lifespan.
General User Impressions
Opinions on the Seresto flea dog collar are mostly positive. Seresto dog collar reviews online show that users love the effectiveness over the long eight-month period. They also rave about the treatment being low-maintenance and economical.
However, this treatment does not suit all dogs. Some dog owners reported that their dogs had developed rashes and allergic reactions to the active ingredients.
Most dogs, though, seemed to hold up pretty well with this collar.
Here are some recent comments from verified users on Chewy.com.
"I've bought these collars for my Great Danes since they came out, and I swear by them! The topicals were getting super expensive, not to mention I hated reading the bad side effects. This collar you put it on once, and it's good for the full eight months!" - Horwitz711 on Chewy. Sep 21, 2019.
"I got this thinking that an eight-month flea collar would be a huge help. The only problem is it hasn't killed any fleas. My dog and cat seem to have more fleas now than ever. After further research, I find that it does not kill eggs and larvae, only "repels" them." – LOSAJ on Chewy. October 4, 2019.
"One of my Shitzus has a sensitive stomach, but these collars do not have any ill effects. I did not realize that my dogs were being bitten so much, but these collars stopped their scratching. They work great! So glad my vet recommended them." - KulaniNaniPistolPeteGator on Chewy. June 23, 2018.
Seresto Flea Dog Collar: Our Opinion
Should your budget allow, we highly recommend the Seresto dog collar, as do many users in numerous online Seresto collar dog reviews.
While the initial cost is a bit steep, the estimated eight-month treatment duration is superb, and this flea and tick control solution works to less than $10 per month.
Remember to follow manufacturer instructions keenly, especially when putting the collar on your dog's neck. Only remove the flea collar from its container when you are ready to place it onto your dog and discard the container and pouch into the trash.
The Seresto dog collar will keep your dog amply protected against fleas, ticks, and lice. It also has been shown to reduce tapeworm infestation in dogs effectively.
So would we buy it for our pets? We certainly would! Unless the dog shows apparent sensitivities on the flea coapplication such as dermatitis, eczema, or inflammation, then this treatment collar is a practical, all-year-round treatment solution for your dog.
For dogs who can't tolerate the active ingredients—imidacloprid and flumethrin–this collar may not be the ideal solution. However, for dogs that can handle the active ingredients in this medicated collar, the main benefit is seen in eight months of full protection against tick and flea infestation.
So are these dog flea collars worth it? Our final verdict is that they are. This collar is an acceptable treatment option against tick and fleas for pet parents who don't like topical treatments or need a no-maintenance solution.
And here are great options for regular collars available on the market today.
The Seresto Dog Collar – FAQs
How Does the Seresto Dog Flea Collar Work?
The Seresto flea collar works by releasing two active ingredients, which spread from the collar over your dog's skin and coat. Imidacloprid controls flea infestations, while Flumethrin kills and repels ticks.
These two active ingredients provide dual action defense against pests and are released in low concentrations over time from within the collar.
Your pet's skin and coat spread these insecticides from the head to the toes, and even the tail, killing any fleas or ticks present.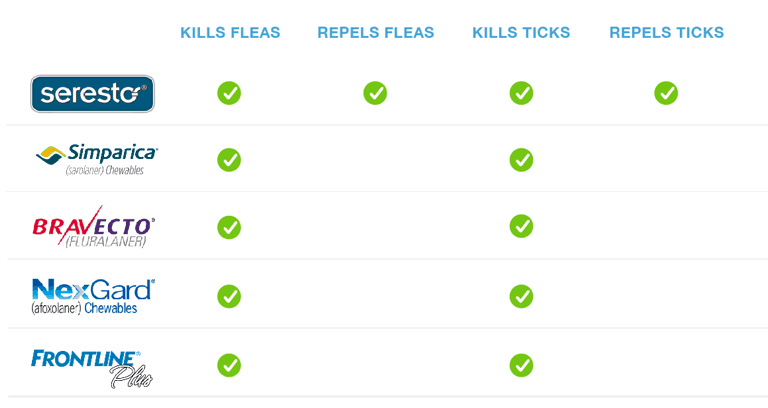 How Long Does the Seresto Collar Take to Work?
Seresto collars kill existing fleas on dogs within 24 hours after application. Any re-infesting fleas are killed within two hours. Infestation prevention with new ticks starts within 48 hours, and any re-infesting ticks are repelled and killed in as few as 6 hours.
How Long Does the Seresto Dog Collar Last?
The Seresto dog collar protection lasts for around eight months. As the active ingredients wear off, a new supply is replenished in low concentrations over eight months. However, frequent water exposure may reduce this timeline to closer to five months.
Are There Any Side Effects?
Occasionally you may notice slight itching in the first few days after fitting.
Ensure that you have placed the collar optimally and not too tight on your dog's neck. There may also be slight hair loss and mild skin reactions due to the mechanical irritation of the collar. Rashes may also appear on any dogs that can't bear the active ingredients.
However, if you notice any severe effects, please book an appointment for your dog to see your local vet immediately.
How Does the Seresto Flea Collar Compare With the Other Topical Treatments Such As Frontline Plus, Simparica, Bravecto, and NexGard?
The Seresto collar repels and kills both fleas and ticks—something no other major brand does. Many other options only kill fleas and won't repel them. Below you'll find a handy comparison table provided by Bayer.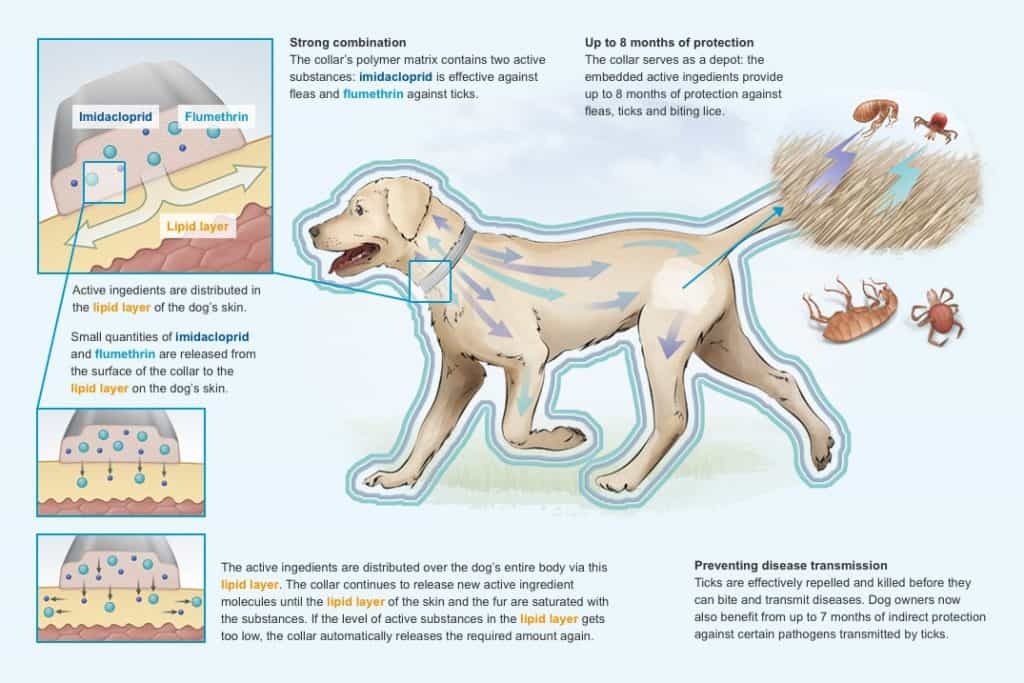 Can I Bathe My Dog or Go Swimming with My Dog Wearing the Seresto Collar?
This collar is water-resistant, so yes, you can bathe your dog and even let your dog swim with the collar on its neck. This medicated collar will also remain effective following a shampoo and grooming session, or after exposure to rain and sunlight.
However, to maintain an eight-month treatment duration, dogs must not be bathed more than once per month. We also recommend that you use a mild, soap-free pet shampoo.
If your dog regularly swims or bathes once a month or more, the treatment duration of this medicated collar is reduced to five months.
Can I Use a Large Seresto Collar on a Smaller Dog?
No. You should not use a sizeable Seresto collar on a smaller dog. The dosage is different, and it could overdose the dog, or at the least, greatly increase the risk of an adverse skin reaction. Seresto Large collars are specially designed for dogs weighing over 18 pounds, and Seresto Small treatment collars for dogs weighing less than 18 pounds.
Final Verdict
The Seresto flea and tick dog collar, as we have seen in this Seresto dog collar review, is an excellent treatment option for existing flea and tick infestations. These collars also prevent further flea and tick infestations with continued use.
Seresto uses a patented sustained-release technology that coats your dog's skin and fur with active ingredients that give your dog the continued protection they need. These dog collars are effective, long-lasting, low-maintenance, easy to apply, and also economical.
They give year-long protection against fleas and ticks even in the colder winter months and are an odorless and non-greasy treatment. Seresto dog collars can also be used in tandem with other dog collars without them interfering with the treatment.
Do you own a Seresto dog collar, or are you considering getting this flea collar for your dog? Do you have any Seresto collar dog reviews to share with us?