No matter how much we love our dogs, a poorly trained dog can still cause serious problems. It's more than just the possibility of a tipped over trash can or stinky surprise in the living room. It could mean injury or even death for the dog.
Training a dog right takes time no matter how you go about it, but having the right tools certainly helps tremendously. Training collars can be one of those tools, depending on the dog, if used correctly. The best dog training collars are safe, effective, durable, and affordable.
To help you find a collar that offers all that and more, we've compiled a review of the best dog shock collars on the market in 2019. Without further ado, let's have a look so that you can buy your collar with confidence.
Our Top Pick
If we had to crown one best overall, it would be the PARTPET Shock collar. It has an outstanding 3,000-foot range, reliable battery life, a durable build, and a confidence-inspiring two-year warranty. It's also affordable. We highly recommend checking out first so long as you don't need to train multiple dogs on the same collar.
Here is the quick list:
The Best Dog Shock Collars Reviewed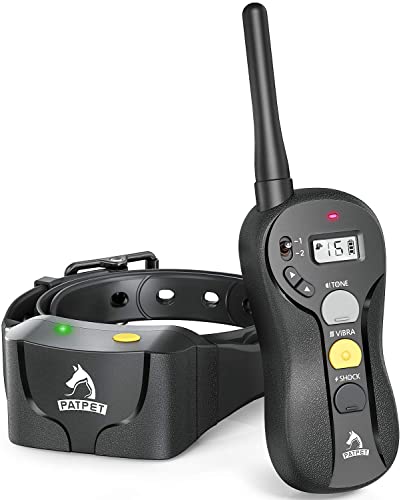 Key Features
LCD display and light mode
Shock levels: 1-6
Range – 3,000 feet
Waterproof receiver and remote
Weight: 12.8 oz.
The PARTPET Shock collar with IPX7 is an effective training tool you can use to keep your dog under control. It is completely waterproof and comes with a 2-year warranty.
What We Like
Some outstanding features of this collar include a wide range of transmitting signals and its waterproof features. Pet parents can let their dogs play in the rain without worrying about the collar getting damaged.
The collar transmits signals up to a distance of 3,000 feet, which makes it the most reliable option for transmitting signals to your dog over a long distance.
What We Don't Like
This system only supports one dog at a time, so if you have multiple pups in training, you'll have to buy more than one. Like most training collars, it also can't be used all day—short training sessions only.
Pros
Completely waterproof and safe to use in wet conditions
Lithium batteries keep a charge for a long time
Transmits signals up to 3,000 feet, which allows you to train your dog over a long distance
Cons
Leaving the collar on the dog for more than 12 hours a day can result in injuries
Doesn't support training multiple dogs simultaneously
If you are looking for the best remote dog training collar, look no further—the PATPET shock collar provides unmatched performance.
Overall Rating - 4.9/5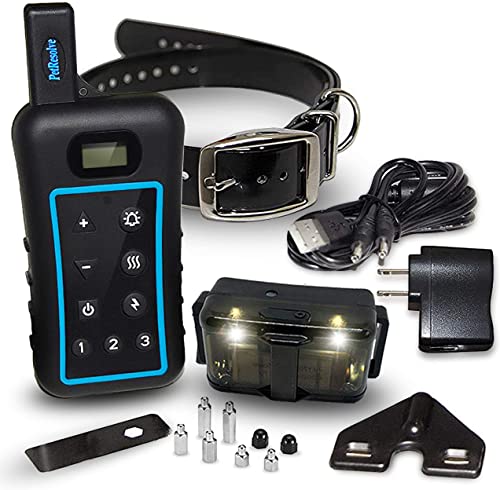 Key Features
Three training modes: shock, vibration, and beep
10 levels of shock
3/4 Mile total range
3 Collar support with memory
Splashproof remote, waterproof collar
LED lights on reciever
Quick-charge and always-awake
The Pet Resolve collar finds the near-perfect balance between quality and price. Having several features at your disposal, it makes for, not just a training collar, but an all-around tool for hunting, sport, and outdoor activities with your beloved canine.
The kit is rugged enough to be a hunting collar but simple enough to use for average training. It has a lot of features compared to other collars of its caliber and is made to fit the medium-small breeds, up to the larger breeds. When switched to anti-bark mode, it will still let your dog bark, just not as excessively.
What We Like
Pet Resolve provides different lengths prongs that make it very easy to fit on dogs on all hair lengths. The ability to train up to three dogs at the same time is a huge convenience factor.
What We Don't Like
The range isn't as long as claimed, we only managed to get about 2000 ft, but this depends on the environment and nearby interference.
Another potential issue is its always-awake feature; it shortens the battery life quite a bit compared to some of the other products, but enough for normal use in our testing.
Pros
Long-range and great utility, even outside training
One remote can control up to 3 collars and remembers the settings
Automatic anti-Bark mode
Compatible with a wide range of dogs with different hair lengths
Always-Awake means the collar activates regardless of how long it's idle
Cons
Not recommended for dogs smaller than 15 lbs.
Always-Awake means battery life is a bit shorter in regular use
Overall Rating - 4.8/5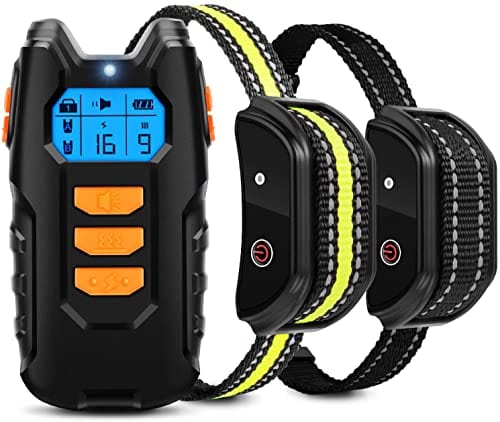 Key Features
Three safe training modes - standard, customized and leveled shock
Covers 2,500-3,000 feet
Remote control with independent switch function buttons
Three auto-memory settings
Separate vibration and shock intensities
Waterproof receiver
This dog training collar uses sophisticated technology to ensure that you can monitor your dog from a long distance without worry.
What We Like
The Flittor shock collar is water-resistant, which means it's safe for those rainy days. The collar receiver and remote use lithium-polymer batteries, which can last up to 15 days, and Flittor offers a free replacement or 100% money guarantee in case of a malfunction. The collar also uses a bright LCD, which records the intensity of vibrations and shock intensity on your dog.
What We Don't Like
While Flittor states this collar can be used to train three dogs with one remote, it doesn't appear you can buy the collar stand-alone. This means you would have to buy the entire package—collar and remote—to get a second collar, whether both would work on one remote or not.
Pros
This collar is waterproof and ideal for training the dog in the water
It has a high-level number of adjustable levels
It responds very fast to commands issues
Cons
Collars not sold separately
If you're looking to train your dog not to bark, this collar is an excellent choice. Its gentler beep/vibration modes can be used to avoid over-shocking.
Overall Rating - 4.8/5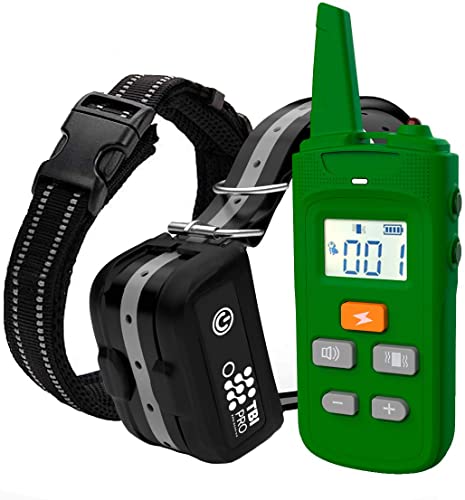 Key Features
Long-lasting lithium-polymer battery
Waterproof collar receiver
LCD controller with three separate control modes
Weight: 1.05 oz.
The TBI Pro Dog Shock Collar allows you to train your dog long distance with a 30% longer reliable transmitter range than most collars on the market.
What We Like
This collar's biggest selling points are its durability—this is a heavy-duty option—and its impressively accurate long transmission range. The collar weighs just 1.05 ounces, which is lightweight for most dogs. It is fitted with lithium-polymer batteries, too, which can keep the charge for up to 20 days.
What We Don't Like
The shocker does not work effectively on dogs with long hair, and shaving a spot is not recommended. Shock collar prongs are not designed to use on bare skin.
Pros
Waterproof with great durability
Long-lasting batteries
Free replacement in the case of malfunction
Cons
A little on the expensive side for its set of features compared to other choices
If you are looking for a durable, long-distance remote dog training collar, choose the TBI. It not only supports controlling your dog from a longer distance than the competition but is also lightweight and waterproof.
Overall Rating - 4.6/5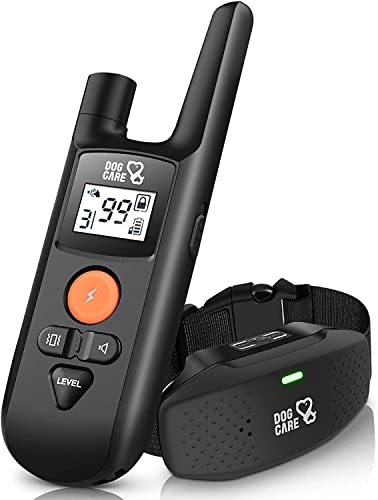 Key Features
Adjustable 0-99 static levels for all size dogs
Safety features to prevent accidental shocks
Three safe training modes (shock, beep, and vibration)
Long battery life
This DOGCARE training collar uses advanced remote-control technology (shock, beep, and vibration modes) to ensure that you can communicate effectively with your dog.
What We Like
This collar eliminates the risk of accidental shocks by implementing safety features that ensure a shock is only delivered when intended. The kit also comes with a single remote that can train up to nine dogs simultaneously, and additional collars can be purchased separately.
What We Don't Like
Users report that some collars come with faulty batteries, which fail to hold a charge properly, but the company appears to be responsive to replacement requests.
Pros
Adjustable static levels
Train up to nine dogs on one remote
Inactivity auto-shutoff after 20 minutes to preserve battery life
Advanced safety features
Cons
Battery may need to be replaced
If you are looking for the best remote dog training collar in regard to safety, the DOGCARE Training Collar has you covered. It not only makes it easy to train multiple dogs simultaneously but also protects your dog from getting harmed by accidental shocks.
Overall Rating - 4.3/5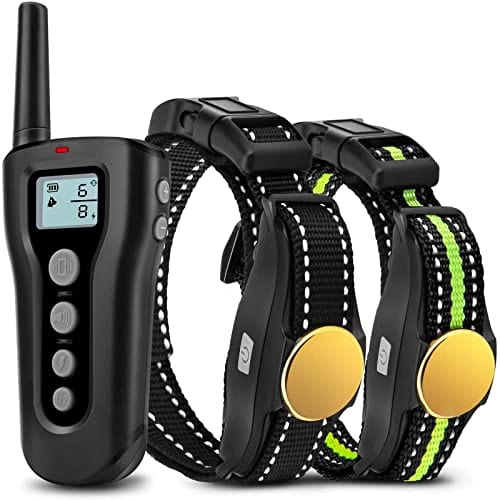 Key Features
Three correction levels—beep, vibrate, and shock
Charges via USB
Two receiver collars
1,000-foot range
One-year warranty
This Bousnic remote electric shock collar shows that technology can make training easier. It is a sophisticated gadget tailored to calm your dog and promote better response times. It is also waterproof.
What We Like
The dog training collar has sixteen shock levels and eight vibration levels to offer fantastic adjustability. This package deal also includes two receiver collars, so if you have multiple dogs, it offers a cost-saving solution. It has a nice battery life and a bright LCD remote screen.
What We Don't Like
The kit may come with two collars, but it only includes one charger, meaning you can't charge both collars at once. Some users also complain that the shock signal is spotty and easily interrupted by metal interference.
Pros
Package deal with two receivers
Waterproof
Long-lasting, rechargeable batteries
Adjustable shock and vibration settings
Cons
Only one charging cable
Signal prone to interruption
The Bousnic e-shock collar is a very responsive, advanced dog training collar for seasoned dog owners. Its bright LCD remote is easy to read and fully adjustable.
Overall Rating - 4.4/5

Buyer's Guide – What You Need to Know to Buy the Best Dog Training Collar
What Is a Dog Training Collar? How Does It Work?
A training collar is any collar designed to discourage bad behavior in dogs.
Shock collars usually run on a remote that you must manually use during training. For example, if a command is given and the dog ignores the command, a warning beep, vibration, and then shock can be delivered until the dog obeys.
There are, however, collars for barking that will deliver either a shock or scent spray automatically without manual remote use. It is important to note that the two collars are not the same. A remote training collar will not automatically correct bad behavior.
How Should You Use a Dog Training Collar?
If you are struggling with disciplining your dog, dog training collars can help you to instill the appropriate behavior in your dog gently. Before opting for a training collar, you'll need to determine the best method to train your dog according to his personality and what works for you.
Often training problems lay with technique. Some dogs may just be reacting to their owners' attitudes, wrong rewards, or training inconsistencies. Of course, in other cases, you're just dealing with a stubborn pooch.
If you've tried it all, and nothing seems to work, it may be time to use a dog collar for training your pup.
Where to Place a Training Dog Collar
When placing the training collar on your dog, you'll want to adhere to manufacturer instructions to avoid harming your dog. Be sure to place the collar high on the dog's neck and near the base of his skull.
If you place the training collar too low, your dog may wiggle out of it just enough to lose contact with it. It will render the deterrents ineffective.
Do not also place the collar on too tight. You'll need to adjust the tightness so that you can fit a finger or two at most between the dog and its training collar. Never shave a spot to place a shock collar. They are designed to work over the fur.
How a Dog Shock Collar Works
A shock collar includes a remote and a collar with a pronged receiver on it. You can use the remote to deliver several levels of stimulation as a training aid. Stimulation modes determine the intensity of the collar. The more modes, the more control you have over the intensity.
Dog training collars come with three main stimulation modes:
Some dog training collars also come with more advanced modes, featuring walkie-talkies, for instance.
It's recommended that you use the three common modes in order. Issue a command. Deliver a warning beep if ignored. Issue the command again. Hit the vibration mode if ignored. Issue the command again, and then deliver a shock if ignored.
You'll soon notice that your dog will rarely reach the shock stage, and a simple beep will put them back in line.
Factors to Consider When Buying a Dog Shock Collar
Remote Range
One determining factor when choosing a dog training collar is what your goals are. If you want to work on recall, for example, you should go for a training collar that covers a wide range. Whereas, if you're looking to deter bad behaviors in your home, the range is less important.
The range refers to the distance between the dog and where you issue the commands. Most modern collars cover a range of up to 1,000 feet, ideal for most dogs to respond to.
Technology
Although most dog training collars use sophisticated technology, there are still notable differences between them. You'll notice marked differences in the time taken to charge the batteries, safety protections on the collars, stimulation levels, and the capabilities of the LCD screens.
Look for a collar that charges quickly with a long battery life and safety features to prevent accidental shocks.
Weather-Resistant and Waterproof Features
Dogs are active creatures, and more often than not, they'll get themselves into water. They could also run into the rain or suddenly splash into a mud puddle or shallow pond. Taking some necessary precautions like ensuring a collar is water-resistant or weatherproof will prevent your dog from ruining the collar you got them.
Comfort
Another essential factor when choosing your dog training collar is the dog's comfort. The best dog shock collars usually feature nylon or leather, or other durable but comfortable materials that are easy to wear.
The shock prongs should also be an appropriate length for your dog's coat and have a silicone cap to prevent the metal from stabbing into the skin. Many collars will come with multiple prong lengths so you can adjust things to be effective yet harmless.
Cost
Different collars are priced differently. Some of the factors that determine the price of the collar include the features and the brand name.
In most cases, training collars that are priced highly contain sophisticated features. However, the brand name can also influence the price of the collar. Before settling on a particular collar, we advise that you compare the features of the collar against the pricing to get the best value.
Materials
While most shock collars have a similar build, be on the lookout for poor craftsmanship or a prevalence of user reviews that suggest the product may have a short lifespan. You also want a collar that's waterproof so that you can take your training outdoors.
Size
Different brands of training collars come in varying sizes. Before you buy a training collar, carefully measure the size of your dog's neck, and read the measurements of the collar. Additionally, keep in mind that some shock levels may not be suitable for certain dog sizes. For example, a very powerful shock may injure a small dog, and a very weak shock may not be effective on a large dog.
We can't stress the importance of carefully reading the instructions for the collar you choose. It's improper to use that gives shock training a bad name.

Final Thoughts
Having covered the top options and how we determined those options—that's a wrap. We understand that every dog is different, and so the best dog training collar for one dog may not be a good fit for another, but we think that the collars we've collected here are all excellent options to add to your shortlist.
Once you settle on a shock collar, come back and see us again. We'd love the hear in the comments which you ended up with and how it worked out for you and your best friend.