Fact: In the US alone, close to 1.2 million dogs are killed each year due to being hit by a car.
One of the biggest reasons? Drivers didn't see the dog crossing at night.
If you love walking your dog at night, this becomes an ever-pressing risk. Even if you secure your dog, one split second is all it takes for him to come loose, run down to the road, and get hit by a passing car.
So, what's the best way to mitigate this risk?
LED collars that light up to indicate your dog's presence to anyone in the vicinity, and to help you pick the best one here's a rundown of the best LED dog collars on the market today
Our Top Pick
Our top pick for LED dog collar goes to the Shine for The Dogs Ultimate LED Dog Collar. It has the winning combination of bright lights, durable construction, and longevity.
Here are some other great options:
The Top LED Dog Collars Reviewed
The Shine for Dogs Ultimate LED Dog Collar is an ultra-bright and durable night collar. It was an easy choice as our top pick.
Key Features
Rechargeable LED collars with USB cable included
Uses fiber optics band for comfort and durability
Fully adjustable design makes achieving a secure fit easily
Weatherproof Construction to withstand against sudden rain
Three light modes: steady flash, rapid flash, and continuous on
What We Like
This is one of our favorite LED collars for nighttime walks. The unit itself feels lightweight, as our dog never had any complaints, nor did he try to resist whenever he wore this collar.
The brightness on this LED collar is spot on, and we can easily see our dog even at a distance. It has excellent battery life, too. After almost three hours of use, the brightness didn't dim at all. This tells us that the battery is doing a stellar job.
What We Didn't Like
A minor hiccup is that some of the LED light colors don't match the color of the band itself. This trigged my OCD a bit.
Pros
Fiber optic material assures the LED light won't break, even when bent
Lightweight, so it won't bother your dog
Brightness and the way it lights up is spot-on
Securing a tight fit is easy
Cons
The LED Light color doesn't match the collar's color
The Shine for Dogs is the best LED dog collar, in our opinion, hands down—exceptional brightness, long-lasting Construction, and secure fit. It checks on all the boxes!
Overall Rating - 4.9 / 5.0
The Illumiseen is all you'll ever need (and more) in an LED dog collar. It has excellent battery life, is nice and bright, and has a durable build.
Key Features
Made of durable nylon material
Fully rechargeable battery via USB port
Three light modes: steady, rapid flash, and slow flash. All of it is easily switchable with just one click
Available in six different light colors
Five-hour battery life
What We Like
The Illumiseen LED Dog Collar is an easily adjustable and reasonably bright collar. It's capable of completely illuminating your dog's surroundings, enough for you to see where you're walking, but not too much that you become a nuisance to others.
The nylon material is soft and durable, and it doesn't feel like a product that will break any time soon. The different light "modes" and colors are great and will easily catch attention in the necessary circumstances. Capable of five hours of operation, which is more than enough for most situations.
Unlike other adjust and cut collars, this one features a plastic buckle that makes it truly adjustable, too.
What We Didn't Like
Unfortunately, this collar is not waterproof, so you need to be careful of sudden rain or puddle romping on your walks.
Pros
Durable yet comfortable material
Different light modes at the simple touch of a button
Sufficiently illuminates for easier walking at night
Cons
The Illumiseen LED Dog Collar is the best LED dog collar in terms of ease of use.
Overall Rating - 4.8 / 5.0
The Pet Industries Metal Buckle LED Dog Collar is a durable and heavy-duty LED collar suitable for everyday use.
Key Features
Heavy-duty D-ring and corrosion-proof metal buckle
PetDURA quick-dry nylon fabric is highly resistant to wear and tear
Ulta-bright dual fiber optic strips
Three lighting modes available: static, rapid flash and slow flash
Up to seven hours of battery life
What We Like
For a heavier-duty LED collar, the Metal Buckle LED Dog Collar by Pet Industries certainly fits the bill. The entire thing is well constructed and uses durable metal rather than the plastic parts you usually see in other collars. Nylon fabric is also solidly made and is abrasive resistant.
As for the light, it's as bright as you can get. It can actually get pretty blinding in total darkness, but that's a good thing since it means your pet will be easily visible even from far away.
What We Didn't Like
The trade-off for being so well built is that this collar tends to be a bit heavy. For bigger dogs, this is fine, but smaller breeds might have a problem with it.
Pros
Built like a rock so it won't break down on you anytime soon
Super bright light, so you won't have problems seeing in the dark
Long battery life
Cons
The Pet Industries Metal Buckle LED Dog Collar is the best LED dog collar when it comes to durability and longevity.
Overall Rating - 4.7 / 5.0
The Fashion and Cool Glowing Dog Collar is an inexpensive but nevertheless effective LED dog collar.
Key Features
12 Powerful LED lights make your dog visible up to 1,640 feet
Works up to three hours with a 30-minute charging time
Fits any size neck up to 27.5 inches in width (simply cut off the excess)
Three lighting modes
Water-resistant
What We Like
For a very budget-friendly option, you should consider the Fashion and Cool Glowing Dog Collar. When it comes to features, it's basic, but it gets the job done.
The 12 LED lights in this unit are bright enough to be noticeable from a generous 1,640 feet, so check on safety there. It's water-resistant and decently durable, so at least it could last a couple of uses. For an inexpensive LED collar, it uses a rechargeable battery, which is a nice touch.
What We Didn't Like
The unit isn't as well constructed, but it's to be expected, given the price.
Pros
Very affordable
12 LED lights make this unit very visible at night
Water-resistant
Cons
If you're on a tight budget and want just an LED collar that works, the Fashion and Cool Glowing Dog Collar should be enough for your needs.
Overall Rating - 4.1 / 5.0
The Great-Dealz LED Dog Collar is a fantastic LED dog collar at a budget-friendly price.
Key Features
Bright LED light with a visibility of up to 1,000 feet
Three light modes: solid, fast blink and slow blink
Made of high-quality nylon for extra durability
Uses CR2032 button batteries 60-80 hours of operating life
What We Like
For a low-priced LED dog collar, the Great-Dealz certainly is a "great deal!" The LED lights do a great job, being bright enough to be seen at a distance of up to 1,000 feet. This is more than enough for incoming cars to recognize and avoid your dog.
Luckily, this dog collar's construction isn't matched with its price. It uses durable nylon material, giving it more durability than collars in the same price tier. Water resistance and three light modes are also nice touches.
What We Didn't Like
A drawback of this unit is that it doesn't use a rechargeable battery. Furthermore, battery life is pretty short, at only 80 hours max.
Pros
Very budget-friendly price
Amazing durability
Water-resistant
Brightness is enough in low light situations
Cons
Doesn't use a rechargeable battery
For the price, the Great-Dealz LED Dog Collar is a great pick, especially for the quality and durability that you get. That is if you don't mind stocking a few extra batteries.
Overall Rating - 4.1 / 5.0
The BSEEN LED Dog Collar is an affordable and easily adjustable lighted dog collar.
Key Features
Easily adjustable collar up to a max length of 70 cm
Three light modes: steady, slow flash and a quick flash
Rechargeable via USB port
Durable Construction that can easily be bent without losing illumination
What We Like
For something that looks like glow sticks at a rave party, the BSEEN LED Dog Collar is surprisingly robust. It's constructed in such a way that it can bend or change shape without losing light. So even when your dog bites on it, it should still perform OK.
This same flexibility also makes adjusting it very easy. Just cut off any excess (which isn't hard) and fit as necessary. It has all the standard features like multiple light modes, which can easily be changed with the push of a button.
What We Didn't Like
Since it uses a continuous LED light layout, it's not as bright as those that use individual lights.
Pros
Very affordable
Quite durable and pliable, making it somewhat chew resistant
Rechargeable via USB
Cons
Not as bright as other LED collars
The BSEEN LED Dog Collar is an affordable lighted collar that's perfect for casual night walks, or anywhere that's not totally dark.
Overall Rating - 4.0 / 5.0
The Blazin' Safety LED Dog Collar is a water-resistant lighted collar that's perfect for any weather or condition.
Key Features
Thin but ultra-bright LED light strip provides 360-degree illumination
Made with durable high-tensile nylon material
Works for up to seven hours
Three light modes: steady, strobe or blink
Lifetime guarantee
What We Like
The Blazin' Safety LED Dog Collar is a highly visible collar, thanks to the 360 lighting that covers every inch of this collar. Ultra-bright, so we can easily see our dog from up to a couple of yards away.
If you like having your dog roam outdoors, this is the ideal LED collar to have. It's water-resistant, so no worries on sudden downpours, or if your pet suddenly decides to have a quick dip in the pool or lake. Construction is also top-notch, so it can match up to even the roughest of dogs
What We Didn't Like
This is more expensive than your typical LED collar. Also, the position of the on/off switch runs the risk of it being accidentally turned off when your pet tries to scratch the collar.
Pros
360 lighting gives off ultra-bright light
Rugged and waterproof, to match very adventurous dogs
Lifetime guarantee gives you some peace of mind on its quality
Long seven-hour battery life
Cons
More expensive than most LED collars
The dog might accidentally turn off unit while scratching
For dogs that love roaming the great outdoors, the Blazin' Safety LED Dog Collar is the perfect companion for its ruggedness and bright 360 lightings.
Overall Rating - 4.4 / 5.0
The MASBRILL Light Up Dog Collar is a super-bright, 180-degree illuminated dog collar sure to make your pup impossible to miss.
Key Features
Durable polyester webbing material
Flat TPU optical fiber that's 50% brighter than most LED collars
Waterproof and rustproof Construction
Works up to 10 hours
90-day money-back guarantee
What We Like
The MASBRILL Light Up Dog Collar is a cool-looking LED collar with an ultra-bright strip of light. Besides looking sleek, the light is also quite bright, even in complete darkness. You'll be able to see your dog from even 300 feet away.
Putting it on your dog is also very simple, as well as adjusting it. The unit is completely waterproof, so much so that your dog can swim while wearing it. We also like the long battery life, which can easily last weeks with daily use.
What We Didn't Like
The collar is on the broad and heavy side, so it might not be suitable for smaller breeds.
Pros
One of the brightest lights we've seen in a collar
Waterproof and rustproof makes it workable in a wide variety of conditions
Very long battery life
Cons
Too heavy for smaller dogs
We like the MASBRILL Light Up Collar for its sleek LED strip design, durable waterproof build, and fantastic longevity.
Overall Rating - 4.6 / 5.0
LED Collar Buying Guide
Why Use an LED Dog Collar?
Whenever you walk your dog at night without any sort of self-illumination, you put them at serious risk—they might get hit by oncoming traffic on the road. Even if your dog is lightly colored, it's simply too hard for anyone to see that at night.
But if your dog has an LED collar one, drivers would get to see them from far away, giving them time to avoid him entirely.
Apart from this, having an LED collar makes the environment much more visible for you and your dog, as well. This is especially useful if you're out hiking or walking in the woods at night. You can see potentially dangerous terrain like steep drops or stray logs where you can trip over. It also makes your dog much easier to find if you get separated.
Now, you might be thinking, why not just bring a flashlight? While this is a good idea, having your dog wear an LED collar is much more convenient. Plus, it's not like your dog can carry a flashlight when you get separated, right? So, he needs his own light source.
All you need to do now is to decide what features are most important to you and you dog. Then you can make an informed decision about which type of collar will work in your situation.
Things to Consider When Buying LED Dog Collars
Light direction
Some LED collars only have the light in a specific part of the collar. Others might have 360-degree lighting that covers every part of the collar. In this case, you need to decide which one you prefer based on your needs and situation.
Personally, I prefer the 360-lighting option since it allows me to see my dog's immediate area.
Brightness
Of course, the LED collar should be bright enough to illuminate at least the immediate area of your dog, else it won't be of much use. You should always test your collar's brightness before buying it if you have the chance to.
Longevity
The best LED dog collar should, at the very least, last quite a long time. After all, an LED collar that dies on you in the middle of the night after just an hour of use isn't too reliable, isn't it?
You should also look at the type of battery being used. Rechargeable is preferred as its more convenient and economical than having to buy a new one every time. It's more environmentally friendly as well.
To its credit, coin batteries offer a bigger charge capacity and can last longer than rechargeable batteries. However, they are not as convenient.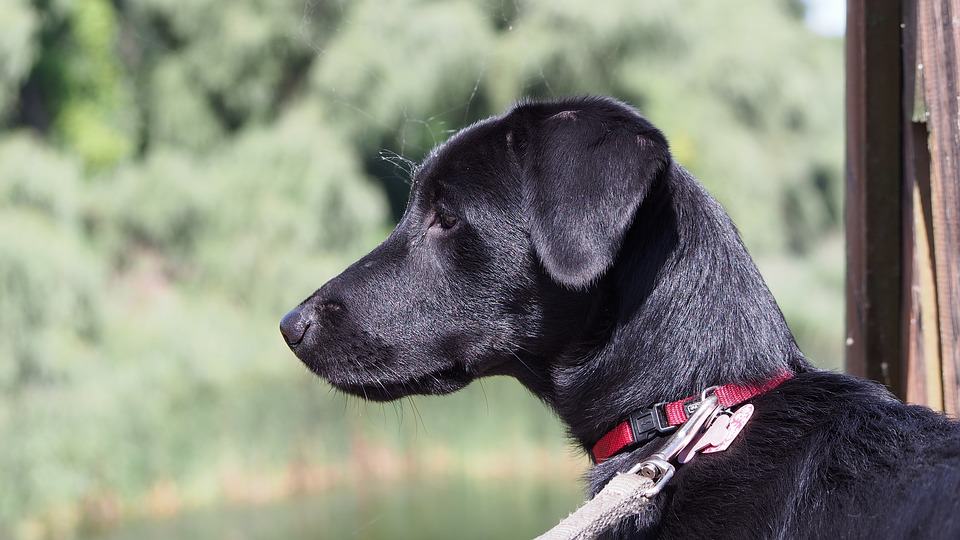 Durability
Since LED dog collars are meant for the outdoors, they need to be rugged and durable. After all, the worst thing is for your LED dog collar to break from a simple bump. You would want an LED dog collar to be able to last you multiple walks, or even years.
As with any product, I prefer to treat them as investments and get the most durable product I can. It's cheaper in the long run than buying the most affordable product you can find.
Water Resistance
The outdoors is unpredictable—you never know what kind of terrain or weather you'll encounter. The most common hazard is getting wet, either through puddles or a sudden downpour.
It's critical that LED dog collars are waterproof, or at least have some resistance to rain.
Final Thoughts
This review has explored the many options you can light up and keep your dog safe at night. We've seen that there are lots of LED collar options out there, with varying degrees of brightness. Some are also more durable than others, while most are waterproof.
But the best LED dog collar of the bunch is the Shine for Dogs Ultimate LED Dog Collar. It wins because of its ultra-bright lights, rugged, durable construction, and excellent longevity. It also comes in a variety of colors to help fit your preference and style. Overall, this gives you the best bang for the buck.