What smells good to our fur babies doesn't necessarily appeal to us! Our dogs are naturally attracted to the very opposite of what we like – pungent and decaying smells, and when they encounter such smells, they love to roll around in them.
We still have to share our homes with our dogs, so it's essential to keep them clean and smelling good. Some dogs get smelly a lot faster than others, despite having visited the groomer! This situation calls for a shampoo that works and combats foul odors effectively while maintaining your dog's fur with a healthy, smooth sheen.
OUR TOP PICK
So, which brand has the best smelling dog shampoo on the market? We tested some of the top dog shampoos to find out, and our top pick is
Wahl's Odor Control Shampoo
Not only did we enjoy its scent the most, but it also lasted far longer than the others. We've reviewed it first below.
Best Smelling Dog Shampoos Reviews
Affordably priced with active oatmeal and an allergen-free formulation, Wahl Dog Shampoo relieves your dog's itchy skin but also holds odors at bay.
Key Features
Allergen-friendly formula
pH-balanced to suit dog's skin
Eucalyptus and spearmint for cleansing and deodorizing
PEG-80, paraben, and alcohol-free
24-ounce bottle
What We Like
It is pH-balanced to suit your dog's skin and does not contain any parabens, alcohol, or harsh chemicals. This doggy shampoo also has a super pleasant scent, too, thanks to eucalyptus, spearmint, lime, lemon verbena, and coconut, guaranteed to keep your messy mutt smelling lovely for days.
What We Don't Like
While Wahl did their best to give this shampoo a gentle formula, some ingredients may prove too much for dogs with very sensitive skin. It also isn't a tear-free formula—you'll need to be careful or avoid washing your pooches head.
Pros
Affordably priced
Allergen-free
Effective odor control formula
Coconut sodding agent means you use very little per wash
Cons
May be too strong for dogs with sensitive skin
Not tear-free
Wahl Odor Control Dog Shampoo has powerful all-natural ingredients with a long-lasting scent. This shampoo will keep your dog smelling fresh for days!
Overall Rating - 4.9/5
Rocco & Roxie Oatmeal shampoo is specially formulated to calm your dog's dry skin. Shea butter, oat extract, and aloe vera all work to calm flared-up skin as you gently cleanse your dog.
Key Features
Contains all-natural ingredients
Easy to shampoo in and to rinse out
No harsh chemicals
16-ounce bottle
What We Like
As with all dog shampoos of quality, Rocco & Roxie is made of all-natural ingredients and doesn't contain harsh chemicals or artificial additives. Instead, it's packed full of hydrating ingredients such as oatmeal extract, aloe vera, shea butter, argan oil, rosemary extract, and olive oil extract, to soothe dry, irritated and flared-up skin.
What We Don't Like
Although the fragrance is fresh and natural, they could add a little more aroma (maybe from essential oils) to boost the scent factor a little bit.
Pros
Full of healing and hydrating ingredients with no harsh chemicals
Has a fresh and natural smell
This shampoo suds very well—you only need a small amount even for large dogs
100% money-back guarantee
Cons
Minimal fragrance
Slightly more expensive
If your dog has itchy skin, go for this dog shampoo. It will calm and soothe irritation, reducing any itching your dog may be experiencing
Overall Rating - 4.8/5
4-legger Dog Shampoo is full of all-natural and organic ingredients. Lemongrass and aloe vera work together to work up a decent lather that will cleanse your dog gently but thoroughly.
Key Features
Organic and all-natural ingredients
Detergent-free
Hypoallergenic essential oils blend
16-ounce bottle
What We Like
This shampoo is detergent-free, as well as sulfate and paraben-free. All its ingredients work to make it safe and non-toxic. Its unique formula was put together by a small but passionate family-owned company. You can rest assured that their products will be prepared with care to meet all your dog's needs.
This shampoo is also bio-degradable, so naturally environmentally friendly, and is one of the best dog shampoos for odor.
What We Don't Like
Many users complain that the seal on the mouth of the bottle is weak and so prone to leakage. This soap is also a bit rough on your hands. You might consider wearing dish gloves.
Pros
Easy to lather
Hypoallergenic
Veterinarian recommended
Environmentally friendly
Cons
Can be drying on your hands
Poor quality seal on the mouth of the bottle
This shampoo has a lovely consistency that easily shampoos into your dog's coat and rinses out well too. The pleasant scent lasts for days and apart from being organic and biodegradable, leaves your dog's coat silky smooth.
Overall Rating - 4.8/5

Chances are Arm & Hammer is a name you know. Famous for a long line of cleaning and deodorizing products, it comes as no surprise that they top our list as the best deodorizing dog shampoo.
Key Features
High deodorizing formula with an odor eliminator
High-quality ingredients
Special pH balance
20-ounce bottle
What We Like
Arm & Hammer uses baking soda, an all-natural and friendly ingredient that deep cleanses and refreshes your dog's coat. Baking soda and all other ingredients in this formula are safe to use with topical insecticides, including flea and tick treatments, too.
What We Don't Like
This shampoo lists DMDM Hydantoin as an ingredient. Although minor, it is synthetic, which means this shampoo is not 100% all-natural. It's also not tear-free.
Pros
Long-lasting fresh scent
Deodorizing and super cleansing
Veterinarian recommended – safe to use with insecticides
Budget-friendly size and affordably priced
Cons
Not tear-free
Contains one synthetic ingredient
Arm & Hammer is a leading and trusted manufacturer of pet cleaning products. This gentle cleansing formula leaves dogs smelling natural, fresh, and clean for quite a few days.
Overall Rating - 4.4/5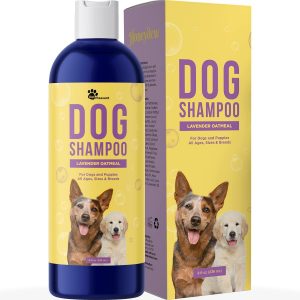 Pet Pleasant incorporated colloidal oatmeal in this shampoo formula to gently cleanse even the most sensitive dog skin deeply. This shampoo has no harsh chemicals and artificial ingredients either and provides gentle but deep cleansing.
The clinical-strength formula is also boosted with lavender essential oils to calm and soothe your dog, and it also holds a pleasant lavender scent that lasts for days.
Key Features
Colloidal oatmeal is suitable for grown dogs and puppies
It has lavender essential oil that is soothing and calming
The clinical-strength formula protects your dog's skin and fur with no need for conditioner
8-ounce bottle
What We Like
The inclusion of lavender essential oils in the formula is genius. This scent is not only natural and effective, but it is packed with antioxidants and vitamins that immediately soothe and improve the condition of your dog's skin and fur. The lavender scent also calms your dog, especially if they are sickly or stressed.
What We Don't Like
This shampoo doesn't have a lot of sodding agents and doesn't lather up as much. While for small dogs, this may not matter much, for big dogs like Labradors, this could pose a problem. To further that issue, the bottles are also small for their price—and it's hard to get the soap out of the rigid, no-flex design.
Pros
Great homeopathic lavender formula suitable for stressed dogs
Tear-free and veterinarian-recommended
A cruelty-free formula that is not animal-tested
100% money-back guarantee
Cons
Not a lot of shampoo for the price
Doesn't lather well
The bottle is rigid, making it hard to squeeze the product out
Pet Pleasant worked up a lovely formula in this lavender-scented shampoo. It is deep cleansing, deodorizing, soothing, and also dramatically calms your dog's mood.
Overall Rating - 4.8/5
If you're searching for a gentle dog shampoo Burt's Bees Natural Tearless Shampoo fits the bill perfectly. This shampoo is pH-balanced with all-natural ingredients and contains a tearless formula safe for use on eyes and ears.
As a bonus, this shampoo smells great, lasts long, and is entirely free of colorants, artificial ingredients, and fragrances.
Key Features
2-in-1 shampoo and conditioner
High-quality ingredients
No phthalates, parabens, colorants, or synthetic fragrances
16-ounce bottle
What We Like
This brand is environmentally conscious. All their shampoo bottles are made using 80% post-consumer recycled bottles. There may be a few synthetic ingredients in the formula, but these are minimal and not harmful.
What We Don't Like
The shampoo itself is very thin and doesn't have that silky, sudsy feel you'd expect. Burt's Bees could make it more substantial as it almost has the consistency of water.
Pros
Gentle enough for frequent baths
Suitable for puppies under eight weeks, and grown dogs too
A hypoallergenic formula does not irritate your pup's skin
Well-packaged and affordably priced
Cons
Some puppies react to this brand – keep an eye out for any rashes
The shampoo is slightly thin
This shampoo is a lovely product, gentle enough to use if your dog needs frequent baths. It's also from a trusted brand and is hypoallergenic and suitable for both puppies and grown dogs.
Overall Rating - 4.7/5
Lovely Fresh Natural Dog Shampoo has an all-natural formula that leaves your dog feeling fresh without being overpowering. This formula is durable enough for thin and thick coats and leaves fur feeling soft from the inclusion of almond oil.
Key Features
High-quality, natural ingredients
Light, long-lasting fresh scent
Almond oil for a moisturizing effect
17-ounce bottle
What We Like
This shampoo is suitable for your dog and the environment. It contains no soap or detergents and is free of harsh chemicals and alcohol. Additionally, the product is biodegradable, and comes in a recyclable bottle, making it one of our picks for the best smelling dog shampoo.
What We Don't Like
Some dogs react to this formula with itching and irritation. While all the ingredients are natural, some breeds may not respond well.
Pros
Easy foam and rinse-out formula
Leaves fur silky smooth and soft
Works on dogs with thick coats
Cruelty-free—this product is not animal-tested
Cons
Could be slightly stronger at odor control
Some dogs react poorly to this formula
This shampoo has a gentle formula that lathers quickly and equally rinses out easily. It also contains almond oil that leaves your dog's fur smelling great and silky smooth
Overall Rating - 4.5/5
Buying Guide – All You Need to Know When Buying Your Dog Shampoo
Dog shampoos have exploded on the market. Gone are the days when over-powering, medicinal, and harsh shampoos were the only option on the shelves. With so much choice on our hands, what do you look for to pick the best product for your smelly but adorable mutt?
Here are a few tips to help you choose the best dog shampoo for odor. You can view the best waterless shampoos available today that doesn't require water to deodorize and clean your dog.
Combats Pet Odor
One of the most important considerations when looking for dog shampoo is that it should be able to combat dog odor. Harsh artificial perfumes will only harm your dog and damage their skin.
Try to go for all-natural odor eliminators like baking soda, sage, honey, and essential oils that work hard at combating your dog's foul odor, without damaging their fur and skin.
Doesn't Contain Harsh Chemicals
When pet shampoos first hit the market, manufacturers didn't pay much attention to the ingredients—they just had to get the job done. However, as the industry has grown, and pet owners have become savvier, more manufacturers are meeting the pet owner's needs.
Look for dog shampoos with all-natural ingredients obtained from plants and natural oils. Avoid any shampoos that contain phthalates, parabens, strong detergents like PEG-80, and alcohol.
Medicates and Wards Off Parasites
Unfortunately, our beloved pets also attract parasites, which may pass onto us in the home.
To avoid this, try as much as possible to go for a shampoo that is medicated to kill bacteria and parasites. Chlorhexidine gluconate and miconazole fight fungi and bacteria, while ceramide conditions and moisturizes the skin as the shampoo works.
Whatever shampoo you choose, make sure it is compatible with anti-flea treatments and insecticides. It should also contain no alcohol, which can sting and cause discomfort for your dog.
Conditions and Maintains Your Dog's Coat
Some pet owners have noticed that some shampoos on the market change the color of their dog's coat. Look out for specialty shampoos that work with your dog's coat color. Shampoos should be able to maintain the bright and healthy sheen of your dog's coat and not fade it.
Also, consider shampoos with a de-tangler. As you bathe your dog, it would be a good idea to gently comb through the fur, to ensure that it does not matt up and stay tangled as your fur baby dries.
This ingredient will leave your dog's coat silky smooth and will drastically cut down on bath time. Make sure to also look for anti-shedding ingredients, which reduce the undercoat and minimize shedding.
Suitable For Your Dog's Skin
Like human beings, dogs have various skin types that need specialized care. Avoid shampoos that can irritate the eyes and nose. Watch out for these reactions as you bathe your dog, and if you notice that the shampoo hurts your dog, discontinue use immediately.
As much as possible, go for a gentle formulation that is all-natural and skin tear-free.
Watch this video on diluting tips for your dog shampoo.
Final Thoughts
Always pick the product that works best for you and your dog, especially in terms of scent and lather. Take special note of the ingredients too, to ensure that your dog is not allergic to any of them.
Our top picks for the best dog shampoo for odor have supplied you with all the information you need to choose a more than suitable dog shampoo. Feel free to use any of the above shampoos for your precious fur baby.
Expert Tips – Did You Know?
Combine regular doggy baths with anti-odor shampoo, a healthy diet, and consistent brushing of teeth to keep your dog in perfect health.
After bathing, towel dry, and then if possible, blow-dry your pup (concentrating on all those hidden wet spots) with a cool air-dryer for long-lasting dryness and freshness.
Squirt a few sprays of all-natural doggy perfume made of herbs and essential oils, if you wish. Do not be tempted to use human perfumes for this, though.
Here are more handy tips on keeping your dog odor-free
So, what do you think about our top picks for the best smelling dog shampoo? Have we missed out on any worthy mentions? Get in touch—we'd love to hear your views.