You may not always have the time, or inclination to give your dog a full wash. For those times, you'll need a dry shampoo.
These convenient grooming essentials are perfect for keeping your dog clean between baths. You can also use them on the road, or just for eliminating that dog odor that dogs pick up from playing outside.
In this helpful review, we've researched the best waterless dog shampoo choices—say hello to a cleaner dog, without the mess of bath time!
Our Top Pick
If you'd prefer to skip straight to the point, our top pick is Wahl's Waterless No Rinse Shampoo. A reliable choice from a trusted brand, this shampoo is going to work well for almost any dog. It also provides impressive skin conditioning. We've reviewed it first below more in-depth.
The Best Waterless Dog Shampoos Reviewed
Wahl Waterless No Rinse Shampoo is safe to use with dogs of all skin types. The oatmeal in the formulation provides relief for dry, itchy skin while calming, cleansing, and moisturizing your dog.
Key Features
An oatmeal formula that moisturizes dry skin
Allergy-friendly ingredients
PEG-80 free for gentle cleaning
10-ounce bottle
What We Like
As a solid all-rounder, this shampoo is an excellent choice if you're not sure what dry shampoo to go for. It also has a clean and long-lasting smell, which comes in two scents – coconut lime verbena and lavender chamomile. Both will leave your dog smelling and feeling great.
What We Don't Like
This formula is not tear-free, so you'll need to be extra careful around your dog's snout area. The smell, while pleasant, is also a bit overpowering.
Pros
All-natural, plant-based ingredients
Deep cleans your dog's skin and fur without irritation
Smells great and keeps your dog fresh
Excellent and gentle enough for use on dog's with incontinence issues
Cons
The lavender smells can be slightly overpowering
Not tear-free
This is an all-round dry shampoo, excellent for all doggy breeds, and perfect if you're a first-time user of waterless dog shampoos.
Overall Rating - 4.8/5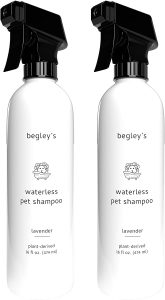 Begley's Natural Dry Dog Shampoo is an excellent option for regular cleaning in between home baths or professional grooming sessions. The mild formula contains no artificial or toxic ingredients and will not irritate your pet with daily use.
Key Features
All-natural and safe ingredients
Comes in citrus, lavender, mango, oatmeal, and tea tree
Plant-based, sustainable, and biodegradable formula
16-ounce bottle
What We Like
This all-natural brand of dry dog shampoo comes in five delectable scents, all enhanced with calming lavender. Talk about variety! It also features an easy-to-spray, environmentally friendly formula that's free of synthetic fragrances.
What We Don't Like
This dry shampoo smells wonderful. Unfortunately, that smell doesn't last very long, though. We're talking it won't even make it to the end of the day.
Pros
Easy to use spray formula
Plenty of non-synthetic fragrances
Environmentally friendly
Budget-friendly and affordable
Cons
This all-natural dry shampoo is one of the best waterless dog shampoo brands you can buy for your pooch. Use it regularly without worry, due to its gentle, natural formulation that won't irritate your dog's skin and coat.
Overall Rating - 4.8/5
Ark Naturals foaming dry dog shampoo cleans your dog while moisturizing their skin and coat. Orange oil gives this shampoo a tropical scent that is perfect for perking up your senior dogs.
Key Features
Blend of botanical extracts that moisturize
Ph-balanced waterless foam
Free of corn, soy, wheat, and other allergens
18-ounce bottle
What We Like
This dry shampoo can easily be massaged into your dog's fur and has a blend of balsam, rosemary, and cedarwood botanical extracts that add extra moisture. Its blend of herbal extracts also adds a pleasant, natural scent that won't bother your dog—but will make them smell a lot better to you.
What We Don't Like
This product may be too powerful for younger dogs or puppies under eight weeks.
Pros
Great smelling without being overpowering
Easy to use and massage into your dog's fur
Botanical extracts provide extra moisture for a silky-smooth coat
Cons
Suitable mostly for senior dogs but not for pups
This dry shampoo is a treat for your senior dog. The extra moisture softens tough matted fur, and the botanical extracts give your dog's coat a silky sheen. They've also added orange oil that will perk your dog up, making them feel energetic. It's great if your dog has arthritis, incontinence, joint issues, or any other age-related conditions.
Overall Rating - 4.7/5
BioSilk is a gentle but effective dry shampoo that protects your dog against dirt, odor, and heat. It also moisturizes and strengthens your dog's coat, giving it a smooth and silky shine.
Key Features
Ph-balanced
No artificial fragrances and chemicals
Sulfate and paraben-free
8-ounce bottle
What We Like
This all-round product is safe for dogs of all ages. You can use it on puppies and dogs, without fear of them responding adversely. It also won't interfere with tick and flea treatments and is pH balanced to ensure your dog's fur stays soft and healthy.
What We Don't Like
The product can feel oily, which might make you feel as if you need to give your dog a full bath sooner than later.
Pros
Nourishes and moisturizes your dog's coat
Effectively eliminates odors
Gentle formulation, suitable for all dogs and puppies
Safe to use with topical tick and flea treatments
Cons
Can feel slightly greasy on your dog's fur
Use BioSilk if you're looking for a dry shampoo that is puppy-safe too. It'll save you buying loads of other dry shampoos if you have dogs of different ages living in your home.
Overall Rating - 4.8/5
Buying Guide – What You Need to Know Before Buying Dry Shampoo for Your Dog
What Is a Waterless Dog Shampoo?
Waterless dog shampoo is a unique pet shampoo, very similar to a human dry shampoo, that doesn't require water to deodorize and clean. If you're not in a position to bathe your dog, for whatever reason, you can still keep your dog clean with dry shampoos.
Dry dog shampoos work by absorbing excess oil from your dog's coat and skin. They're safe to use but make sure to follow instructions. There are various types of dry dog shampoos available in the market, including foams, sprays, aerosols, gels, or powders.
When Should You Use a Dry Dog Shampoo?
Dry dog shampoos are best used in between home baths or dog grooming sessions. They're also handy if you're traveling, if you have a sick dog at home, or if you have puppies or dogs that fear water.
These shampoos are very convenient and save you time.
What Should You Look For in a Dry Dog Shampoo?
Odor-Eliminating
These dry dog shampoos are excellent for fighting bacteria and fungi on your dog's skin and coat. To get an effective dry dog shampoo, make sure they have anti-bacterial and anti-fungal properties to fight any foul smells your dog may pick up.
Insecticide Compatible
Look as much as possible for a dry dog shampoo that is compatible with flea and tick treatments. You would not want to get a shampoo that will counter any medications and insecticides the vet has prescribed. Always check with your vet before purchasing a dry shampoo, especially if your dog is ill.
Mild Formulations
You'll most likely be using one of these shampoos daily or every other day. Choose dry shampoos with gentle, all-natural formulas that will not irritate your dog's skin.
You might also aim for hypoallergenic formulas that won't trigger your dog's allergens if needed..
Avoid These Ingredients
Whatever you do, do not by dry dog shampoos with the ingredients below. The best dry dog shampoo brands avoid using the following ingredients among many others:
Propylene Glycol (PEG-80)
All artificial fragrances and dyes
Always check with your vet if you're not sure of any ingredients on the label.
Expert Tips – Maintaining your dog's coat
Brushing is an excellent way to keep your dog's skin smooth and distribute the natural oils in the hair.
For long-haired dogs, bathing can tangle their coats. Bathe only occasionally, and brush regularly to prevent matting.
Feed your dog a healthy diet rich in omega-3 and omega-6 oils for a healthy coat.
Should you pick one of our best waterless dog shampoo choices, do let us know how it works for you in the comments below.
Final Thoughts
Before buying any waterless dog shampoo, make a point of running your thoughts past your vet. They will give you helpful hints and tips, including all the ingredients to avoid.
Remember, even the best dry dog shampoo is not meant to replace your dog's regular bath. You'll still want a grooming session or home bath about once a month.
For reviews of other excellent shampoos, you may view our top list of the best smelling shampoos for dogs that will blow your mind.