While many might think a leash is a leash and one is just as good as any other, this isn't exactly true. A leash designed for a Pomeranian, for example, is going to fail miserably for a Great Dane. Given this, breed-specific leashes are really on the rise, such as leashes for Pitbulls.
Pitbulls are a popular breed that has been given a bad rap in recent years. These gentle giants are misunderstood, in our opinion, and if you know how to handle one, you shouldn't have a problem.
Like other breeds, Pitbulls require leashes that suit them, and there are plenty on the market. To get the best leash for your Pitbull, you'll need a lead that's sturdy and comfortable, and one that'll last you years.
Let's take a look.
Our Top Pick
Our top pick is the Primal Pet Gear Dog Leash because it provides sufficient control in low and high-traffic areas. It has a gorgeous design and straightforward leash that is perfect for walking.
Here are some other choices:
The Best Dog Leashes for Pitbulls Reviewed
Primal Pet has designed a beautiful and straightforward leash that is perfect for walking Pitbulls. It is double-handled for greater control over your dog, and the reflective stitching allows for low-light visibility.
Key Features
Double- handled leash
Reflective stitching
Padded handles for extra comfort
Weight: 7.2 oz.
What We Like
We love the simple yet ingenious design. Pitbulls are energetic dogs, and the dual handles provide sufficient control in low and high-traffic areas. Padded handles also provide extra comfort for you, and the sturdy material provides for extra durability.
What We Don't Like
We think that the stitching could be tighter, especially near the lower handle.
Pros
Double handles for more control over your dog
Simple and beautiful design
Reflective stitching provides bight-time or low-light visibility
Perfect for Pitbulls as it is designed for medium to large dogs
Cons
The stitching has come apart on occasion, especially near the lower control handle
The metal clip is not very durable
This is an excellent leash. It is simple in design yet effectively functional at controlling your Pitbull during walks or runs.
Overall Rating - 5/5
This recall training leash is made of durable nylon leash and 100% cotton web. It comes in variable lengths that allow your dog to both wander and be close enough to obey your commands.
Key Features
Made of durable nylon material
Comes in six lengths from 15 – 100 feet
Comes in six colors
Weight: 7.2 oz.
What We Like
We like the variable lengths that this leash can be purchased in. Shorter lengths are perfect for obedience training and longer lengths for free exploration during walks. The nickel-plated clip also has a 360-degree swivel to resist any twisting, and the reasonable weight is manageable for your Pitbull.
What We Don't Like
The clasp could be more durable to manage larger dogs over 75 lbs.
Pros
Perfect for teaching your Pitbull obedience training
Swivel-style bolt snap prevents twisting
Not too thick or heavy for the average Pitbull
Comes in seven attractive colors
Cons
The clasp can detach easily
This leash is perfect for training your Pitbull and teaching your dog to obey your commands. It also comes in longer lengths that allow your dog to explore freely.
Overall Rating - 5/5
This lead is a durable and weatherproof nylon leash and harness system that works well for Pitbulls that pull. The elastic material integrated into the short lead with the padded handles provides flexibility and shock absorbance.
Key Features
Weatherproof nylon material
Soft padding on the harness for comfort
Reflective stitching
Short leash with handle for maximum control
Weight: 14.4 oz.
What We Like
This YOGADOG is a durable, comfortable leash that is heavy enough to handle Pitbulls that pull while walking. The handle connects with the front chest strap and provides the best stress point, to stop pulling and regain control.
What We Don't Like
Measure your dog carefully before purchasing your leash as the sizing chart provided by the manufacturer could be inaccurate.
Pros
Made of durable and robust material
Easy to wear and use
Soft padding provides comfort for the owner
Dual handles are perfect for Pitbulls that are hard pullers
Reflective stitching for night-time walks or running
Cons
The handle isn't sturdy
Plastic clips aren't durable
This heavy-duty design is perfect for Pitbulls that pull. It has a short leash handle for quick control and a D-ring attachment for longer leashes during relaxed walks.
Overall Rating - 4.8/5
The BAAPET leash is an excellent leash for the price. It is made of durable ½-inch diameter strong nylon rope and also features a solid tangle-free clasp.
Key Features
Durable nylon rope with a tangle-free clasp
Comes in twelve colors
13-inch ergonomic foam handle
Reflective stitching
Weight: 7.2 oz.
What We Like
We love the price! For the features it presents, this leash offers excellent value for your money. The ergonomic foam handle is comfortable for you, and the reflective stitching allows for high visibility when walking at night. This leash also comes with a storage bag.
What We Don't Like
We really didn't appreciate the unpleasant chemical aroma emitted by this leash. You'll want to wash it before use.
Pros
Affordably priced
Reflective stitching for night-time walks
Durable, sturdy, and tangle-free
Great leash for loose leash training your Pitbull
Comes with a convenient storage bag for walking accessories
Cons
The connection at the hand loop is slightly weak
It emits a rubbery chemical aroma that can be unpleasant to some
If you're budget-Conscious and need a no-pull dog leash for your Pitbull, then buy this leash. It is durable, sturdy, tangle-free, and comes with a convenient storage bag for those essential walking accessories.
Overall Rating - 4.5/5
This high-quality and sturdy metal chain is excellent for professional Pitbull owners who want to do some leash training with their dogs. It has a metal dog lead with a pet traction rope leash for added strength.
Key Features
4-foot, 3-mm heavy chain
Argon-welded and chrome-plated iron chain for maximum strength
PU leather handle
High-quality metal clips
Weight: 6.7 oz.
What We Like
The craftsmanship on this leash is superb. The iron metal chain is coated with argon and chrome for added durability, and the PU leather handle is comfortable to handle. The PU leather handle also gives this chain elegance and comfort, and it has a smooth snap lifting ring that attaches to the dog's collar effortlessly.
What We Don't Like
The iron metal chain could be slightly thicker to help with Pitbulls that aggressively pull. Though this leash is already a bit heavy weight-wise.
Pros
This leash is durable and sturdy
Soft and comfortable PU leather handle
Corrosion-resistant
Chew-resistant
Weather-resistant and can be used in all weather conditions
Cons
Some trainers found the chain to be heavy and clunky
Not recommended for amateurs as you could easily hurt your dog.
This leash is the perfect leash for professional Pitbull owners or trainers. The high-quality craftsmanship and corrosion-proof Construction ensure it will serve you and your Pitbull for a long time. However, we recommend this leash for dog trainers and seasoned Pitbull owners only.
Overall Rating - 4.8/5
This Leashboss long trainer leash is Constructed with high-quality nylon material, perfect for handling large dogs such as Pitbulls. It is 1-inch wide and comes in a variety of lengths to suit your needs.
It also features a hook-and-coil system that makes transporting your leash (especially the long ones) easy.
Key Features
Made of premium-grade nylon material
Features an easy coiling system
Comes in four lengths – 15, 20, 30, and 50 feet for different dog training activities
Weight: 1.6 lbs.
What We Like
We love the variety of lengths this leash comes in. The 15-footer is perfect for obedience and recall training, 20-footer for exploratory walking, 30-footer for close ball play, and 50-footer for total playing freedom and off-leash simulations.
What We Don't Like
You have to use a harness with these leashes, and if that's not something you already have, it's an added expense you could avoid with other options. This lead is also not chew-proof, so don't try to use it even in a pinch as a tie-out and leave your dog unattended.
Pros
It has a durable and sturdy Construction
Easy to store and transport in between training sessions with your Pitbull
Perfect for any training or activity with your Pitbull – from close range obedience training to off-leash simulation training.
Comes with a 5-year manufacturer's warranty
Cons
Long leashes must be used with a harness
These leashes are not chew-resistant
If you're a dog trainer or Pitbull owner that wants to teach your dog new tricks, then go for this leash. It has durability and versatility to help your dog learn whatever new skills you are working towards.
Overall Rating - 4.6/5
The EzyDog Handy Leash allows you to go completely hands-free with your Pitbull, which is great for running or biking. It adjusts to all hand sizes, too, extending from 36 to 48 inches.
Key Features
Adjustable hand wrap extending from 36 to 48 inches
D-ring and barrel lock for attaching walking accessories
Shock-absorbing technology
Reflective stitching
Weight: 3.15 lbs.
What We Like
We love the hands-free and no-pull technology integrated into this leash. Walk or run with your Pitbull with confidence, knowing that you can easily pull them in should they stray, all hands-free!
This leash is made from high-quality materials, as well. It has a soft-touch webbing and a neoprene-lined handle for the ultimate comfort and features a D-ring and barrel lock for secure attachment of walking accessories like dog poop bags and clickers.
What We Don't Like
We would have preferred if the hand glove wrapped around the wrist rather than the hand. We found that some owners sweat a lot and wearing this glove could be uncomfortable.
Pros
Hands-Free yet sturdy for the ultimate convenience
Reflective stitching allows for runs and walks in low light
Comes with clips to attach accessories like clickers and poop bags
Actively reduces strain and pull on both the dog and the owner
Cons
Some Pitbull owners found the leash to be too short for running with their dog
The bungee action was too intense for some owners, with not enough elastic pull
If you love outdoor activity with your Pitbull but don't like the restraint of hands-on leashes, then the EzyDog hands-free leash is your best bet. It is made of durable nylon, has soft webbing on its handle, and can easily restrain your Pitbull if they do happen to pull.
Overall Rating - 4.4/5
Buying Guide – All You Need to Know to Buy the Best Leash for Your Pitbull
Choosing a leash for a Pitbull isn't difficult, as these dogs are generally healthy. They do, however, use their hind legs to walk, jump, and run, which could make them susceptible to the inherited condition hip dysplasia. Not all dogs get this condition, but it's always prudent to be cautious.
Hip dysplasia is caused by a malformation of the joint ball and hip socket, which causes pain to the dog. Invest in a leash that reduces stress to the hip area of your Pitbull.
Factors to Consider When Choosing a Leash for Your Pitbull
Strength
This Consideration is perhaps the most crucial factor when choosing the best leash for Pitbull. If your dog walks on heel, you won't have to worry much about strength and durability. However, if your Pitbull pulls or tugs, you'll need a leash that can handle that pressure. Choose a lead that is strong enough to handle your Pitbull dog's strength and weight to keep them secure and safe.
Length
The length of the leash is another essential Consideration. A leash that's too long could give your Pitbull too much freedom, which could result in hostile encounters, or worse, your dog getting injured. Six feet is usually the ideal length when choosing a leash for your Pitbull outside of training purposes.
Harness or Collar?
We prefer using a harness over a collar to reduce strain on their neck area. Harnesses wrap around the chest area and prevent choking through tightening on the neck.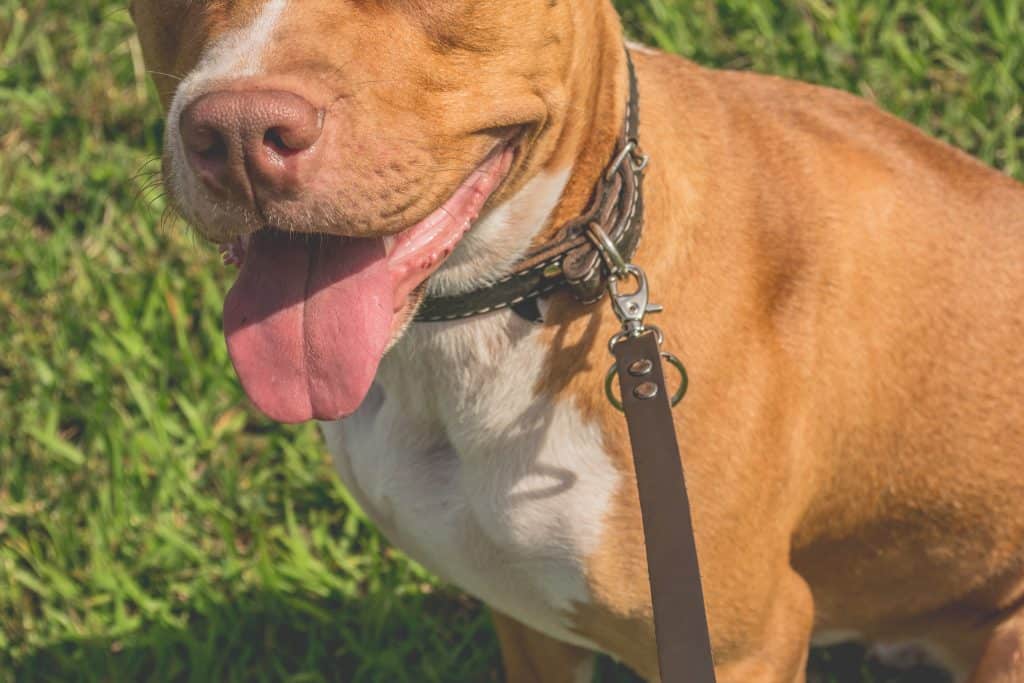 Style
As a pet parent, color and style is not an essential Consideration, but more a personal one. Just as we like our children to look good, so do we, our dogs. Choose a leash with colors and patterns that portray the personality of you and your dog perfectly. If your dog is playful, go for a fun accessory, and if your dog is calm or perhaps elderly, choose the corresponding color.
Retractability
Retractable leashes can be a great option depending on the situation. They give you some level of freedom and control and allow your dog to roam free within limits, which is ideal in open environments without other dogs or people, such as your yard or lesser visited trails.
However, for Pitbulls, be careful when choosing this type of leash, as many are not thick enough to handle the strain such a strong breed can exert.
Final Thoughts
Pitbulls are a popular breed of dog. They, however, require specialized care and training to keep them calm and obedient.
When selecting a Pitbull leash and harness for your dog, there are quite a few things to Consider. The best leash for a Pitbull should accommodate their large chests and strength, in case they unexpectedly pull. For this reason, leashes and harnesses designed for Pitbulls should be large, secure, and durable to give you years of quality service.
You don't want these muscular and stocky dogs tugging and pulling— you'll definitely feel the strain on your arm. The leashes covered in our review should be able to handle this strain with ease. We selected only the most durable options on the market.
Do you own a Pitbull? What has your experience been with anti-pull leashes for Pitbulls so far?
Let us know your thoughts in the comments below.