For dog owners, a leash is a non-negotiable accessory. While many dogs walk perfectly fine without a leash, in many situations, a leash may be needed for the safety of both you and your dog. It's also important to note that in some states, it is illegal to indiscriminately walk your dog off-leash, except in specified public spaces.
Apart from that, your dog could get hit by an oncoming vehicle, fight with another dog, or jump on someone. You'll want to get a leash that's sturdy, reliable, and stylish of course! A good leash also stays out of your dog's way, while keeping them comfortable, safe, and secure.
We researched the best dog leashes currently on the market, and in this comprehensive review, we have covered a wide range of leashes, to ensure that you get the best one for your particular dog.
Here are some other great options:
The Best Dog Leashes Reviewed
If you own more than one dog, then the Vaun Duffy Double Leash with padded handles was made for you. It comfortably holds two dogs at once and features a swivel clasp, which prevents your dogs from getting all tangled up.
Key Features
Two soft padded neoprene handles
1-inch wide adjustable straps with reflective stitching
Coupler leash for multi-directional control
Length: Adjustable strap that extends 1.5 feet
Weight: 13.3-oz.
What We Liked
With a neoprene padded handle that affords you greater control, walking your dogs will be a breeze with this multi-functional leash that accommodates dogs of all sizes. It also has a soft and comfortable handle, which makes handling two rambunctious dogs that much more relaxed without exerting too much pressure on your hand.
What We Didn't Like
This leash doesn't allow each dog very much personal space to explore. It keeps them too close together. This can also be problematic if you like your dog to walk at heel, as there's some serious tripping hazard going on.
Pros
Well-built, durable leash
Separate control handles for both dogs
Built to be tangle-free
Lifetime warranty
Cons
Not a good leash if your dogs are trained to walk close to you
The raffia lead attachment is flimsy
If you're a pet parent to more than one dog, you'd do well to consider buying this leash. It has a soft, comfortable handle and sturdy leash that allows you to control both dogs with ease.
Overall Rating - 4.8/5
The Might Paw Comfort-Grip dog leash has two handles with thick padding that make it easy to take long walks with your dog.
Key Features
Premium quality, weatherproof nylon material
Padded dual handles
Complimentary wall hook
Length: 6 feet
Weight: 2 oz.
What We Liked
The padded grip prevents you from getting leash burn, and you can grab the bottom loop to control your dog as you both explore. It's also safe for nighttime use thanks to reflective stitching that keeps you and your best bud visible.
What We Didn't Like
We didn't like the length of the lead. If it were shorter, with the handle being closer to the dog, the control would feel much better.
Pros
Functional and easy to use
Padded handles add comfort to your dog-walking experience
Reflective stitching makes nighttime walking easy
90-day, 100% money-back guarantee
Cons
The handle can sometimes get in the way
The leash may not withstand your dog's chew over time
This dual-handle leash allows for greater control of your dog as you walk those nature trails. The leash is sturdy and long enough to withstand your dog's pulls, and the padded handles give you the comfort you need for those long walks.
Overall Rating - 4.3/5
If you want a leash that lasts, leather is your best bet. This Leatherberg leash consists of cowhide leather with a sturdy zinc-alloy snap hook.
Key Features
100% cowhide Latigo leather
Zinc alloy snap hook
Double stitching throughout the entire length of the leash
Length: 6 feet
Weight: 8 oz.
What We Liked
This leash looks more expensive than it is; the soft leather is of premium quality, and what's even better is that it's chew-proof. For durability, this is one of the best dog leashes on the market. The leather is treated to enable it to stand up to the elements and giving it fantastic weatherproofing. Leather also has the added advantage of not attracting dust and dog hair compared to nylon leashes.
Overall, the Leatherberg leash is one of the best dog leashes you can buy. It is well-constructed with premium double stitching, giving you real value for the entirety of your pup's life.
What We Didn't Like
If your dog is an aggressive puller or not trained yet on leash walking, this isn't going to be the best option. It's thin and long—beautiful and durable, but not horribly strong.
Pros
Soft yet incredibly durable
Flexible enough to absorb some of the pull
Resistant to chewing
1-year warranty for any defect
Cons
Not recommended for dogs that aggressively pull
Not suitable for dog training
When buying a dog leash, durability is a substantial factor in your decision making. This product makes that decision quick and easy. The leather is durable, yet soft and will last you a lifetime.
Overall Rating - 4.9/5
If you have a small dog breed, this leash is for you! The padded handles are comfortable to hold onto, and the weight and thickness will not exert too much pressure on your small dog.
Key Features
Padded handles
5/8-inch thickness
Reflective stitching for nighttime vision
Lengths: 4 and 6 feet
Weight: 0.32 oz.
What We Liked
Impressively for every leash you by, Max and Neo will donate another leash to a dog rescue. They do tangibly help charity! They've also included reflective stitching for nighttime or low-light walks, which is a nice extra touch that shows they really care about their customers—and their dogs.
What We Didn't Like
Unfortunately, though, the leash is pretty thin. This isn't a huge deal for smaller dogs, but we still would appreciate it more if it was made slightly thicker. We wouldn't recommend it for pups over 75 pounds.
Pros
Affordably priced
Excellent reflective ability
Lightweight and easy to use
Super-comfortable padded handle
Cons
the leash has been known to detach easily from the dog's collar
It will not perform well with dogs over 75-lbs.
Your small dog is in safe hands with this leash. It is incredibly lightweight and perfectly sized for small breeds.
Overall Rating - 4.4/5
Blueberry Classic leash is an excellent choice if you're on a budget. It's ultra-affordable and doesn't compromise on quality.
Key Features
Nylon webbing that is durable and lightweight
¾-inch thickness
21 different colors
Length: 5 feet
Weight: 1.6 oz.
What We Liked
The sheer range of colors and sizes this leash comes in is amazing—21 different colors and five sizes. Practically all dog owners are assured of finding an option that suits their tastes.
For amateur dog owners, this leash also makes the work of controlling your dog easier – it doesn't need you to master lots of guidance and control techniques.
What We Didn't Like
The fit can be slightly bigger than expected, which can make it hard to control your dog during walks. Always measure your dog carefully beforehand to get the right fit.
We also would not recommend this leash if your dog weighs pounds or more.
Pros
Well designed and well-constructed
Incredibly durable yet lightweight
Easily washed and maintained
Comes in a range of colors to suit your tastes and needs
Affordably priced
Cons
Some leashes chaff, so watch out for this on your walks
It has a weak clip that disengages easily from the dog's collar
If you're running on a budget, this blueberry leash is your best bet. The price is pocket-friendly and the leash durable enough to give you excellent service.
Overall Rating - 4.3/5
This leash is both a long leash and a short leash in one. It has an anti-grip soft rubber handle that makes it easy to handle and features two grips – one at the end of the leash and another one foot from the collar clip.
Key Features
Anti-grip, soft rubber handle
Dual handles
Reflective stitching
1-inch wide, two-layer nylon webbing
Length: 6-feet
Weight: 12 oz.
What We Liked
We loved the dual handles! Walk your dog on the long-handled leash and control or obedience train your dog on the short leash. Perfect! Reflective stitching also makes the leash easy to use at night or in low light, and the 1-inch thick 2-layer nylon webbing adds to its durability.
What We Didn't Like
The second grip is too close to the collar and felt too far down, which could feel awkward to handle if you have a shorter dog.
Pros
Sturdy and durable
Easy to use and handle
Comes with a plastic collar
Perfect for all types of training
Cons
This dual leash pack is the ideal all-rounder, coming with both collar and dual-handle leash. The double handles at 6 feet and 1 foot respectively make it easy to both walk and control your dog, and the collar saves you from buying one separately.
Overall Rating - 4.9/5
This popular dog leash is a best seller on various e-commerce platforms. It is made of high-quality nylon webbing yet is lightweight, making it suitable for walking puppies.
Key Features
High-quality nylon webbing
Comes in various sizes and colors
Hassle-free opening mechanism
3/8 – 1-inch thickness
Lengths: 4 feet and 6 feet
Weight: 3.2 oz.
What We Liked
We like that this leash is fully compatible with other training gear like harnesses and collars. There's also a sturdy metal clip that's easy to open, which means you can attach your pup quite easily. As it's available in two lengths, you can also choose the perfect option for your dog's personality and size.
What We Didn't Like
We would like to see a thicker nylon webbing to make this leash more durable, primarily when used with larger dogs.
Pros
Available in a range of sizes and colors for all types of accessories
Affordably priced
Easy to use and attach onto your puppy
Excellent customer care available 24/7
3/8-inch thickness is perfect for training puppies
Cons
Flimsy lock-release lever
The nylon is slightly thin
This is the perfect leash for your puppy. It's lightweight, easy to use, and available in a range of colors and sizes to match a variety of collars and harnesses.
Overall Rating - 4.7/5
Buyer's Guide – What You Need to Know Before Buying a Dog Leash
No one leash works well for all dogs. To get the best dog leash for your pup, it's wise to consider very specific features that will suit your dog, but how do you know what to look for to avoid buyer's remorse?
We've compiled a comprehensive buying guide to ensure that you don't end up with garbage.
Material
You must consider the material used to construct the leash, as this factor will determine its durability and function. The most commonly available materials on the market include:
Nylon
Nylon is most widely used in the manufacturing of leashes because it is an affordable yet durable material. These leashes are also easy to keep clean.
Look for a leash with some padding to avoid leash burn.
Leather
Leather leashes are high-quality, sturdy, stylish, and durable. The only problem is they are quite expensive. If you prefer a leather leash, be prepared to pay.
Cotton
Cotton leashes are ideal if you need the right amount of give when walking your dog. As they are made of natural material, they're also easy to keep clean, but quite expensive and rare to find in most pet stores.
Reflective
Reflective material consists of reflective strips or stitching woven into a nylon or leather leash. These leashes allow you to walk your dog early in the morning or at night safely. They increase your dog's visibility to oncoming traffic and pedestrians, preventing possible accidents.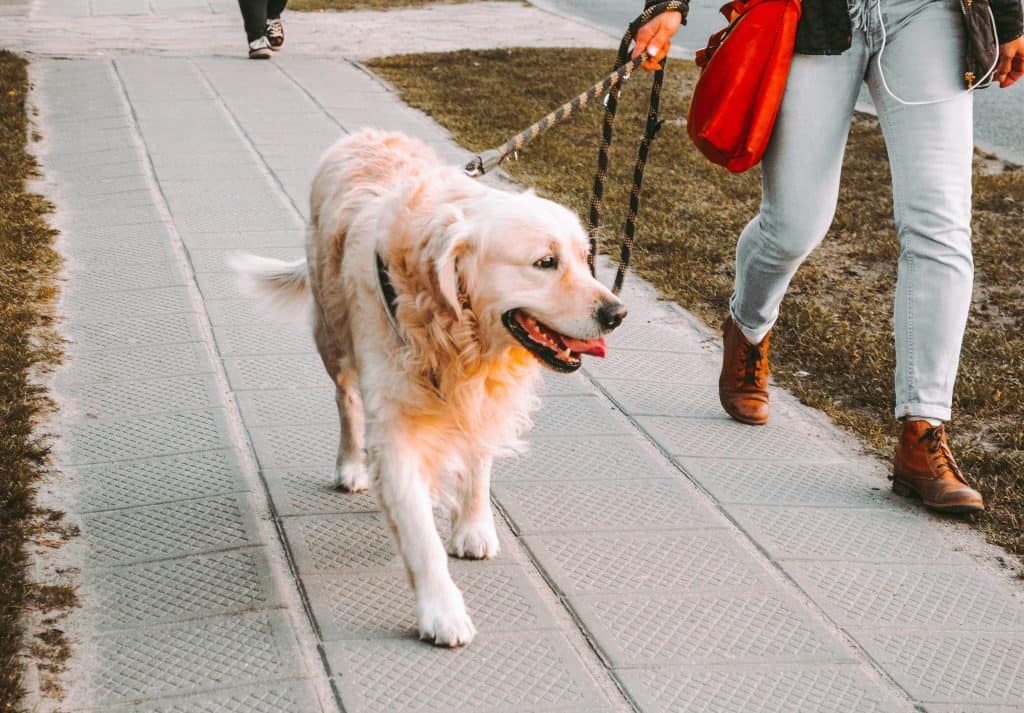 Type of Leash
Leashes come in different types, each suitable for a different scenario. It's essential to pay attention to the kind of leash, to avoid buying a useless one that your dog won't be able to use. Look for the following types of leashes when choosing one for your dog:
Standard Leash
This leash is the most commonly available, measuring 4 - 8 feet in length. They are perfect for daily walks and are durable enough to withstand most adult dogs. Most are made of nylon and give ample freedom of control for even amateur dog owners.
Retractable Leash
Retractable dog leashes control the distance over which your dog can walk. They allow the dog owner to quickly control how close or far they want their dog to go, offering the most freedom of movement.
They can extend anywhere between 4 - 30 feet, and once extended can be locked into the desired length.
Multiple-Dog Leash
This leash allows dog owners to walk multiple dogs simultaneously on a single handle leash. They come in handy for multiple dog owners or dog sitters whose job it is to walk dogs daily—efficient and convenient.
Bike/Hands-Free Leash
If you regularly ride bikes with your dog in tow, you may need to get a bike leash. This leash attaches to the frame of your bike, and is hands-free, giving both you and your dog freedom. This leash allows your dog to run alongside your bike at an adjustable distance.
It may take some time for your dog to learn to use this leash, but once they get the hang of it, they will run along with your bike just fine.
Size - Length and Width
Leashes come in different sizes, lengths, and widths, to help you walk your dog easily depending on the activity, space available, and distance covered.
Consider the width and thickness of your leash to ensure durability and better protection against chewing, and overall wear and tear. Puppies benefit from thinner leashes as they are more comfortable and less restrictive.
Lengths mostly vary according to the activity you are performing with your dog. Longer leashes are perfect for distance command training and long exploratory walks in the woods. Shorter leashes suit walks in high traffic areas, as well as for safety purposes. The ideal lengths are as follows:
2 – 4 feet
Ideal for walking dogs in high traffic areas like city pavements and along busy highways. They allow you more control over the dog.
6 feet
Suitable when walking your dog in medium-traffic areas like parks or the woods. This length comfortably allows for the dog to explore their surroundings without straining or tangling.
8 – 10 feet
Perfect for obedience training exercises
10 feet and more
Ideal for distance command training
Clip Style
Another consideration when buying your leash is the right clip style. It should be reliable enough to withstand any force while keeping the leash attached to your dog's collar. Try to go for a stainless steel or brass clip to prevent rust and corrosion from water damage.
There are two types:
Trigger-snap clips
To open these types of clips, you'll need to push a tiny lever that acts as the trigger. Trigger snaps contain a larger spring that doesn't weaken over time. As the force your dog exerts increases, the clip becomes more secure to stop the leash from detaching from the collar.
Bolt-snap clips
These clips come with a little spring located inside a shaft. You'll need to slide open the shaft to attach the leash to a collar. Unlike trigger-snap clips, however, the spring that comes with bolt-snap clips weakens over time, and this can allow your dog to escape the leash.
Color and Style
This is not an essential consideration, but some dog owners do value style and color. Choose a color that matches your dog's other accessories like their collar or harness if this matters to you. If you often walk in the early morning or evening, a bright visible color might also be a consideration.
Final Thoughts
Done! We've covered the top nine best dog leashes for every type of dog.
Remember these leashes come in various materials, colors, types, and sizes, so make sure to pick up the right one for your needs. These products will allow you to walk your dog effortlessly and safely, provided you take into account all the tips we've covered in our comprehensive buying guide.
Additional Expert Tips – Stop Your Dog from Pulling on the Leash
Before you venture out, put on your dog's leash, calmly and quietly. Do not use trigger words like "walk," which excite the dog and create chaos and excitement.
Once the leash is on, delay going out just for a little bit. This action will break the pattern of excitement that is usually associated with a leash.
Be in control of your dog, mid-walk. If your dog pulls, loosen the leash. Occasionally stop, lifting the leash and direct your dog to sit.
Regularly keep eye contact to let your dog know that you're in charge. Use clickers and particular noises to communicate quickly with your dog.
With the best dog leash on hand, you and Fido will have a comfortable yet exciting adventure exploring the neighborhood with ease.
Did you try out any of our top recommendations above? Let us know in the comments!