Why does a Maltese need haircut? Simply because this breed of dog has a very thick coat of hair which can get tangled very easily and can cause a lot of discomforts. Regular cutting and trimming will make the hair very manageable.
The Maltese are loved for their thick hair as it makes them look adorable. So, you can consider giving them very stylish haircuts that will make them look ultra-cool. There are quite a few salons out there that cater to dogs and they do a good job. Here is a list of 10 Maltese cut and hairstyle that you can choose from for your pet.
10 Maltese Cut And Hairstyle That Have Gained Popularity
These styles have become really popular and many dog owners are making sure that their dog sports these cute styles.
1. The Short Cut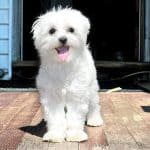 This haircut is typically seen with Poodles or Bichon Frise, however, even a Maltese can spot this look. A more traditional form of this haircut the fur is given a trim near the torso. The side and back are kept at ¼ inch. The fur near the butt, chest, stomach are kept at 1/16 inch. The fur around the ears is given a bob style trim. The tail retains a fringe that measures about 2 inches.
2. The Teddy Bear Crop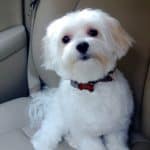 This is one adorable haircut that many dog owners love their dog to the sport. This hair cut resembles a cross between Maltese puppy and a regular Cocker Spaniel cut. To get the look right you should a clipper meant for dog hair. In this style the hair on the back and the side are given a trim, however, the rest of the body remains untouched. The face hair is trimmed until it starts looking around like a bears face. The fur must be rounded off near the forehead to main uniformity with the fur on the rest of the body.
3. The Puppy Cut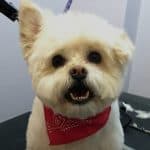 This hair cut gets its name from the haircuts sported by puppies whose body fur has bot gown fully. The good thing is that this hair cut will also look good on fully grown Maltese Dogs. This hair cut requires little or no maintenance and it gives a very cute appearance to the dog. To achieve this the fur needs to clipped uniformly all over the body. Typically a length of ¼ inch to 1 inch is enough. Most of the dog owners usually go for show cut or puppy cut.
4. The Standard Cut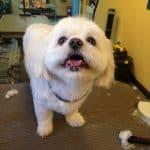 This style is perfect for those dogs that appear in shows and the fur is left long so that it almost touches the ground. You can always style the hair in different ways but the length of the hair is untouched. The fur on the head is also kept long and you can style it in different ways. However, be warned that this style requires some heavy duty maintenance. So go through with this only if you have the time.
5. Bob Cut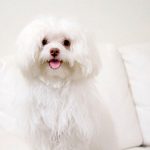 This haircut is very different than all other styles sported by Maltese dogs; in this style, the hair is not given a cut. The hair on the head is permitted to grow out to a fixed length. As the hair continues to grow a parting is created in the middle. The hair on the other parts of the body are given a mild trim, this helps the hair on the head to stand out by giving it the bob cut look. This hair cut is really simple and very easy to maintain in the long run.
6. Top Knot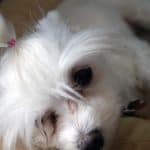 This is a hairstyle rather than a haircut, and you can combine this with any haircut. This is achieved by tying a bow or a ribbon. This gives your dog an adorable appearance. The best part is you can experiment with any hairstyle you want.
7. Medium Length Cut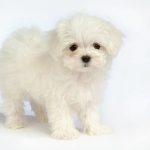 If you want something that is in between two different styles then you could opt for a medium length fur. You can also add some waves or curls to the hair as this will give it some volume and a stylish appearance. You can a nice bow or other accessories to enhance the appearance. This style is also suited for dog shows.
8. The Shaved Cut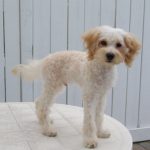 This is by far the most extreme and dramatic hairstyle for a Maltese. Maltese is one of those breeds that can have their fur coat shaved. The good news is that this breed of dog can undergo this style will also have no negative effect on the future growth of hair. Shaving the fur off does not imply that there cannot be hair on the other parts of the body. Certain users prefer to keep the hair around the ears a bit longer. There is no set rule for this you can do as you like and you can get experimental. The best part about this style is that you do not have to deal with things like detangling the hair or brushing it very often.
9. Straight Look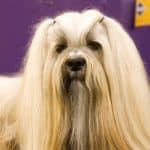 This style is best done at pet salons as professionals use a variety of products to straighten out your pet's hair and then style it accordingly. This hairstyle can be combined with any haircut. This hairstyle typically requires frequent maintenance.
10. Curled Look
This is another style that is very popular with dog owners who take their dogs to shows. This can be done at home if you have the right equipment but it is advisable to go to professionals to get the best results. This style requires a lot of maintenance and can be combined with any haircut.
Conclusion
So, these are some of the 10 Maltese cut and hairstyle that are very popular these days. You can always experiment with different styles as the results could be surprising in a good way. However, when you use styling products on your pet make sure that they are suitable for pet's and do not contain harsh chemicals.