With Thanksgiving right around the corner and the seasons changing, you might want to provide your dog a little extra holiday festivity! Sweaters are a wonderful way to get your dog into the Thanksgiving spirit while keeping them warm. Whether you're looking for something generic for the Thanksgiving season or something a little more thematic, we've got you covered. Here are our best Thanksgiving dog sweaters for small dogs.
Are Sweaters Good for Dogs?
Sweaters not only keep your dog stylish but also keep them warm! As long as a sweater isn't too tight, sweaters are perfectly safe and beneficial for your dog to wear. Sweaters can be used indoors or outdoors to keep your dog cozy and toasty. For small dogs with thin, fine, or short hair, sweaters can help keep them snug and warm. Regardless of coat, sweaters are entirely beneficial for dogs in the colder seasons! They're also great for a little added style for the Thanksgiving season.
Do Dogs Like Sweaters?
While some dogs may take issue with wearing clothing, for the most part, dogs like wearing sweaters - especially in the colder months! Sweaters provide dogs the same benefits they do for us: comfort, warmth, and style! If your dog tends to get chilly in the colder months, then chances are they'll like wearing a sweater. Sweaters aren't just for the pups and owners that prioritize being fashion forward. Dressing up your pup in a cozy sweater helps them fight seasonal chilliness in style!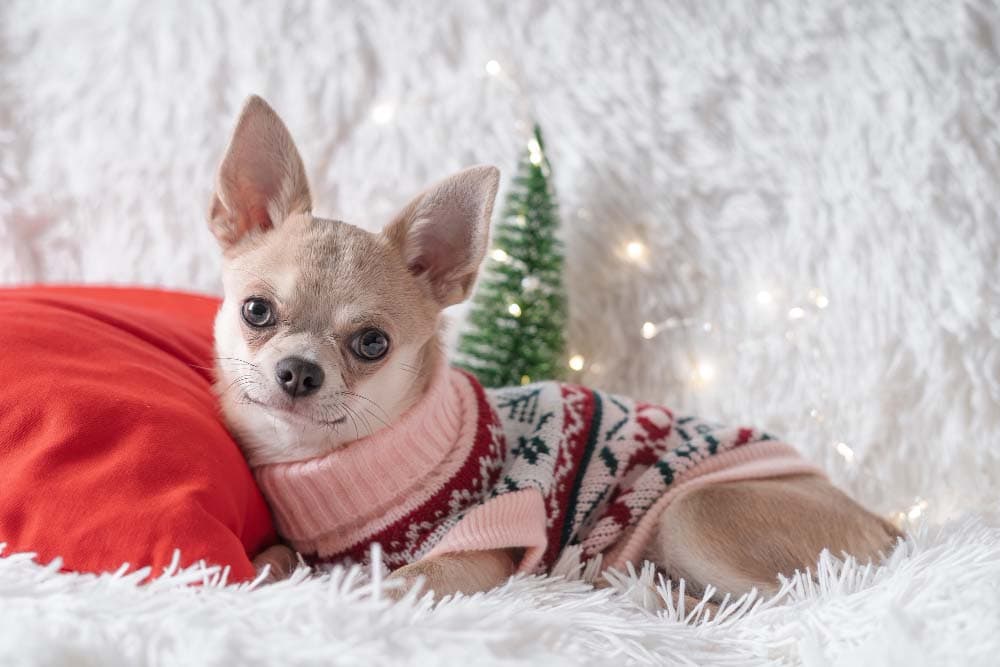 1) Jecikelon Dog Sweater
Material: Woolen
Easy to wash and dry
Keeps warm
Suitable for small dogs
This darling small dog sweater comes in a variety of colors like pink, green, blue, purple, red, and many more! With almost 19,000glowing reviews, this is a wonderful and universal option for your small pup.
2) ASKENU Windproof Dog Winter Coat
Windproof, waterproof and warm
Stylish and creative design
Fit all size dogs
This wonderful small dog sweater is waterproof, windproof, and insulated which makes it perfect for every weather occasion! If you love taking your dog on walks no matter the weather, this winter coat will keep them stylish, warm, and comfortable. It comes in black, pink, coffee, green, and red.
3) Gooby Zip Up Fleece Dog Sweater
Zip up fleece vest to tkeep dogs warm
Machine washable
Accurate Sizing to Fit Small Dogs
This cute and cozy fleece dog sweater makes warmth the first priority! Its polyester design wicks away moisture and insulates warmth. The zip up design makes it easy for dogs that take issue with being put into a sweater. It increases ease of accessibility and makes wearing a sweater an easy and comfortable experience for your dog.
4) BOBIBI Dog Sweater
Warm, soft and lightweight
Classic diamond plaid design
Suitable for small and medium dogs
This precious diamond plaid sweater is perfect for Thanksgiving! Festive yet universal, your pup is sure to go about the holiday in style. The argyle print is perfect for autumn and is classic and fashionable. Your small pup is sure to score a bite of turkey in this darling sweater!
5) HOTUMN Dog Sweater
Made of high-quality polyester
Soft and comfortable
Breathable and warm
This adorable and cozy dog sweater is wonderful for Thanksgiving! With its turkey pattern, this polyester knitted design is soft, comfortable, and breathable. It's the perfect festive option for any small dog!
6) BWOGUE Turkey Dog Costume
High quality material
Easy to put on and take off
Machine washable for easy care
Perfect gift for dogs
If you and your dog want to take the festivity one step further, this Amazon turkey dog costume is perfect! Comfortable and cute, this is sure to get your dog into the festive spirit. Its button design ensures ease of accessibility and will help keep your pup warm! If you and your pup love to go all out for Thanksgiving, this is a wonderful option.
Final Thoughts
With all the wonderful options on this list, your pup is sure to rock the holiday in warmth and style! Get your pup into the Thanksgiving spirit with one of many sweaters to help them embrace the holiday and show them you're most thankful for their love and companionship. If you are intested in dog bandans, check out Thanksgiving Dog Bandanas.