Every dog needs grooming at regular points in life. Whether your pet is a short haired breed Chihuahua, moderate long coat Springer Spaniel or a fluffy haired Siberian husky, they need to be groomed to look good.
Moreover, a good bath along with trimming makes your dog feel much better, especially during the hot summer months.
Grooming is usually done by a professional in a salon where you need to pay a hefty fee for the services. Trimming and grooming costs can be pretty expensive when you take your dog to a pet salon.
Most people nowadays are opting to groom their pets at home with professional clippers available in the market because it is both convenient and cost effective.
OUR TOP PICK
Our top pick is the
Oster professional Turbo A5
heavy duty clippers. This clipper comes with a Universal motor and CryogenX blades so that it can cut through any type of hair smoothly.
List of Best Clippers for Springer Spaniels Reviews...

With this updated version of UltraEdge dog clipper from Andis, you can take your grooming experience to the next level. This edition comes with multiple features that can enhance your overall experience of grooming your pets.
This grooming kit can handle a wide range of dog breeds and their different varieties of coats. The two-speed rotary motor gives a cool and quiet performance.
The detachable design of the clipper blades makes the changing and cleaning of the blades a breeze. The clippers also come equipped with a 14-inch-long power cord that makes the movement of the clippers around the pet easy and hassle free.
Things We Like
The powerful motor ensures that it glides through the thickest fur smoothly
The clippers come at an affordable price
Extremely quiet operation makes sure your pet is not disturbed
Things We Didn't Like
This product can get heated up very quickly after a few minutes of use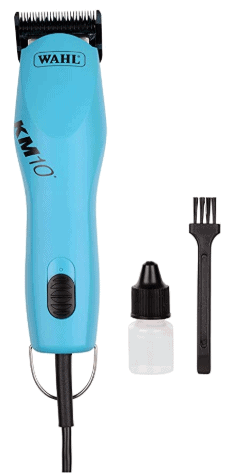 If you intend to keep your dog well-groomed like one of the professionals, then Wahl Professional pet clipper is for you. This clipper is designed to make grooming easy.
Operating with two different speeds, this clipper gives you enhanced performance. Powered by constant speed control feature, this clipper automatically powers up to effortlessly cut through the thickest fur. It operates quietly which is good if your pet is sensitive to sound.
Things We Like
Blades are made out of high-grade steel making them last long
The clippers are light weight, making them easy to use and carry around
Its ergonomic design makes it easy to hold
Things We Didn't Like
Power cord protector pulls off frequently

This heavy-duty turbo clipper from Oster is one of the best professional clippers you can find in the market. Its powerful two speed universal motor is capable of rotating 3000 to 4000 strokes per minute SPM.
The CryogenX blades are designed to cut through the different coats of pet hair effortlessly. The 10-foot-long power cord makes the clipper flexible, allowing you to easily go around the pet while grooming.
Things We Like
Comes with a rigged body that makes it easy to handle
Chew proof housing makes it pet-safe and durable.
Two powerful speed settings
Things We Didn't Like
The blades don't cut smoothly after a couple of uses
Blades tend to get very hot after few minutes of use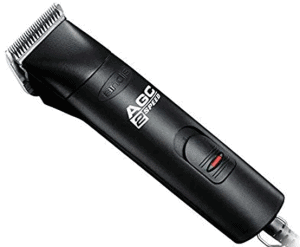 This versatile 5 speed clipper from Andis will give you an ultimate experience of grooming your pets. With 5 speed settings you can always keep your styling options open.
The super duty blades get the grooming job done seamlessly, even on the toughest coat of fur. The touch button on the clipper makes switching between the speeds easy while on the job.
Things We Like
Highly durable blades make sure the clippers are long lasting
Swivel cord doesn't get tangled
Powerful enough to trim even the toughest coat of fur
Things We Didn't Like
Tends to get hot after few minutes of continuous use
Grooming Springer Spaniel
Springer Spaniel breed dogs are affectionate, cheerful and intelligent. They have moderately long hair with drooping ears covered with wispy fur.
The underbelly, legs, chest and tail of the Springer Spaniels are also covered with thick wavy fur. These dogs need consistent grooming and trimming to keep their shedding under control, and also to keep their fur neat and free of any mats.
You can get your pet groomed by a professional groomer or if you enjoy grooming your pet all by yourself or are looking to save a trip to the pet-salon, you can buy best dog clipper for Springer Spaniel to groom and keep your dog in top condition.
Choosing the Right Clipper For Your Springer Spaniel
Picking the right clipper for your pet can be hard. But if you know what to look for in a clipper, then making a choice becomes easy. The following is the sum up of all the features that you need to look for in your clipper.
Corded or Cordless
Cutting through the thick fur needs lots of power. If your clipper is cordless, the battery will be drained out of power pretty quickly. You may have to charge the battery often to finish the grooming.
However, a corded clipper could mean that you will have a limited area in which you can groom your pet, which can be a problem if your pet does not like standing still in one place.
Durable Blades
Sharp and durable blades can make it easy for you to cut right through the thickest coat without worrying about the tangles.
Motor Rotary Speed
You will need a powerful motor with high rotary speed to be able to groom your pet's fur quickly and smoothly.
Weight
Go for a clipper that is lightweight and ergonomically designed. Lighter weight clippers are easy to handle. And they fit in the hands comfortably. On the flip side a lightweight clipper may not have a powerful motor, which could make it less durable
Speed
If you are looking to get a professional look on your pet, then opt for a clipper that comes with multi-speed options.
Noise
If the clipper makes noise, then a pet that is sensitive to noise may get scared and make the grooming session painful for you.
So, opt for clippers that make minimum noise to keep your pet happy and comfortable throughout the session.
Accessories
Look for a kit that comes with important accessories like cleaning oil, cleaning brush and a variety of combs. These accessories are important for the maintenance of your clipper
Maintaining the Dog Clipper and Blades
To make sure that your blades and clipper last long, you need to ensure that you maintain them properly. The following are the steps you need to follow to maintain your dog clippers in perfect condition for a long time
Cleaning and oiling the blades goes a long way in keeping your clipper in perfect condition. Cleaning and oiling the clipper blades is pretty easy. All you need to do is to use the cleaning brush and the cleaning oil that you get with the kit.
Remove the blade from clipper and using the cleaning brush wipe off the entire dirt and hair residue from the blade. Then put the blade back on the clipper and leave the blade in the blade wash for about 10 seconds.
Next remove the blade, clean it and then apply the oil and fix it back on the clipper. This will keep the blades lubricated and will make them last long.
Conclusion
Of all the dog clippers shortlisted here for you, we found Oster professional Turbo A5 heavy duty clippers with CryogenX blades to be the best.
If you can get a hand of how to use it like a pro, it will save you from the trips to salon. The next clipper that comes close to be a winner is the UltraEdge clipper from Andis. This clipper gives you ultimate experience and can groom all breeds of dogs.