It happens sometimes: your dog ends up with matted hair, and you're left scrambling to find dog clippers for matted hair. It doesn't matter whether you've got a long-haired, short-haired, or curly-coated pup - hair doesn't discriminate when it comes to matting.
So, how can you find these special dog clippers, and what do you need to consider when selecting the right clippers? With so many "best dog clippers" out there, is it possible to find one that suits your furry companion?
This is where we come in. We've compiled a list of the best dog clippers for matted hair to help you pick which one suits your pet best. But before that, let's talk about clippers, slickers, and everything you need to know about the best dog clippers available in the market.
What is a Dog Clipper?
When you think of dog clippers, you may think of scissors. However, dog clippers are electric grooming tools meant to cut your dog's hair to your specified length. They usually come with different-sized blades and combs so you can trim your dog's hair to different lengths.
Dog clippers are perfect for at-home grooming because they're quick and easy to use. They're also less expensive than professional groomers, and with some practice, you should be able to easily style your dog's coat and handle dog grooming like a pro.
There are three main types of electric dog clippers: rotary motor clippers, pivot motor clippers, and linear motor clippers.
Rotary Motor Clippers have a circular blade that moves quickly around the edge of the blade guard. These tend to be less expensive than other types of clippers and can be good for general-purpose clipping.
Pivot Motor Clippers have a stationary blade and a pivoting head which allows the hair to be cut more closely to the skin. They work well on dogs with curly or thick coats and provide greater control when trimming around delicate areas.
Linear Motor Clippers are the most powerful type of clippers and have a blade that moves in a straight line. They're best for quickly shaving down dense coats but can be more expensive than other types.
But which type of clipper is best for matted dog hair?
All three types of clippers can be used to cut through mats, but rotary motor clippers are generally better suited for this task as they have more power. Pivot and linear motor clippers can also be used but may require more time and effort to get the job done properly.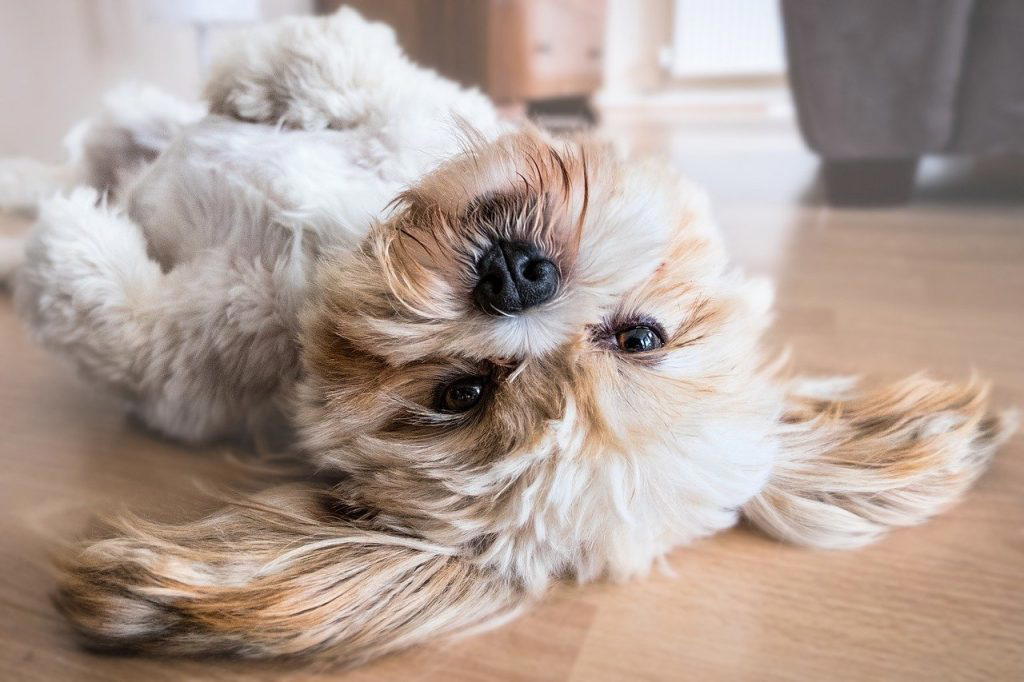 Who Uses Dog Clippers?
Dog clippers for matted hair are an essential grooming tool for professional groomers, but they can also be used at home. You'll need to use clippers when your dog needs a trim, which is typically about every six weeks for long-haired breeds and once a year for short-haired breeds.
Groomers will often use clippers when they clip the fur around the faces or feet of their clients. This helps give their clients a cleaner look while maintaining the natural shape of the coat. That brushed-out fur doesn't have any chance of getting stuck in mats with dog clippers!
Clippers vs. Slickers: What's the Difference?
The main difference between using a slicker and a pair of clippers lies in how much time each method takes and which type of dog's coat it works best on. One quick swipe across your pooch's entire body will probably take you around five minutes if you're doing a quick touch-up with your dog's slicker.
On the other hand, using electric clippers might take around 30 minutes or longer (and require several passes), but you'll end up cutting more hair and covering larger portions of the body in one go.
This is why it can be advantageous to use clippers on matted dog hair. If your dog's mats are thick and difficult to remove, they'll need to be cut away first so they don't get pushed further into the coat as you groom them.
And since this tends to bring out even more tangles than before, it makes sense for many pet owners to just shave their dogs down completely rather than fight through all those mats. If this sounds like what you'd like to do, then you'll need heavy-duty dog clippers that can get through some seriously matted hair.
The Importance of Dog Clippers for Matted Hair
There are a few reasons why it's important to have a good pair of dog clippers for matted hair.
First, if your dog has mats that are particularly difficult to remove, using clippers is going to be the quickest and most efficient way to get the job done.
Second, even if your dog's mats aren't too bad, using clippers can help keep their coat look neat and tidy by removing any unsightly tangles or patches of matted hair.
Finally, clippers can also be used to shave down the entire dog's coat—something that may become necessary during the hot summer months when dogs tend to overheat easily.
So, whether you're dealing with a small patch of mats or want to shave your dog's entire coat down for the summer, heavy-duty dog clippers will be able to help. Just make sure you properly research which type of clipper is right for your pet and what factors might affect whether or not it gets the job done effectively!
Our Top Pick
Our best dog clipper for thick hair is the Andis ProClip Super 2-Speed. This device has a super two-speed rotary motor that lets you choose the speed. It also lacks air vents that can accumulate dirt and heat the device, so it doesn't heat up quickly. Best of all, it's moderately priced.
Top 10 Best Dog Clippers for Matted Hair Reviewed
The Andis ProClip may be an excellent choice for professional grooming or dogs that require regular grooming. It's ideal for different types of coats and breeds. More importantly, it works well for thick and matted hair, so if your dog's fur mats often, the ten-blade professional dog clippers can remove the mats with ease.
Andis ProClip also features a super two-speed rotary motor implying that you can choose the speed you want. You can use it on low or high, and the clipper blade is also detachable. Moreover, it doesn't run on a magnetic motor, so it runs quietly. This may be ideal for nervous dogs.
Andis ProClip also stays cool despite not having vents or fans that can be clogged with dirt and fur, and it comes in a kit housed by a shatterproof and durable case. It also boasts a six beautiful colors, a 14-inch cord for easy movement, and a removable UltraEdge number ten blade.
If your large dog has a long, thick coat, you may have to get the compatible CeramicEdge and UltraEdge blades from Andis. Andis dog clippers feature wide grips but may be disadvantageous over time: they may begin to feel heavy.
Pros:
Ideal for removing tough mats
Two-speed rotary motors for convenience
Runs quietly
Doesn't heat up quickly
Cons:
Comes with only one blade

This clipper is an inexpensive option for home grooming like a professional. It's built for dogs of different sizes, especially for poodles and terriers with a thick coat. In terms of matted dogs, Andis EasyClip is suitable for removing mats that are difficult to brush out, including tail mats.
It has a strong rotary motor with a removable ceramic blade. Unlike the magnetic motor clippers for matted hair, the Andis EasyClip doesn't overheat and isn't too noisy. It may come in handy if your pooch is a shy one.
In the kit, you'll find a solid housing with four attachment combs and a 12-inch heavy-duty cord. These are all basic items for grooming, but if you need more versatility, the Andis CeramicEdge and UltraEdge blades are available for purchase. These should cover all other grooming needs.
It is quite affordable
Rarely ever overheats
Runs silently
Comes in a durable housing
Cons:
Pros: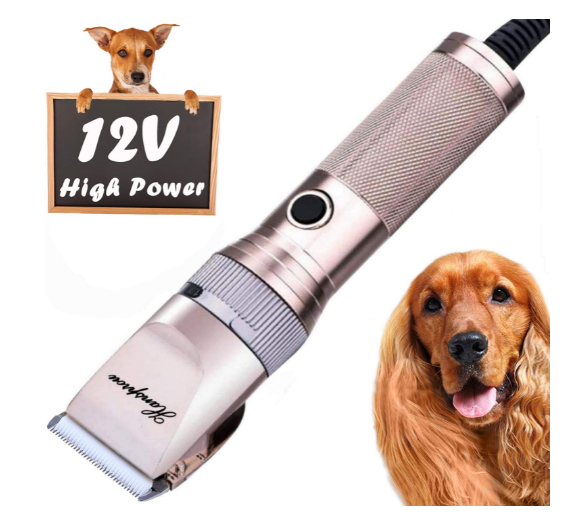 You can keep your furry friend looking sharp with the Hansprou dog clipper. This powerful and efficient pet clipper is perfect for trimming and grooming all types of animal hair, from dogs and cats to other four-legged friends.
With a 12V copper motor and high speed/low noise capabilities, the Hansprou dog clipper makes quick work of even the thickest fur without creating extra heat or sound. So, if you're looking for clippers for matted hair with the least noise, you can count on Hansprou.
Pros:
Comes with a 12V copper motor
Sturdy design
Ideal for different animals with coarse or matted hair
Runs silently
Cons:
Metal blades heat up quickly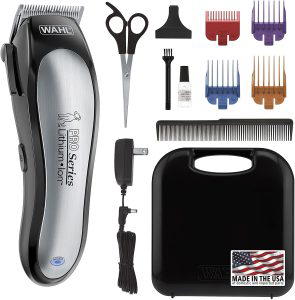 The Wahl Lithium-Ion clipper may be ideal for home grooming. It also works well as a professional tool for grooming and can be used for full-body grooming with collies, poodles, and shepherds. In short, it's one of the best cordless clippers for matted dogs, offering up to 2 hours of run time and a quick 15-minute charging time.
Wahl Lithium-Ion cordless clippers run on a lithium-powered motor and boasts a cool operation feature. It has self-sharpening precision blades that help tackle difficult coats, and it works well for fast touch-ups. However, note that it can be a little noisy.
In the kit, you'll find all the basic items needed to groom your pooch. Some include color guide combs to help you find the suitable coat length with ease. You'll also find a comb for loosening smaller mats as well as a pair of scissors for cutting larger mats to reduce the clippers' workload.
Pros:
Excellent for trimming and mat removal
Inexpensive
Cordless operation
Comes with comb attachments
Cons:

This clipper is a 5-in-1 detachable blade device, and it is suitable for thick or matted hair. It also has a shatterproof casing that prevents damage when it falls, making it one of the best dog clippers in the market. Moreover, Wahl Professional Animal Bravura is a cordless clipper, so you don't need to plug it into a power source to use it.
Wahl's blade is also quite sharp and lets you cut any kind of dog's coat. However, it's relatively expensive that comes with its good quality. The clipper kit contains detachable blades that allow you to interchange the blades for different styling. It also has attachment combs and can work with extra accessories as long as they are compatible.
Pros:
Unique 5-in-1 detachable blade
Doesn't vibrate so it can be used on the face
Battery-powered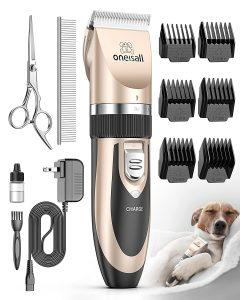 Cons:
Oneisall Dog Shaver Clippers are the perfect choice for anyone looking for a quality, affordable dog hair clipper. It's a rechargeable dog trimmer with a Li-ion battery for exceptional flexibility – it can even be used while charging so you never have to worry about it running out of power.
Its blade is also made with upgraded stainless steel and ceramic, meaning it will provide an excellent cutting performance while being safe and easy to clean. Plus, the low vibration and ultra-quiet design mean your pet will feel at ease during grooming – no more fears of sudden haircuts. It comes with six guard attachment combs to get the perfect trim every time.
Pros:
Runs silently
Rechargeable/cordless clipper
Doesn't heat up fast
Cons:
Not intended for long-haired or winter-coat dogs with a full coat

The Oster A5 Turbo 2-Speed Professional Animal Clipper is one of the best dog clippers for grooming your beloved pets. With its powerful, heavy-duty universal motor and detachable blade system, this clipper is built to deliver fast, smooth clipping every time.
The included Cryogen-X blade ensures a close, even cut while the wide blade sweep allows you to take on larger areas quickly. And with two speeds to choose from, you can select the right speed for each job. So, whether you're grooming dogs, cats, horses, or livestock, the Oster A5 Turbo 2-Speed Professional Animal Clipper is up for the task.
Pros:
Fantastic at cutting through matted hair
Quiet motor
Comes with spare lubricating oil and motor grease
Long cord
Cons:
Heavy and chunky
Appears to get pretty hot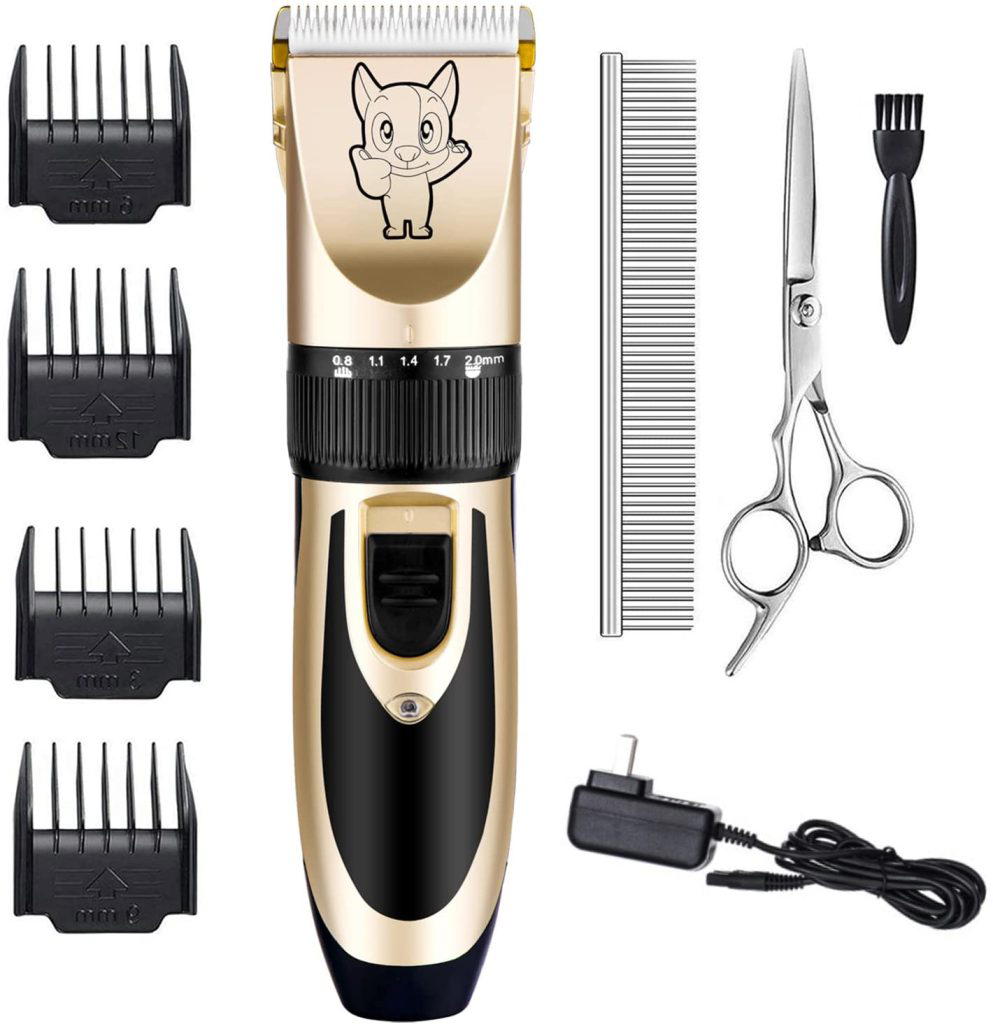 These clippers are made with a high-speed, quiet motor that produces less than 50db of noise – making it easy and comfortable for your pet to get their hair cut. Its rechargeable batteries make it flexible for you, too – whether you're at home or on the go, you can always easily charge and use your clippers!
Highdas Dog Grooming Clippers also feature precision-cut titanium blades that provide a gentle grooming experience without any uncomfortable pulling. Moreover, you can adjust it to accommodate all kinds of dogs with different hair lengths.
Pros:
Easy to use
Low noise level
High-quality for its price
Cons: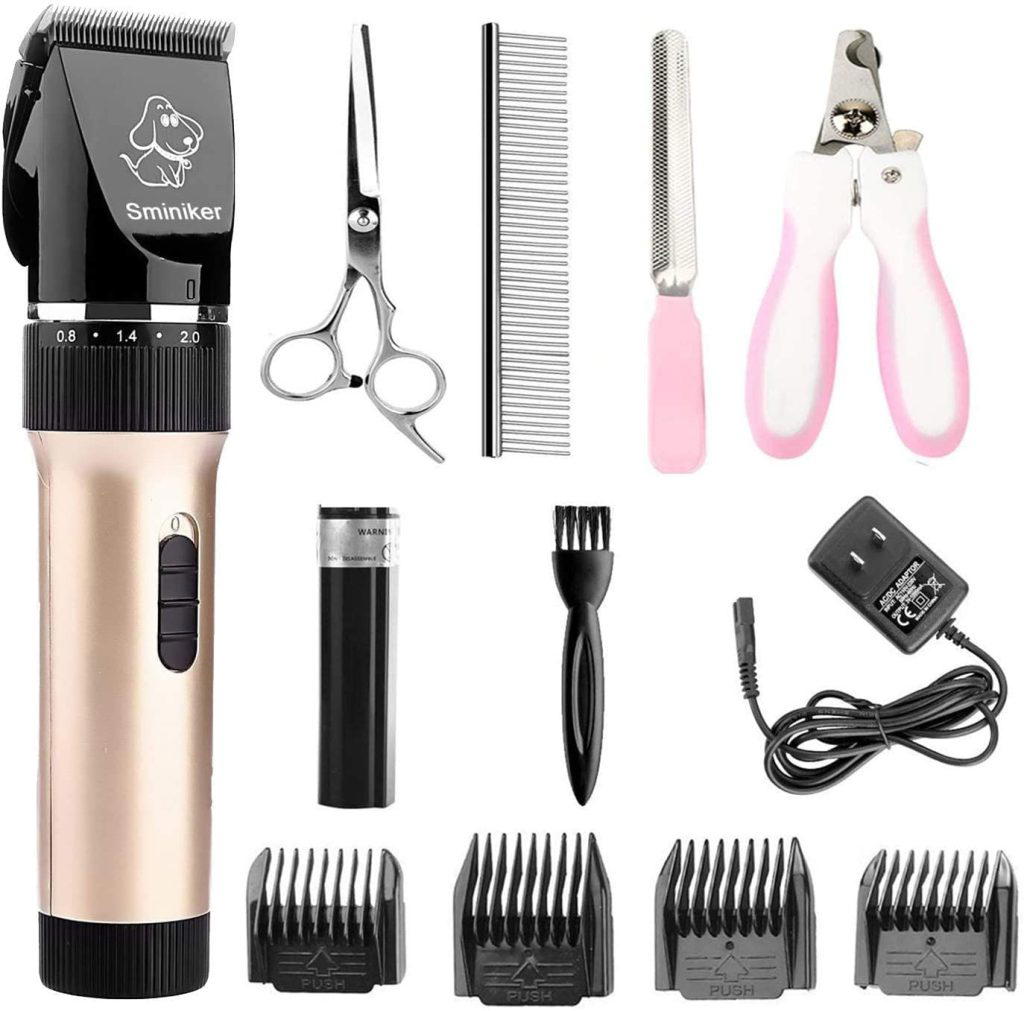 These clippers are very useful for both home and professional use, making it easy for you to groom your pet at home. Best of all, its small and delicate body is perfect for kids to join in on the fun of dressing up their pets.
With Sminiker's wireless pet clipper set, you can provide your pets with an excellent cutting experience while they relax in stress-free comfort at home. So, save money on costly pet grooming bills and do it yourself easily with these top-of-the-line clippers.
Pros:
Really silent
Doesn't overheat even on extended use
Doesn't always clog up when used
Cons: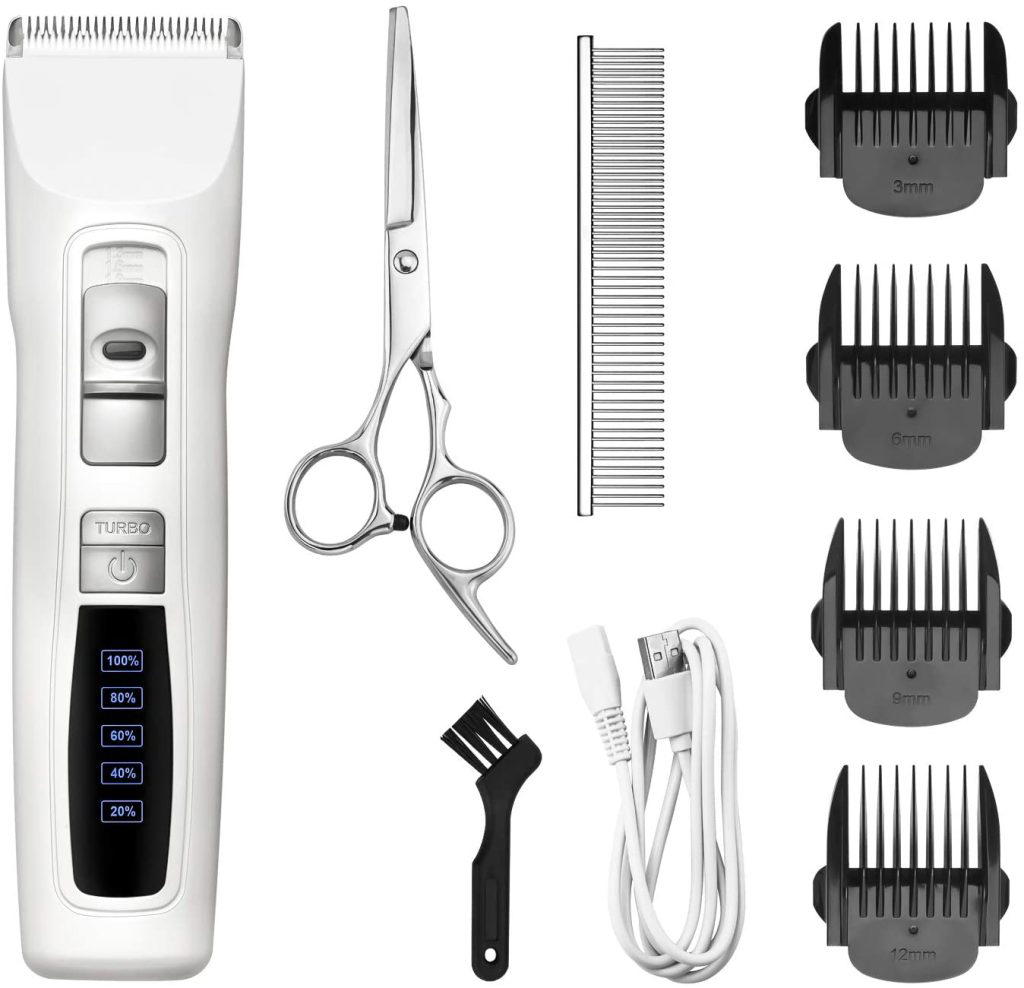 If your dog's hair getting a little out of control, Bousnic has you covered with their top-of-the-line clippers. With two speeds and ultra-sharp blades, it doesn't matter if your pooch has short or straight hair - you'll get them looking neat in no time. Its low noise clippers keep both you and your furry friend calm, too, while the LCD real-time display keeps you informed on how much battery power is left.
Pros:
Rechargeable
Modest vibration
Low noise
Cons:
Length attachments don't slide or clip-on easily

Considerations Before Buying Dog Clippers For Matted Hair
Comfortable Handle
You'll want to make sure that the clippers for matted dogs have a comfortable handle. This will allow you to hold onto them for extended periods of time without your hand becoming sore or fatigued from gripping them too tightly.
Furthermore, if there are grooves on the underside of the handle, then this can help keep your fingers in place as you're grooming your dog with these clippers-something that is important when trying to remove mats and tangles quickly!
Weight
The most important thing to look for when buying heavy-duty dog clippers for matted hair is the weight of the product. If it's too heavy, you don't want to hold it in your hand long enough to properly groom your pet. Furthermore, if you don't like using the clippers because they're uncomfortable or difficult to use (especially with smaller breeds), then chances are that they'll never get the work done right!
Powerful Motor
Another factor worth considering before purchasing a pair of clippers is whether or not they have a powerful motor; this will allow them to cut through matted hair much more quickly and efficiently than other types of electric dog grooming tools available on today's market. There are even some models out there that can run at two different speeds depending upon what you're trying to accomplish with your dog clippers.
Easy Maintenance
You'll want to consider how easy it is for the dog clippers to be maintained and cared for after each use. For example, if there are parts that need cleaning or oils applied on a regular basis (such as blades), then make sure that these functions can be easily performed without any problems arising. If they can't, your dog's grooming session will take longer than necessary.
Heat and Noise Levels
Some products can get quite loud when in use, which may not be ideal if you're trying to groom your pet in a quiet environment like your home. It's also important to think about the amount of heat that the clippers generate, so look for clippers that remain relatively cool even after long periods of use.
Corded or Cordless
Corded clippers are powered by an electrical outlet and tend to be more powerful than cordless clippers. However, they can also be a bit cumbersome since the cord often gets in the way.
On the other hand, cordless clippers run on batteries and are much easier to maneuver around your pet's body. Regardless, they often don't have as much power as corded models, so they may not be ideal for removing mats or tangled hair.
Extra Blades and Attachments
Similar to human clippers, some dog clippers for matted hair come with a variety of blade attachments and extras that you can choose from. For example, there are models that include multiple blades to help remove mats in different areas of your pet's body (like around the feet or underbelly) while also having other additional items such as scissors and combs for even more versatility. This is ideal if you're not sure what type of clippers will be best for removing matted fur, so you have options available.
Price
Finally, another thing worth considering before buying any pair of dog clippers for matted hair is how much they cost. However, this really depends on whether you plan on using them frequently. If you're just looking for clippers that can get the job done every once in a while, it's probably not necessary to spend too much on them since they won't be put through rigorous use very often.
However, if you plan on using your dog clippers around once a month or more, then investing in high-quality ones will definitely save money down the road.
There are many different types of canine clippers available today, which makes it important to consider all factors before purchasing one, especially what type is best suited for removing mats and tangled hair from your pup.
Weight, power, ease of maintenance, heat and noise levels, etc. are all things worth considering when buying the best dog clippers for matted hair, so make sure to take everything into consideration before making a purchase.
Tips for Choosing a Good Dog Clipper
When looking for heavy-duty dog clippers, there are many different things that you should keep in mind. It's important to remember that the style of clippers will be different depending on whether your dog has short or long hair, so it's not necessary to buy separate models unless they happen to work equally well with either type of fur.
It's also helpful to know which type of dog clipper is best suited for removing matted and tangled fur. Most professional grooming equipment comes equipped with detachable blades, which makes them versatile enough to remove any kind of coat.
However, this can make keeping their blades sharp more time-consuming than scissors since they must constantly be removed and reattached every time one goes dull. So, if that sounds like too much hassle, there are also clippers specifically designed for matted hair, which tend to be a bit more powerful. The downside is that they can be more expensive, but if your dog has a lot of matted hair, it may be worth the investment.
Noise levels and heat generation should also be considered when choosing the clippers. If you have a particularly nervous pet or one who hates loud noises, then look for clippers with low-vibration motors. Similarly, some models come with cooling systems in order to dissipate excess heat and keep your pet from getting too hot while being groomed.
Finally, always consider how easy the clippers are to maintain. This includes things like how often the blades need to be sharpened, how easy the motor is to clean, and whether or not they come with a warranty.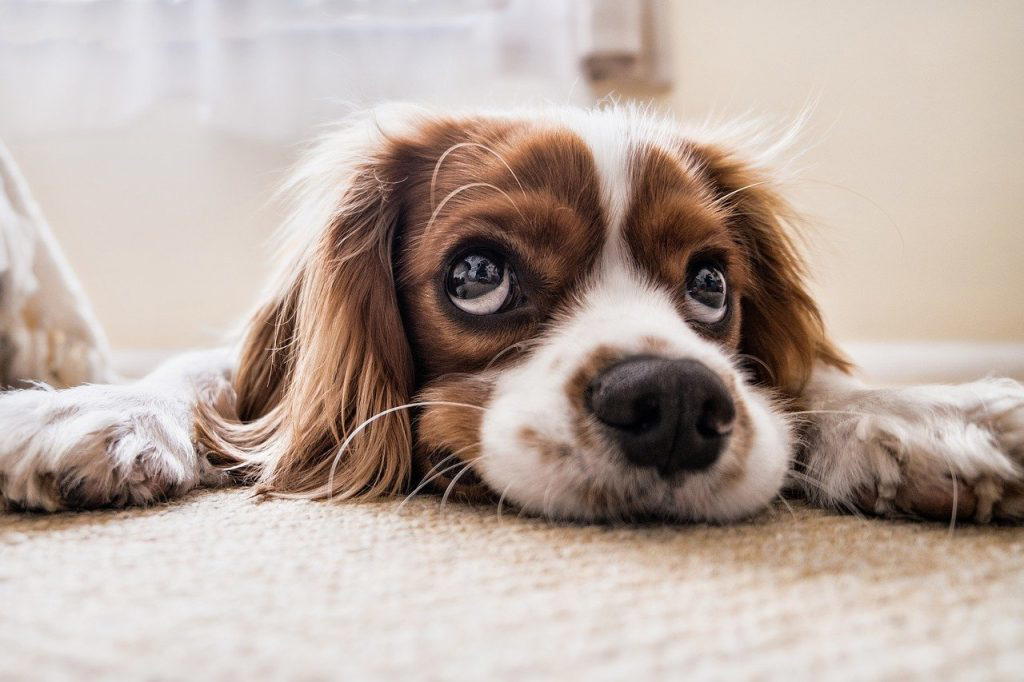 Maintaining Your Clippers - What You Should Know
Start By Cleaning
Unplug the device first and wipe off hair or dirt on the surface. Then, use a bristle brush to clean up the blades. Detachable blades can be removed and washed in a cleaning solution before using the brush.
After this, let it dry before oiling and spraying with a disinfectant.
Remember that you should not submerge the clipper in water. The blade shouldn't be soaked in water, too, because it's likely to rust. You can wipe it with a damp or dry cloth and let it dry instead.
Oil Your Clipper
After cleaning the blade, put on the clipper and turn it to the other side. Place some drops of oil in the middle of the lower and upper blades. The extra oil will drip down when you're done. While using the device, oil it often.
Sharpen The Blades
If the clipper does not cut properly or doesn't cut thick hair or pulls on fur, you need to get it sharpened. Check your warranty to see if it covers sharpening because you need to do it professionally. You can also check the instruction manual for tips on sharpening if any.
Read more detail: How to maintain dog clipper
Frequently Asked Questions
How often should I use clippers on my dog's hair?
If you have a dog with thick, curly hair, then you may need to use clippers more often than if they have short, straight hair. It's always best to consult with a groomer or veterinarian about how often is best for your pet.
Can I use human clippers to groom my dog?
It's not recommended that you use human clippers on your pet, especially if it has matted dog hair. This is because the blades in a human clipper are typically much larger and less smooth than what a canine version would have, which can lead to more pain for your pet when grooming. And since they're designed specifically for humans, their power levels tend to be lower as well, meaning that any tangled or matted fur may take longer to remove without proper equipment.
How do you cut matted dog hair with clippers?
It's important to place the clippers at an angle for best results. This way, you can properly cut through matted hair. You'll need to push down with a little bit of pressure as well; this should make it easy to remove any mats or tangles from your dog's fur.
Likewise, it might be a good idea to take your pet in for a professional groom if there are numerous matted dog hair and tangles throughout their thick fur. Some tangles may not all come out using clippers alone.
How often do I have to change blades?
The blades on dog clippers will need to be changed every so often, depending on how often they are being used. If you're using them to cut through thick matted fur, then the blades may need to be replaced more often than if they are only being used for regular grooming. Be sure to read the instructions that come with your clippers for the best results.
How often should you clean your dog's clipper motor?
You should clean the motor of your dog clippers after each use to keep them running smoothly. This can be done by using a brush or cloth to remove any dirt or hair build-up. You may also want to consider spraying the motor with a lubricant after cleaning it.
How often should you oil your dog's clipper blade?
You should oil the blades of your dog clippers after each cleaning session to keep them running smoothly. This can be done by using a brush or cloth to remove any dirt or hair build-up. You may also want to consider spraying the blade with a lubricant after cleaning it.
What do the numbers mean on dog clipper blades?
The numbers on the dog clipper blades refer to the size of the blade. The higher the number, the larger the blade. This is important to know when looking for replacement blades or accessories.
Can you use a dog clipper without a guard?
You can use a dog clipper without a guard, but it's not recommended. The guard helps to protect the skin and fur of your pet during grooming. If you do choose to use them without a guard, be sure to take extra care not to cut your pet.
Are there any replacement parts for my dog clipper?
Yes, there are many replacement parts available for most dog clipper brands. This includes screws, blades, brush attachments, and more. Be sure to have some on hand just in case something breaks or wears down. If your current parts break down, you may also look for replacement parts in online stores like Amazon.
What is an adjustable blade on dog clippers?
An adjustable blade allows you to change how close it will cut through fur, which comes in handy when grooming different breeds of dogs. If you have several pets at home, this can be very useful as each breed usually has its own unique length of fur.

Final Thoughts
The best dog clippers can avoid pain and discomfort when it comes to grooming your pet. They can cut through thick, matted hair no problem, but they're not always the cheapest option available.
If you want a clipper specifically designed for matted dog hair, there are some on the market which may be worth looking into. Otherwise, try combing away mats before each session of grooming.
Also, keep in mind that different dogs have different types of fur, so make sure you look at what kind is required by your pup's coat before buying new clippers, since most only work with either short or long coats. Lastly, consider how easy these clippers will be to maintain if you don't want too much hassle involved after every use.