The color yellow has always been associated with fun, warmth, and playfulness. So it makes perfect sense that it would be the right color for your pup's favorite toy. Besides being a fun color, yellow is also easy to see and hard to lose. So whether you're playing in the backyard or the living room, you will not be able to miss these fun toys.
Here are our top pics top 10 picks for the best yellow dog toys.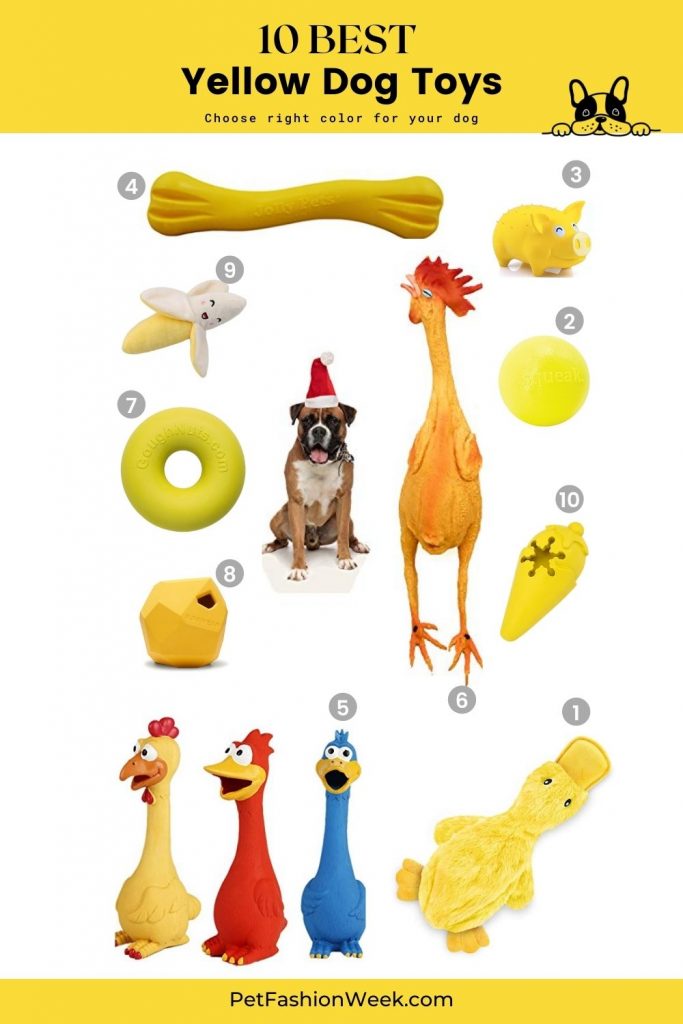 Our 10 best yellow dog toys
Premium Soft Chew Toys
Cute and Colorful Duck Shape
No Fluff, No Mess Design
Active Play, Tossing, and Retrieving
This soft crinkly yellow duck toy will delight your dog and help them to engage through important play. With a built-in squeaker and made of crinkle paper, this duck gives your dog many different sounds and noises to engage with. With its no fluff and no mess design, there will be nothing to clean up after they are done playing. Also, the fabric is easier on gums and teeth.

100% TPE rubber
Take to the park or the pool with this bright and bouncy ball that also floats!
Made in USA
This yellow rubber ball is a durable toy for your dog to play with and chew. Made of sturdy TPE rubber, it can stand up to hours of your pup's playing and chewing. If the ball accidentally gets thrown into the water, no need to worry because it floats! Also, an added benefit is that when your dog's finished playing, their breath will smell much sweeter as the toy is infused with mint. It is also BPA, lead, and Phthalate free.

Made with Non-Toxic Latex Rubber,Criterion of Detection EU CE EN71 ( Toys )
Make GRUNT Sound when Squeezed,Soft Thorns on the back,Plush Filled
Can use train your pet, exercise toys and keep them busy
This sweet yellow squeaky rubber pig is the ideal toy for dogs who like to fetch and engage with sound. Made with non-toxic latex rubber, this pig will grunt when squeezed and has soft rubber thorns on its back. Gentle enough for indoor play but strong enough to endure outdoor fetching sessions.

Ideal for dogs that weigh under 20 pounds
Made from specially formulated, ultra-tough material that is designed to stand up to the toughest chewers
Made in the USA
If your dog likes to chew, chase or swim, then this is the toy for you. Although this toy is primarily made for floating, it is also made to chew on. The ridges on the end of the bone are created to give your dog the feeling of chewing through the toy while gently massaging its gums.

Safe, durable, non toxic washable latex rubber for all size and breeds
With squawking sound at every bite
Highly addictive trainer's choice for fetching, bonding and to calm down nervous dogs
This entertaining toy with its loud squawk and non-toxic washable latex rubber serves a dual purpose in helping dogs both stay calm and increase bonding with their owners. The stress relief they feel from interacting and chewing on the toy helps to reduce separation anxiety.

This toy complies with the exact same safety standard as children's toy
100% natural rubber
Perfect for medium-sized dogs & large dogs
Whether your dog wants to fetch, play tug-of-war or simply chew on a toy and listen to it squeak, this toy will make them happy. Made from nontoxic rubber and hand-painted with non-toxic paint, this is an ideal toy for dogs who destroy toys quickly. This is a durable toy.

Original Ring design has no weak points
Tough and durable
Safe for dogs
This bright yellow rubber chew toy was designed to create optimum safety for dogs who are aggressive chewers. As it is exposed by chewing, each layer of the toy lets the owner know when to take the toy away. A green layer means it is safe, while the later red layer indicates the owner should take the toy away.

Inspired by rugged landscapes, the Gnawt-a-Rock is sure to spark your dog's curiosity
The Gnawt-a-Rock is designed to dispense small treats or kibble from the internal chamber as your dog plays
The durable, chew-resistant construction will stand up to the most eager pups
Inspired by the obsidian rock from the volcanoes of the Pacific Northwest, this toy made from natural latex is designed to look like a rock. Its irregular shape and multifaceted design create a strange bounce during play, thereby piquing your pup's interest. There is also a pocket inside, so treats may be hidden!

Satisfy your dog's natural urge to chew and help its teeth and gums to grow healthily
Suitable for puppies,small dogs
Not suitable for those medium and large dogs with sharp teeth
This super cute plush and squeaky banana is a fun and engaging toy for your dog. The squeaking sound and soft plush fabric create a perfect sensation to help dogs release anxiety and stop boredom. This toy is not intended for use by aggressive chewers.

Cures boredom and relieves anxiety by keeping your dog busy and engaged
Fill with frozen snacks to keep your dog busy for 20-30 minutes of play
Cleans teeth and gums while chewing on grooves and crevices
Safe and easy to clean
While this toy looks and smells like a vanilla ice cream cone, it's a dog toy designed to cure boredom and relieve anxiety by keeping your dog busy and engaged. A fill and freeze toy, this ice cream cone can hide healthy treats for your dogs. It has the added benefit of cleaning your dog's teeth and gums while they are chewing on the grooves and crevices—a cute and fun way to keep your dog entertained for long periods.

Final Thoughts
We hope you've enjoyed our list of the best yellow dog toys for your pup and found it helpful in choosing a toy to buy. Remember, these are not just toys; they can be used as tools to improve your relationship with your furry friend by providing them with enrichment or stimulation. Your pet deserves only the best!