If your dog suffers from tear stain and regularly washing its face isn't enough, it's time to look for other tear staining treatments. This can include things like Angels' Eyes, a supplement meant to help you eliminate really bad tear stains.
Then again, how sure are you that this solution will be effective this time around?
You'll have to read Angel Eyes for dogs reviews, of course, and you can start with ours. We used Angels' Eyes on our dear Roger and we're just so excited to tell you how it went! Spoiler: we loved the results!
But before we continue, let's talk about tear stains.
What are Tear Stains in Dogs?
Tear stains in dogs are brown-red stains around a dog's eyes. You'll often notice it in white dogs or dogs with light fur, but tear staining happens in dogs with darker fur, too. This happens when a dog produces plenty of tears or can't normally drain tears.
What causes tear staining in dogs?
Tear stains can be caused by plenty of things. We know that happens because of excessive tears or tears that aren't draining properly, but the main causes can vary.
For example, some dogs are born with shallow eye sockets that aren't deep enough, which results in tears pooling around the fur of their eyes. Likewise, some dogs may have eyelids turning inwards, blocking the way to the tears' drainage holes.
Moreover, there are cases where dogs simply have large tear ducts that create plenty of tears, or instances where a dog gets sick and develops some sort of eye damage, which can form a scar near or on their tear drainage passage.
Irritation from having long hair bothering their faces can also cause tear staining in dogs.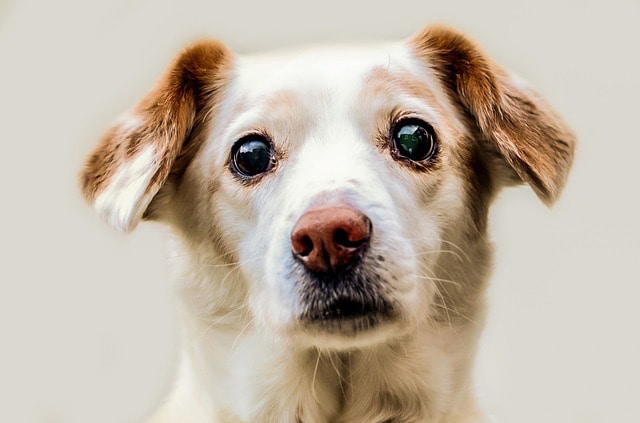 Why are dog tear stains brown or red?
Dogs process red blood cells and throw out waste products called porphyrins. Those porphyrins have iron, which creates a red color. Dogs normally get rid of porphyrins through their digestive systems, but sometimes the porphyrins may come out through their saliva, urine, and tears, too.
So, red stains in a dog's eyes are in the normal range, but if you notice that your dog has tear stains that look more brown than red and it's accompanied by a foul smell, you'll have to check in with your vet since it might be a yeast infection.
Can dog tear stains be treated?
You can treat tear stains on dogs - but it may or may not go away completely - depending on its cause. If your dog suffers from annoying tear stains due to eye irritation, you can trim its hair or treat the infection or glaucoma that's causing it.
For most cases, you can use Angels' Eyes Natural Tear Stain Powder or Chews to minimize bad tear stains or even achieve a completely tear stain-free result. Angel Eyes contain natural ingredients to help you in eliminating tear stains, so you can say goodbye to your dog's tear stains in no time. It also has a natural antibiotic, which can treat infections.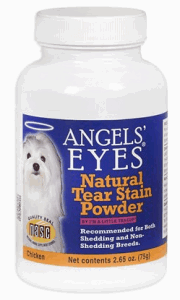 We don't really know where to start our Angel Eyes for dogs reviews - it's so good we just can't pick a feature to start with! We found out about Angels' Eyes through a friend who asked why we let Roger look like a raccoon with its eye stains.
Of course, she was exaggerating when she called Roger a raccoon - the red tear stains were visible but not immense! Anyway, when we told her we were already giving him something for it yet barely seeing results, she suggested Angel Eyes.
She said she used it for her dog and it worked like magic, so we decided to give it a try. We went to learn more about Angels' Eyes Natural Tear Stain Powder. By then, Angel Eye had already upgraded its formula with all-natural ingredients vs. its old formula.
You'll still find reviews about pet owners wanting the old formula, but since the FDA doesn't allow Tylosin - its previous antibiotic ingredient - to be sold without prescription anymore, Angels Eyes for dogs switched to using Oregon grape root as its antibiotic.
How Angels' Eyes Helps Your Dog's Eyes
Angels' Eyes help and prevent bad tear stains on dogs using two antioxidants and one natural antibiotic. These ingredients can fight off the infection that may be causing the red stains, boost your dog's immune system, and reduce the oxidation that promotes the tear stains' color.
Marshmallow root powder works wonders for dogs, but its main function here is to help your dog's digestive system so that the porphyrins are mostly excreted there. Meanwhile, cranberry in powder form acts as an antioxidant in dogs, and Oregon grape root serves as Angels' eyes' main antibiotic to treat your dogs' eyes and even diarrhea.
Watch this short video from Chewy, too, to learn more about Angels' Eyes:
Angels' Eyes Dog and Cat Tear Stain Removers | Chewy
Angels' Eyes Overview
Angels' Eyes Natural Tear Stain Remover comes in five forms: a chicken-flavor powder form, a vegan powder form, a no-antibiotic powder form, or soft chews. It doesn't contain additives like food dyes, corn, wheat, or soy, and you can use it on puppies and kittens 6 weeks old or older.
Pros
No additives and artificial ingredients
Usable for pets 6 weeks above
Comes in various forms and variations
Visible results within 3 to 5 weeks
Eliminates staining on eyes and mouth
Cons
Limited active ingredients
Supplemental formula against tear staining
Results take time in some dogs
May be hard to feed fussy eaters
Occasional quality control issues
Features
Varying Forms and Flavors
You can choose between powder or chews, and depending on your chosen powder variation, your dog can enjoy sweet potato, chicken, or beef flavor. You can easily mix the powder with canned dog food or serve Angel eyes for dogs as soft chew treats.
In our case, we picked the soft chews for Roger, and he loved it. He didn't see it as some sort of medicine to be avoided and just enjoyed eating every time we gave him Angel Eyes. We're not sure if he would've liked the sweet potato flavor, though, since we stuck to chicken flavor.
We actually started to see results around two weeks, but as mentioned before, the time it takes for results to show varies on dogs and cats.
All-Natural and Allergy-Friendly Ingredients
As mentioned before, Angels' Eyes' new formula uses natural antioxidants and antibiotics to treat dogs' eyes. It also doesn't contain additives and inactive ingredients like wheat, soy, or corn that may trigger allergies in some dogs. And with regards to their flavors, Angels' Eyes only used 100% freeze-dried chicken or sweet potatoes.
Suitable for Most Ages
You can give this to dogs and cats over 6 weeks old, regardless of breed and size. Some pet owners have given it to their pregnant and lactating dogs, too, but since dog conditions vary, be sure to check in with your vet first!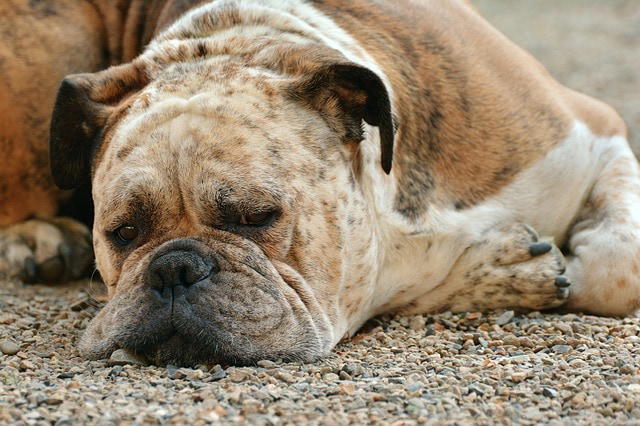 Angel Eyes for Dogs Reviews by Others
Angel's Eyes captured the heart of many dog owners. There are many positive Angel Eyes reviews online, and over 80 percent of them are from happy customers. Many pet owners have been using the product for years, and they said it has remained very effective.
"I've been using this product for years. It is absolutely amazing. Why? Because, if you own a dog with eye stains, this product is a complete remedy," a user said, calling it a miraculous product.
Most users said the product does not only remove tear stains but also prevents them from returning. They also commented on how Angels' Eyes helped brighten their dogs' eyes. Generally, it worked wonders for many dog owners, including us, and it also helped to whiten some dogs' coats.
Angels' Eyes Varieties
Powder
You can find Angel Eyes for dogs in three powder forms. The first form is an all-natural chicken flavor version. Meanwhile, the second one suits vegetarians with its sweet potato flavor and vegan-friendly ingredients. Finally, the last version doesn't contain the natural antibiotic, which is suitable for both shedding and non-shedding breeds.
Soft Chews
If your dog loves treats just like our Roger does, you can choose Angels' Eyes Natural Tear Stain Remover Chews. They're chicken flavored, and you can easily give them to your dog any time without needing to mix them up with their food. Of course, you can bring it anywhere, too, so it's perfect for you and your pet if you love traveling!
FAQs
Can I put Angels' Eyes on dog food?
Angels' Eyes Natural Tear Stain Powder is meant to be mixed with food. You can sprinkle it on your dog's food or mix it, depending on its preferences. Angel's Eyes works on both wet and dry food, so you can conveniently add it to any meal.
Is Angel Eyes for dogs safe?
Angel Eyes for dogs is safe for puppies and kittens above 6 weeks old.
How long does Angel's Eyes take to work on dogs?
Some, like our Roger, can show results within two weeks. However, other dogs may take three to five or even six weeks to be completely tear-stain-free.
What are the side effects of Angel Eyes for dogs?
Some dogs may experience dizziness, light sensitivity, or diarrhea, especially if you don't follow the recommended serving size.
Does Angel's Eyes help with odor caused by tear stains?
If your dog suffers from infection alongside the unsightly tear stains, Angels' Eyes may eventually eliminate the odor caused by the infection.
Are tear stains permanent?
Fur discoloration due to tear stain problems on dogs isn't permanent.
What foods cause tear stains in dogs?
Additives, preservatives, excess carbohydrates, and red meat can cause inflammation and irritation in dogs, which could result to tear stains. So, besides using Angels' Eyes, make sure you're also feeding your dog a balanced diet.
What causes increased porphyrin in dogs?
Sometimes, an increase in porphyrin in dogs is due to genetics. Other times, this may be because of their diet.
Can you use baby wipes on a dog?
If you're trying to clean your dog's tear stain with wipes, don't use human wipes. Human wet wipes aren't meant for your dog's eyes. Instead, use something like Angels' Eyes Tear Stain Wipes to get rid of dried mucus and tear stains.
Final Thoughts
Since Angels' Eyes for dogs worked so well for us, we really hope it helps your dog, too. Try Angels' Eyes to treat your dog's tear stain! Its natural ingredients are safe for dogs of all breeds, and you can conveniently buy it in different forms.