Why should you always use a dog shower cap when giving your pup a bath? When water or shampoo gets in their ears, it could cause ear infections. There are many precautions that professional groomers make in order to protect their furry client's ears.
They range anywhere from placing cotton balls in the ears prior to the bath to pinching the dog's ears closed while bathing them in order to keep the water out. Most pet parents either don't know about this or are concerned about doing it the right way. What if there was a more straightforward solution? What if dogs could wear shower caps?
Although it may seem a little funny to think about at first, shower caps for dogs are becoming an increasingly common solution to the ear infection problem. In fact, shower caps for dogs come in a couple of different sizes and designs. We are going to take a look at some options for different-sized dogs so that our furry friends might be protected from recurring ear infections and from the general discomfort of having trapped water in their ear canals.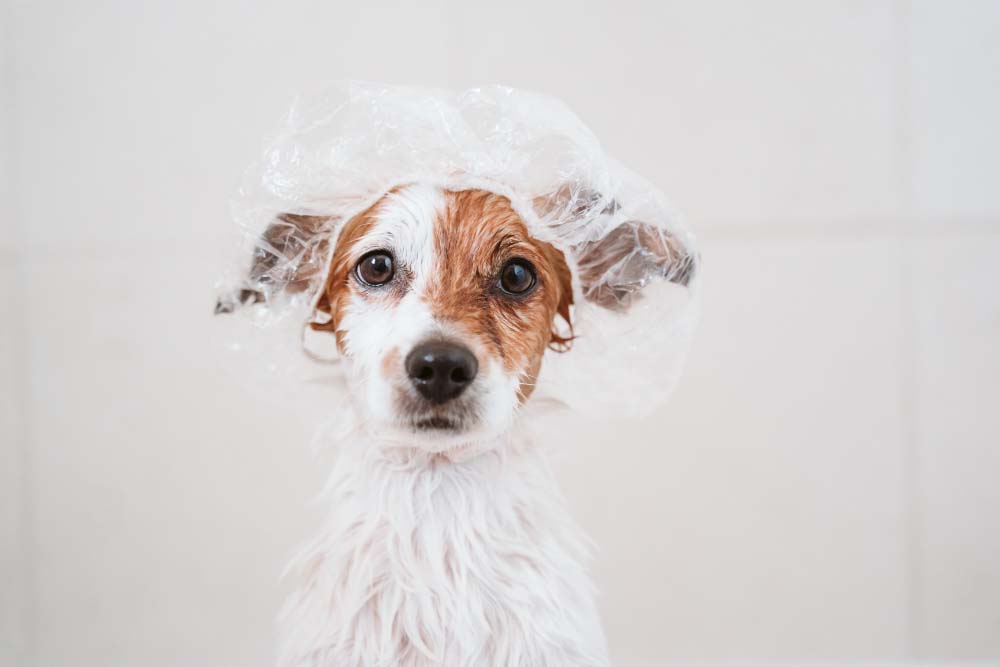 This shower cap has a significant feature that makes it distinctive, and that is an adjustable elastic chin strap that can be customized to the pet. It can even be adjusted for a cat so that the cap stays firmly in place. The cap protects the pet's ears so that water doesn't enter the ear canal and doesn't cause infections. Each shower cap for ears has a rubber band to stretch the cap to the right size. It is customizable and easy to wear without any discomfort.
Each shower cap for ears is made from eco-friendly fabric, which is durable, odorless, and easy to clean. And although the pets look absolutely adorable, it is essential to note that the shower caps are doing very serious and amazing work in keeping a more significant problem from occurring.

These are disposable smaller caps and are a similar design to the ones that humans wear. They are clear and made from high-quality LDPE plastic. These can also be used by cats.
And while it's essential to take preventative measures, it is also crucial to recognize some of the earlier warning signs of ear infections in dogs. Early intervention and taking them to see a veterinarian early on and as soon as possible is vital in mitigating increasingly worse problems from happening later on. Some dogs can, for example, experience hearing loss from long-term infection. So it's imperative to get them to the doctor as soon as possible.
Signs of Ear Infection in Dogs
Some of the earlier signs of ear infection in dogs include frequent scratching and rubbing of the ears. One of the most common signs of the early stage of an ear infection for a dog is that they will frequently scratch and rub the infected area on a surface such as a carpet or a bed, etc. They will do this repeatedly and for long periods of time.
Redness, swelling, or odor. Many times there will be redness in the ear canal, or the ear canal itself may be swollen. It is essential to recognize the early symptoms and take action by taking our pets to the veterinarian as soon as possible so that more significant damage isn't done and that your furry best friend gets relief.
Moving their head in strange ways. When a dog has an ear infection, one of the things it might do is move its head in a strange way. Sometimes they might shake their head repeatedly.

Final Thoughts
While the dog shower caps look absolutely charming and adorable, they are making a huge difference in pets' health by eliminating the cause of most ear infections by wearing a cap. There may be a bit of a learning curve for a dog who hasn't tried it before, but over time hopefully, they will get used to it and may leave it on. The shower cap should prove to be an important and adorable tool to fight ear infections in our most beloved pets.
If you suspect your pet might have an ear infection please take them promptly to the veterinarian so they may be seen and quickly be treated.
Overall, most people find that the shower cap, though familiar, is an excellent measure to take to prevent recurring ear infections in dogs. They look adorable too!
Pin Later