The long flowing locks of Yorkies are a trademark of this unique breed. Yorkies have fine, long hair that looks very attractive and beautiful.
However, whether you want your Yorkie to have a shorter puppy cut or the floor length show cut, regular grooming sessions are extremely crucial to maintain their good look.
Yorkies need to be groomed regularly, at least every four to six weeks. However, if you are very good at the trimming work, it might take six to eight weeks for your Yorkie to require another trimming session.
Whether you are a professional groomer or a novice, using a dog clipper for Yorkies is very important as it would help you achieve the best cut and style for your Yorkie.
With the numerous options out there, choosing a good clipper might be a little bit overwhelming.
In this article, we have reviewed some of the top rated dog clippers for Yorkies in the market, this would make your selection process much easier.
Top 5 Best Dog Clippers for Yorkies Reviews...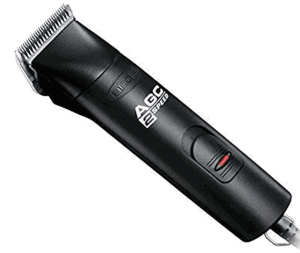 Andis has been maintaining a very good reputation over the years when it comes to manufacturing the best dog grooming clippers. The Andis ProClip Speed Detachable Blade Clipper is one of the finest products of Andis.
If you have a Yorkie that is very sensitive to noise or scared of the whirling sound generated by dog clippers, then you should go for this model.
This grooming clipper for Yorkies is extremely quiet, and this allows your Yorkie to be comfortable during grooming. It also comes with a shatter-proof housing to prevent damages whenever it falls.
This clipper comes with two-speed options. It allows you to switch between slower and higher speed. If your dog is afraid, you can switch to the slower speed, this brings the clipper close to zero-sound.
If your Yorkie has heavy coats or you want more speed, you can switch to higher speed, as it is 25% faster.
This dog grooming clipper comes with a cool-running smart design which eliminates fans and vents from being clogged with hair. This helps to prevent overheating in the clipper.
Pros
2-speed, powerful, heavy-duty clipper
Extremely quiet operation
Shatter-proof casing
Cool-running smart design
Cons
It doesn't come with basic accessories

Oster is another great grooming clipper manufacturing company. The Oster A5 Two-Speed Animal Grooming Clipper is a dual speed Torque, a durable clipper that does a great job at trimming the fur of a Yorkie. It has two-speed ranges.
The lower speed is quieter, with 2,100 SPM, and it is designed to give precision cuts. It is the ideal speed to cut the sensitive areas of a Yorkie such as the ears, eyes, and face.
The higher speed is also quiet, with speed at 2,700 SPM. This speed is ideal for cutting larger areas and making simple trims.
The Oster Golden A5 is built to last. It also features a powerful motor that is capable of cutting through thick furs without being tangled. It is also built to last even in long trimming sessions.
Another advantage of this model is that it comes with the No. 10 blade. However, you might still need to purchase additional blades if you want to perform a variety of styles.
All Oster blades are cryogenically treated and built for durability, provided they are oiled regularly. The motor of this dog grooming clipper is surrounded by an unbreakable chew-proof casing that is designed to last.
Pros
Cryogenic technology
Multi-speed versatility
Capable of cutting through thick coats
Ability to cut around sensitive areas
Cons
Overheats when used for a long period.

The Andis UltraEdge Clipper is one of the most preferred choices of professionals. A lot of professionals choose this model because its dual speed offers solutions that make the grooming of matted and tangled coats easier.
However, you don't need to be a professional to use this clipper. Even an untrained hand can use it because it is easy to use. This clipper is corded, and the length of the cord is 14 foot.
This gives you enough room to assume any position when grooming your Yorkie. It also reduces the chances of shutting off accidentally.
The motor of this product is also designed for durability and versatility. The operation of this clipper is extremely quiet. This makes it a great choice if you have a Yorkie that is nervous or scared of louder machines.
This model also comes with a cool running technology, this prevents the devices from becoming blocked with coats, hence preventing overheating. The blades are also very easy to detach.
You can change them quickly, increasing your speed during grooming sessions. It also features a locking switch that prevents the device from shutting off accidentally.
Pros
Cool running smart design.
Locking switch to prevent accidental shut off.
14-inches heavy-duty cord
Break-resistant casing.
Cons
Comes with only No. 10 blade.

Wahl Professional Animal Bravura Lithium Clipper is cordless, virtually silent, and lightweight. The weight, size, and cordless nature of this clipper make it much easier to maneuver around when grooming Yorkies.
This dog grooming clipper also features an adjustable blade. This means you can adjust the size of the blade rather than changing it out.
It comes with a "five in one technology" that gives you the flexibility to change between five different blade sizes - #9, #10, #15, #30, and #40.
One of the major advantages of this model is that it always remains cool. The Wahl Bravura has a very long battery life, the battery is built to last. You can also use the device while it's charging too.
This model also comes with the Wahl Clip Combs – six different sizes. These combs are the perfect tools you need if you want to give your Yorkie an Asian fusion style.
This model is ideal for full body, face, feet, ears, muzzle, and bridle paths clipping. The power of this clipper is up to 5,000 SPM, and the battery can run up to 1 hour 30 minutes at full power.
Pros
Cord/cordless
Powered by Lithium-ion
"Five in one" blade
Comfortable and quiet
Cons
You would need to purchase additional accessories for entire body grooming.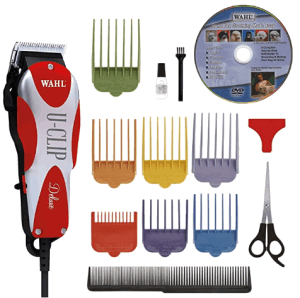 The Wahl Professional Animal Deluxe U-Clip Pet Clipper and Grooming Kit comes with everything you need to keep your Yorkie clean and well cared for.
This dog grooming clipper comes with a virtually complete grooming kit, and it does that at a very affordable cost.
This device comes with a Super Shunt motor that runs cool and quiet without catching and stalling. The motor also keeps the blades humming at 7,200 SPM.
With this speed, the clipper can run efficiently and smoothly through your Yorkies fur. The noiseless functionality of the clipper helps to keep your Yorkie calm while grooming.
This clipper comes with high-quality stainless steel cutting blades. The U-Clip is ideal for cutting both medium and fine coats. It also features 7 attachment color-coded guides for a variety of lengths. They are also very easy to detach from the clipper.
It comes with a durable storage case, styling apron, stainless steel grooming scissors, red clipper blade guard, and "how-to" DVD.
The Deluxe U-Clip is ideal for trimming a Yorkie's face, ears, paws, and finishing touches. This makes grooming more enjoyable and convenient at home than ever before.
Pros
Powerful, quiet motor
Complete dog grooming kit
Convenient shape and size
Comes with blade guides and "how to" DVD
Cons
Not Ideal for Grooming thicker coats
The Right Choice of Clippers
While many might be tempted to use human clippers on their dogs, it is not advisable. It is very important that you use a dog hair clipper on your Yorkie. In as much as human clippers can cut the hair on your Yorkie, it can be very dangerous.
The motor of the clipper will also wear off in no time. It will overheat and burn the skin of your Yorkie because it's not designed to be used on dogs.
Type of Blades You Can Use to Groom Your Yorkie
When looking for the clippers for Yorkies, it is imperative that you settle for one that gives you the flexibility to change the blades of the clipper. This is necessary because different parts of a Yorkie requires different types of blades.
Clipper blades are indicated by numbers. The number will let you know the length of hair you can cut with it. Here are some of the blade types you can use to groom your Yorkie.
Number 4 Blade
When it comes to the numbering on blades, the smaller the number, the longer the hair that will be left on your dog after the cut. If you just want to trim your Yorkie's hair, the Number 4 blade is the ideal blade.
Using this blade will leave about one inch of hair on your Yorkie's body after the cut. However, this blade is not ideal to cut the feet or head of a Yorkie.
Number 7 Blade
While the Number 4 blade is ideal for trimming the body of a Yorkie, it doesn't yield the best result when used to trim the abdomen and chest area. The recommended blade for these parts of a Yorkie's body is the Number 7 blade.
You can also use this blade to fine-tune the puppy cut of your Yorkie. The cut of this blade is shorter than that of the Number 4 blade. It is also a great option for matted fur.
Number 10 Blade
As earlier stated, the smaller the number, the longer the cut and vice versa. The Number 10 blade is used for trimming places where the other blades could not cut very well. It is ideal for trimming areas such as the feet, ears, chin, and face.
However, you need to be very careful using clippers on the face of a Yorkie. Make sure the dog is comfortable with clippers before you begin the process.
Know the Coat Type of Your Yorkie
Knowing the type of coat your Yorkie has is very important. You will be able to pick the right type of clippers for your Yorkie when you know its coat type. Here are two main types of Yorkie coats.
Wooly Coats
Wooly coats are dark, very full, and thick. A lot of dogs with this type of coat usually have multiple colors. The legs and head are also usually dark in color. If your Yorkie has a wooly coat, you will need to brush them on a daily basis.
This is to help you get rid of the tangles and matting associated with wooly coats. If you have a Yorkie with wooly coats, you'd need to go for clippers with more power, different speed options, different clips, and comes with grooming scissors.
Cotton Coats
Cotton coated Yorkies are really gorgeous, but they are a little bit difficult to trim. The issue here is that cotton coats tend to matt easily. It takes much longer time for Yorkies with cotton coats to grow out their coat fully.
On the other side, cotton coats are shorter, making it easier to trim your Yorkie properly. You can use a wide range of clipper options to trim a Yorkie with a cotton.
However, if you want to style the hair of your cotton coated Yorkie, you can choose clippers that offer to taper and comes with different length clips.
Conclusion
Grooming your Yorkie regularly is one of the best things you do can for it. This would enhance the skin of your Yorkie and improve its overall well-being. With the tips and guides provided in this article, choosing a clipper for Yorkies should no longer be an issue for you.
We have also provided you with reviews of some of the finest dog grooming clippers for Yorkies. However, our best pick is the Wahl Professional Animal Bravura Lithium Clipper. This is because of its competitive edge over the rest of them.