If you are looking for a very effective respite to give to your dog while it is going through pains, the Extend K9 Health Formula is one of the best solutions to turn to.
As a dog owner, you need to take good care of your dog's overall health, and one of the things you need to pay close attention to is its joint health.
Hip and joint issues can deny your dog the freedom of movement it deserves, and your dog will be in severe pain whenever it tries to walk.
Fortunately, this solution is formulated to give respite to the torture your dog goes through while in pain. It also enhances the joint and overall health of your dog.
In this Extend K9 Health Formula review, we are going to take a closer look at this product.
Our Extend K9 Health Formula Review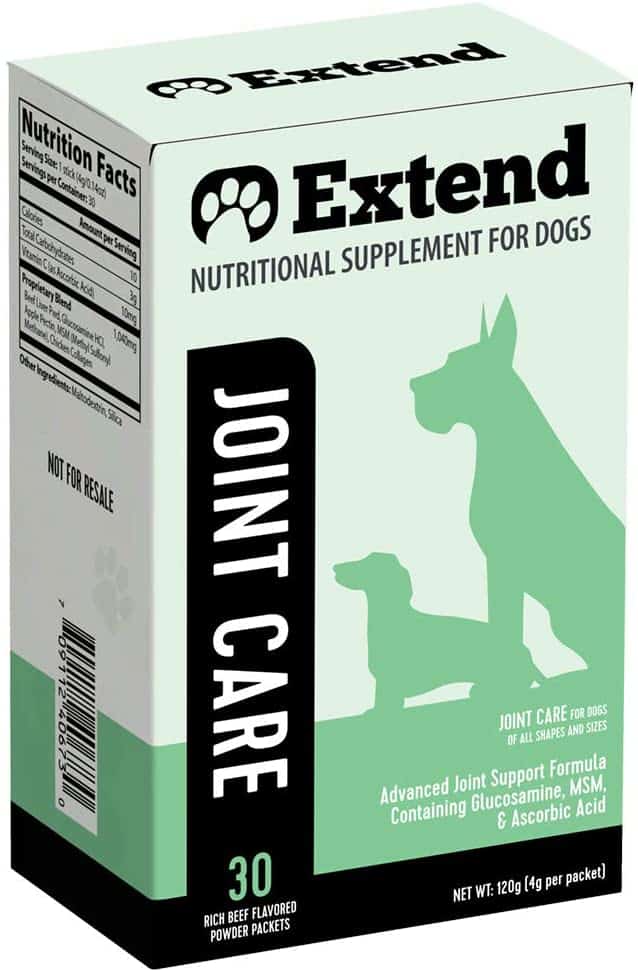 The Extend K9 Health Formula or Extend Joint Care Dog Supplement is one of the most effective non-prescription nutritional dog supplements on the market.
This supplement is formulated with active, high-quality ingredients to strengthen, heal, and enhance the joint health of your dog.
It is formulated for dogs of all breeds, sizes, and ages. This means you can give it to puppies, adults, and senior dogs. You do not have to wait until your dog starts having severe joint issues before you start using this product.
Extend made this product for use in early years to improve joint health, ensuring your dog remains strong and free from joint pain as it grows old. It is formulated to nourish and strengthen cartilages, joints, hips, and bones. The ingredients used to make this product are natural, and they are safe for your dog.
This formula is highly effective and fast, and it starts working and lubricating your dog's joints as soon as it starts taking it. This process helps to soothe the joints and alleviate any pain your dog is experiencing.
This product also helps to re-energize your dog and keep it safe from further pain. Once you start feeding this supplement to your dog, it would continue to experience easy and pain-free movements.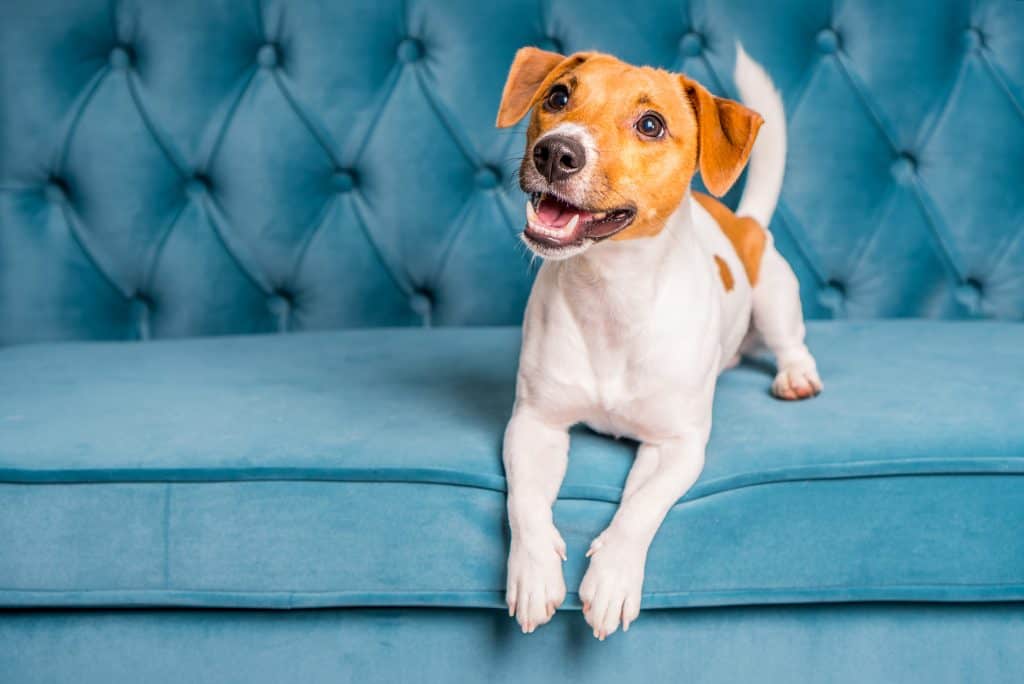 Features & Benefits
Ingredients
This Extend Dog Care for Dogs contains only natural and safe ingredients. The product contains a couple of carefully selected active ingredients.
The formula is great for dogs of all ages and breeds because of its perfect combination of ingredients.
The ingredients are also in the right ratio, ensuring your pet gets all it needs in the right proportion. It contains glucosamine, collagen, MSM, and ascorbic acid, and they all work together to nourish, heal, and strengthen the joints of your dog.
Glucosamine
Glucosamine hydrochloride is a natural compound found in the cartilage. This compound is 100 percent safe and it helps in covering the deficiency of natural compounds.
It helps to alleviate joint pain, and the hips, joints, spine, bone, and knee need this compound. It is the number one and most active ingredient in this supplement.
Collagen – Type II Chicken
This is another very important ingredient found in this supplement. It is a nutraceutical ingredient obtained from chicken sternum cartilage. This ingredient is highly beneficial to dogs with joint issues, and it also helps to prevent further joint pain.
Methylsulfonylmethane (MSM)
This ingredient helps to relieve muscle and joint pains. It is a well-known nutritional supplement and you can find it in animals, plants, and humans. it can also be formulated in laboratories.
The ingredient boosts immunity and reduces inflammation. It also offers a wide range of health benefits including reduced stiffness and quick recovery.
Ascorbic Acid
This is vitamin C and it lessens joint pain and improves cartilage health.
Ease of Use
This product comes in a powder form, which makes it very easy to administer. You can sprinkle the Extend K9 Health Formula into the food of your dog without it knowing.
Even if your dog notices the change, the supplement has a beef flavor that your dog can hardly say no to.
The product is also very easy to use because it does not require any measurement. It comes in smaller sachets, each sachet contains just the right amount, and this would save you much time and effort. The great taste and smell of this food also make it highly palatable for even the fussiest eaters.
It Does Not Interact With Other Drugs
There have not been any recorded negative interactions with other drugs, as some dogs that are taking supplements might also be on other drugs.
This means you can still use this product if your dog is on any medication, and it would not have any negative effect.
Ideal For Dogs Of All Life Stages
There is no discrimination with this product, as it is formulated for all dogs. The product is ideal for dogs of all sizes, breeds, and ages. This means you can give it to puppies, adults, and senior dogs. It is not specifically made for any dog breed or size.
Locally Manufactured
This product is made in facilities in the United States that are registered with the USDA and FDA. This means the manufacturer follows strict quality assurance standards.
After making the product, the manufacturer sends each batch for testing in an ISO accredited laboratory. This means your dog is getting a high-quality, standard, and safe supplement.
Money-Back Guarantee
After 30 days of purchase, you can get a full refund if you are not 100 percent satisfied or happy with the product. You can get your money back regardless of how much of the product you have used.
Extend K9 Health Formula Review Summary
Pros
Made with safe and all-natural ingredients
Delivers beef flavor
NPA, GMP, and NSF certified
Contains healthy ingredients to boost joint and hip health
Veterinary recommended
Ideal for dogs of all breeds, life stages, and sizes
Provides other health benefits
Cons
30-day money-back guarantee may be too short to know how effective the product is
Not ideal for dogs that are allergic to shellfish
Some dogs may still reject it
General User Impressions
There are mixed reactions about this product online. However, the product has many positive testimonies. Many users recommended the product because it is highly effective and safe for their dog. Some users said the product helped to heal their dog of arthritis just two weeks after administering it.
A user said her dog stopped limping, started running, and walking normally a few weeks after taking the product. Many dog parents are really excited about the positive results they got from using the product, and they listed several joint issues that this product helped to solve.
However, as with any product, it is rare to see 100 percent positive reviews. Some pet parents had some complaints about the product. A user said her dog is always reluctant to eat it, and it also gave her mild diarrhea. Some dog owners said their dog had severe skin allergy from the shellfish in the product.
Our Opinion
The Extend K9 Health Formula is a great supplement, and it is one of the best joint supplements for dogs on the market. This product is made with highly effective ingredients that are also safe for your dog.
It was formulated to cater to the joint health needs of all dogs, regardless of their breed, size, and age. It is made with strict standard policies in the United States, which means you are getting a product of high quality.
Looking at all the Extend Joint Care for Dogs reviews, it is evident that this is one of the most effective dog joint supplements on the market. This product does not only cater to the joint health of your dog. It also enhances the overall health and wellbeing of your dog.
It reduces inflammation, improves skin and coat health, immune system, digestive system, brain & eye development, and more. The supplement is vet recommended and we highly recommend it also.
Things To Consider When Buying Extend Joint Care For Dogs
Ingredients
The ingredients of the product should be your first point of call. Firstly, you want to make sure the product is made with natural ingredients that are safe for your dog to consume. Secondly, there should be no traces of artificial ingredients, colors, or preservatives in it.
You should also make sure that it contains ingredients that are proven to repair and support the cartilages and joints of a dog. The ingredients should also be in the right amounts.
Health Benefits
You also want to make sure the product provides other benefits besides boosting the cartilage and joint health of your dog. Some products come with additional vitamins and minerals that play a key role in the overall health and wellbeing of your dog.
Some formulas also contain
omega 3
and omega 6 fatty acids, and this helps with healthy brain function, eye development, shiny coat, and healthy skin. Other additional health benefits include a healthy digestive and immune system.
Allergy or Sensitivity
If your dog is allergic to a particular ingredient, you want to make sure the formula is free from that ingredient, as you do not want to solve one problem and end up with another.
As such, it is important that you take a proper look at the list of ingredients to make sure it is well-balanced and safe for your dog.

Final Thoughts
As a caring dog owner, the joint and hip health of your dog is not something you should joke with. The joint health of your dog is very important and you need to pay close attention to it.
While there are many ways to care for your dog's joint health, one of the most effective and proven solutions is the Extend K9 Health Formula.
We hope that our comprehensive Extend dog supplement review is informative enough to provide you with all you need to know about this product.
Frequently Asked Questions (FAQs)
What Is The Best Dog Joint Supplement?
The best joint supplements for dogs are those that contain all the right ingredients (in the right amount) that could enhance the joint health of your dog. Some of those vital ingredients include glucosamine, chondroitin, MSM, taurine, and more.
Is Extend K9 Health Formula Safe For My Dog?
This product is completely safe for your dog and it contains ingredients that already exist in your dog. The ingredients are all-natural and safe. The product does not leave any side effects behind.
Nevertheless, the glucosamine hydrochloride in the formula increases the frequency at which your dog urinates. The glucosamine source – shellfish – can also trigger allergic reactions in some dogs.
Is Extend For Dogs Any Good?
The Extend K9 Health Formula is 100 percent proven safe and effective. You also do not have to worry about any negative side effects no matter the dose given to your dog.