You want the best for your dog, always. As pet owners, we want to make sure that our dogs are taken care of and covered in every regard, whether it comes to diet, exercise, playtime, or general health. Dental health is just as important as adequate nutrition or frequent exercise.
Taking care of and preserving your dog's dental hygiene helps ensure they live a long, happy, healthy, and full life. Here are the 3 best small dog toothbrush toys and dental toys to keep your dog's teeth happy and healthy!
Why Toothbrush Toys is Good for Dogs?
Toothbrush toys and dental toys help preserve and care for your dog's teeth. They can help remove plaque and stubborn debris that can lead to dental disease. Dental toys limit the risk of your dog having serious dental issues down the line or needing unnecessary extractions.
Unlike people, dogs don't get cosmetic dentistry. Once their teeth are tainted, they're done for. This can limit your dog's ability to eat kibble and foods with other essential nutrients. While extractions aren't necessarily bad for your dog, they can be prevented.
Why it's Important to Take Care of Your Dog's Teeth?
Dental health and hygiene are just as important for our dogs as it is for us. Beyond preventing tooth decay, loss, or dental disease, it also keeps their breath smelling fresh and can help you avoid future expenses related to dental care. Investing in your dog's dental hygiene saves you money down the line.
There's also pain that comes with dental issues. According to St. Francis Veterinary Hospital, the overall commonness of periodontal disease or gingivitis was 86.3 percent. This can easily be avoided by regular brushing and chewing.
Organ damage can also become a result of infrequent or irregular brushing. Bacteria can easily enter the bloodstream from the mouth and spread to organs throughout the body. This process is known as bacteremia. This can make your dog incredibly sick and can damage their heart, liver, or kidneys. Regular teeth brushing is recommended for all dogs.
However, if your dog is particularly finicky or anxious when it comes to any form of grooming, dental dog chew toys can help remove plaque and buildup in a fun, engaging, stimulating, and relaxing way. With all the options below, you're sure to find a wonderful dental toy for your small dog that guarantees a happy and healthy mouth!
Our Top Small Dog Toothbrush Toys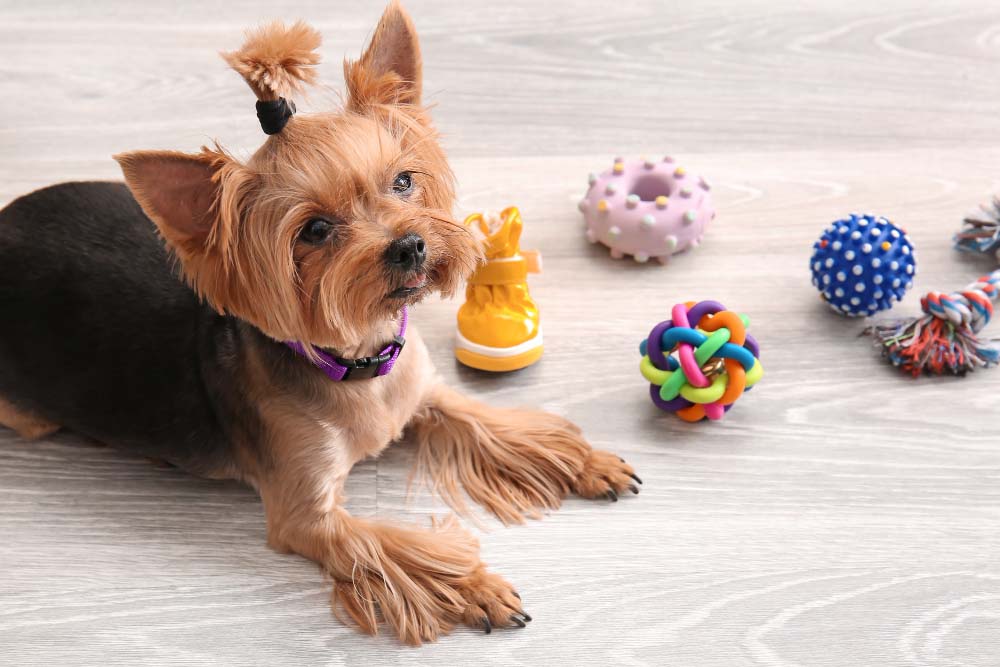 1) Dog Toothbrush Chew Toy
Made of natural TPR material
Unique Design
Cleaning and Protection
This durable chew toy helps preserve your dog's dental health by using TPR material instead of conventional rubber. The design allows for each tooth to be extensively brushed. Its durability is suited well for even the most destructive and aggressive chewers. It lays flat, allowing your pup to grab it with their paws for a good chew session!
2) Bullibone Nylon Dog Chew Toy
Designed for small to medium-sized dogs
Improves dental hygiene
This nylon dog chew toy allows for your dog's teeth to be thoroughly cleansed by the grooves it that are optimized for plaque removal. It comes in peanut butter, beef, and bacon flavors for your dog so they can enjoy a good chew session with both flavorful and dental benefits! You can even bulk order these through Amazon if your dog is a persistent chewer. With over 5,200 glowing reviews, your dog won't even know that it's designed to help clean their teeth!
3) ZHEBU Dog Chew Toy
Made of non-toxic TPR material
Different heights and sizes
Dental care for puppies
This chew toy is designed with small breeds and puppies in mind. Indestructible and designed for intensive cleaning, it comes in a variety of colors spanning yellow, blue, and green. The grooves help remove plaque and buildup in your dogs' teeth and gums. While ordinary toothbrushes are great for your dogs' gums and teeth, they can provide little enjoyment for your pup. The ZHEBU toothbrush toy helps make cleaning your dog's teeth a fun and enriching experience that will keep their mouth happy and healthy!
Final Thoughts
Dental dog chew toys and toothbrush toys are an essential part of any dog's play or care routine. Dental hygiene is just as important for your dog as playtime, socialization, nutrition, and adequate exercise. Add a fun dental or toothbrush chew toy into your dog's routine to ensure their dental wellness!
References